When I visited In de Wulf, Belgium, for the six hands dinner, I connected through Paris and had an extra night there before I returned to Copenhagen. Laurent, Gastros on Tour, and I drove back to Paris the day after the dinner event and arrived just in time for a nice lunch at 1* L'Arome. The restaurant was fully booked, but the kind staff set up an extra table for us in the middle of the room. The food was delicious and I understood why the restaurant and head chef Thomas Boullault is famous for the product quality they offer. But sitting in the middle of the room with people passing by all the time wasn't too pleasant. So, instead of having tea/coffee at L'Arome, we crossed the Champs Elysée to take tea at the bar of the Four Seasons Hotel George V. It was the very first time I entered this opulent, high-ceilinged hotel with the posh Luis XIV interior (check out Adam's post on Le Cinq, he has a stunning photo from the hotel and restaurant). One time, on my way to the ladies room, I peeped into the fancy dining hall of Le Cinq. Both Bo and Laurent have rambled on and on about this restaurant and the service there, and I know I must visit sometime to experience it myself.
Anyway, this post is actually about the completely different restaurant, namely Le Chateaubriand! I had dinner there on September 22nd.
First time I heard of Le Chateaubriand was from René Redzepi at one of my noma visits. Then a few months later I read Luxeat's opinion about the restaurant. Food Snob has been there as well and reading his post and Iñaki Aizpitarte's life story makes me think of what I know about René being a rebel as a kid and full of energy not easy to control.
Le Chateaubriand is a bistro, but a special one. It's classified as a bistronomique which means "gastronomique bistro fare at economique prices" according the SAS' flight magazine Scanorama September edition. Not everyone likes the place. There is just one menu and it changes every day – as the staff likes to challenge themselves, the rumour has it. It's impressing to think that the head chef Iñaki Aizpitarte is self-tought. By the way he wasn't in the restaurant, unfortunately, the night I went. In fact Iñaki Aizpitarte took part in the Cook it Raw event where I tasted one of his dishes for the first time. It impressed me that he was on par with some of the top chefs in the world and it intrigued me to visit Le Chateaubriand first chance I got.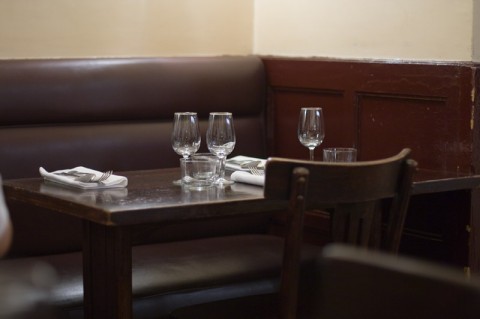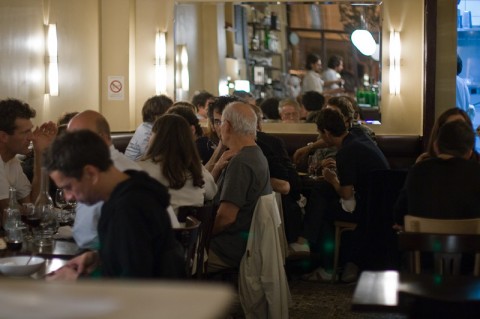 The interior is simple with small wooden tables without table cloths and put closely to each other. The atmosphere is light and lively and the staff has a smitten enthusiasm that makes me think that running this restaurant is exactly what they would like to do.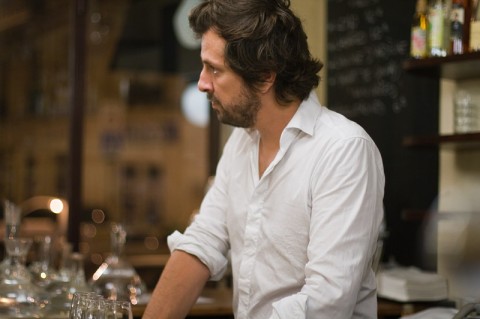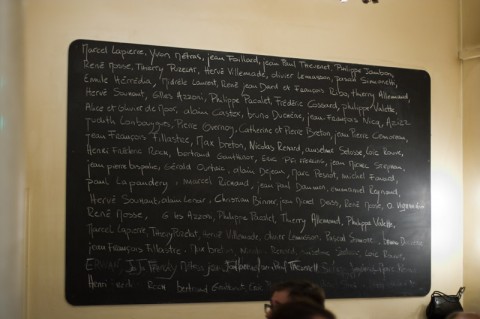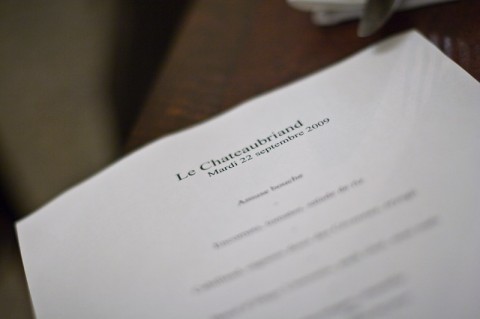 When I arrived Laurent was there already, chatting with the staff at the bar over a glass of wine. We got seated under the big blackboard on the wall listing all the owners' favourite wines. Both the evening's menu and the wine list were printed on a piece of paper. You get 5 courses for 45€. It's a bargain.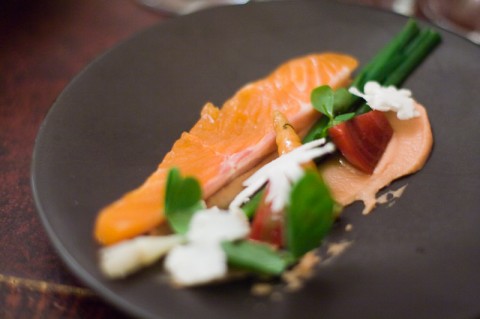 Lightly smoked salmon with carrots' pure, cauliflower and beets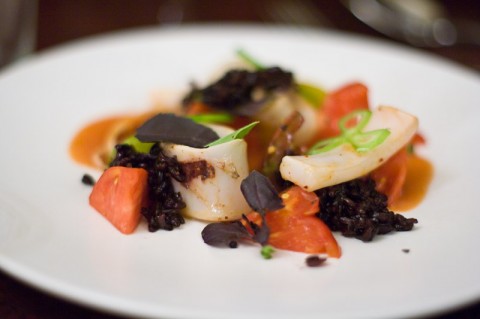 Grilled squid with tomatoes, yummy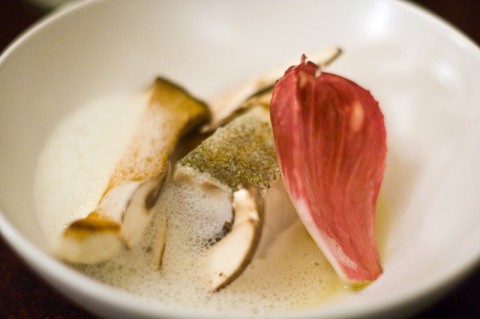 Cod with ceps, the least interesting dish of the evening, though still nice
Tender and rare-cooked Boeuf d' Hugo Limousin with pack choi and mini mais
Red fruits and chantilly
All the dishes were very pure, which I really liked. They were fresh, juicy and tasty. You could identify the products and sense their original flavours. At the same time, the plates looked beautiful and colourful and I found that very appealing.
We got cheeses as well, Comte as far as I recall and a goat cheese which was excellent. I rarely eat goat cheese, I don't like it that much. But this particular one was delicious and not too strong in the goat milk taste.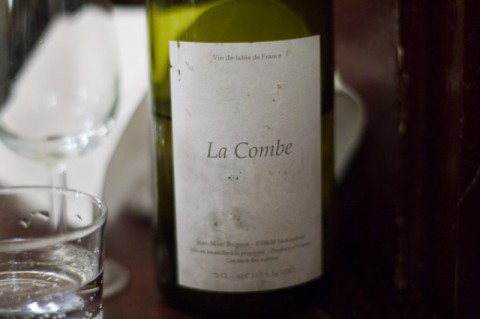 We drank a Jean-Marc Brignot La Combe from Jura, which has a scent that resembles Sherry. The scent has an oxidization note to it. Anyhow, it was a great wine, balanced, huge aroma, fruit and a long after-taste.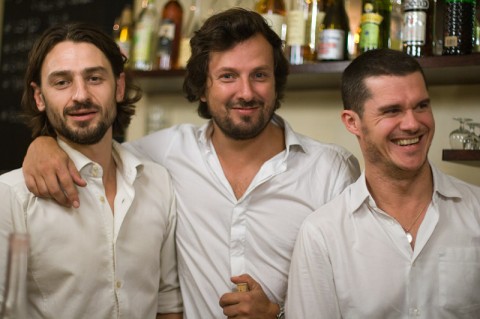 Looking at this photo it's evident that the staff is charming. They weren't too busy to come and chat at our table and exchange opinions about the wine selection.
I like Le Chateaubriand for the concept and the atmosphere – and for the food of course.
Close to midnight I was again back at my hotel and hurried to bed as I very early the next morning was going back to Copenhagen with the SK1568 Scandinavian Airlines flight taking off at 7am.
And just like that, it was the end of my Parisian 48h jaunt. What a great trip. Thanks Laurent!
Le Chateaubriand
129, avenue Parmentier
11th arrondissement.
Tel: +33 1 43 57 45 95