The most extraordinary thing happened to me: Chef René Redzepi invited me to the Cook it Raw! event – a culinary gathering of 11 top chefs of the world to take place at restaurant noma on Sunday 24th May, 2009.
The setup was inspired by the COP15 – United Nations Climate Change Conference this coming December and it was organised by Alessandro Porcelli of Nordic Gourmet Tour, in collaboration with René Redzepi, Andrea Petrini of Omnivore, L'Express (France) and the Danish Ministry of Business and Economic Affairs.
The theme for the cooking was rawness as a culinary technique and a meditation on nature, rawness as an interpretation, a legacy of something lost that needs to be regained, resuscitated and purified. Creativity beyond technology – Cook it raw, cook it clean!
The sun was shining beautifully from an azure blue and serene sky. I arrived at 6:51 pm, a bit too early, and jumped out of the car right in front of the noma entrance. Fortunately, I was not the first to arrive. A few people were already waiting at the wharf, chatting and enjoying the noma beer, which was served as the drink.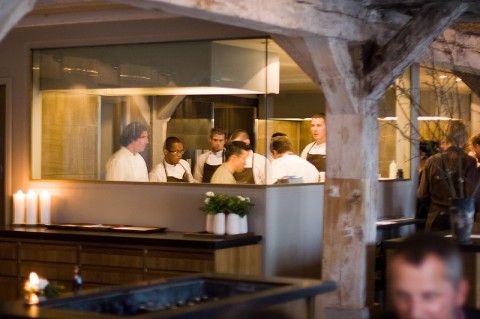 Inside, I was warmly welcomed by René, wearing such a smitten smile. He explained that there was a bustle in the kitchen and that the dinner would begin about a half hour later. Alessandro Porcelli welcomed me as well and ticked my name on his list.
I talked a bit with Lau and some of the staff. It was more than 3 months since I last visited noma, and I simply just enjoyed to be back in the beautiful premises and to sense the mood and atmosphere there again. Nadine, René's wife, was so kind to me and summarized for me what had taken place already for the past last two days and what tonight's plan was.
Then more guests arrived: International and Danish press, representatives of the Danish Ministry of Business and Economic Affairs, wine merchants, chefs and friends of the house.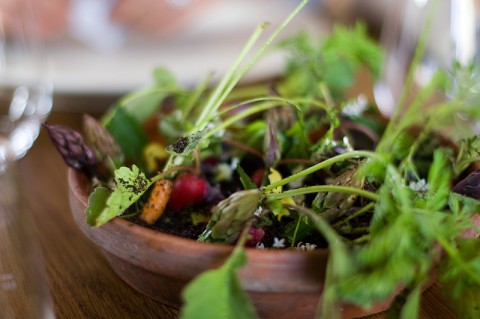 Snack of fresh shoots with terragon terroir
At the tables all the guests were mixed with different nationalities. I had the pleasure of having Andrea Petrini and Bob Noto next to me.
Sommelier Pontus served the first (white) wine in high, slender glasses.  I was blessed with not only a glass of wine but also with the warmest greeting, and a kiss on my cheek too.
We the guests were suggested to have a guess on the wine. It appeared to be Danish. I've never tried any Danish wine before, so I didn't guess this one. It was a tiny bit sparkling, and the scent and the taste were dominated by flowery Sauvignon Blanc notes and had a slightly sweet Riesling touch. It was easy and delicious, and I was pleasantly surprised. It was better than what I had imagined a white wine from Denmark to be.
Then the show got kicked off and each of the chefs presented his dish and the ideas behind it.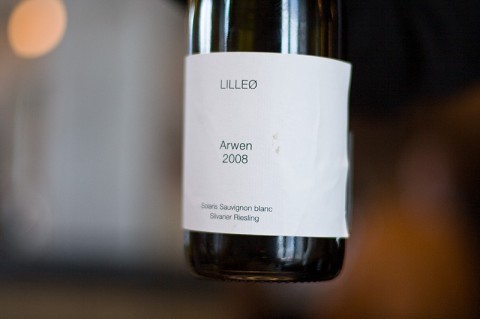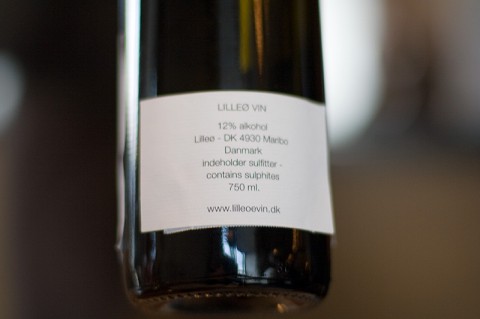 2008 Arwen, Lilleø, Denmark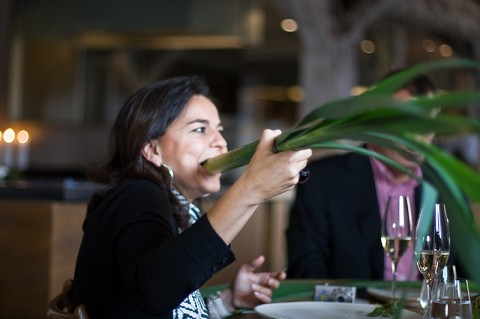 A bull rush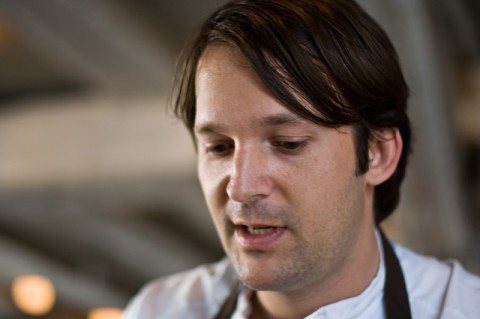 René Redzepi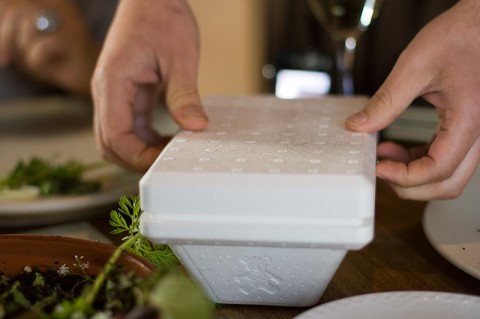 What's inside this white box?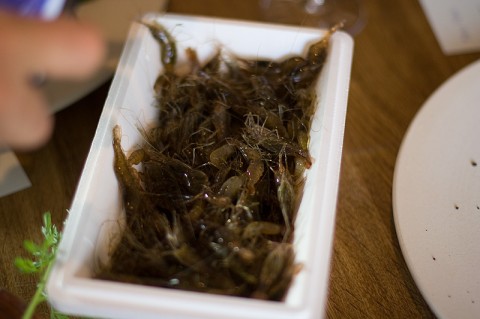 Fjord shrimps – alive and kicking!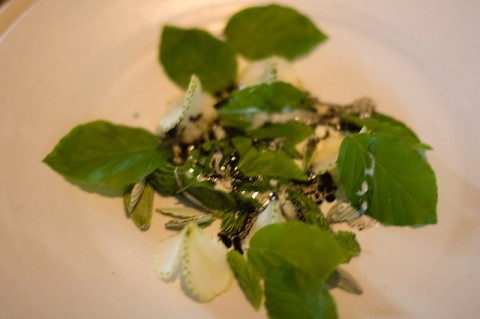 Raw vegetables/bull rush/Fjord shrimps natural
Salad of green strawberries and tree shoots
I have to say straight away that the level of the cooking was extremely high. We're talking perfection. The dishes were consistently pure, virginal almost. They tasted very fresh and light but the flavours came through distinctly. Actually, I didn't  find them particularly sushi-like or too Asian/Japanese inspired.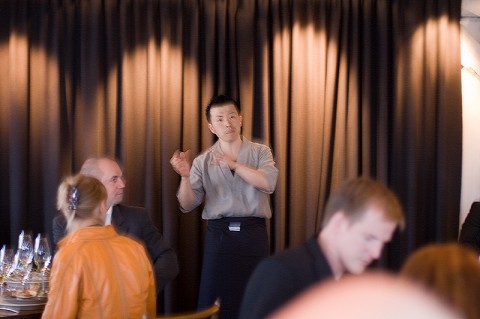 Ichiro Kubota, Umu
Langoustines with Kinome pepper and mousse of broad beans
Oyster with Japanese citric dressing
Turbot with 5 spices and venison sauce with Yuzu pepper
2007 Muscadet Sevre et Maine 'Granite', Domaine de l'Ecu (Guy Bossard), Loire
The dish of Ichiro Kubota from restaurant Umu in London took my breath away. He totally moved me with this serving. First of all, the beauty of this dish was just obvious. Secondly, he served my favourite kind of oyster: Limfjord Oyster which I love for its delicate meatiness and subtle sea flavour. Third, the tastes were just incredible, full of complexity, delectable and surprising. One flavour sort of took over where another one ended; it was like a wave of new savours with a mixture of known ones. The finish was so long. A truly seducing dish.
Daniel Patterson, Coi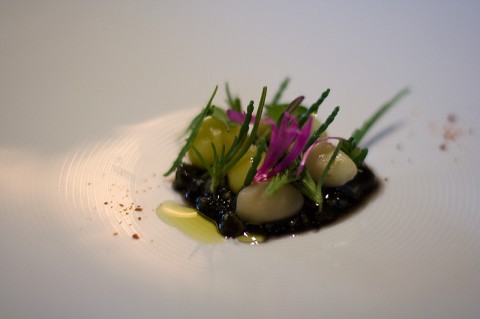 Earth and sea; new harvest potatoes and coastal greens
2006 Tocai Friulano, Roncús, Fiuli Venezia Giulia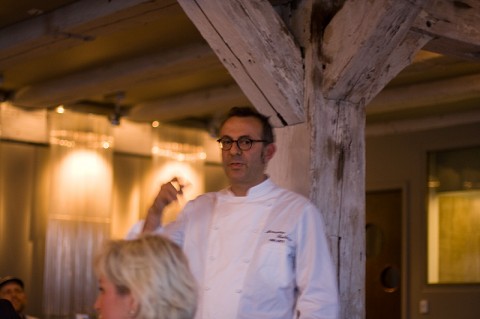 Massimo Bottura, La Francescana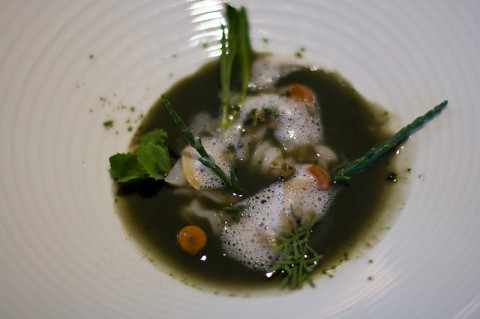 Pollution – 20.30 Modena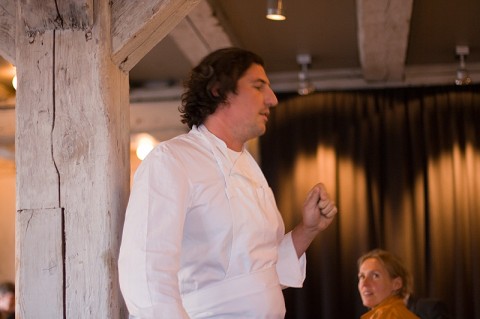 Claude Bosi, Hibiscous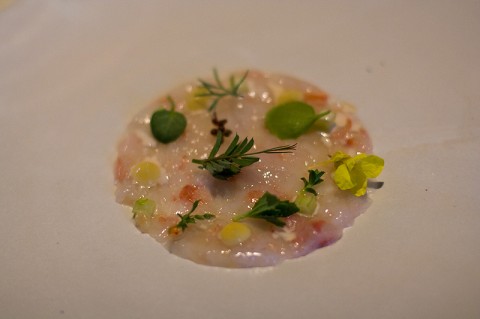 King crab, pickled cucumber, white miso and beach herbs
2007 Riesling GG 'Frühlingsplätzchen', Emrich-Schönleber, Nahe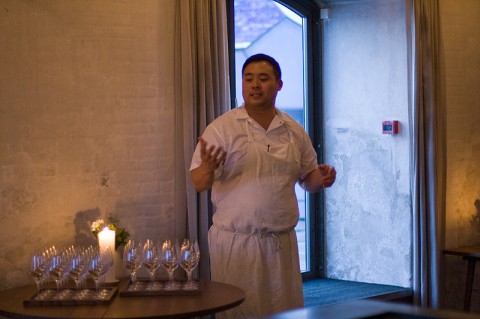 Dave Chang, Momofuku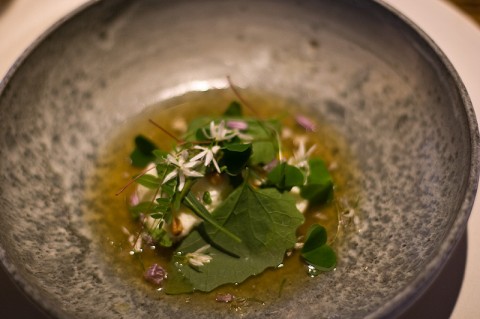 Hawthorne, valley buttermilk, apple dashi with Dragsholms herbs
2007 Riesling GG 'IDIG', Christmann, Pfalz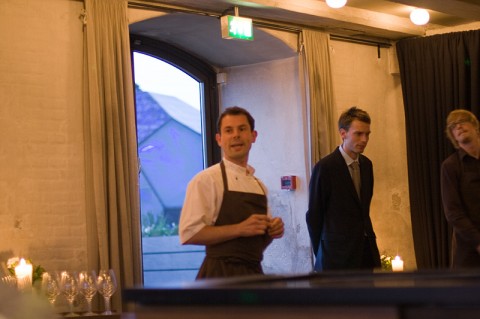 Pascal Barbot, L'Astrance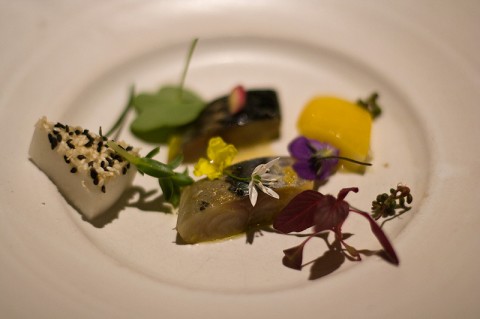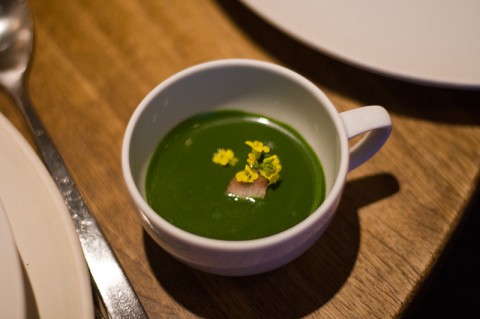 Marinated mackerels, smoked eel and wild angelica
NV (2004) Vin de Table Tourraine 'SauVignon', Domaines des Maisons Brulées par B. et M. Augé
Pascal Barbot surprised me by an exceptionally high quality fish and by the composition of it as a whole. The way the dish was presented was just marvelous. It was sharp and the flavours were distinct. The texture of the green soup in the cup was thick-ish and a little piece of smoked eel underlined the theme and combined the two servings. A very strong impression with a lot of character. His serving came second on my list, after Kubota's.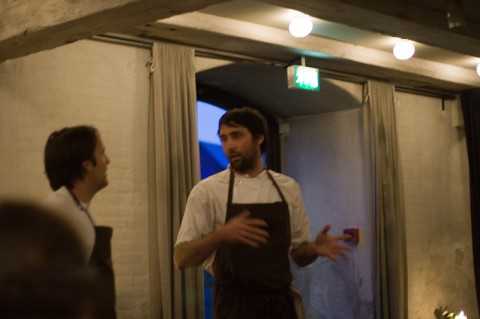 Inaki Aizpitarte, Le Chateaubriand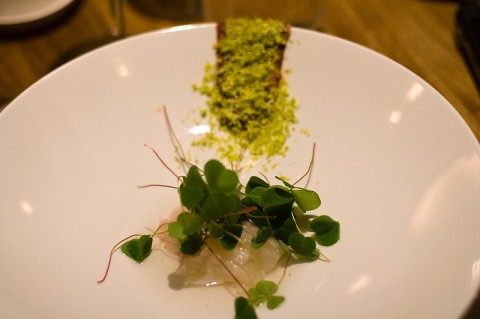 Lobster, pigeon liver, chicken liver, wood sorrel
2006 Grüner Veltliner 'Spiegel', Fred Loimer, Kamptal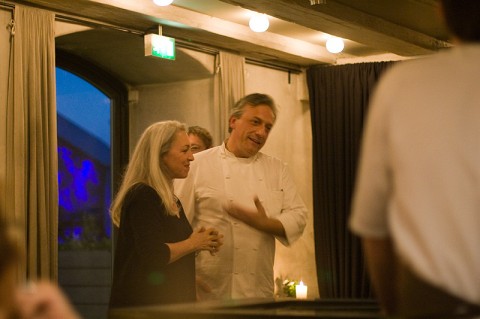 Davide Scabin, Combal.0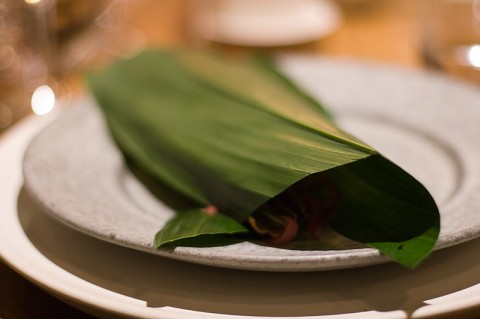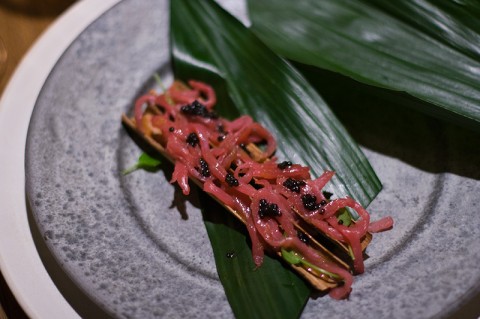 Steak Tartar B:C:
NV (2007) Rosé Vin du Table 'Chemin de la brune', L'Anglore, Rhône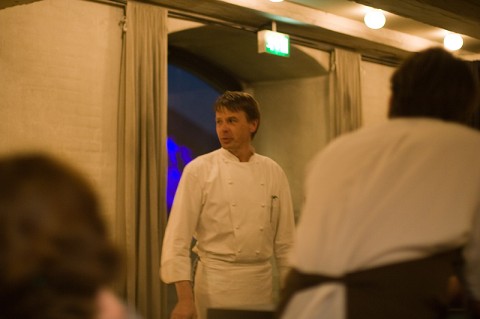 Joachim Wissler, Vendôme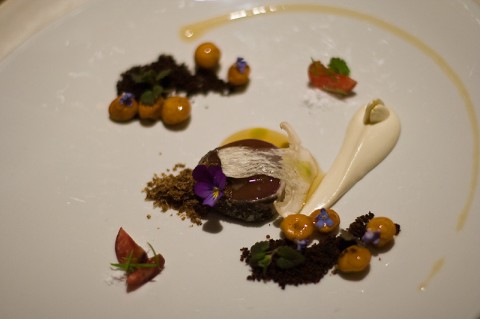 Venison and jellified pumpernickel soup
2006 Blaufränkish 'Necken Markter', Moric, (Roland Velich), Burgenland – wonderful wine this one.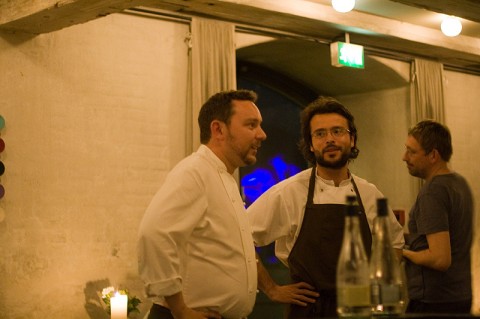 Albert Adrià, El Bulli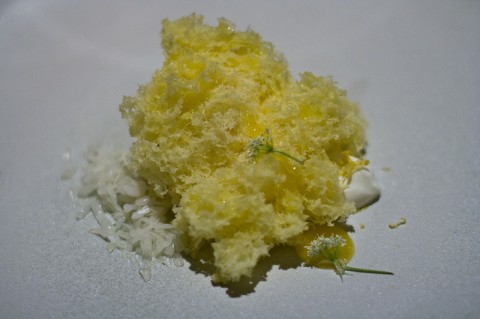 40 sec bisquit and sorbet of flowers
The noma staff was incredible this evening. Throughout the night each of the guys came to my table and asked how I liked the food and how I was feeling. All of them were extremely kind and loving. That's how I felt it anyway.
In fact, the whole atmosphere at the event was really warm and friendly. At the end of the night it felt like we were all part of one big family. The guests were giving standing ovation to the chefs; they earned it! Everybody was happy.
Cook it Raw! was a huge success. I sincerely hope we'll se more international culinary gatherings here in my city. Kudos to Alessandro, Andrea and René!
René, I thank you dearly for inviting me and giving me an experience of a lifetime!
Links to more articles on Cook it Raw!: