This post is to update you on the status of Restaurant AOC and to share some photos from my recent visit to the restaurant. Click here for my first post about AOC.
Earlier this year Restaurant AOC was awarded the second star in the new Michelin Nordic Countries 2015 guide – a fantastic achievement for owner and sommelier Christian Aarø and head chef Søren Selin (former Alberto K, Le Relais Louis XIII and Le Jules Verne).
Søren Selin joined AOC in early 2013 and I experienced his cuisine for the first time during early summer that year. I was immediately impressed by his colourful and creative New Nordic style creations.
On Saturday April 11 I returned for dinner with friends. We chose the grand menu composed of a series of appetizers, six savoury courses and three desserts. Every single dish was exciting, beautiful, delicious and perfectly executed. Flawless. Creative and exciting. Completely worthy of the 2 Michelin stars.
We started out with Champagne and some excellent nibbles.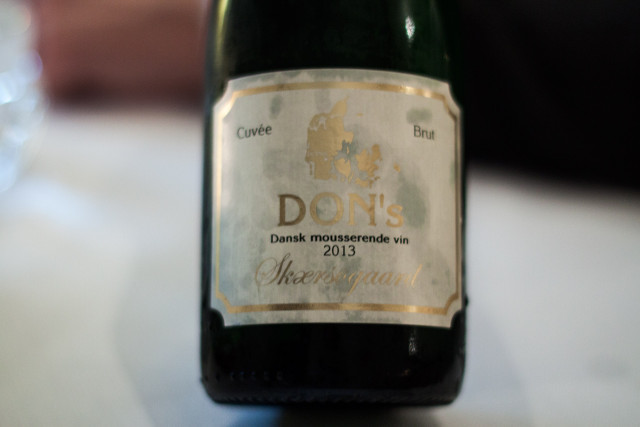 Don's, Skærsøgaard Denmark
Well, my friends had Champagne and I felt like trying this Danish sparkling wine Don's from Skærsøgaard in Jutland. It is made from Orion and Solaris grapes. It was much better than I expected: Great mousse and fruity style. The Solaris grape is similar to Riesling and I think the overall impression was like a very nice German Sekt.
Another thing that I love was that we were handed cold and fresh towels before we started on the appetizers and kept them until we had had all the finger food.
Scallop & fermented sea weed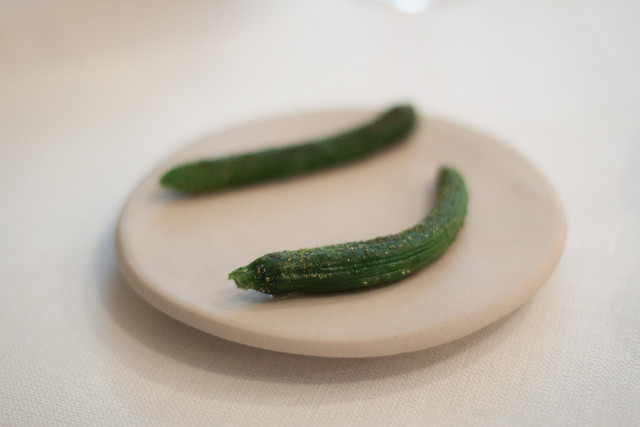 Cucumber (dehydrated I think)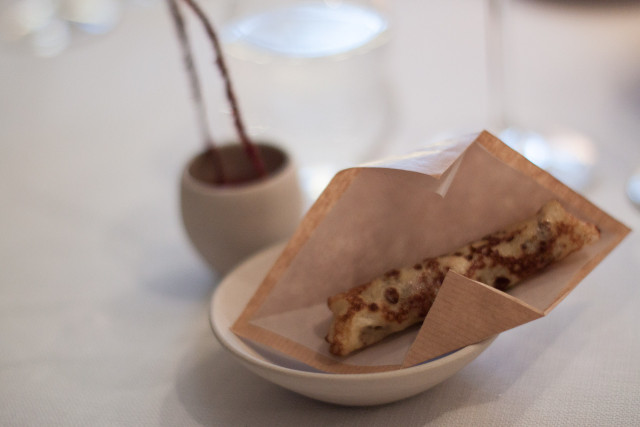 Ox tartar wrapped in crepe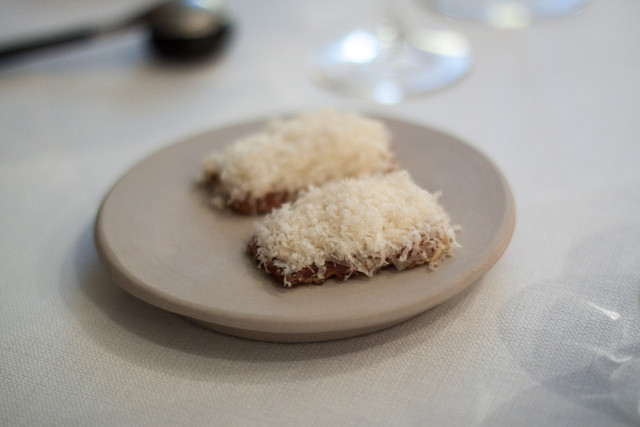 Blini-like flatbread with Danish Havgus cheese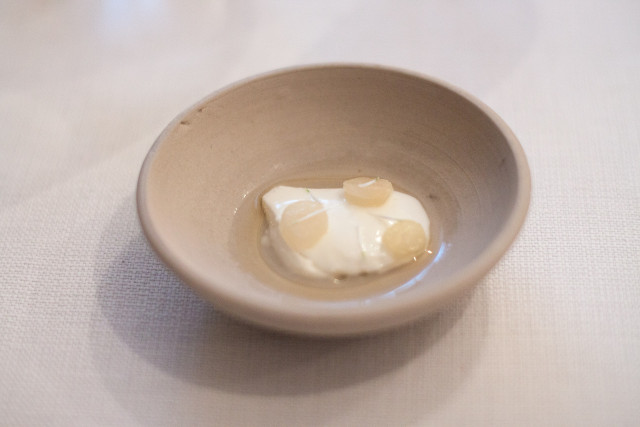 Fresh cow milk cheese topped with fermented white asparagus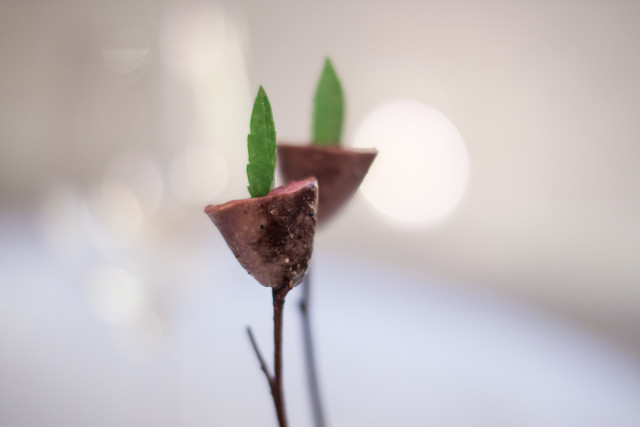 Duck heart and lemon verbena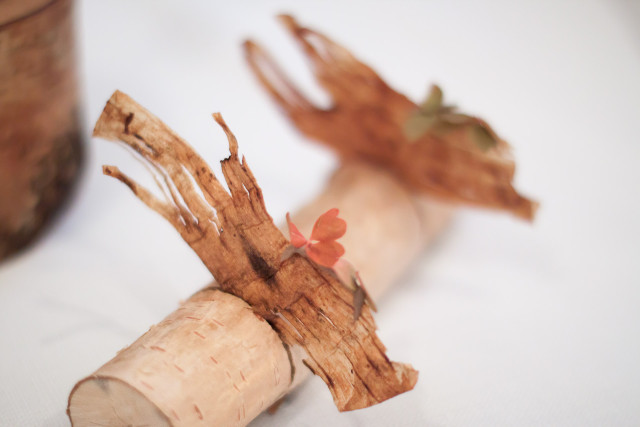 Flatbread and sorrel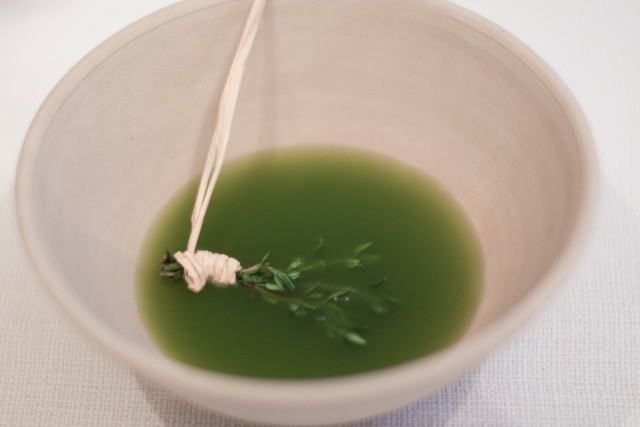 Lemon verbena soup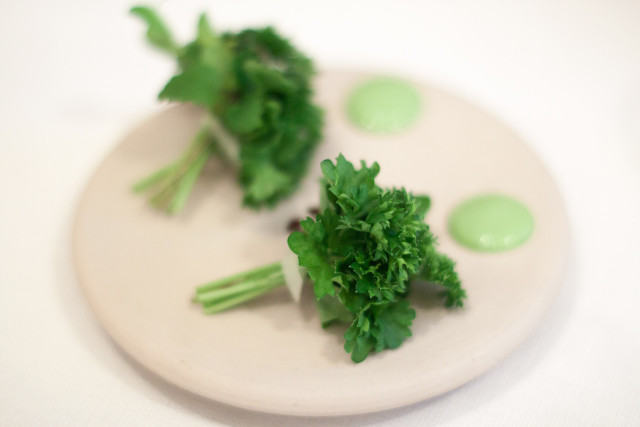 Herbs with herbs cream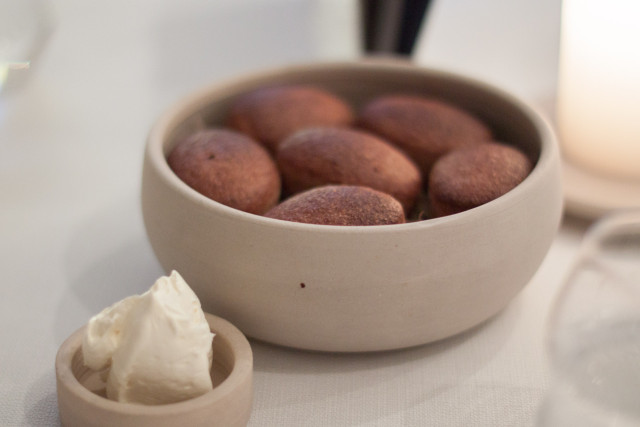 Bread and butter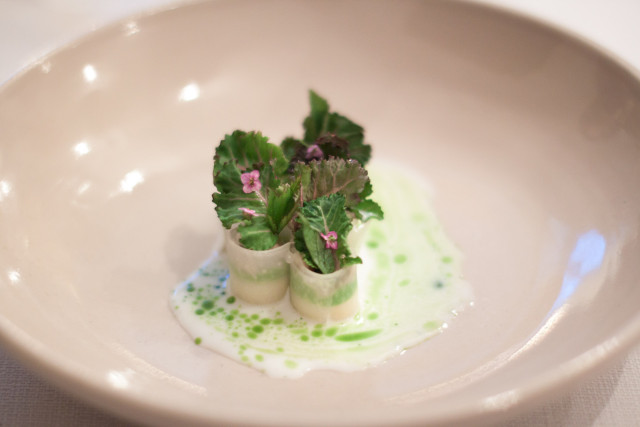 First course: Danish oysters from Limfjord with smoked buttermilk and kohlrabi
Perfect little mouthfuls with a piece of oyster in each bite. Small packages of goodness.
We had a wonderful bottle of 2011 Auxey-Duresses from Domaine Benjamin Leroux full of flavour and minerality. It resembled a Meursault.
To follow we had two red Burgundies, the 2008 Nuits-Saint-GeorgesDomaine Arnoux – Lachaux and the 2008 Gevrey-Chambertin – 1. Cru Cazetiers Domaine Serafin Pere et Fils. Both were lovely, the incredible Serafin was more powerful (of course).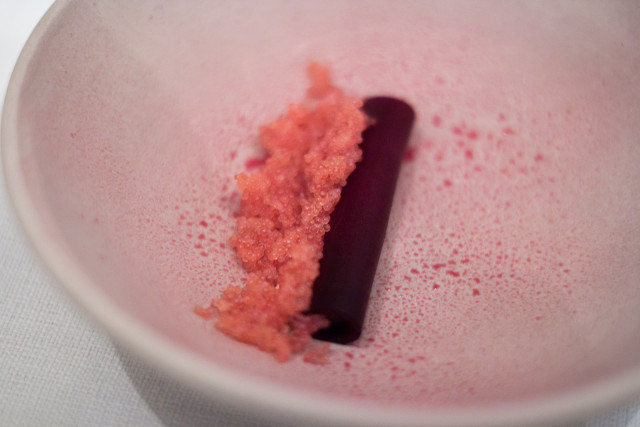 Lumpfish roe, raw shrimps & beetroot
A pure and fresh shell fish serving that was spiced up with horseradish.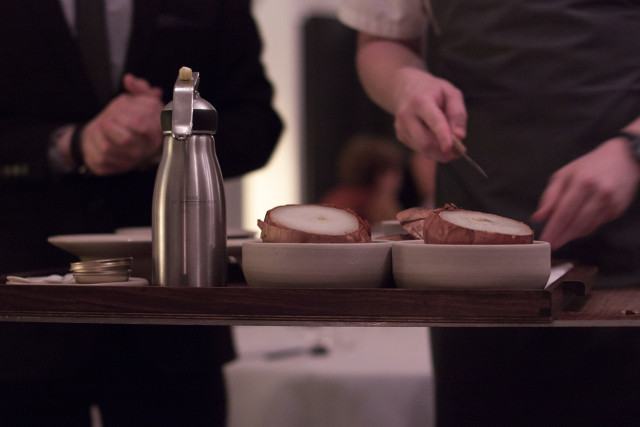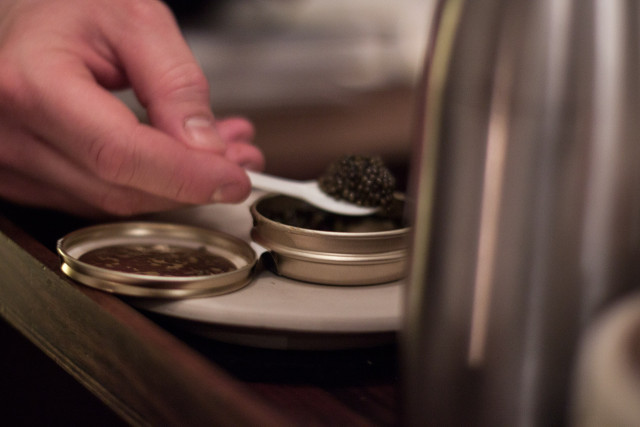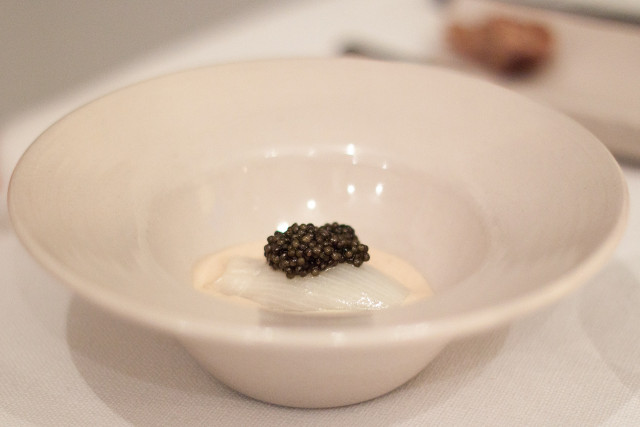 Baked onion, elderflower & Baerii Prestige caviar
The really gigantic onion was cut and prepared at our table. Only the soft and inner part of the onion was plated and topped with utterly delicious prestige caviar. A very creamy dish that underlined the salty and umami taste of the caviar. A completely yummy experience.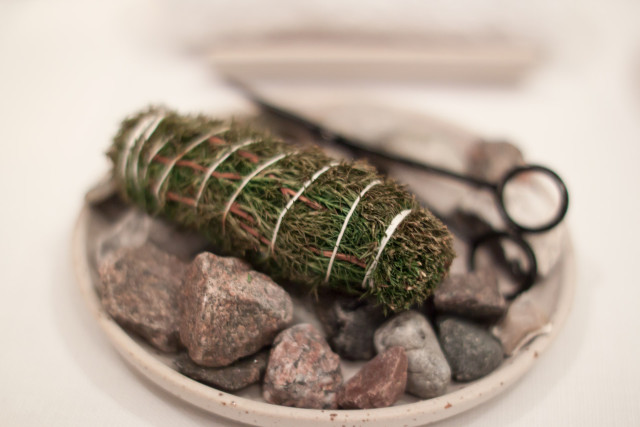 Turbot, lard & dried turbot roe
First time I had this dish I was so overwhelmed of it's deliciousness that my friend and I had to ask for an extra one. You cut through the line and the juniper branches to unwrap the fish, which has been sucking up the juniper flavour and the lovely fat from the lard . On the side comes a mayo with dried turbot roe (bottarga-ish) and juniper salt for garnishing the juicy fish. A lovely match.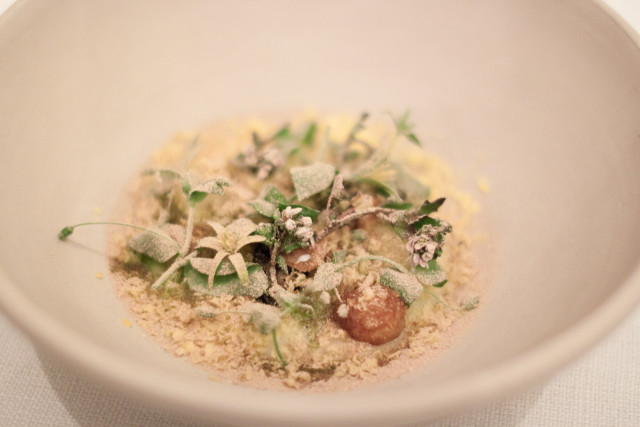 New Danish potatoes, morels & egg yolk
Next came one more pleaser of pure new Danish potatoes and morels from France. Spring on a plate! A sauce from potato burned in butter was poured onto it – but the dish was prettiest before the sauce, so that's the photo I'm showing you.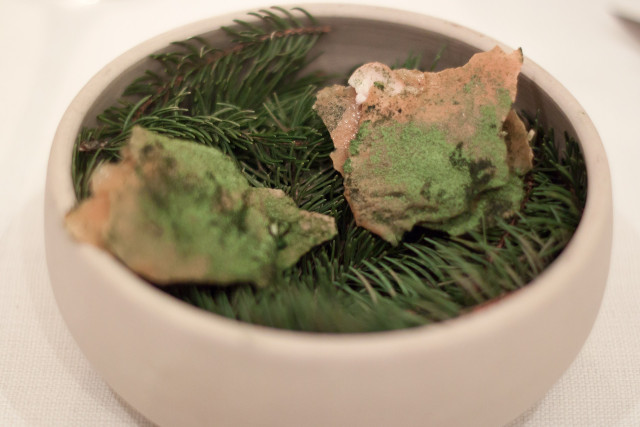 Lamb sweetbreads sandwich sprinkled with pine. Very good.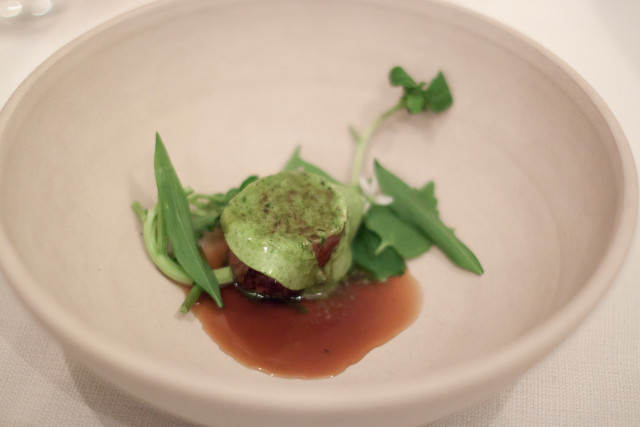 Danish South Sea lamb, sweetbread with nettles, rack with rams
& fermented parsnip
 A perfectly cooked Knuthenlund lamb had a herbs-butter disc on top so that when the waiter poured the sauce, the butter melted. The meat was very tender and had a light lamb-y flavour. Very delicious.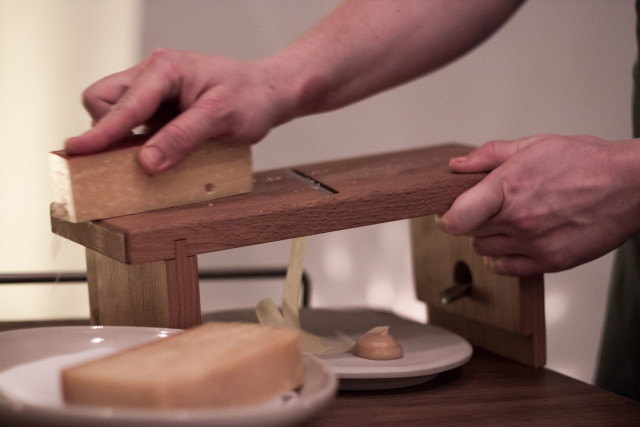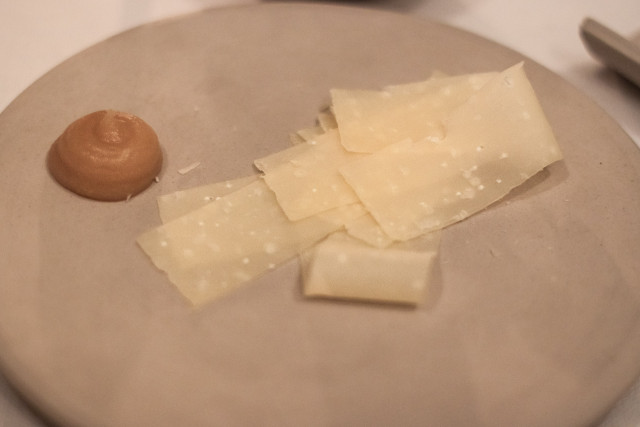 Danish Crystal cheese
All the dishes had been so delighting that I was too curious to resist the cheese serving. The waiter shaved the cheese very thinly and the taste was deep and fabulous, especially with the tiny crunchy protein crystals.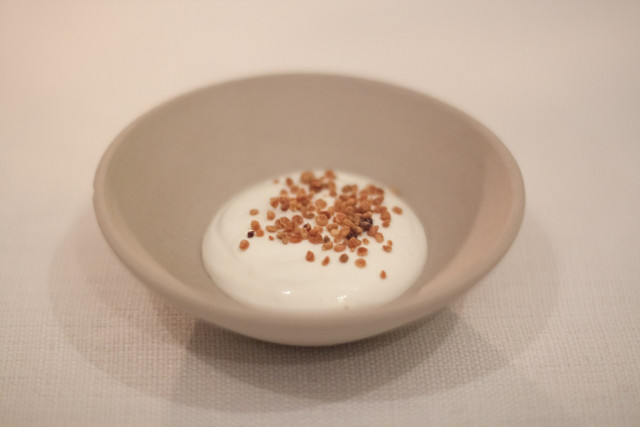 Fresh goat milk cheese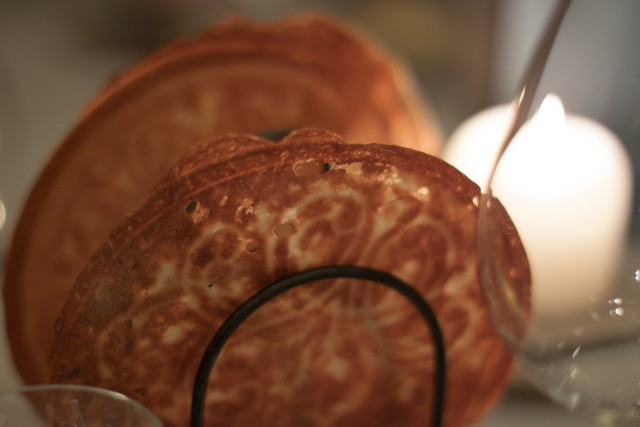 Thin and crunchy cheese waffle
This is a variation of a cookie that I know very well. My mother-in-law is from the southern most part of Denmark, where this cookie (called Gode Råd which directly translates to Good Advice) is a traditional christmas cookie. This one was a bit thicker than the original, it was salt  – not sweet – and it had cheese in it. It was delicious, although a Dane from the south of Jutland would probably regard it as an abomination against tradition.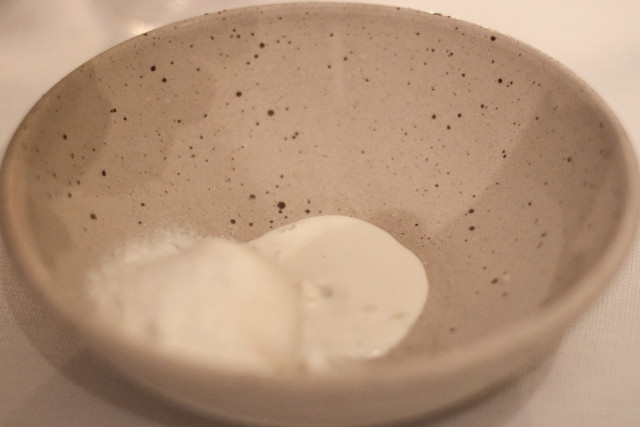 Camomille, honey & almond – a delightful cleanser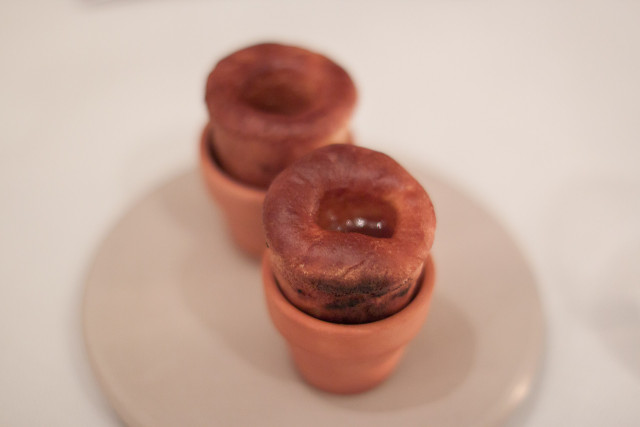 Sweet clay pot bread with caramel filling. Sinful.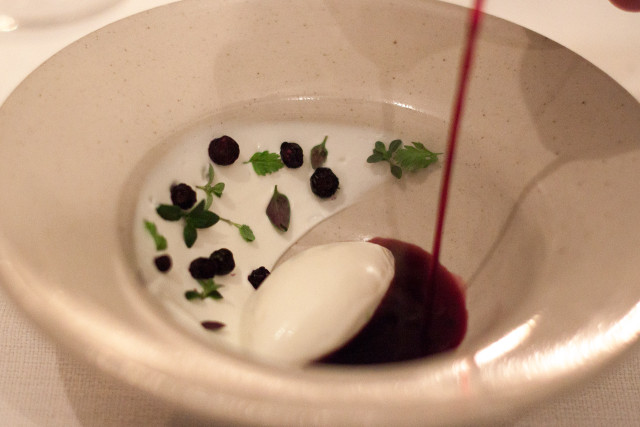 Aronia berries, sheep yogurt and thyme – Just Delicious!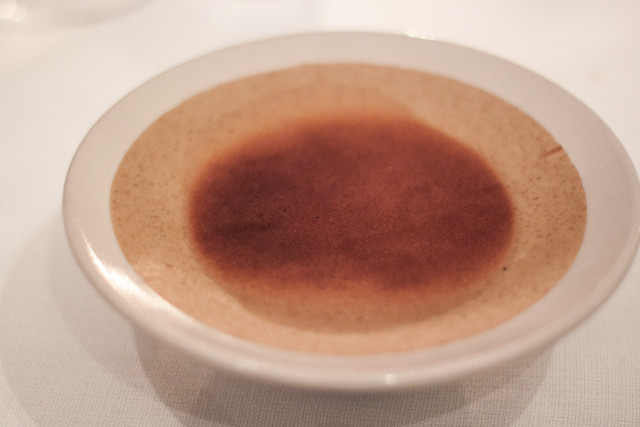 Burnt Jerusalem artichoke, walnut ice cream & suger beet syrup
This was the highlight of the desserts. You broke through the burnt artichoke layer which added crunch and crispy-ness and character to the sweet and creamy ice-cream beneath.
Even though we had around 17 servings including the cheese course I did not feel too full. The composition of the menu and crescendo was just right. And it felt so good to be back to AOC. Thank you for a lovely evening.
 Bravo!