Back in mid August when I received the invitation from Kobe, Alexandre & Filip to the exclusive dinner… with the emphasis on French-Flanders and Flanders… for a limited international group on Monday 21th of September, I got very excited. I never imagined how fabulous it would really be though.
On Monday 21th I arrived in Paris with the morning flight. Luckily, I got a lift into town with Mads Refslund who I met on the plane and who was in town for a cooking event at the Park Hyatt Hotel. I was going to meet Laurent there, and with him, Caroline Mignot of and Stephane Riss, I would be transported to Dranouter in Belgium about 260 km from Paris. Stephane's task at In de Wulf was to webcast live from the kitchen.
But before this, Laurent had kindly invited me to join him at a birthday party the L'Arpege restaurant. Since we only had about an hour before we would have to leave for Belgium, we got a special menu of consommé with raviolis, steamed vegetables with cheese creme sauce, lobster and a strawberry tart. Thrilled to get such an opportunity and surrounded by a French-speaking  gentlemen's party, I so regretted my lack of French proficiency. I also got a glass of the 1979 Comte Lafon Meursault Goutte Côte d'Or, which was really delightful and surprisingly still full of acidity. It seemed like it could age even more. I have no photos from this  birthday lunch as I felt it would be too disturbing for the occasion. Because of our commitment in Belgium this became my speediest three star lunch ever.
After 2h 15mins' drive straight north, we arrived at In de Wulf and got a warm welcome by Filip Claeys (De Jonkman, 1*), Alexandre Gauthier (L'auberge de la Grenouillère, 1*) and by Kobe Desramaults (In de Wulf, 1*), of course.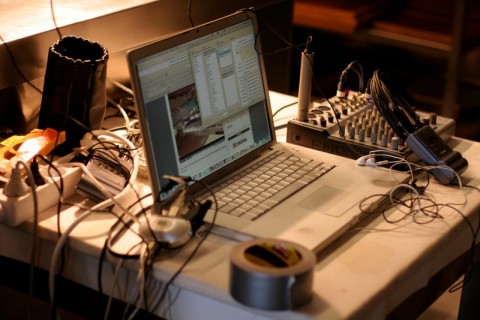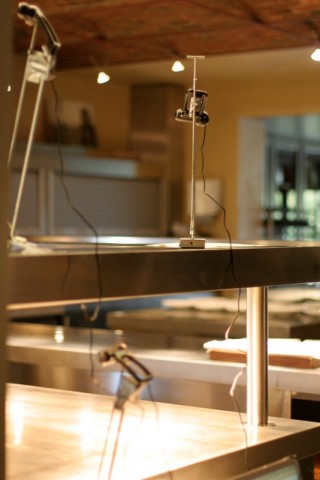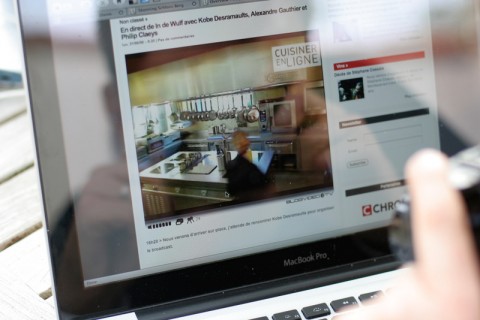 Stephane unpacked his gear and started setting it up in the big kitchen, and the three of us relaxed over a cup of coffee. Then shortly after, Food Snob arrived. Impressed by Stephane's set-up and the technology, we all started to walk (and fool) around in the kitchen to test the web cast on Stephane's site Cuisine En Ligne.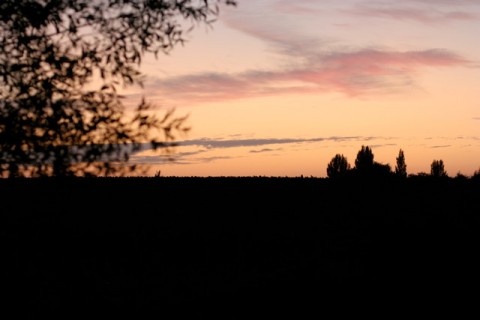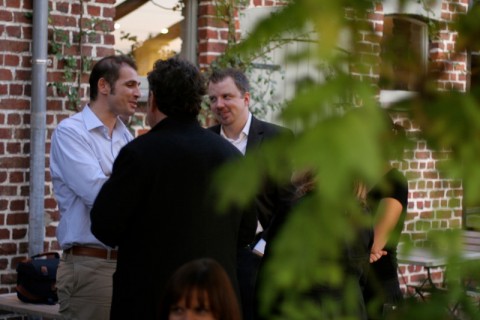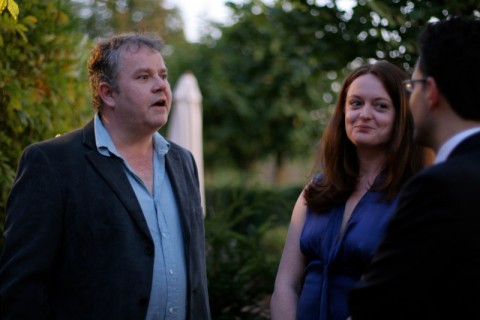 7pm, it was time for me to get ready for the evening. The weather was amazing, warm and sunny, and when the guests arrived we enjoyed a glass of champagne outside at the pretty terrace in front of the restaurant. French and Belgian press were there, more food bloggers: Bruno Verjus of Food Intelligence, my friend Ingo of High-End Food, and The Sportsman's Stephen Harris on behalf of Steve Plotnicki of Opinionated about Dining. After a chat with the guests and watching the sunset, it was time to move inside and for the dinner to begin. I had the pleasure of having Food Snob, Ingo, Emma, and Stephen at my table.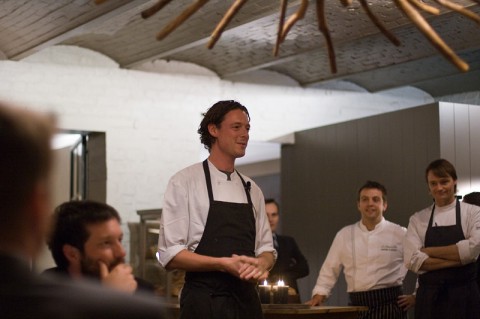 Kobe greeted us all, backed by Alexandre and Filip
Supported by Filip and Alexandre, Kobe greeted us all and introduced the theme of the event being Identity Crisis: The recession affects all business domains and the world of restaurants is not an exception. But why not fight back, be strong and make an effort to highlight to the world what the Flemish gastronomy has to offer, full of strong terroir-driven identity of Flanders and northern France? This was the purpose of the evening – and we were lucky to be there!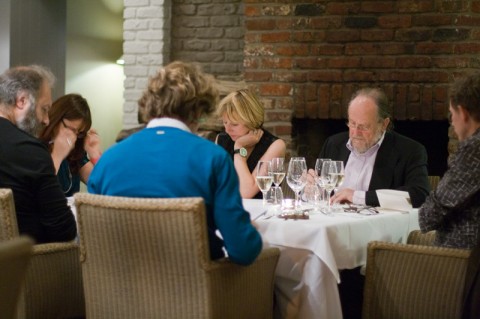 People from the French/Belgian press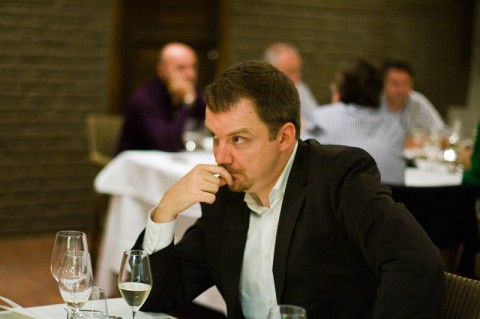 Each chef had composed an appetizer, a starter, main course and a dessert and on top Kobe offered a few extra courses. Then the first amuse bouche arrived: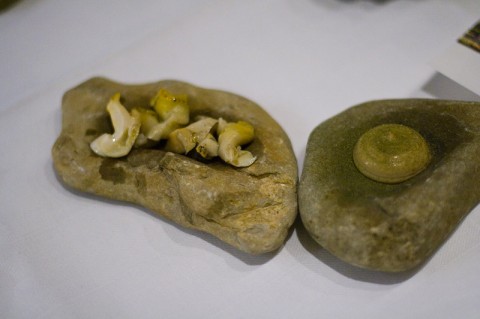 Whelks (Kobe)
Poached whelks and mayo with bouillon and white vinaigre. The snails where chewy but tasty and the mayo was a very good match with the acidic addition.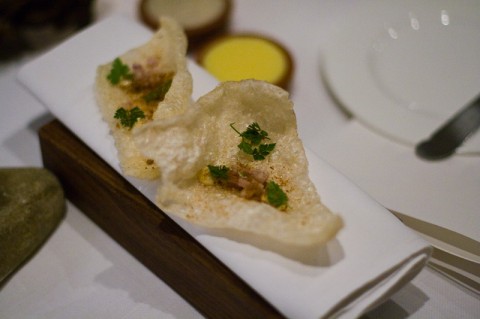 Pork (Kobe)
Kobe also presented the following appetizer of a pork rind crisp. The taste of pork was very strong. It was topped with honey, chervil, vinegar powder, it was salty and a snack which really kick-started my appetite.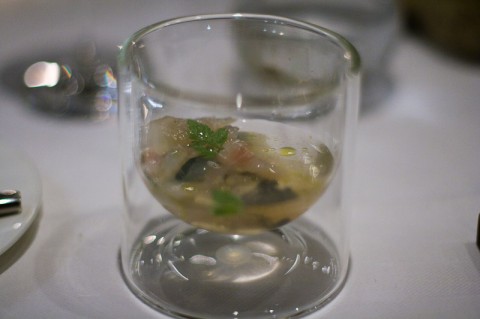 Seawater (Alexandre)
Next was sea bass, oyster, olive oil and basil poured with seawater to form a salty but characteristic and smashing amuse bouche with a slightly smoky note to it. The oyster was so tasty and really delicious.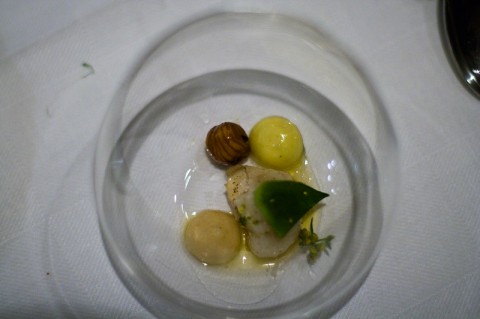 Cheek of ray (Filip)
Filip presented the last appetizer: Ray cheek that had been cooked at low temperature. It was lovely. It was served with a cream of nuts, mayo with cinnamon and cardamom which worked really well, a part from the too bitter hazelnut which unfortunately ended up on my plate.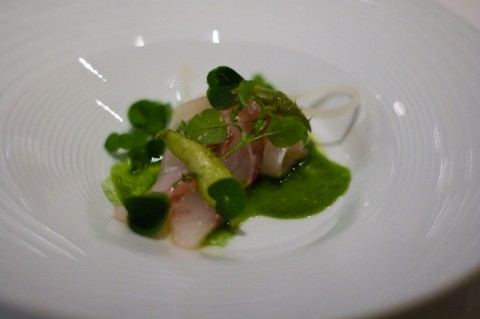 Sea bass, wild herbs, pickled vegetables (Kobe)
The first starter was composed by Kobe and offered raw sea bass, herbs from the local woods; wood sorrel, nasturtiums, chickweed. The sea bass was of very fine quality and very rich, but with an excellent taste. Is was accompanied by Kobe's own vegetables of cucumber, beans, onions, and cauliflower that with the herbs balanced the richness of the fish.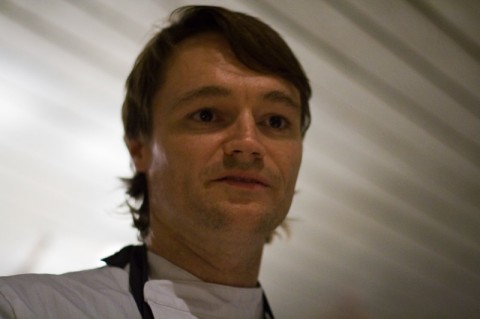 Filip Claeys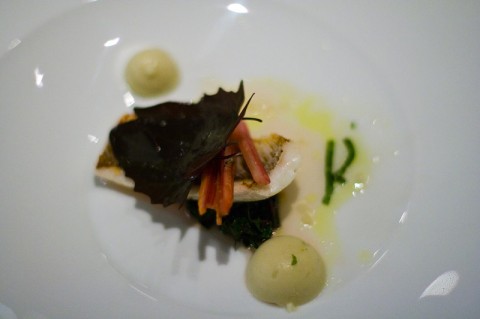 Weaver, fennel, chard, red orach (Filip)
Next was Filip's weaver cooked with fennel oil for four minutes in a vacuum and then fried. It was served with fennel puree, Swiss chard and topped with leaves of red orach. The combination of flavours was very enjoyable. It was the highlight for me, the perfect dish. Really excellent.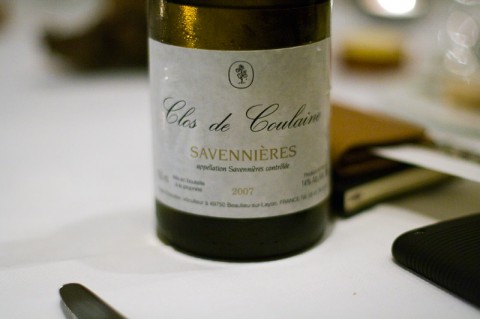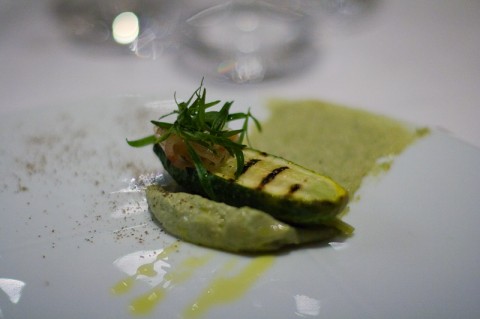 Pickels, tarama (Alexandre)
Tarama mixed with tarragon, fresh tarragon, char-grilled gherkin, Ventreche ham, and white pepper formed a controversial and daring dish. If you don't appreciate tarragon you definitely wouldn't like it. I like tarragon but this was a little too much for my taste. Still it was a very interesting course. The presence of the ham was brilliant and added some perspective to the rich tarragon flavour.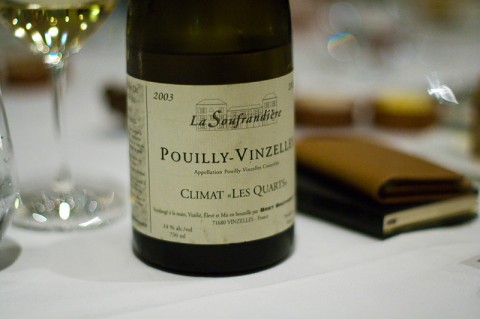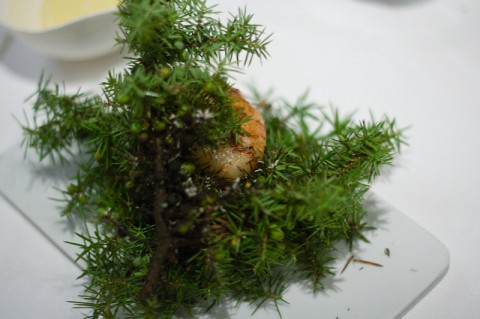 Lobster, juniper berry (Alexandre)
When Alexandre introduced the first main course, a strong scent of juniper berry and pine smoke infused the room. An odd-looking thing arrived in front of me. Basically the lobster was put in the middle of the green tuft. The lobster was poached 45 seconds and smeared with juniper butter. We ate it with our fingers and the lobster was full of sweet shell fish taste and very juicy. The juniper wasn't too strong for the shell fish.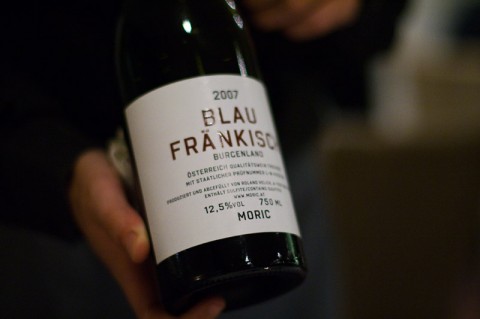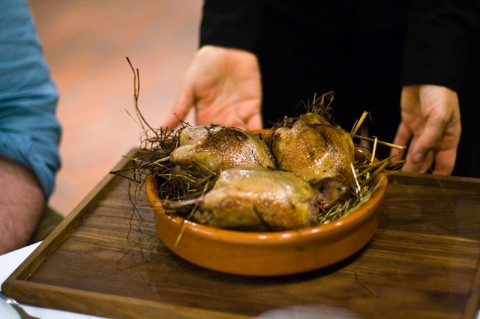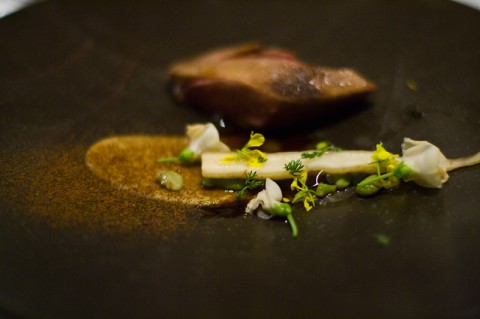 Pigeon from Steenvoorde, cooked in hay, jus of hay, vegetables  Zwartemolen (Kobe)
Kobe's first main course of pigeon had spent two weeks stuffed with and lying on burnt hay, then it had been cooked in the oven with hay. No wonder the meat was tender but given the the structure of it, it almost didn't resemble poultry. Is was as tender as the most delicious steak! The pigeon was accompanied by juice of hay and roasted onion powder on turnip puree, parsnip and broad beans. All surprisingly delicious.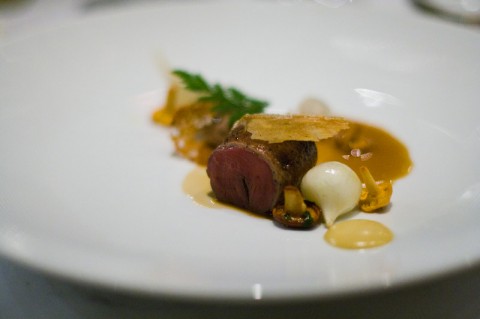 Wild duck Damme, girolles, spring onions, elderberry jus (Filip)
Filip served a tender duck with a paté of duck thigh confit mixed with rilliette of duck liver. Cream of onion puree, onion powder, aubergine puree, onions and girolles formed a finely balanced and delectable but more classic course.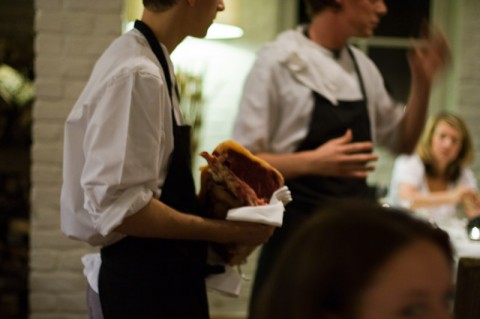 Then followed Kobe's second main course of Boeuf Dranouter. The meat came from the local, rare pure-race cattle of Bœuf de Flandres Occidentale. Before the meat was cooked Kobe explained how a local farmer had started to breed this very rare animal. The meat was simply cooked and cut in pieces that fit two mouthfuls. Again we ate with our fingers and I experienced an wonderfully pure and intense meat taste, which was rich without being greasy.
Then we moved on to the desserts.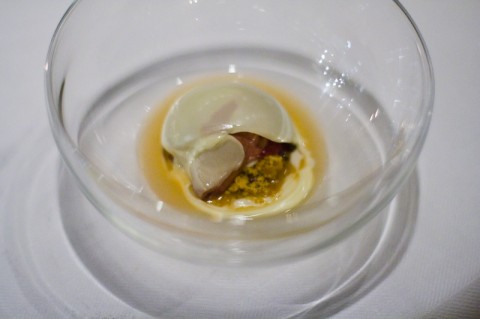 White chocolate; raspberry, mint chartreuse (Filip)
A white chocolate ball was poured with warm tea which melted the chocolate to reveal the filling of raspberry ice cream, caramel and cocoa nut. It had a sparkling effect in my mouth like baking powder. The flavours were perfectly balanced on sour and sweetness and very delicious.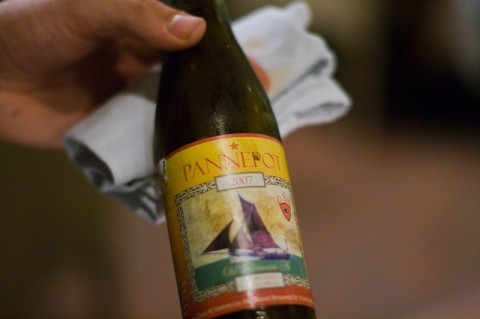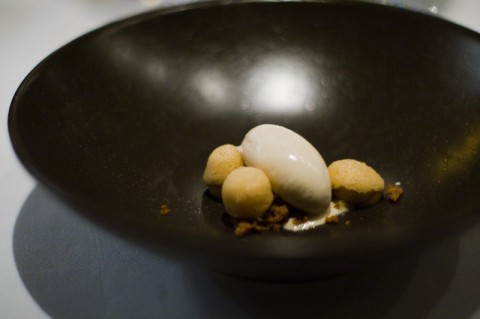 Bacon Kaantjes with Pannepot beer (Kobe)
This dessert of Kobe reminded me of the Danish dish Øllebrød because of the beer taste. I very much liked this dish with its crispy fried cubes of pork (the kaantjes) and the rich taste of Pannepot beer ice cream. Simple but delicious.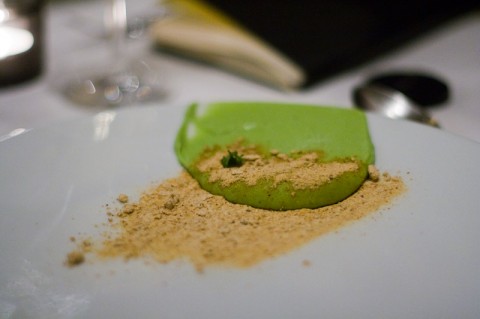 Handfull of sand (Alexandre)
When Alexandre's dessert arrived I didn't now what the dish was composed of. We were invited to guess and after a taster I felt sure that the powder was made from dried bananas. But I had no clue about what the green cream was. It happened to be parsley mousse and the strange thing about it was that these two ingredients really hit it off together. It was really good. The banana taste was sweet and rich but the parsley ensured that it wasn't overwhelming.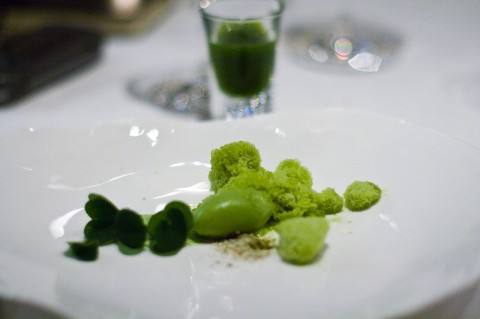 Sorrel, lemon mint (Kobe)
The meal ended on a light and refreshing note. A dessert like this is often used as a cleanser between the savory and the sweet courses, but not in this case. The flavours were herbal and dominated by the wood sorrel.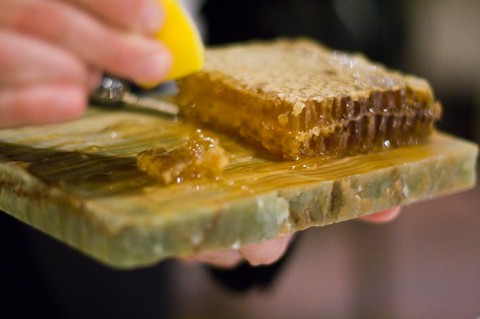 Before and with the coffee we chewed honeycomb pieces and guzzled the most flavorful strawberries and sweet chocolate petit fours.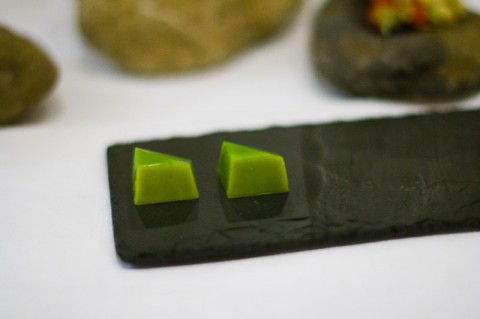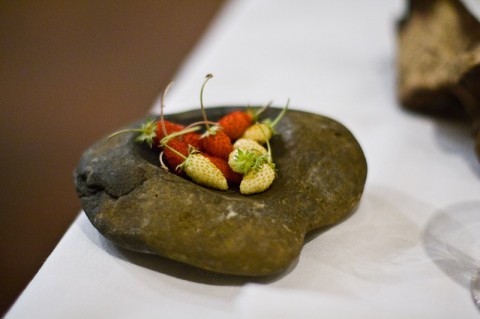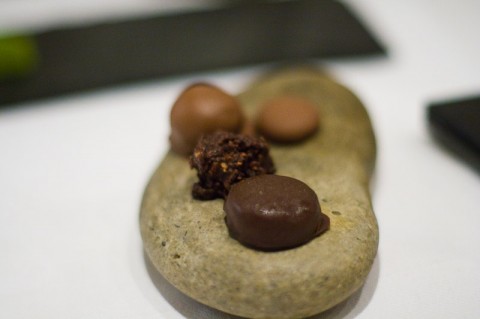 It was passed midnight and a really wonderful meal had come to the end. One thing was absolutely clear to me, there was no identity crisis amongst the three chefs Alexandre, Filip and Kobe. It also showed how rich this region is on interesting and high-quality sea and land products. As a whole the dinner demonstrated initiative and innovation, will and talent. There is a strong sense of identity amongst these three chefs and it's very intriguing to experience their new techniques and style of cooking, which is their own and rooted in the availability of their local products and their personality.
The atmosphere had all evening been warm and cheerful. It very much made me recall the Cook it raw event I took part in at noma a few months earlier. Only this time I felt much more relaxed and comfortable from the very beginning as I knew some of the people who were joining. Seeing old friends again and meeting new ones with a passion for great food – it's like a paradise for me, personally. I'm so grateful I got to experience it.
It was late, and after chat with Food Snob, Ingo, Jean-Paul Perez, Bruno and Laurent, I was ready for bed. The next morning some of us shared the lovely In de Wulf breakfast but I wasn't able to eat very much. Everybody seemed influenced one way of another by the dinner event, I surely was. Then it was time to get back to Paris. Again the weather was beautiful, Indian summer-like.
Back in Paris I noticed the many brown leaves on the trees, different from Copenhagen where autumn colours weren't yet as evident.
I had a lunch and another dinner scheduled with Laurent and then very early the next morning I returned to Copenhagen on the first flight. What a 48hs trip.
Thank you Alexandre, Filip, Kobe & Laurent!
A lot of people have also written about the event: