One of my favourite restaurants in Copenhagen is Mielcke & Hurtigkarl. The restaurant is located in the Danish Royal Horticultural Society's Garden in Frederiksberg and is the most beautiful place in the summertime, full of flowers in bloom and with peacocks walking around just outside the beautifully decorated neo-art nouveau-ish dining room.
It was an easy choice for me to pick Mielcke & Hurtigkarl for my pre-birthday dinner this August. And now on the verge of December, as the cold, dark and windy Scandinavian winter is approaching rapidly, it's a perfect time go through my photos and notes from this night, and to recall a beautiful summer's evening at this lovely place.
You have to imagine the setting: Frederiksberg Garden is one of the most beautiful parks in Copenhagen. It's lush and green, and across the lawn in the corner of the garden where Mielcke & Hurtigkarl is situated, peacocks stroll, flaunting their tail feathers, completely ignoring the kids who tries to scare them. A low August sun is shining through the trees. Even the echoes from a nearby open air electronica music festival couldn't ruin the serenity of it all.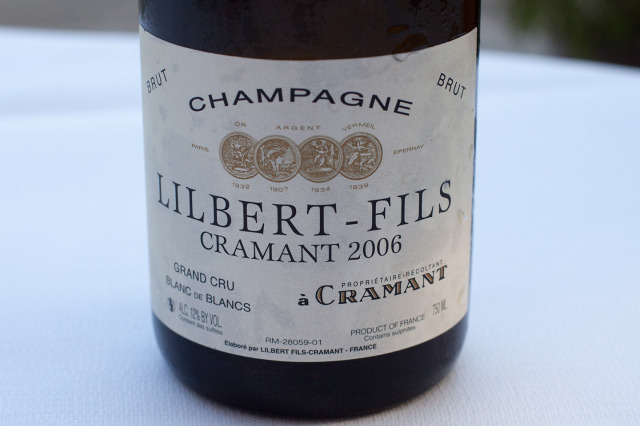 2006 Lilbert-Fils Blanc de blanc, Cramant
We started out at the terrace outside the restaurant with a glass of bubbly. Well, two glasses actually, as Sommelier José Santos offered two choices of champagne:  this stunning 2006 vintage Lilbert-Fils Blanc de blanc and the Billecart-Salmon rosé champagne N.V. Several fantastic snacks accompanied the champagne and really intrigued our expectation towards the dinner.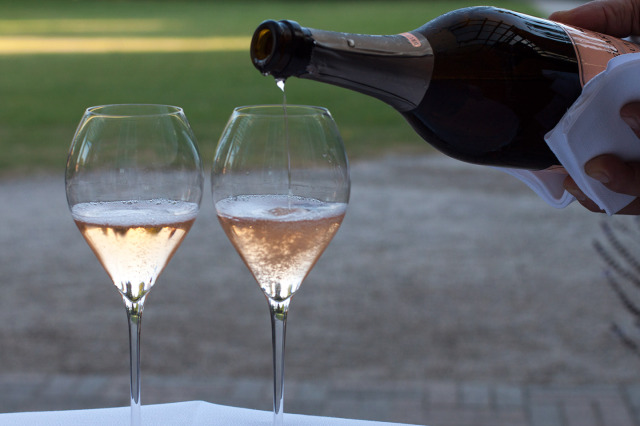 Billecart-Salmon rosé champagne N.V.
I do love the garden… but I have to admit that another reason for my love for Mielcke & Hurtigkarl is in fact Mr. José Santos. José Santos is Portuguese, born in Angola, and arrived in Denmark in the 80'ies where he soon started working with Roy Hurtigkarl (Jan Hurtigkarl's father) at Roy's restaurant, the famous Gastronomique. The very same place that in 2008 became Mielcke & Hurtigkarl when Jakob Mielcke came along. José has a lovely way of inviting you into his world of wines and sharing his knowledge on, and passion for, the wine makers, grapes, styles, vintages etc.
Obviously, I also love the food. Jakob Mielcke is an autodidact chef who has travelled the world. He has worked with great masters such as Pierre Gagnaire, both in Gagnaire's restaurants in London and in the infamous three-Michelin-starred original one in Paris. In 2002 he returned to Denmark as head chef at Jan Hurtigkarl & Co on the northern coast of Sealand, and in 2008 he opened Mielcke & Hurtigkarl together with Jan Hurtigkarl.
What I like about Mielcke's food is that it's refreshingly free of the new Nordic dogma. It's inspired by his and Jan's travels around the world. Jakob Mielcke's dishes are surprising, exciting, special and delicious and this evening they were perfectly executed by executive head chef Hassan Hussein Mustapha, who I had the pleasure to meet at the end of my meal.
But, let's get to it. The snacks served on the terrace were: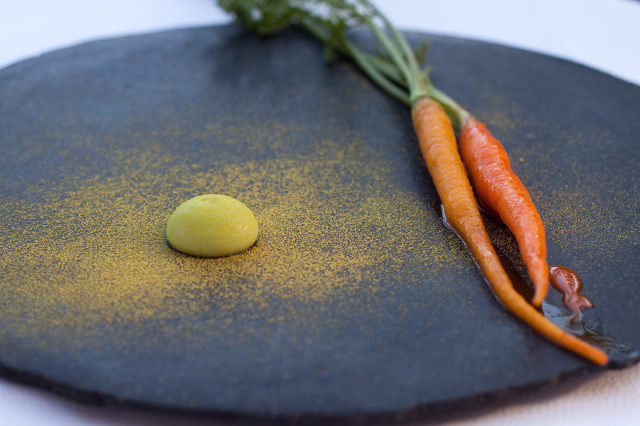 Carrots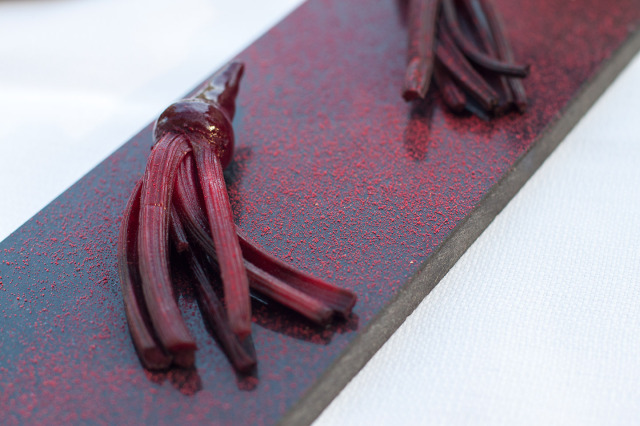 Beet shoots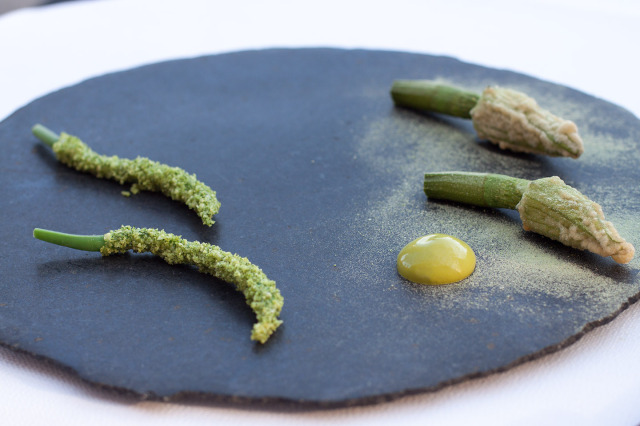 Green bean and zucchini flower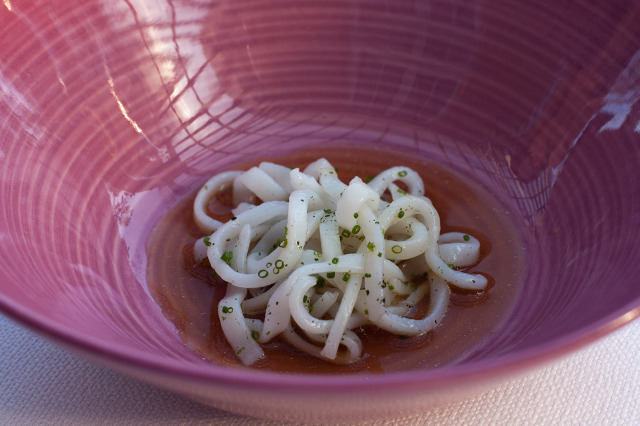 Rice noodles with nori seaweed and rice wine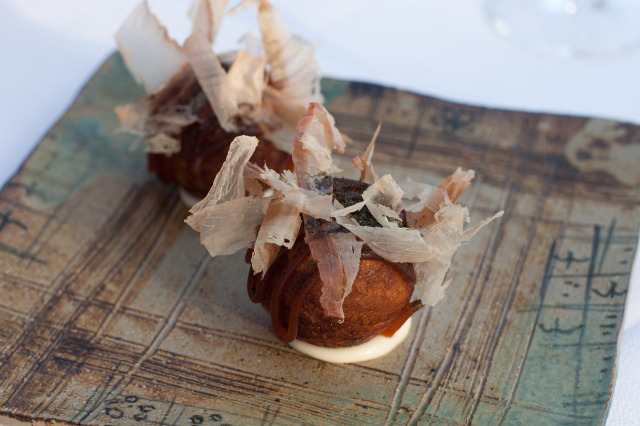 Takoyaki – The thin shavings of ham moved in the heat from the takoyaki – an almost magical sight.
Homemade cured ham
Mini burger of Kobe beef tartar – soft bun and delicious beef taste
Matcha tea and some slightly sweet deep fried buns of some sort.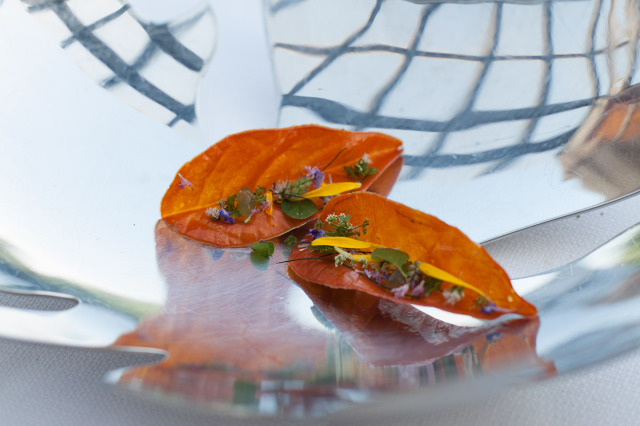 Sea buckthorn
The sea buckthorn leaves were acidic and crispy with a slight sweet caramel-ish note to it. The perfect cleanser, and a nice bridge from appetizers to the menu.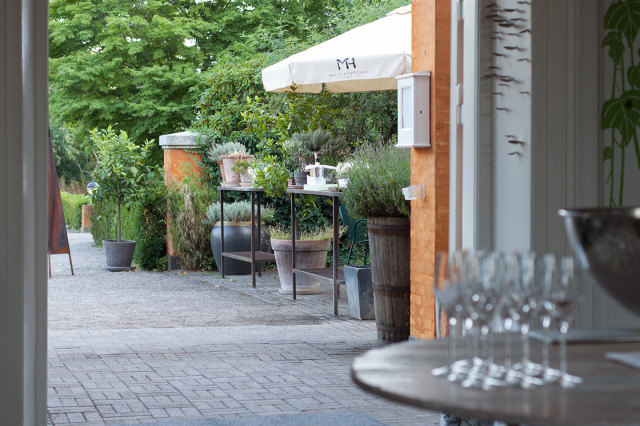 View to the garden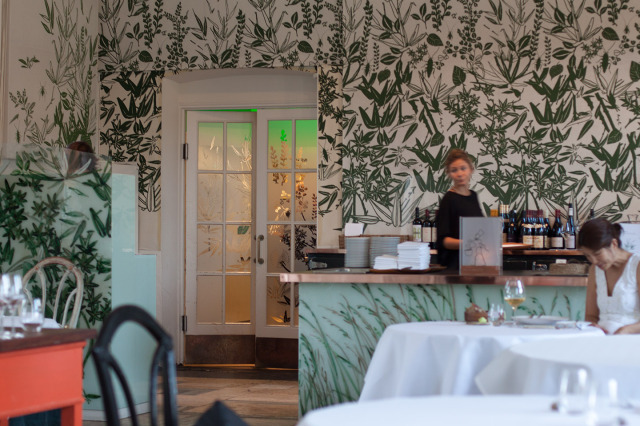 View of the dining room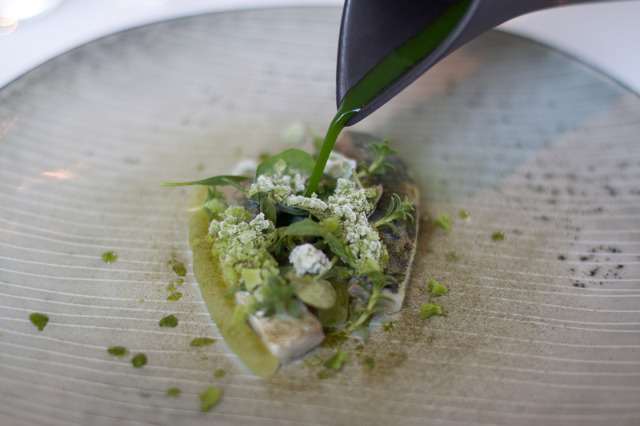 Pure and raw mackerel, grilled cucumber, seaweed and herb sauce
The first course was a raw mackerel with grilled cucumber, seaweed and herbs. A delicious, pure and fresh start.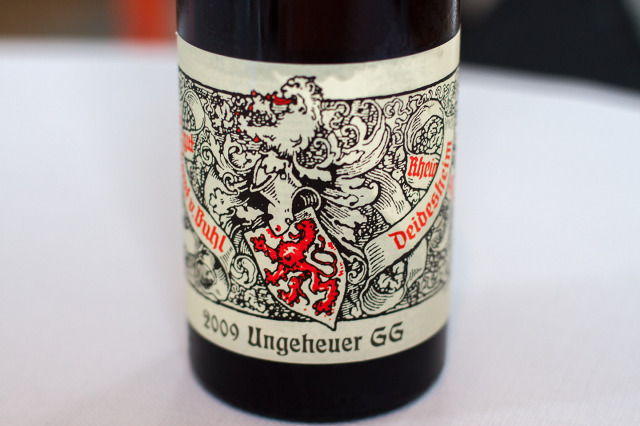 2009 Palz, Ungeheuer GG, R. Von Buhl – Excellent and intense wine that matched the fatness of the mackerel very well.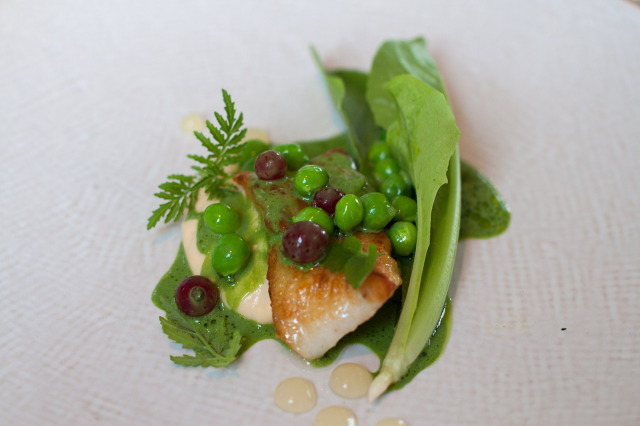 Turbot with lemon verbena, fresh red currants, bergamot and peas
A terrific piece of roasted turbot with a brilliant match of a slight liquorice note of the bergamot paired with the acidity from the currants and sweetness from the peas. A genius serving.
With the turbot we had a great glass of 2010 Auxey-Duresse, Clos du Moulin aux Moines – no photo of this one, sorry.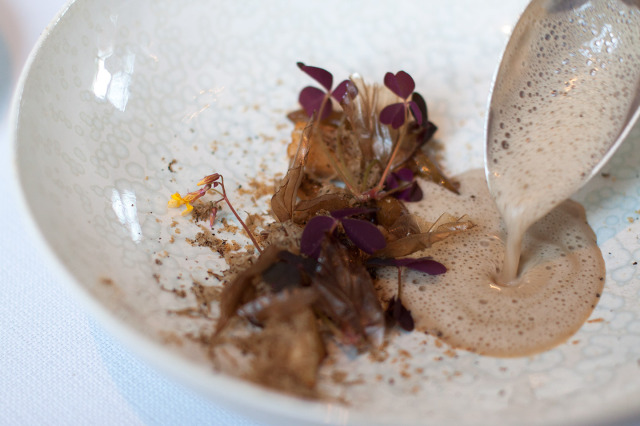 Jerusalem artichokes, veal tongue, mushrooms and truffles
It were c reamy tastes characterised this dish, but without overpowering the veal tongue.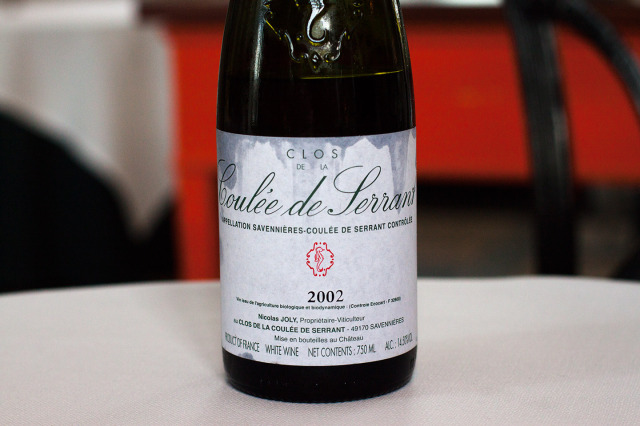 2002 Coulée de Serrant, Nicolas Joly – Wonderful wine with nutty notes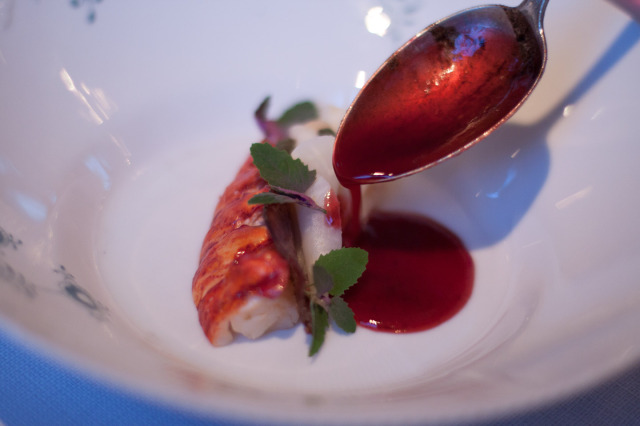 Lobster with sake, sancho and cherries
Lovely lobster. With produce this good, I like that the lobster taste is allowed to come through pure and simple. The other ingredients were there just for backup.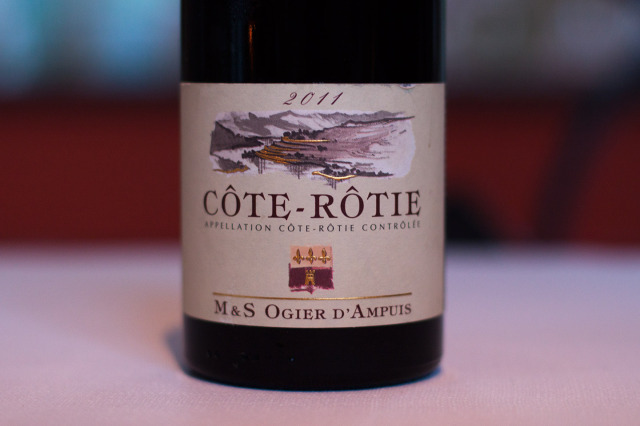 201 1 M&S Ogier D'Ampuis Côte Rotie – fantastic wine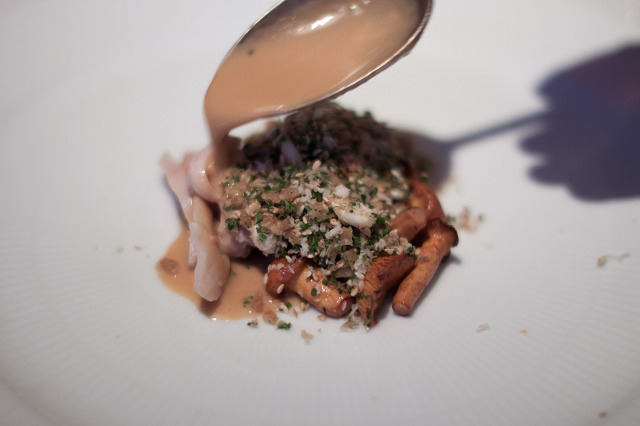 Chicken with yuzu zest and chanterelles – Just so delicious.
2007 Nuit-St.-Georges, Les Saint – Georges 1er Cru, R. Chevillon – Lovely!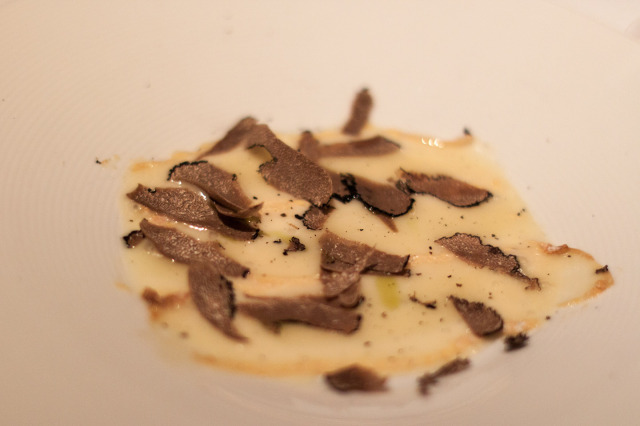 "Granbark" cow milk cheese and summer truffles
All the servings had been so good that I just could not say no to cheese. This Granbark cow milk cheese was slightly melted, sprinkled, I think, with olive oil, and then topped with thin slices of summer truffles. It was the perfect harmony of ingredients and the heat from the cheese released the truffle's flavours.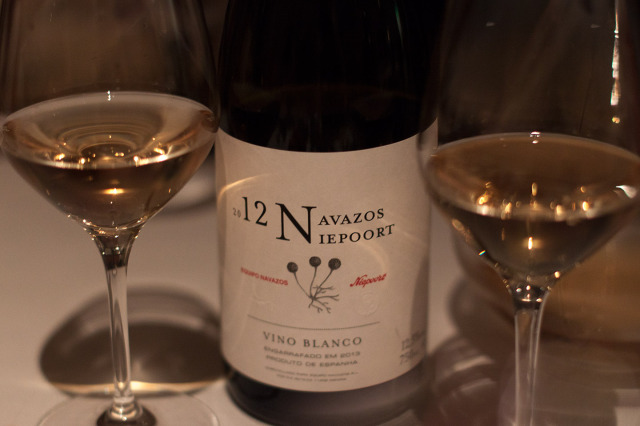 2012 Sanlucar Barrameda, Equipo Navazos, Niepoort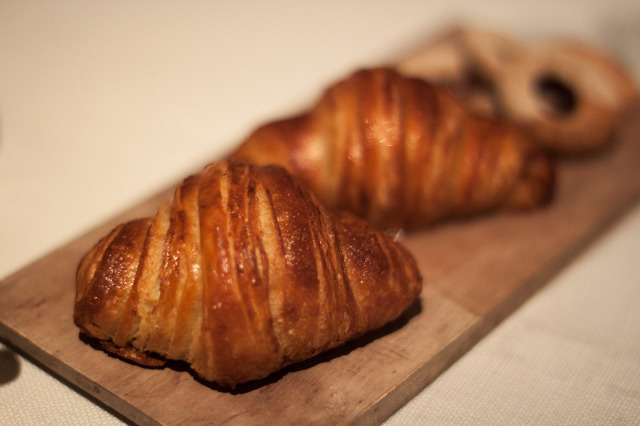 Croissant and  very tasty flat bread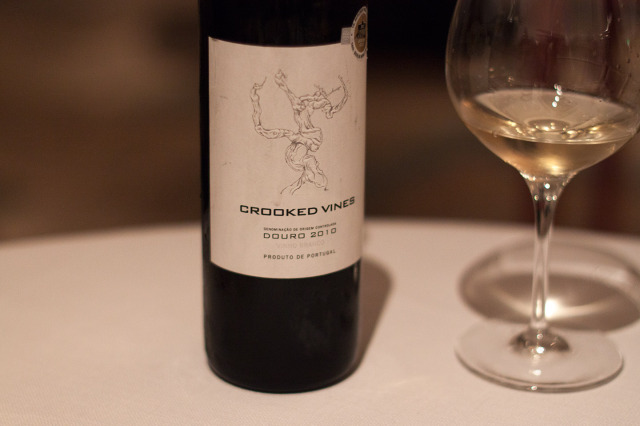 2010 Douro, Crooked Vines, Rui Cuinha – We got two different wines for the cheese.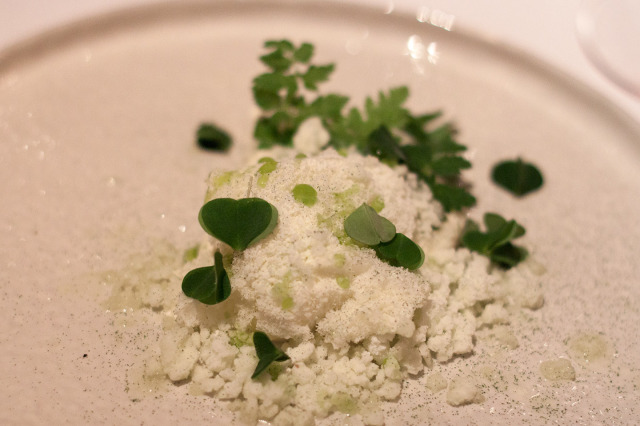 Woodruff, apples, almonds and chervil
I admit that I'm easily moved by some tastes, and I almost cried when I had this dessert. I love the woodruff herb and the way it was matched with milky and licourice-ish tastes was perfection.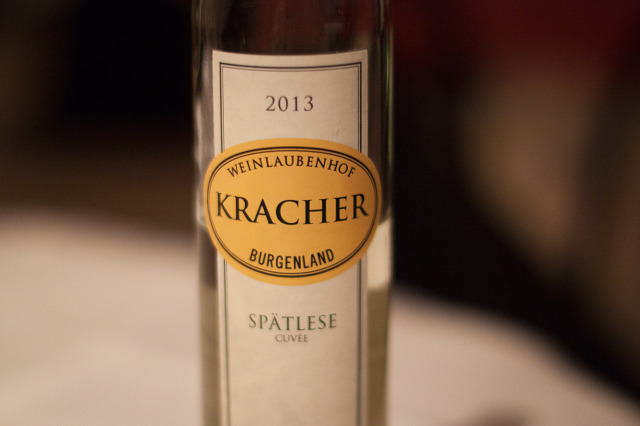 2013 Burgenland, Spätlese, Kracher – Sweet but with some freshness to it as well that was well-paired with the woodruff dessert.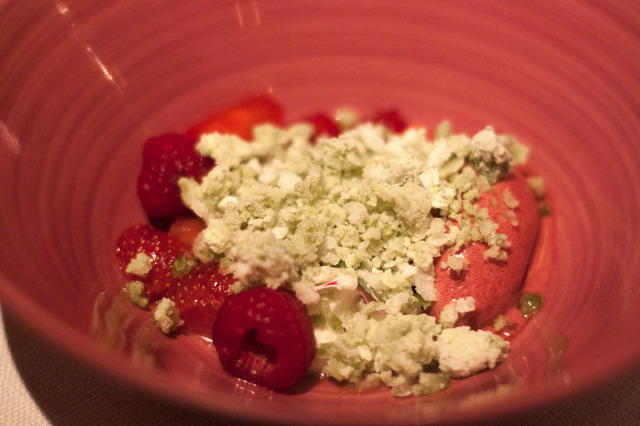 Strawberries with lavender, cherries and pine
Yummy! Deep, deep fruit.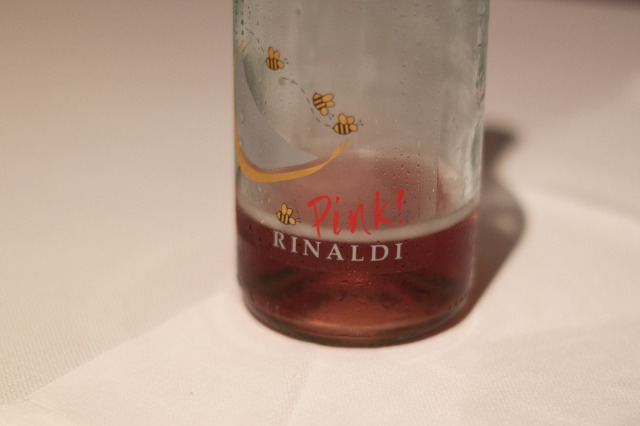 Moscato d'Astri, Pink!, Rinaldi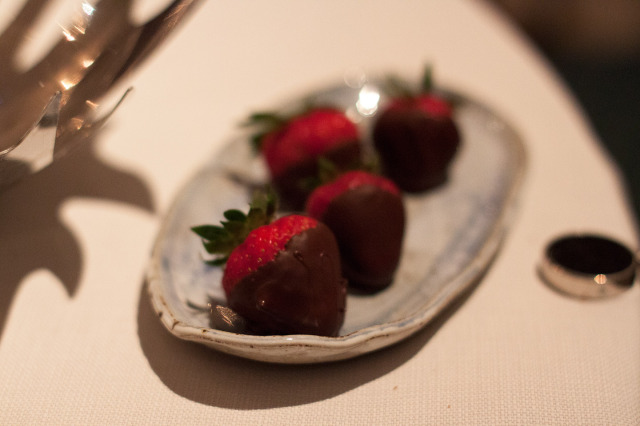 Strawberries dipped in chocolate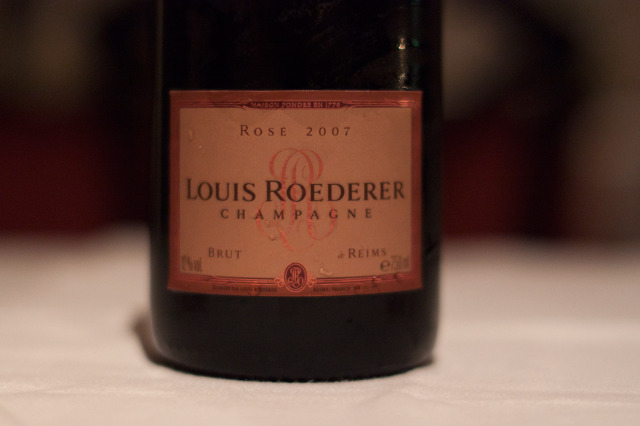 Birthday bubbles
At about 11:40 pm we had had all the courses, and at midnight the date would change form August 1st to August 2nd – my birthday.
I asked José Santos for a glass of champagne – of his choice – to celebrate it. With José's meticulous attention to details, the champagne and glasses were prepared but was only served at exactly as the clock stroke 00:00.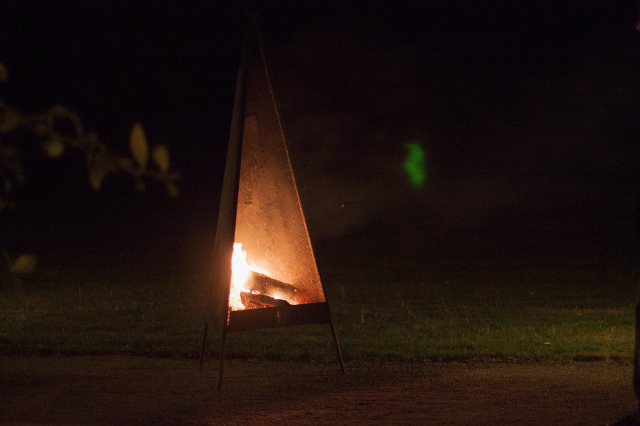 Our dinner finished as it started – outside at the terrace enjoying champagne, and a beautiful, slightly chilly, Danish August night. The peacocks had gone to bed and the electronica from the park had stopped. It was one of those moments when Copenhagen seemed to be everything they promise in the brochures.
You always bring back something new from a visit to Mielcke & Hurtigkarl. It's a very special place. The location, the food, the wine and the friendly atmosphere is unique. Bravo!
My first Mielcke & Hurtigkarl post is here.