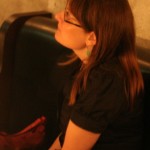 Who's Very Good Food? My name is Trine, I live in Copenhagen and have blogged about gourmet food on Very Good Food since the beginning of 2007.
I love dining at excellent restaurants and drinking great wines, and I adore places that surprise me – be it the three star kinds or a less fashionable bistro. If you like that too, you might enjoy to read about the great gastronomy of the many places I have visited. Or just to drool over the my photos of hundreds of legendary dishes.
People have different taste in food and wine, so I don't write reviews, but try carefully to describe the taste elements and everything about the experience that thrills me. It's up to you to make up your own mind whether to visit a place or not. The purpose of Very Good Food is simply to share very good food experiences and the joys of fine dining – from haut cuisine to simple delis and all over the world.
About me
When I'm not blogging I have a full-time job in as a localization manager in a global software company. I write this blog in my free time and unless I state otherwise, I pay for the dinners myself.
I'd like to stress that only write about places I would return to. So, even though my review might seem a bit pessimistic, I would still love to return to the place for another lunch or dinner.
The restaurants I link to under 'Restaurants I Recommend' on the right-hand side are all places I have visited and where I have found very good food, but not necessarily written a post about. I only link to places that I recommend you to visit.
I don't think that a bad review of a restaurant will do anybody any good, so that's not my business.
My photos?
I primarily use a digital SLR Canon EOS 500D with a Canon 50 mm Prime 1.4 USM lens instead of the kit 18-55 mm. Sometimes the big one isn't appropriate and in such cases I use my petit Canon Ixus 950is which is best used with bright lights. Oh, read my unofficial photo advisor's cool tips, if you like.
Petit Fours
Sometimes I write posts that are not about restaurant, but more sort of a private and personal kind. I mark these posts with the 'Petit Fours' category tag.
Enjoy! That's what we are here for.
Love
Trine Lai