For my noma lunch on 12 February I had requested no more than 5 or 6 dishes maximum. I was there with my mum and my baby brother. It's amazing to experience dish after dish full of creativity, curiosity and delightness. But sometimes 10-14 courses is just too much, for me at least, and for this occasion, I felt that less would be more. I was right!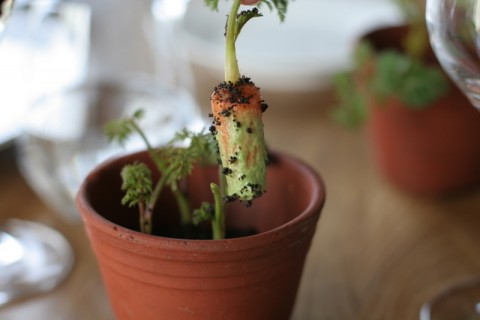 We started out with the classic snacks I have commented here. Each of the pickled quail's eggs were served in its own shell so each of us got the pleasure of lifting the lid off and sniff the smoke. The radishes were this time replaced by tiny baby carrots stuck into the tarragon 'soil'. We got matching wine parings mastered magnificently by talented Ulf.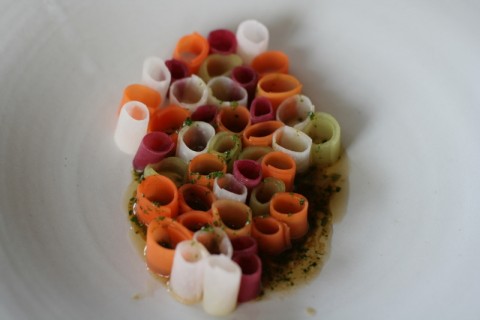 Crudité of carrots, beet roots, cucumber, kohlrabi and a chicken stock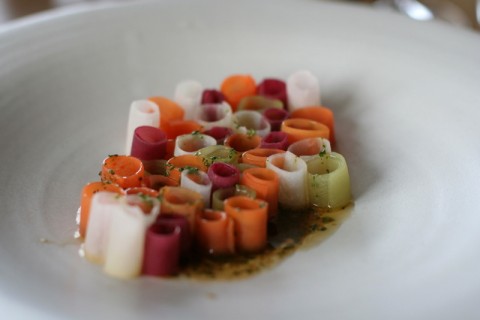 Incredibly beautiful!
The first course completely blew me away and left me gawking. This wasn't like anything I've been served at noma before and I almost couldn't believe my eyes. If this was a painting in oil it would be a beautiful work of art, and I would have loved to have such colours decorating my walls. But this was food. Lovely and crispy thin cut carrots, beet roots, cucumber and kohlrabi pickled in vinegar. It was fresh and sour and balanced by the rich chicken sauce. What a marvelous way to start this meal.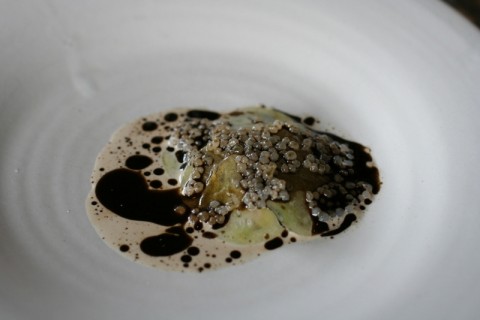 Oysters from Limfjorden, cucumber, cream, sago and malt.
My plate presented three or four poached and full-flavoured oysters covered by paper-thin slices of cucumber. The sauce was made of cream, sago and malt. It was a strong visual effect to see the transparent sago sort of popping out when the sauce was ladled on to the heap and the white/black sauce sank down to the bottom. A whole new thing to me.
I love and love Limfjord's oysters and this presentation was not only interesting in terms on appearance and texture but perfect also in taste, balance and quality. It was perfection.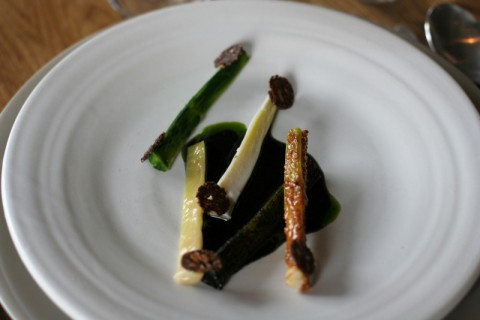 Glazed leeks, birch wine, squid and ink
These leeks are proof that very simple vegetables can form a delicious dish. The secret here lies in the combination of the various types of topping: yoghurt, hazel nuts, herbs puree ashes and rye bread and mixing them with the dark green, full-flavoured birch wine and squid sauce made one bite very complex in taste. The hazel nuts were sweet and resembled caramel which gave sweetness to the dish. Acidity was added by the yoghurt and character came from the ashes. It was a really refined serving.
These first three courses were overall so sharp and distinct and somehow more advanced than ever before. I was moved. I also completely regretted ordering only 5-6 courses, because it would mean that I was already half way through the meal and I certainly didn't want it to end too soon.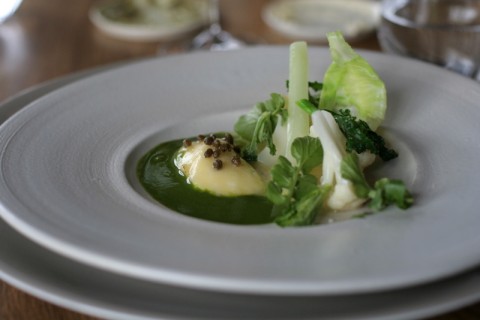 Fresh cheese, unripe elderberries, cauliflower,
black cabbage, cress and watercress sauce
I've had many and various very good versions of the fresh cheese with vegetables and some kind of juice or sauce, but none of them had the focus like this one. I think it was the black cabbage's strong and bitter flavour and the fact that its taste kicked the softness and creaminess of the cheese. In November '08 the similar dish offered a buttery sauce and somehow it seemed too rich compared to this watercress sauce. The dish was perfect like this.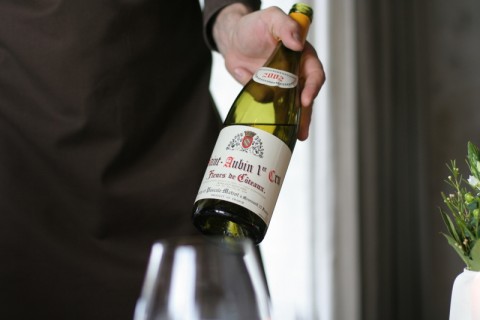 2002 Thierry et Pascale Matrot, Saint-Aubin 1er Cru,
Fleurs de Côteaux, Burgundy. I loved it.
I certainly remember the crisis of the 1980'ies. At home we ate a lot of spaghetti with tomato sauce for dinner because it was cheap stuff. In 1986 the Danish government wanted to reduce private expenditure and wanted to turn the deficit on the balance of payments. This act of intervention got the nick name 'kartoffelkuren' (the potato diet) because it was introduced during the autumn holiday, which was when the children back in the old days used to get off from school to help the family digging up the last potatoes before the winter.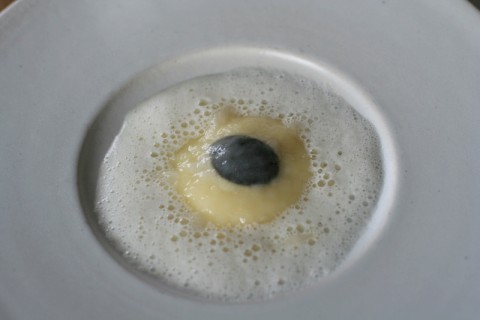 'Kartoffelkur' – Mashed potatoes and Gotland truffles, whey and smoked speck
Inspired by this event and the current economic recession, René had not only created a startling dish called 'Kartoffelkur' but also kicked the current desperate situation in an ironic way, so to say, and spoiled the mashed potatoes with a lump of truffle puree. Nothing like potatoes suit the taste of truffles and here the taste was pure and a bit restrained but lasting in the after-taste. The truffles, the soft and creamy texture, the savoury pork and the brilliant choice of dairy product made this a surprising dish. Spot-on!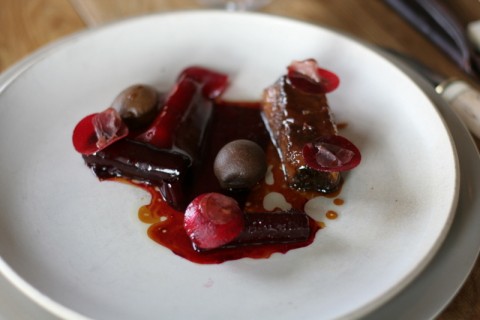 Short rib of beef and roses, cep, beets and malt
After the first 3-4 course primarily presenting vegetables, my carnivore-brother started to worry that he wouldn't get a meat dish. The rib had been braised for 8-10 hours and was so tender that I didn't really need a knife to cut it. The flavours were intense and as a whole the dish was very rich and very enjoyable.
I was full at this point but had a little room for a dessert, of course. After all 7 courses seemed adequate at this point and this because each dish had been stimulating and rewarding.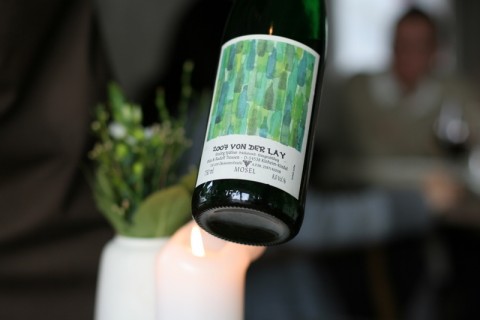 2007  Rita & Rudolf Trossen, Riesling spätlese 'Von der Lay', Mosel-Saar-Ruwer
Trossen's bottle labels are so pretty. The wine was full of complexity and fruit and it comprised a brilliant acidity as well which balanced the sweetness. This wine gave sweetness to the not so sweet dessert and did it marvelously without overwhelming it. The low alcohol of 8% gave a light and refreshing feeling to it.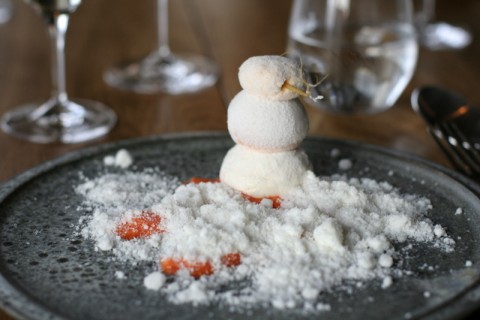 Snowman from Lammefjorden
It seems a tradition that the noma dessert is not very sweet and this wasn't either. A refreshing dessert was just what I needed. I love sea buckthorn for its bitterness and sour; the snowman's head was full of it. His tummy was stuffed with carrot sorbet and the bottom part of him was made of meringue. What a great sense of humour and a fun way to complete this lunch.
Take a look again at the photos of this lunch. The strongest impression was how well the meal was composed and executed. It seemed a beautiful and perfectly orchestrated symphony. Each dish was completely unique in presentation, scent and in taste and I was forced to pay attention to comprehend all the details and nuances.
You know, I was asked last year to take a 6 months break to see how the kitchen would evolve. The break should have been for 9 months. This lunch was such a surprise and different in many ways. It was more daring, even though this might sound ridiculous because noma's style is already innovative and unique.
My point is that despite the fact that the world has already rewarded René Redzepi and noma for their style, innovation and uniqueness, René and his team still strive to do better. In my view it's admirable to be able to create dishes that even after 14 visits still surprise a regular customer. René's signature is more personal, more distinct and more confident than ever before. This is the reason why I feel it is right to rate noma a rising three-star level. We'll know tomorrow whether the Guide agrees.
Bravo, and thanks to you all!