The Last time I dined at noma (May 08), René proposed a break of five to six months for me to see how much noma would develop over a half a year's time. Okay I thought, and was looking forward to my plans for new grand experiences in Belgium, Germany, Holland, and Denmark – and so I figured that it shouldn't be a problem to stay away from noma, and that time would pass fast. But my nomabstinence was not at all easy to handle.
Anyway, on 27th November –  exactly six months and six days after my last visit (the business lunch in September doesn't really count) – I was finally back at the restaurant which has seduced me like no other place. It's not only about the food. It's the experience as a whole. Each time I visit I feel like I never want to leave again.
René wasn't in that day. He had emailed me a couple of days in advance to tell me this and to temptingly  inform me that they had prepared a ten-course surprise lunch for me.
Inspired by JC, the photos from my meal are this time shot in RAW. I hope you like them. As a new feature you can now also zoom into each photo – just click it – and use the Previous and Next buttons to flick through all images in the post.
I arrived earlier than my companion and was overwhelmed by the kind greeting at the door when I entered – almost like they had just been standing there waiting the whole time. Lau welcomed me and decided that I should have a seat and wait in the lounge and so I opted for a very nice 2004 Olivier Horiot Rosé champagne 'En Barmont'. A lovely glass of rosé bubbles with a wonderful nose and flavour making me think of summer and sweet strawberries and carried by a fine and acidic finish. Lau was kind enough to keep me company until Daniel, pastry chef, came out from the kitchen to say hi, and even Frederik, Zarah's and my perfect host, dropped by to say hello.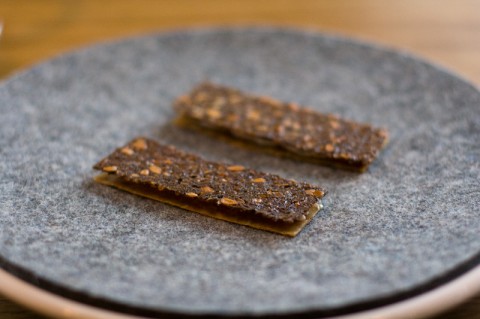 The snacks of the well-known smoked and pickled quail's egg, smoked cheese and vegetables sandwich between a super-thin rye bread slice and ditto chicken skin remarkably balanced and clearly indicating all three elements of it. They  were served at my table which was at the corner of the room and where I have been placed so often.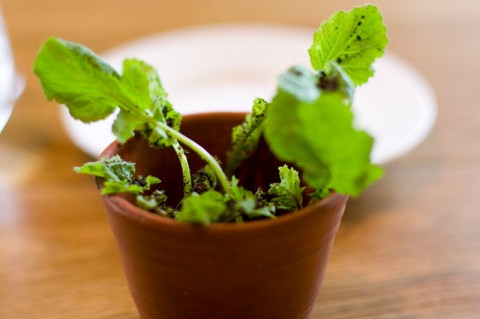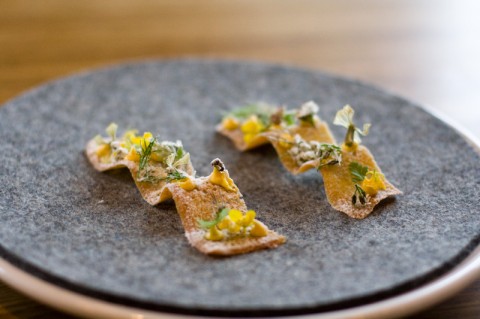 I was surprised to get the radishes at this late time of the year. They were of course accompanied by the lovely terragon "dirt". But my all-time favourite pre-appetizer, though, has to be the curvy toast with wild herbs, vinegar and egg cream. The versatile flavour combination is a small journey of delicate savours of sweet and sour following each other while the crust crackles in my mouth.
We ordered complimenting wines to go with the meal and I asked to get them blind. I didn't do it to make the lunch into a wine quiz but to force myself to notice the scents and tastes more consciously and for being more open to what I was experiencing. It extended my enjoyment of the wines.
A few of them were (welcomed) repeats, but all were lovely. I was especially carried away by the Muscadet 'Expression de Granite' with an unusually powerful nose of smoke and mineral which was reflected on the palate too. The Saint-Veran 'Chevigne' was another pleasant surprise with more than 48 hour's air, power and much more aromatic touch compared to a typical white Burgundy. It was oxidized but without being sherry-like, it was still crispy. And the Châteauneuf-du-Pape 'Henri Bonneau was delighting too, of course, and a most balanced wine.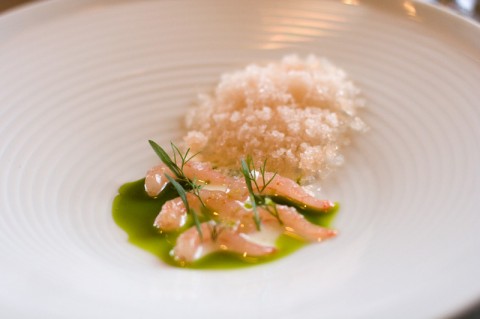 Greenland shrimps, cream, chlorophyll and white currant granita
2006 Domaine de l´ Ecu (Guy Bossard), Muscadet 'Expression de Granite', Loire

First course presented raw shrimps and white currants and was a fresh and delicate starter. If I say the quality of them was fabulous, I will come to repeat my self a lot in this review. So, I won't.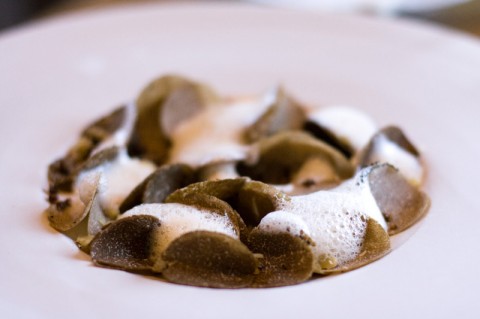 Gotland truffles, walnuts and birch wine

2007 Battenfeldt-Spanier, Weissburgunder, Rheinhessen
The sous chef, James, served this following course that just made me pinch myself because I really thought my eyes were deceiving me. Brown, thin and perfectly round slices of truffles decorated the centre of my plate and with little glimpses of walnuts. James poured the liquid foam over the truffles, partly on top of the leaves and partly running down in between them so the juice covered the bottom plate.
You know (by now) that truffles have a very special place in my heart and despite the fact of my at times easy access to them, I had never imagined to get a dish basically just comprising truffles. I was stunned! The very fresh and succulent Gotland slices crisped in my mouth in trying to battle the walnuts' crunching texture. I liked the flavour of the two together and the birch softened the earthy and bitter tones. In my view though, a bit more sweetness would have improved it. Anyway, it's for sure one of the most decadent things I have been served to date.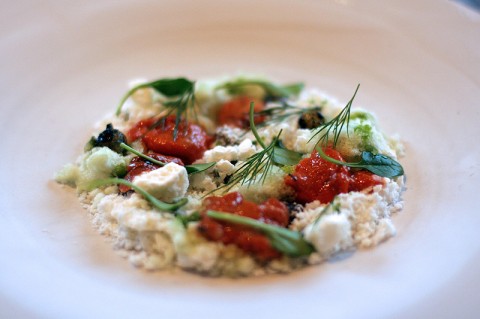 Norwegian sea urchin, cucumber, milk and dill

2007 Weingut Groebe, Riesling Kabinett trocken, Rheinhessen
And now to the highlight of the meal. Five little orange sea urchins amongst grilled cucumber, scurvy grass, dill and frozen milk formed the most beautiful and delighting experience. The flavours were delicate and went extremely well together from the very cold and sweetish feeling at first (the milk), followed by the bitterness of the sea urchin and tweaked by the aromatic dill to the incredibly long and delicate finish dominated by the sea urchin. It was a clever combination and a completely innovative but very harmonious dish. I simply loved it.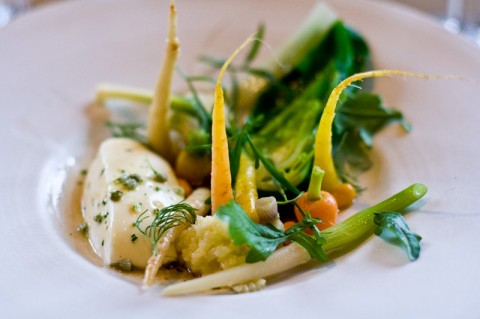 Søren's vegetables, sea buckthorn, cream and garden purslane

2006 Fred Loimer, Grüner Veltliner 'Spiegel' (magnum), Kamptal
Next was a painting in oil of summer and a vegetables garden. Well, it was such a smiling dish and offered miniature crops and made it seem more like spring time than a month to Christmas. I loved the look of the translucent roots, perfectly cooking to a slight bity texture. The fresh-made cheese was mild and gave substance to the crunchy Søren Viuff vegetables, and the sauce combined all the ingredients and added salt.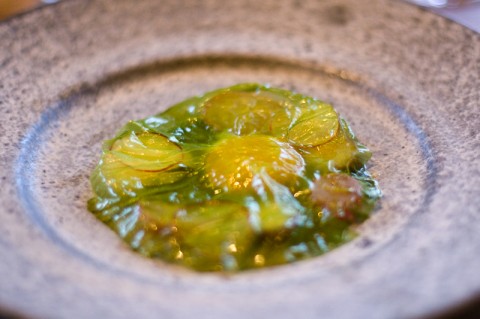 Radishes from Lammefjorden, egg yolk and seaweed

2005 Domaine Julien Meyer, Riesling 'Muenchberg', Alsace
This is another reason why I adore noma: The variety. From highly complex and exquisite dishes like the one above to something as simple as this: radishes, egg yolk and seaweed beautifully presented on a grey and black-dotted plate and stressing the uncompromisingly rough simplicity. The radishes were bitter, but only a little bit, and the egg was softening the taste, which was again twisted by the seaweed.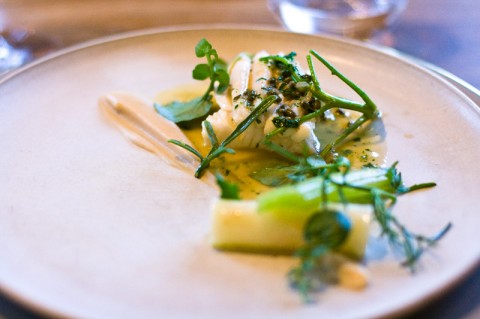 Skate wing, watercress, celeri cooked in hay, vild herbs and stems

2006 Denis Jeandeau, Saint-Veran 'Chevigne', Bourgogne
Next was a wonderful skate wing. So easy to comprehend and appreciate; yet another aspect of simplicity. The creamy flavours really complemented each other. The quality of the fish, I tell you, my mouth was watering by the look of the knife cutting through the delicate white and slightly reddish fish meat close to the centre. It was so full of taste.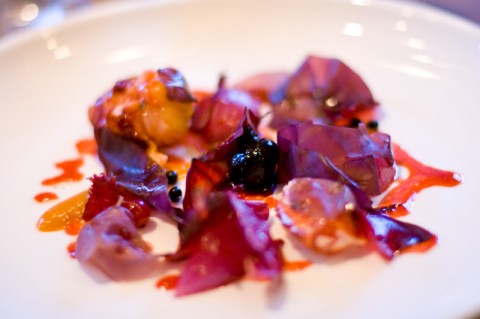 Lobster in "red nuances"
2006 Domaine Richard Leroy, Anjou 'Les Noëls de Montbenault', Loire
I've got lobster a few times at noma, but this version surely beat them all. The quality of the lobster was pure perfection! As a whole, the dish was exciting with this beautiful and red theme naming beets, redcurrant, seaweed, elderflower capers, onions and more.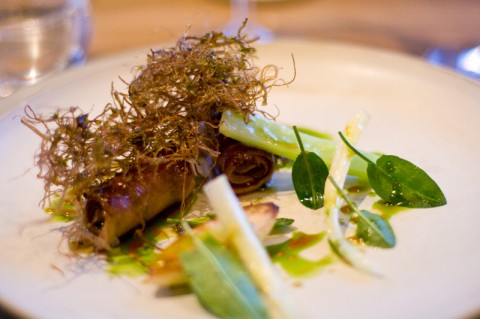 Veal tongue and celeriac, veal breast and garden sorrel
2001 Henri Bonneau, Châteauneuf-du-Pape 'Henri Bonneau', Rhône
The only meat course this afternoon was veal tongue. The first memory that always strikes me when someone mentions veal tongue, is of the one that my mum used to cook. My memory is that of a giant veal tongue lying on the kitchen table, boiled grey and flavourless. Eating it was the weirdest thing; sensing the little blisters against my own tongue. Not especially nice.
But – this veal tongue was a completely different thing. The meat was thinly sliced and rolled, and carefully cooked, so tender and with a very delicious veal taste that wasn't like offal at all. The veal breast was the hairy thing on top. Unfortunately, after seven courses I was too full to clean the plate. If I had eaten this with my eyes closed I would never have guessed it was veal tongue.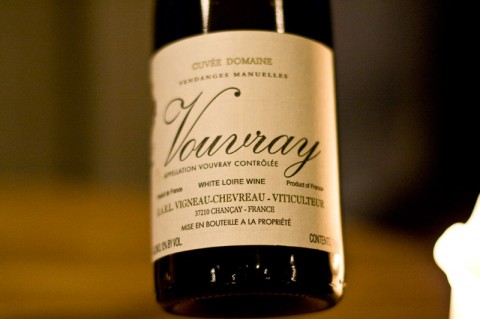 2005 Vigneau-Chevreau, Vouvray Moelleux, Loire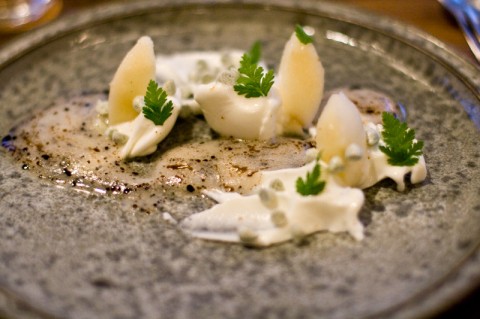 Overripe pear and whey, malt and woodruff
On to the first of two desserts, which was a refreshing cleanser. A white landscape that only missed the red woolly gnomes' hats to resemble a miniature Christmas landscape. The slight soft, moist and sweet pears got substance from the iced whey (skyr) and sweetness from the melted brown malt sauce and the crunchy tops of anise-flavoured meringue. Excellent.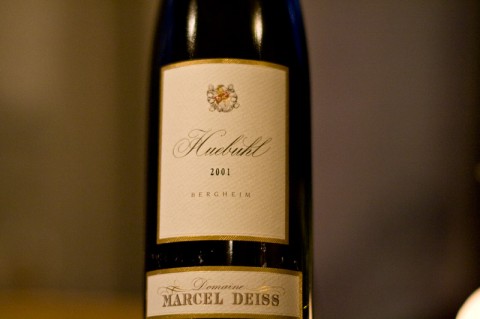 2001 Domaine Marcel Deiss, Huebuhl, Alsace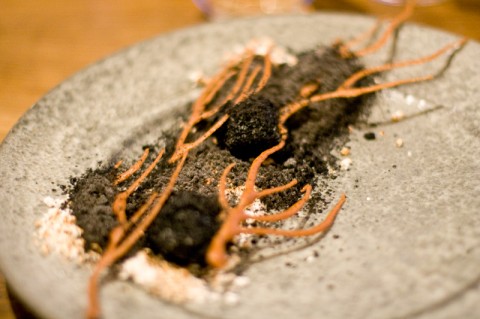 Truffle from Gotland and curd
I couldn't believe this: Truffles for the second time this afternoon? Curd balls were rolled in truffle crumble and decorated with orange caramel branches resembling tongues of fire. The dominating taste here was the truffle, but the dish was still dessert-like because of the creamy curd and the sweet sugar combining and balancing the ingredients. Lovely.
Goodness, I was full. And little tipsy. I sashayed back to the bar for coffee, flødebolle and a fortifying Marc de Bourgogne from DRC. James even came by and kindly chatted with us.
The other guests had left, the restaurant was almost empty and the quiet winter darkness enveloped noma. My companion's remark summed it up: It's so wonderful here. I don't feel like leaving at all. That is the whole point. There is something so special about the lunch at noma.
Many, many thanks James, Ulf, Jacob and Lau!