It is this time of the year. Everyone interested in gastronomy starts pondering about the best restaurants in Copenhagen and how they will be rated in th new release of the only international guide which is covering my city. The Michelin Guide. Copenhagen is covered as part of the Main Cities in Europe guide.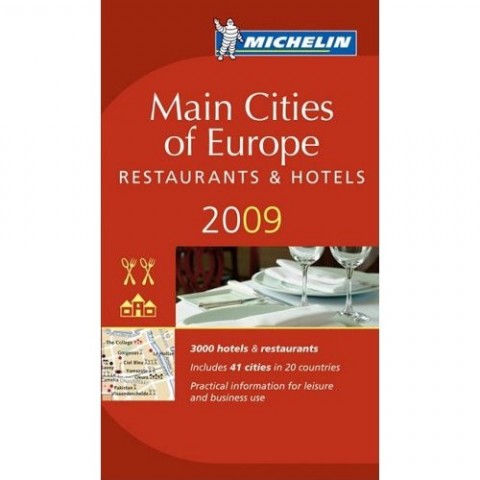 What is my view on this? I feel I can only consider the  restauransts I have been to recently. Where I haven't been lately I assume they will stick to the rating they got in 2008 – Era Ora, formel B,  Kong Hans, Paustian, The Paul.
In 2008 I visited three restaurants for the first time. My first new and very nice surprise was Thai-based Kiin Kiin where Henrik Yde-Andersen recived his first star last year. I went there with my friend JC and was completely carried away by the quality of the products, the tastiness and of course the atmosphere and the service. I am certain that Kiin Kiin have the one star in the new guide.
I also visited Ensemble and it had been on my wish list for years. I wasn't disappointed. It's a very small and intimate which I loved and the charming service really got me. Morten Schou's  style of food is inspired by French traditions mainly but favours also local products. Ensemble has one star, which I think they will keep.
Thomas Herman, head chef of Herman, was born and raised in Southern Jutland which is where he finds the inspiration for his style of cooking. He likes to play with our minds and creates dishes that make us recollect something and someone. My first impression of Herman was very good food and fine new ideas, an posh place with classy and delicate decor. I bet there is a star for Thomas Herman.
For Søllerød Kro, Jakob De Neergaard, and Mads Refslund at MR I cannot see why they should not keep their one star each. I love them both for what they are: elegant and classic with the best desserts for the first one, creative and grunge-ish for the latter.
Four times have I dined at Geranium and I must say that Rasmus Kofoed and Søren Ledet have really developed over the almost two years that Geranium has excisted now. The food has it's very own style. Of course, I do see a link to the other restaurants with the focus on new Nordic trends but Geranium remains original and sharp and very very delectable and serving very harmonious and incredibly beautiful dishes. I think there is talent there enough for a rising second star.
As you know, noma is my all time favourite restaurant. There it is, and I just cannot help it. I love, love noma for being front-runner, being unique, for knocking me sideways almost each time I go there, for an incredible warmth. I believe the time has come for a rising third star!
So to recap, here's Very Good Food's Michelin star allocation for 2009:
noma **(*)
Geranium *(*)
Ensemble *
Era Ora *
formel B *
Herman *
Kiin Kiin *
Kong Hans *
MR *
Paustian *
Søllerød Kro *
The Paul *
Now, what is yours?