I have saved this post a few months. There are two reasons. Firstly, I've had a great many and lovely meals that I wanted to write about. Also, last time I dined at noma, René suggested me to take some time off. He would like to see how much they would develop over six months or so. Therefore, I wouldn't be able to post on noma for some time and thus kept this a little while.
Laurent and I are again sync-posting, and this is Laurent's revision of our noma dinner. First time we met was in Paris – lunching at extraordinary Pierre Gagnaire – and sync-posted our reviews.
Now, imagine Laurent flying off to Copenhagen to show his good friend and GOT member, Guillaume, the fabulous new Danish cuisine? Well, they did that on 21st of May.
Laurent wanted to try Geranium and The Paul and to re-visit noma. I booked the tables. Noma was for dinner and the other two were lunch. I desired to share the Geranium lunch with Laurent and Guillaume and then to join them for dinner at noma. The most decadent thing I ever did. Laurent was ambitious as always.
I went straight from work to Geranium, and walking towards the restaurant Laurent rang me to inform  that he expected that he and Guillaume would be there on time: 13:45. Precisely. So, when I arrived they were seated already.
Geranium was fabulous. Guillaume and Laurent entertained me with stories of how great cooks they both are at home and of the amazing Paco Jet machine, with which they experiment and which sounded like a mysterious thing to me. Eventually, I think they got tired of explaining me about it's functionality and thus talked Søren and Rasmus into taking me to the kitchen and showing me theirs.
Thank you, Søren and Rasmus for a great lunch. The wine was lovely, and the food was at least as good as my first and second time, if not a bit more sharp and more distinct!
So, after a maximum two hours' break, noma was next.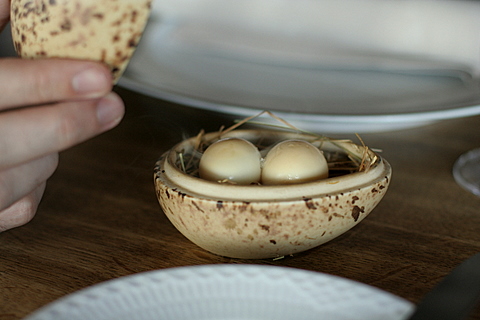 Smokesd and pickled quail's egg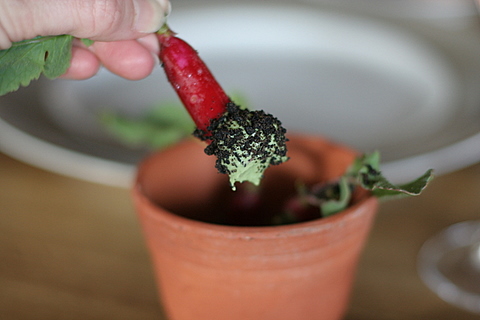 Radishes and Terragon
6:30 pm and we arrive at the restaurant which was already half full at the time. Lau was there, greeted us and escorted us to our table. Lau IS a gentleman as well as a sweetie; he was pulling out the chair for me to get me seated. While making myself comfortable, I realised that Mr. HESTON BLUMENTHAL, founder of The Fat Duck, was dining at the table across from mine and facing my direction! Oh my goodness! Wow! What an incredible thing to be dining at noma AND to meet one of the biggest rock stars from the foodie world.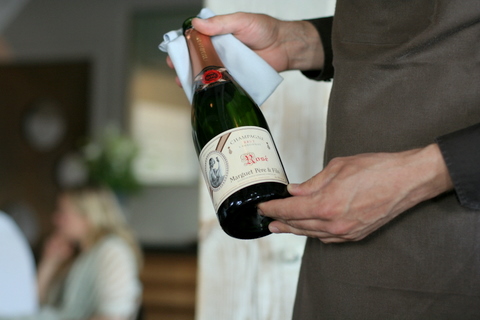 NV. Marguet Père e& Fils, Brut Rosé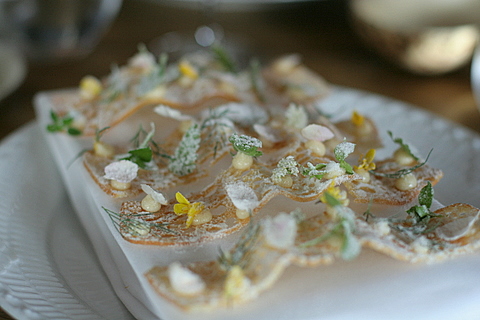 Bread crunch with herb cream, herb emulsion and vinegar dust
I pinched myself to ensure this wasn't just another of my noma dreams. Yes, I do dream of noma – a bit embarrassed to say.
René had prepared the dinner for us all, and all but two dishes were known to me.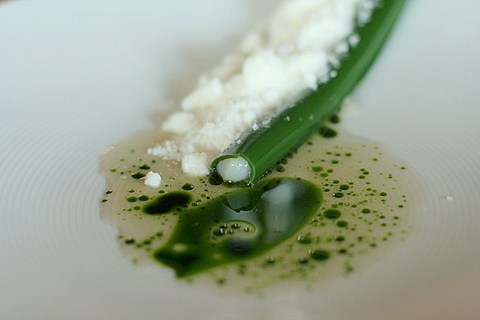 Razor clams and horseradish "snow", parsley and dill
2006 Domaine Févre,
Chablis 1er Cru Fourchaume, Burgundy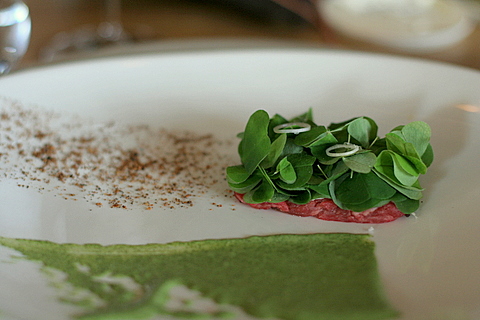 Tartar and wood sorrel
Creamed tarragon and juniper
2004 Selbach- Oster, Riesling Kabinett, Mosel-Saar-Ruwer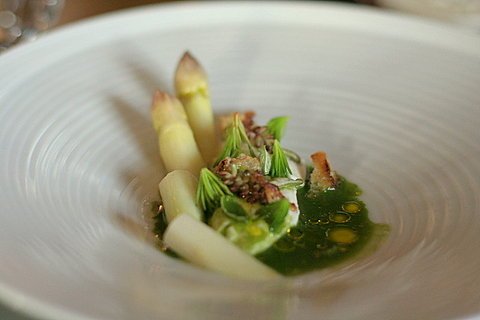 Fresh cheese and shoots of Axel berries
Pine tree shoots and white asparagus
This dish was new. I had a similar one in April. Actually this looks like a combination of the asparagus grilled and with smoked marrow, rucola flowers and chick weed and the cow's milk cheese with birch shoots and celery. This version of asparagus and fresh cheese seemed more harmonious and I liked the aromatic pine tree shoots.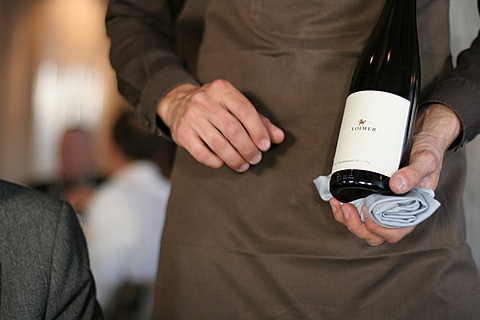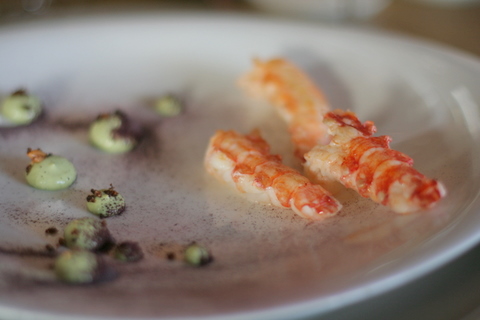 Langoustines and 'søl' which is Icelandic seaweed
Oysters and rye
2006 Loimer, Riesling Steinmassl, Kamptal
I love the design of Loimer's bottle lables. I loved the langoustines. They were the highlight of the evening.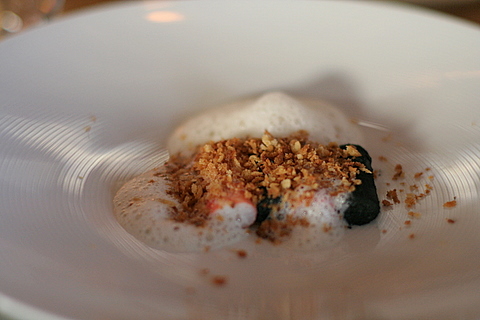 King crab and mussel stock
Ashes and leek
2006 Gresser, Brandhof, Pinot Gris, Alsace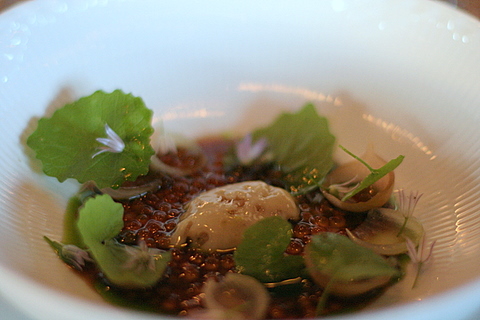 Onions from Læsø and chick weed
Onion bouillon and thyme oil
2006 Denis Jeandeau, Viré-Clessé, Burgundy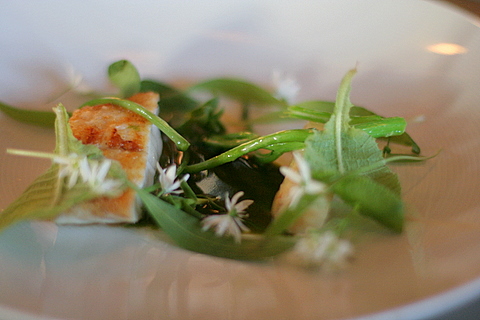 Turbot and water cress
Cowslip and ramson onion
2004 Damien Laureau, Savenniéres Les Genets, Loire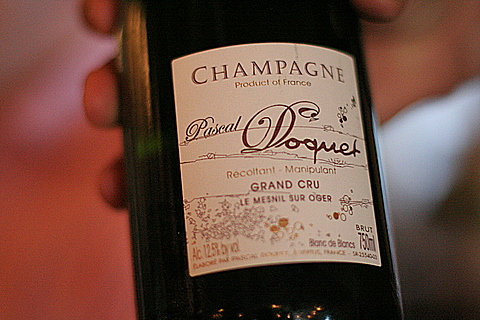 NV Pascal Doquet, Blanc de Blanc Champagne, Le Mesnil sur Oger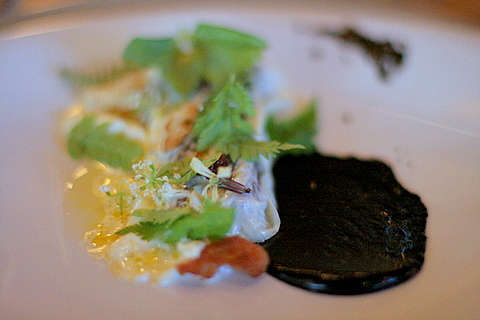 Salsify and milk skin
Rape seed oil and truffle from Gotland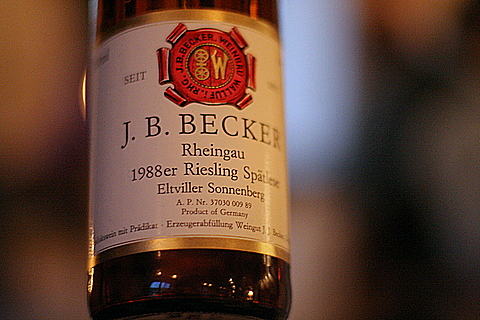 1988 J. B. Becker, Wallufer Walkenberg, Riesling Spätlese, Rheingau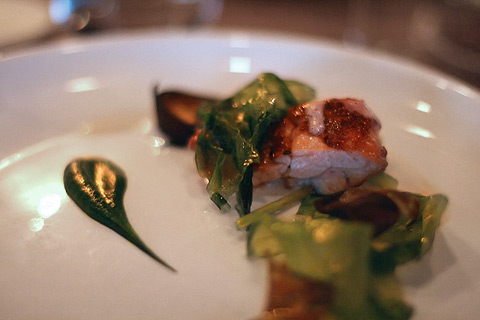 Sweetbreads and seaweed
Stems of vegetables and fresh currant wine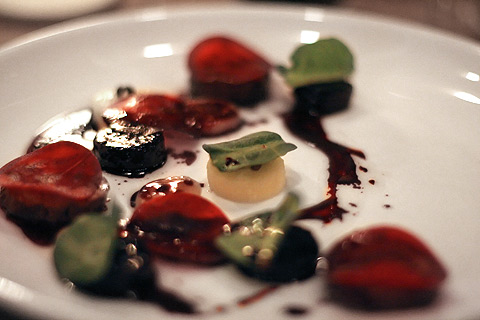 Musk ox and beets
Pickled elderberries and bone marrow
2001 Domaine de la Grange des Peres, Grange des Peres, Languedoc
Laurent surprised me with this Grange des Peres who is a legendary wine maker, and the white ones especially are hard to get hold of. The red is a blend of Mourvedre, Syrah, and a little Cabernet Sauvignon. I didn't know about this wine but Guillaume and Laurent told me about it during the Geranium lunch. Noma had originally planned for another red wine, Italian I believe, for the ox dish, but had swapped it with the  Grange des Peres on Laurent's request. Wonderfully balanced with lots of fruit and tannins and a long, powerful yet elegant finish.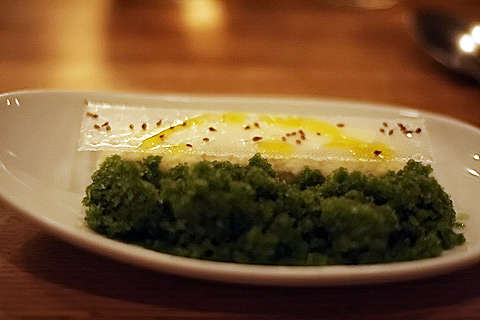 Garden sorrel and glazed sheep milk yoghurt
Anise and rape seed oil
2003 Chateau Richard, Cuvée Noble, Saussignac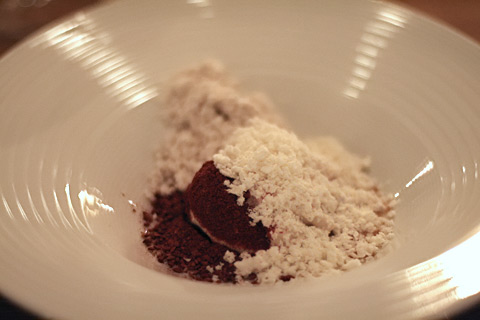 Dried berries and dried cream
Walnuts and dust of walnuts
2006 Nigl, Grüner Veltliner Eiswein
While we were eating the second dessert, I saw Heston Blumenthal walk into the kitchen with René to meet the staff. Lucky ones, I thought.
Then, suddenly I heard René's voice: " So, you guys". And, when I looked up, I saw Heston Blumenthal with René at our table. (Oh my goodness!). But Heston was extremely kind and sweet and talked for a few minutes with us about the food – we had had the same menu – and about the Fat Duck. Of course. Which we're all big fans off.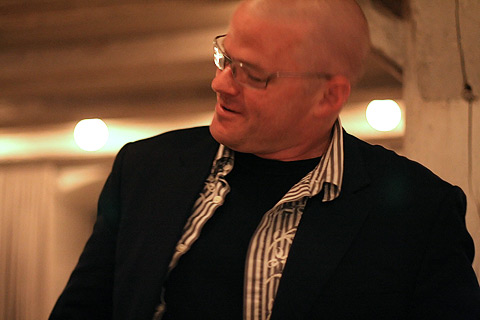 Mr. Heston Blumenthal
It was fantastic and the greatest moment in my short foodie (business) life.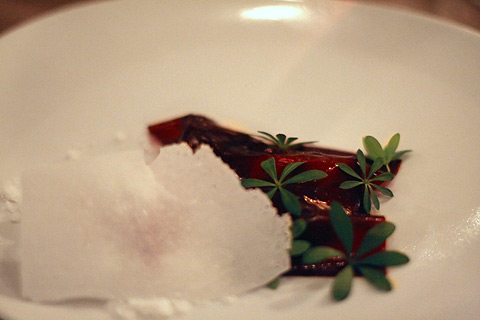 Rhubarb and wood ruff
Yoghurt and beet roots
After the last dessert we moved on to coffee, flødeboller and drinks in the lounge and chattered with Lau and René until very late.
Food wise this dinner at noma is the best and most distinct meal I have ever had there. All dishes but two were known to me and I think that the work in progress and the fine tuning of them is the reason behind it. The fact of Heston's presence there that evening may also have affected my judgement, naturally. Thank you guys, you've surpassed yourself again!
In and out in 24 hours. Four Michelin stars and three meals later I got an SMS from Laurent at the CPH airport texting how content and happy he was and being just about to board the plane back to Paris.