Autumn time is truffle time. The moisty, earthy smell of this strange fungus is autumn in its purest sense and as the best truffles are in season at this time of the year, this is when to opt for the truffle dish.
To me, the smell of truffles is also a trip down memory lane. My childhood was scented with truffle – quite literally, as my Italian dad back in the eighties had the noble idea of bringing the Italian truffle to the Danes, and making a living from it.
So, he sat up a truffle import, right there, in our dining room. I remember lying on the couch, doing my homework while listening to my dad selling truffles on the phone. Sometimes in Danish, sometimes in Italian and at such high speed that it became a murmur in the background, a sound turning into a melody with a rhythm. The same phrases over and over again. Then laughter and some typing on the type writer. Then silence.
Every once a month during the season, he picked up the truffles at Copenhagen airport's cargo section and brought them to our home late in the evening. During the night each truffle was carefully inspected, smelled at, touched and squeezed, scrutinized and brushed for the tiniest sign of moist or mould, which would damage the little precious thing. Then they were weighed to perfectly match the purchase orders and meticulously packed with ice coolers to be delivered the next day.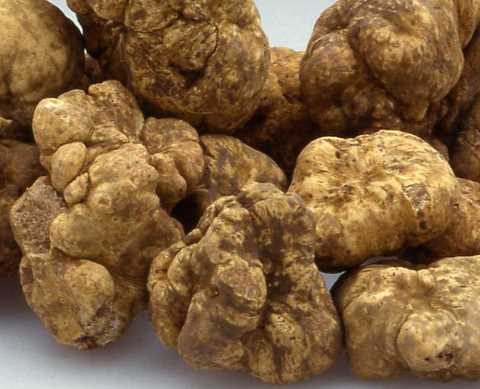 White Alba truffles. Photo from Trøffelhuset

To give you an idea of how immensely powerful the smell of the white truffle is: We used to infuse raw eggs with truffle taste just by placing them in a jar next to a truffle. It's that strong. It goes through everything. And it was everywhere during the week of brushing, weighing and packing. My dad kept some of the truffles in the fridge with our food which was infected by the truffle aroma. Even the milk, which was why I didn't fancy cereals for breakfast those days…
The smelly business was a success, though. After a few years my family opened a shop so not only restaurants but also private customers could explore these golden lumps of the earth. We sold fresh truffles when they were in season and frozen ones throughout the year. Each day we offered a hot dish for take away. The classic one was Linguine al Tartufo: Linguine made with a very simple sauce of cream, butter with truffles, one garlic clove very lightly fried, sprinkled with grated parmesan cheese and finally topped with (lots of) truffle in paper thin slices. Try it. It's so smooth and tasty, it'll make you weep.
I still remember my very first white truffle experience for lunch at the shop where I worked twice a week. My mum cooked risotto and shaved the beige fungus over my plate. The scent and taste of the white truffle is (to me) a more distinct and sharp aroma compared to the black truffle and the light summer truffle and it has a light garlic note to it besides the earthiness – an aroma very hard to describe in fact. Sometimes the scent is stronger than perfume. Only four grams of white truffle is enough to overpower the rice dish.
The shop is gone now, but the truffle business  goes on. The truffles arrive every week and in larger quantities than back in the eighties. They are still nursed, brushed and weighed by my dad and are then sold on to top-notch Copenhagen restaurants – maybe one of them will end up on your plate tonight.
Buon appetito!
Copenhagen Post on 21 November 2009