NOTE: New owner. Kim Møller-Kjær has moved to Villa Vest now!
Glashuset has a concept called The Glassblower's Table which is inspired by that of the Chef's Table. The big unclothed oak table with a rough look is not placed near the kitchen though, but at the glassblower's workshop and show room. In fact, I would more like to call it Private Dining because there are no one else in the room but you and your dinner party.
I was lucky to be part of a birthday party held there recently, and since it was such a lovely evening I'd like to share it here. I know I have already talked a lot about Glashuset so this is only a photo report in order to show (off) some food porn. I have commented the highlights – but everything was really startling!
The fine wines were again matched by Flemming Holm and was an interesting study in grapes, regions and producers, and entertaining as well, as some of them were served to us blind.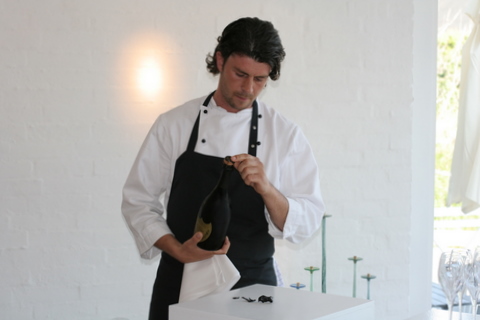 1999 Dom Perignon, Champagne
The head chef and owner Kim Møller-Kjær pours some golden drops. I love vintage champagne. This 1999 DP presented a nose of great volume, fruit and a bit of oak. The taste was likewise with a huge and seducing complexity and is very difficult for me to describe, actually. Its flavour appeared much more pronounced and delighting with the first starter of the raviolis below.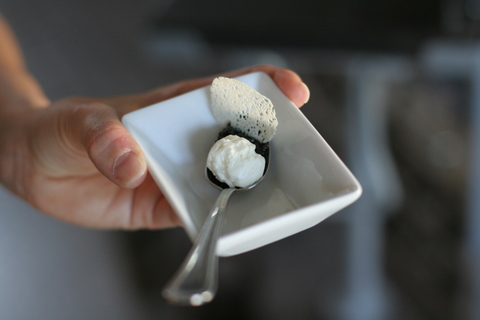 Caviare, white chocolate and a bread crust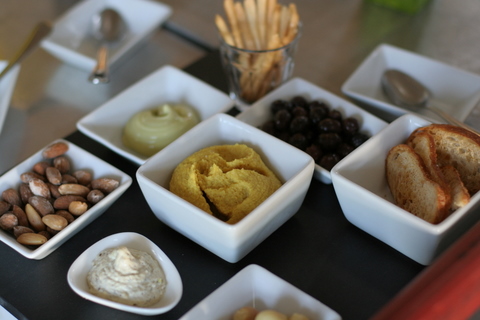 The nibbles and dips
The Master Glassblower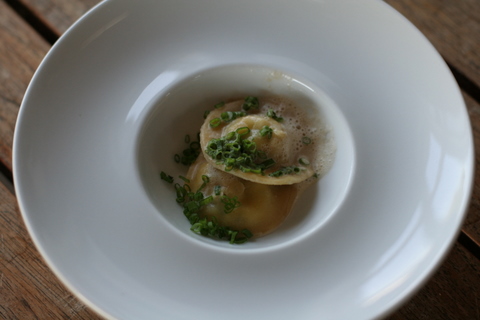 Ravioli with lobster-filling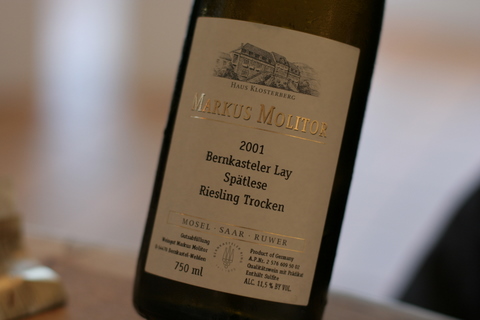 2001 Markus Molito, Bernkasteler Lay, Spätlese, Mosel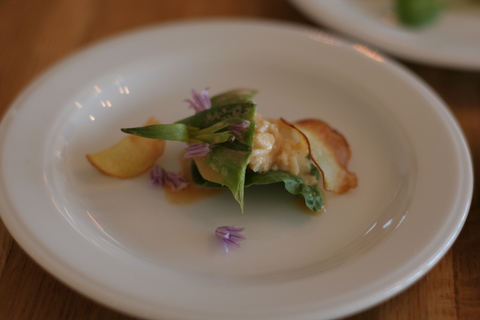 Crab fish, salad leaves, crisps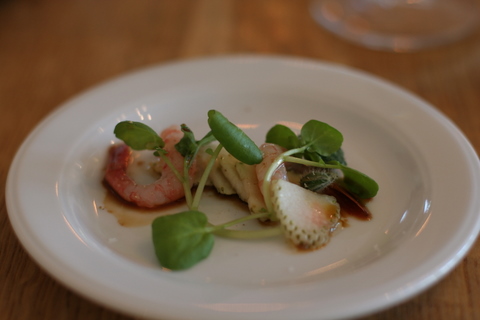 Raw shrimps, green strawberries, watercress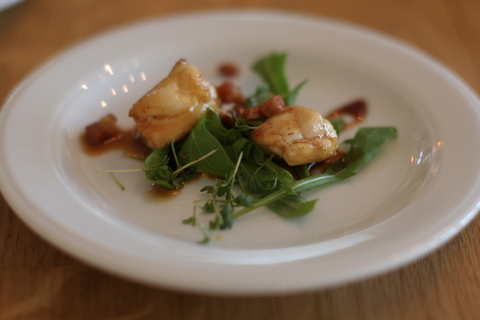 Monkfish, San Daniele Parma ham, rucola leaves and cress
I'm very keen on monkfish but it needs a powerful opponent to really show the full potential. The Parma ham had that function and fulfilled the purpose very well combined with the peppery rucola and the spicy cress.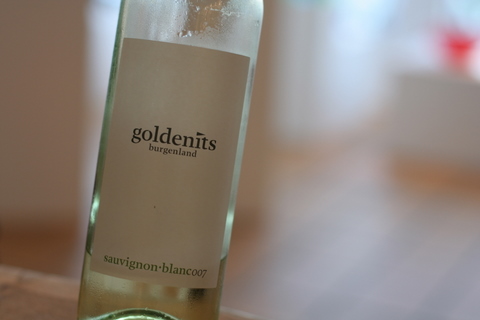 2007 Goldenits, Burgenland, Austria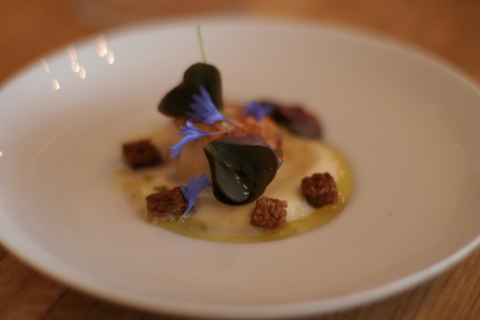 Scallop, celery puré, red trefoil, cornflower and rye bread croutons
The scallop was excellent with a lovely nutty taste, crispy on the outside and almost done on the inside. The celery puré complimented with its sweet creaminess and the trefoil, and the blue cornflower balanced the dish by adding acidity.
2004 Olivier Leflaive, Champ Gain Puligny-Montrachet 1er Cru, Burgundy

I was in heaven. I adore Puligny-Montrachet and this premier cru from Olivier Leflaive was fantastic. It was a complex wine dominated by scents and flavours of oak turning into elegant and full citrous fruit and flint balanced by bitter tones from the wood. It left a very long finish full of sophisticated aromas that are not easy to put into words.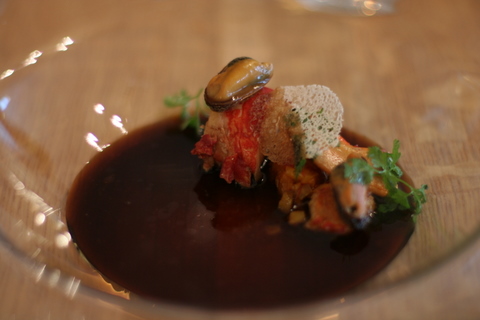 Black Danish lobster, mussels with lobster bouillon, bread crust
The lobster was cooked well-done and comprised a great lobster taste. The mussels were to die for and the bouillon extended the whole delicious tasting experience.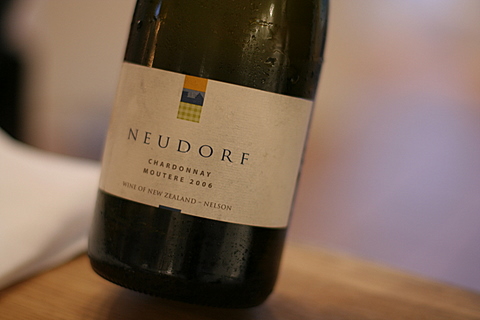 2006 Neudorf, Moutere Chardonnay, Nelson, New Zealand
A word on this wine since I was told that this is supposed to be considered the best Chardonnay outside Burgundy. I must admit that it was very good and offered balanced nose and palate of fruit and acidity, oak and a little more than that in terms of elegance. But it can't beat the white Burgundy above as it just lacks sophistication to get to that level.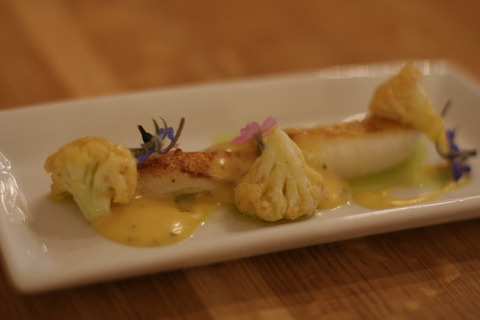 Turbot, cauliflower, the herb 'julekrone' and Bearnaise sauce
Oh my, what a lovely Bearnaise sauce. The best I've ever tasted I believe, and the marriage of the cauliflower kicked the powerful flavour of the tarragon. The 'julekrone' herb gave the dish acidity, but it was almost like the delicious and perfectly roasted turbot got dominated by its companions.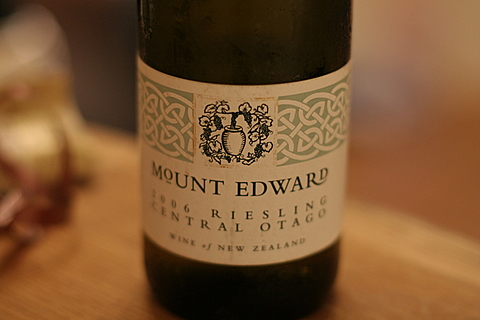 2006 Mount Edward Riesling Central Otago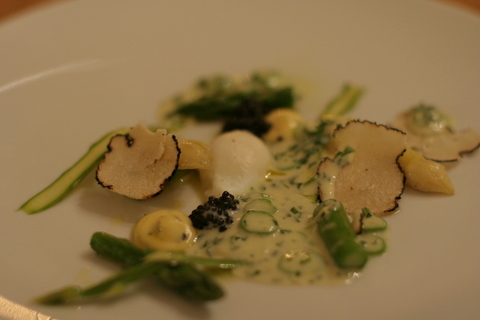 Asparagus, caviare, quail's egg, fresh summer truffles and truffle oil

F*** me this was good! The salt flavour from the caviare, the sweetish taste of the cream and the poached egg, the slight bitterness from the white and the green asparagus and the earthiness of the truffles with the intense truffle taste of the oil. All the ingredients matched each other brilliantly and lifted the course to another level very close to paradise. I was completely moved and flustered – totally in love. The greatest highlight of the evening and a candidate for a dish of the all times meal of my life. We called for the chef Miv Pedersen, the master of this creation, to give him a standing applause. WOW!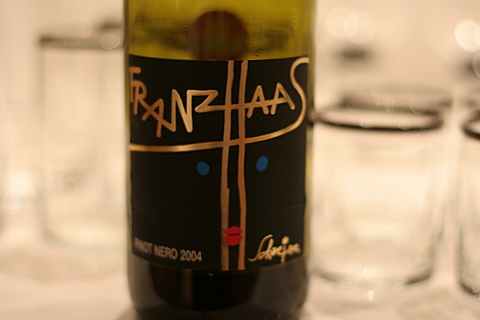 2004 Franz Haas, Pinot Nero, Trentino Alto Adige, Italy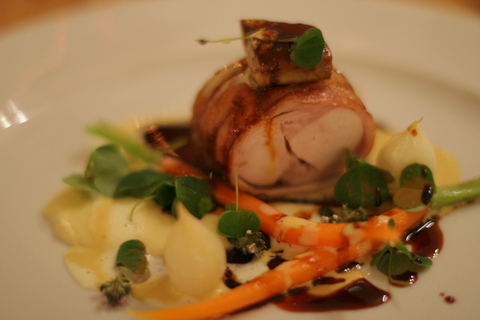 Rabbit, foie gras, onions' puré, new carrots and wood sorrel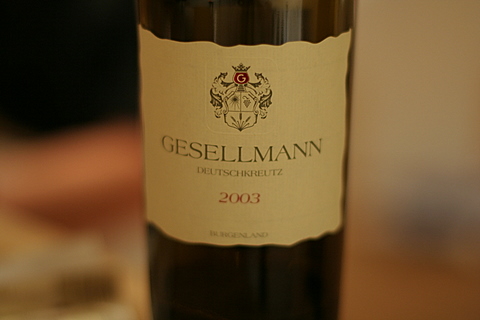 2003 Gesellmann Deutschkreutz, Burgenland, Austria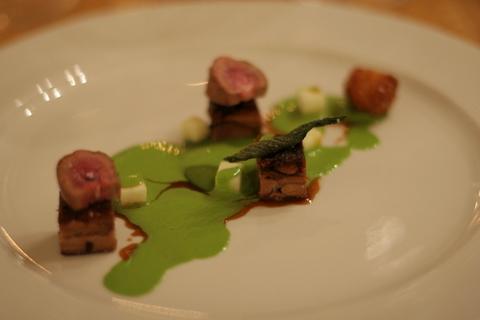 Neck and kidney of lamb, raw green apples, parsley and sage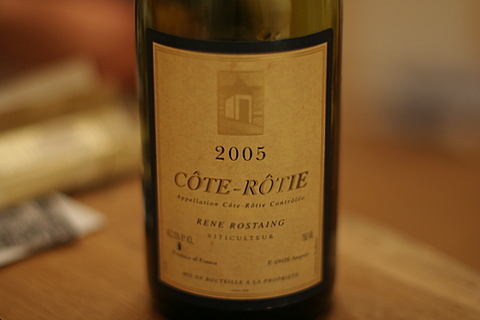 2005 Rene Rostaing, Côte Rotie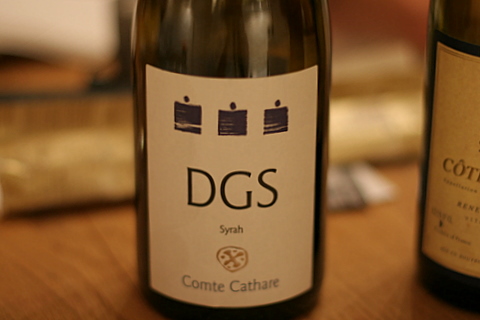 Year? Comte Cathare, Damn Good Shit, Languedoc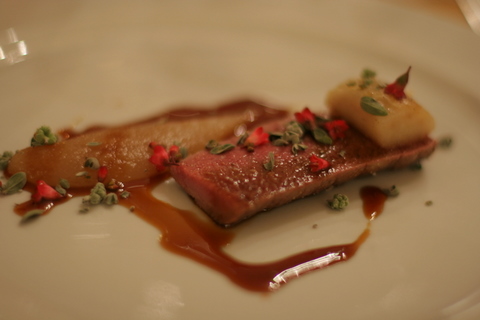 Kid of roe deer, pear puré, poached pear and marjoram
A beautiful and simple dish with a wonderful and excellently balanced taste of gamy but delicate roe deer kid of superb quality and matched with the sweet pears and the perfumed marjoram herbs. Unfortunately, I was so full at this point that I could only eat a single bite. Now I wished that I had brought a doggy bag for my leftovers.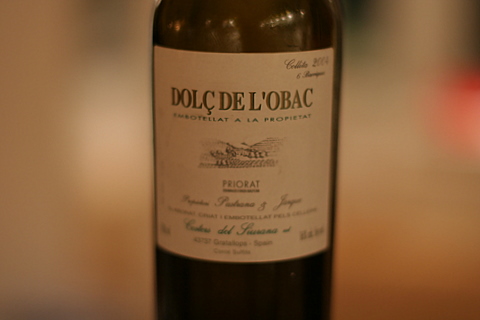 2004 Costers del Siurana, Dolc de L'Obac Priorat, Spain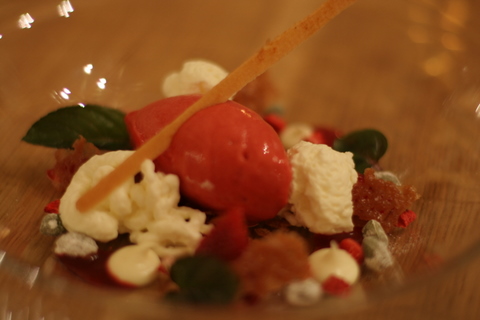 Strawberries sorbet, pistachios, white chocolate and mint
Thanks guys, for a lovely and very special evening, June 7 2008!