On a cloudy and grey Sunday June 22nd, the first Five-A-Side Football Tournament for Copenhagen's top restaurants became a reality. The event was organised by Daniel, pastry chef at noma and five days before the big day, I got invited to join the tournament with a team of food bloggers.
As you probably imagine, it wasn't easy to get hold of people on such a short notice. Also, I knew that five titling foodie chicks would never be able to run up the big boys, nor bend it like Beckham, or even less score a goal. I needed some strong and talented guys; otherwise I feared that my team would finish last. Sure, I knew perfectly well why the hobby critiques were invited to this match and why we were the only non-restaurant team there!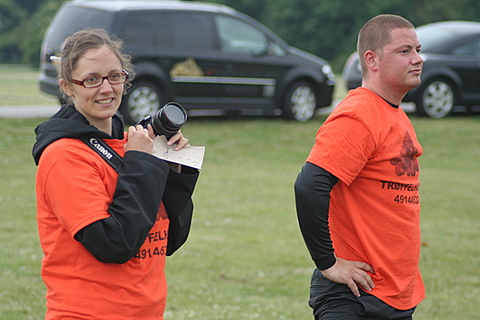 Zarah and Allan
Anyway, I teamed up with Allan, Terkel, my baby brother Christian and his friend Thomas as the players and with Zarah as our cheer leader and photo shooting team doctor. When I arrived at the battle field and gazed at the various coloured team t-shirts, big muscles and football boots warming up counting a lot more than five team players from each restaurant, I realised my fear was just right. I almost panicked, mostly because I had to play myself and each match would last 25 minutes. Good grief how was I to run around for 1 hour and 40 minutes? I who hadn't been wearing running shoes since the DHL relay race last year?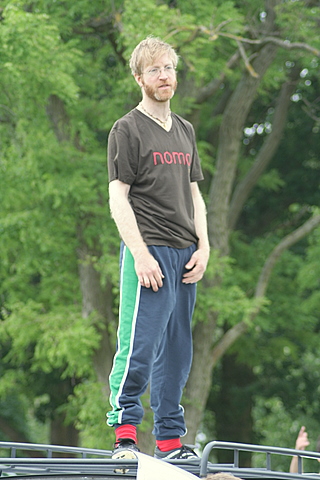 Daniel explained the rules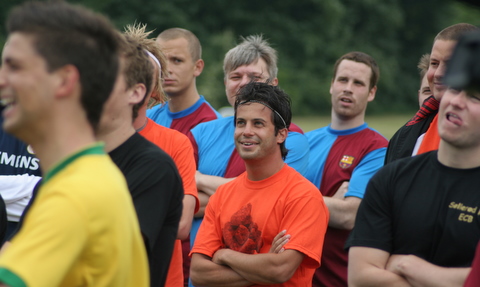 Briefing!
The participating teams were divided equally into two groups, A and B, each consisting of four teams:
A                    B
The Paul       Søllerød Kro
Geranium     Umami
Ensemble     noma
Kong Hans    Foodies
Our first match was against Søllerød Kro, wearing black, and only a few minutes before the game started we were lucky to have Yoann joining our team, so there were six of us playing, which was cool.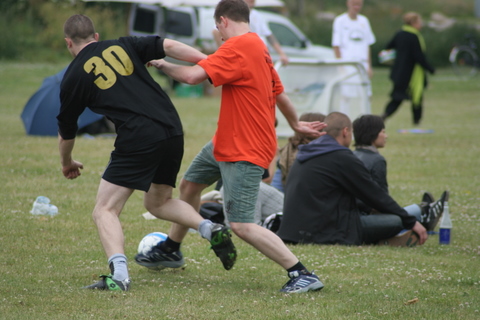 Terkel vs. Søllerød Kro player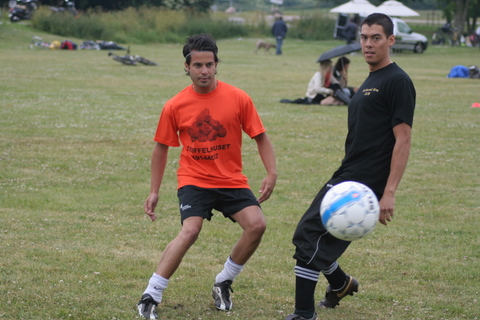 Christian and Søllerød Kro player have their eyes on the ball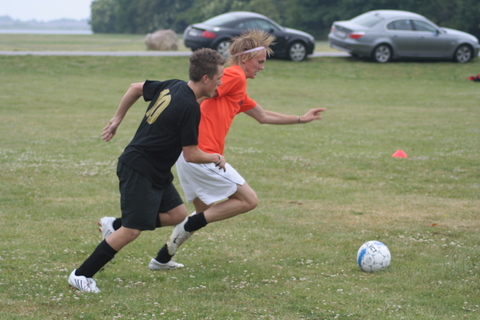 Thomas did great and was our best player
The joy didn't loast long. Søllerød Kro's players were rough. Allan got his knee injured and couldn't play any more that day. Yoann got a bleeding nose and had a short break and the doctor to check that he was okay. We were outshot 0-4. And it had stated to rain.
After the game, all the teams gathered again and Daniel informed that our next opponent was Umami.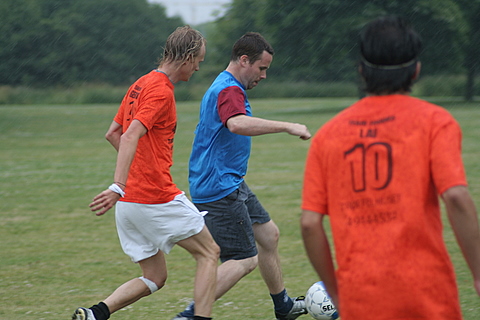 Thomas and Christian against Umami
We did better in our second match, had a couple of good chances and managed to keep the goal clean except from one time. The game finished 0-1. What a disappointment.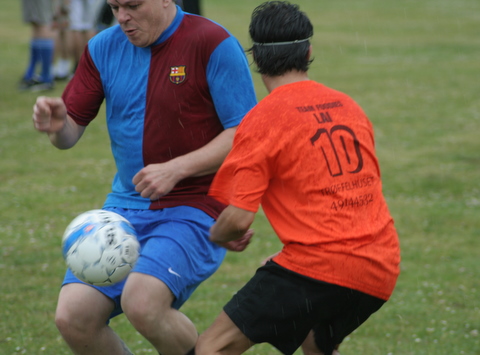 Umami, the blue team
I had lost a player, my t-shirt was soaked, the newly styled and straightened hair was wet and curled up, and I could hardly see anything through my sprinkled glasses. I was depressed.
Meanwhile, our final game was against noma who like us hadn't scored a single goal. This cheered me up though, and even more so did the new starter on our team: Pierre who could replace Allan.
Christian passing to…
Noma seemed to be the biggest team and swapped players almost every time the ball went out. Our bad luck from the first two games turned and after a few minutes of action Christian scored the first goal. WOOOOOW.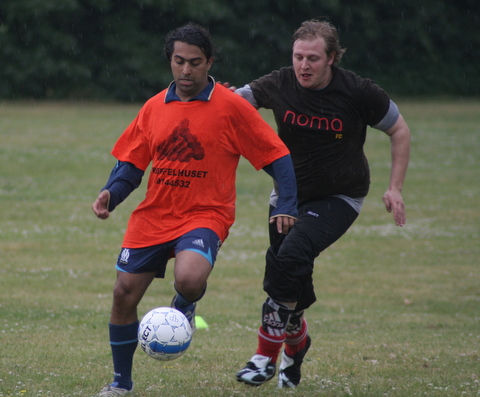 Yoann ahead of noma player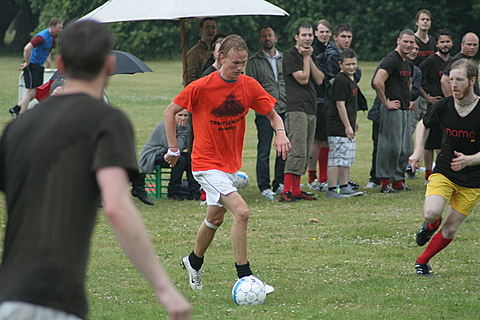 Thomas vs. Daniel
Now it was getting interesting! Yoann scored as well and put FC Foodies two goals ahead. Noma's captain Daniel scored their first goal, but Thomas brilliantly settled the match and we won 3-1 against noma. YAHOO! YES! WELL DONE BOYS!
The semi-finals were played by Søllerød Kro vs. Ensemble and Geranium vs. Umami, and sent Søllerød and Geranium into the final. We wasted a number of openings against Kong Hans and the game ended zero-to-one in favour of Kong Hans. Noma had beaten The Paul, who thus finished last.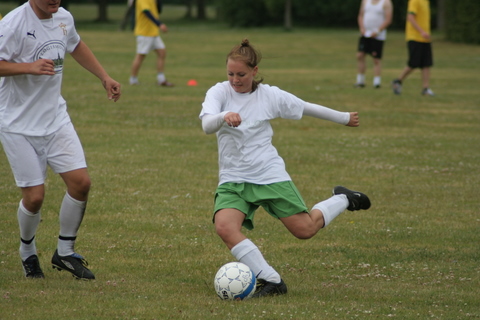 Geranium, Ensemble and Foodies were the only teams with female players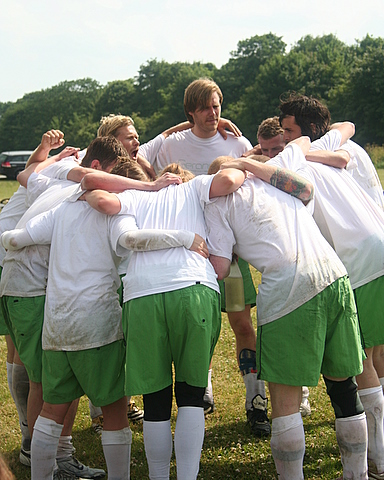 Geranium after they had beaten Søllerød Kro (Photo by Zarah)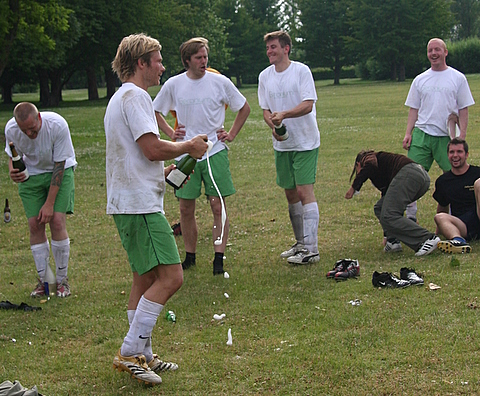 Congratulations! (Photo by Zarah)
After the games we all enjoyed Daniel's barbecue and noma's home made beers.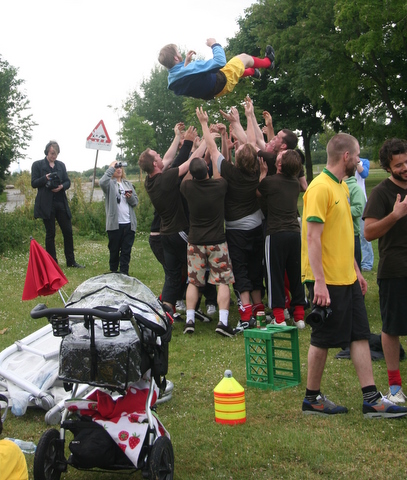 Daniel in the air (Photo by Zarah, thank you dear)
Whether it was pure luck that my team ended up in the same group as noma, I don't know. But I do know that playing against them was the main reason for joining the tournament and defeating them felt great, I admit. To finish sixth out of eight excellent teams was even more than I had hoped for.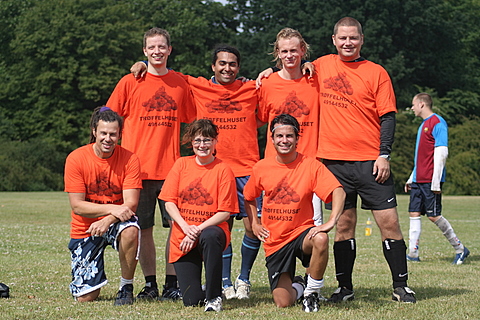 The FC Foodies
Many thanks to Daniel, and to my great team! And to Klaus, the photographer.
It was a fantastic event. Hope you see you all again next year!