Of course, I was disappointed when I realised what I expected would happen – no reservation at El Bulli for the 2009 season. So, where to go instead if you happen to be the lucky one spending the weekend in Barcelona? Chuck had the answer: El Poblet! "…drive 4 hours south to the wonderful El Poblet" Chuck wrote here. Reading his, Steve's and Alex's reviews there was no doubt in my mind. I just had do everything in my power to get the reservation and to get there, even though it meant getting a colleague to kindly ring the restaurant (I don't really speak Spanish) when they hadn't replied to my email reservation, and in Barcelona having to sprint through the Sants Estació because we mistakenly went to the wrong train station and thus were late for our train to Valencia. Goodness.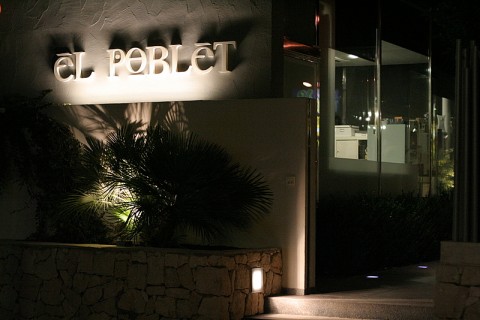 It was a stormy Saturday 24 January and I enjoyed the stunning view of the blue sea with the white effervescent waves licking themselves closer and closer to the grey and sandy coast. The green palm tree tops in front of the white bungalows made it seem like a windy midsummer day.  When arrived at Valencia we, my wine loving friend and I, rented a car and drove the last bit of way from Valencia to the beach resort type of town of Denia.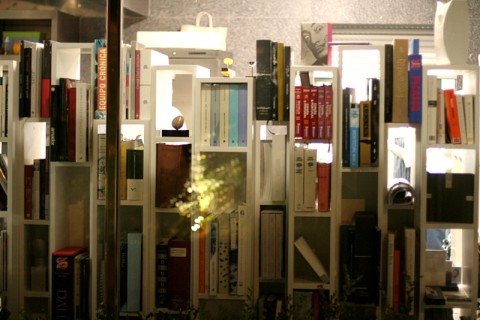 Passing the kitchen next to the entrance… Quique Dacosta is clearly interested in and inspired by art
We got to the restaurant by taxi, as the hotel was at the opposite side of the city centre, and were welcomed by the manager Didier Fertilati. The restaurant was empty and I used this opportunity to shoot a few photos of the light, natural and delicate interior, the hear serviettes and tablecloth and took pleasantly note of the chairs of the Danish designer and joiner Hans Wegner. From the very first moment I was struck by the extreme kindness from the staff, especially the manager and the sommelier. Again and again they told me to let them know of any wish or question I may have had.
El Poblet go back many years. It's been owned by the same family for decades and is now run by head chef Quique Dacosta who took over from his father. In fact, he almost grew up at the restaurant and at the age of only 13-14 he started working in the kitchen – where he still works every night.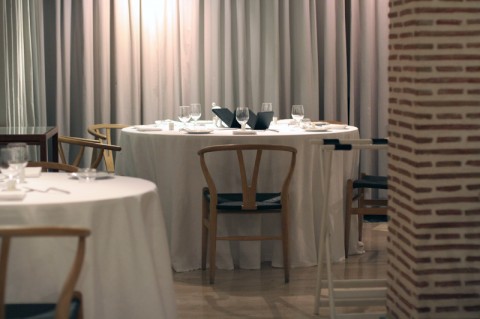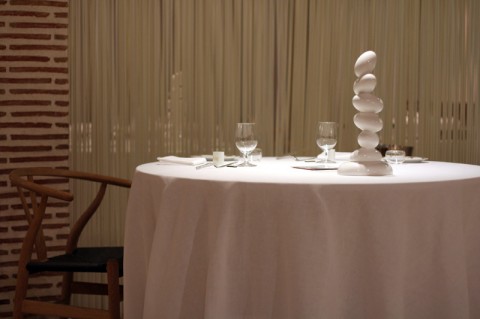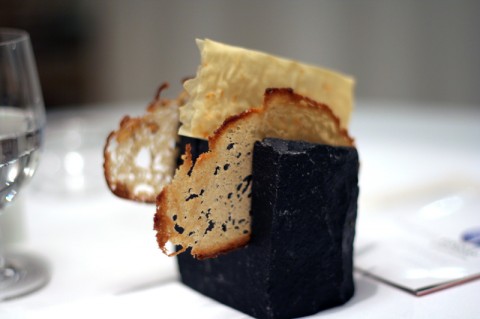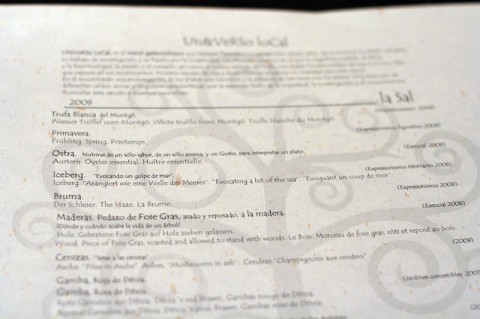 While I enjoyed a nice and acidic Cava from 2003, the manager Didier Fertilati explained us about the two menus, the gastronomic and 16 course one (€120) and the more traditional 12 course menu. The sommelier advised about the wines. We followed their recommendations and chose the largest menu (naturally;) to be accompanied by a bottle of the white 2005 Chivite C. 125, D.O. Navarra and with three extra glasses for the dishes where the Chardonnay wouldn't match. This is an excellent way of fully enjoying a wonderful white wine throughout the evening, but at the same time experiencing a few other wine pairings as well.
The white Chivite was 100% Chardonnay and it's powerful, smoky nose and delicate, fruity tones immediately made my thoughts wander towards Burgundy. The oak flavour of the wine was a bit more pronounced than what I usually find with white Burgundy but it wasn't overwhelming due to its vivacity and the crispy finish. It was a truely lovely white wine that made the fish and shell fish even more enjoyable to me.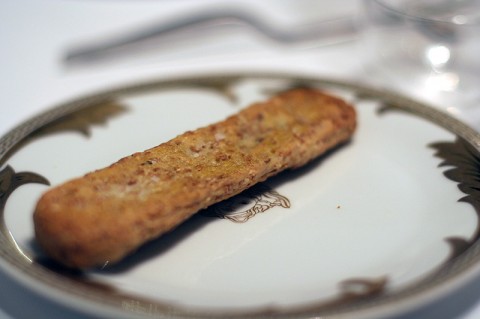 Crispbread with a not noteworthy white truffle oil on a Versace plate
White truffle from Montgó (Impressionism 2008)
First course arrived under a glass cover infused by the pure scent of white truffles that spread out when the cover was lifted and this white truffle look-a-like appeared. The outer part of the mock up truffle was an ice-cold, hard shell with sweetness to it. A bit too sweet to my taste. It was stuffed with a delicate and tasty Parmiggiano Reggiano mousse. What a way to start off such a tasting experience with scent and taste from one of the most treasured miracles from our world. My expectations towards this dinner certainly increased.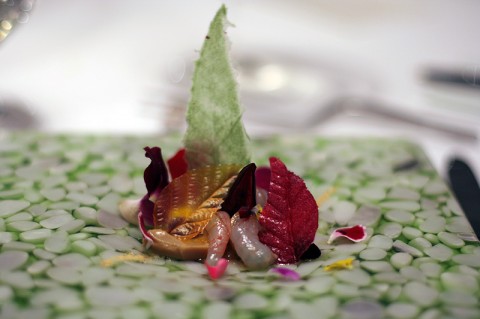 Spring (Figurative expressionism 2008)
Then raw scrimps of magnificent quality combined with a full-flavoured and delicious shellfish cream followed. The leaves were based on sugar and crispy in texture.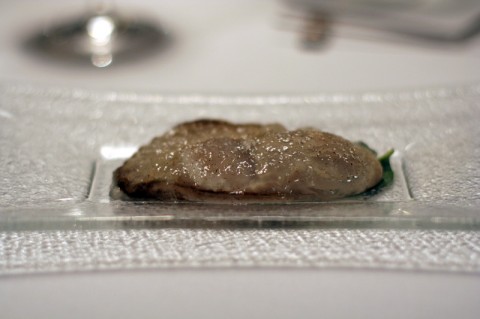 Oyster essential (Essential 2008)
This huge grey jelly-lump consisted of one oyster but had the taste intensity of half a dozen. I liked it though because of the pure and intense flavour and the transparent jelly on the top underlined both the texture and the taste. Note how the bubbled texture of the plate's surface is reflecting the look of the oyster in a funny way.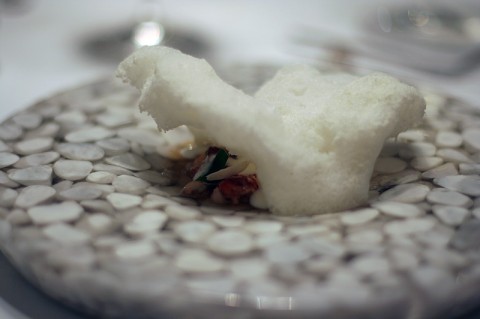 Iceberg – evocating a hit of the sea (Abstract expressionism 2008)
More intense shell fish flavours dominated this dish, but the fact that the white fragile iceberg here was covering the food made it hard for me to identify other ingredients and thus now impossible to remember what the dish was composed of. I liked it but have no other real recollection of it, I'm afraid. I think it's a pity to hide the look of tasty dish and I must say that it reduced my enjoyment of it.
By the way, each time a dish arrived the server only told me the name of it and didn't specify what kind of food it was or how it was made. Instead, maitre d' the manager was kind enough to explain about each dish afterwards. However with 16 courses and other guests in the restaurant, not all compositions were explained which makes this write-up a bit hard to accomplish.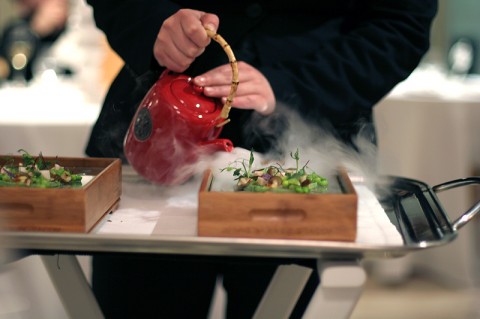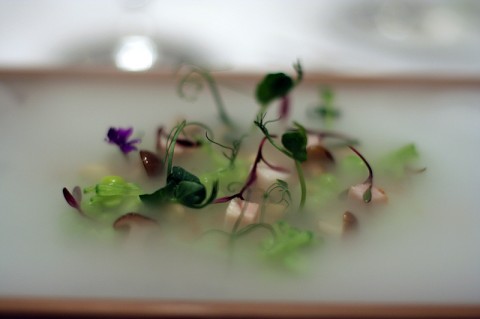 The Haze (Expressionism 2008)
Oh, I loved this one. I had taken note of the chop-stick-like forceps and had been explained that certain dishes would might be better enjoyed by using this tool especially made for El Poblet.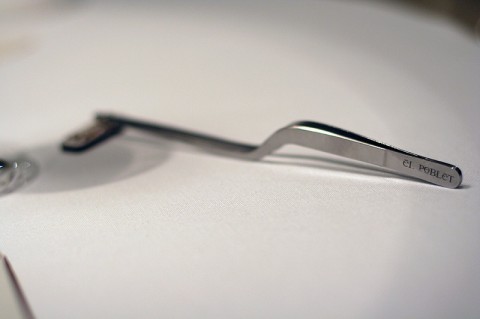 Forceps especially made for El Poblet
I could have done without the nitrogen show. The smoke didn't harm the dish but on the other hand didn't add anything either, other than maybe some surprise to a guest experiencing it for the first time. The dish presented a miniature forest offering tiny peas, flowers and mushrooms at the size of my pinkie nail. Each little item was incredibly full of flavour. The "soil" was a green marshmallow-textured like thing with a slight toughness to it. I ate all the little pieces with the El Poblet-forceps which extended the enjoyment of the very balanced and tasty dish.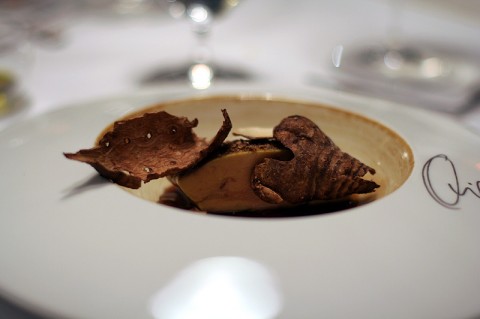 Wood (Essential 2008)
There's no doubt that this was a fantastic foie gras dish in terms of composition and balanced flavours. The peel of the Jerusalem artichokes were somehow dried or baked and had a crispiness to them and a burnt-like flavour that really suited the fatty and intense high-quality duck liver. Even the plate's shape was perfect for the way the liver was cut. A bit of duck sauce at the bottom combined the flavours and added sweetness.
But the portion was to big for me. In fact, considering the large number of courses each one could easily have been a bit smaller, I believe.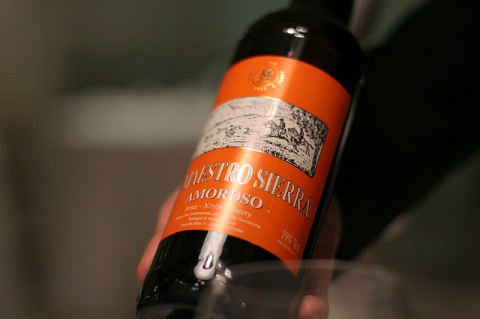 Amoroso Maestro Sierra D.O. Xeres, Sherry, Jerez
The sommelier had chosen sherry for accompanying the foie gras. It was sweeter than sherry usually is and resembled Madeira. It comprised enough power to match fatness of the duck and the slightly burnt-flavoured root. A perfect match!
Around about this time chef Dacosta took a tour around the dining room and helloed all the guests and insured himself that people were happy.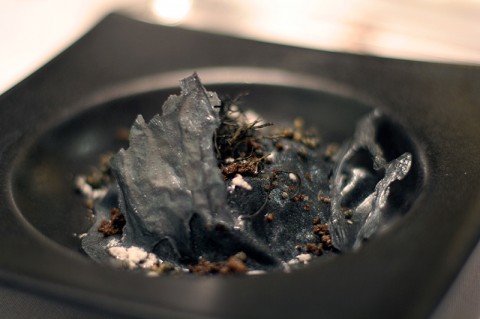 Ashes – Mushrooms in ashes (2009)
Next was a very harmonious creation full of delectable mushroom taste, and again Dacosta had played with different textures.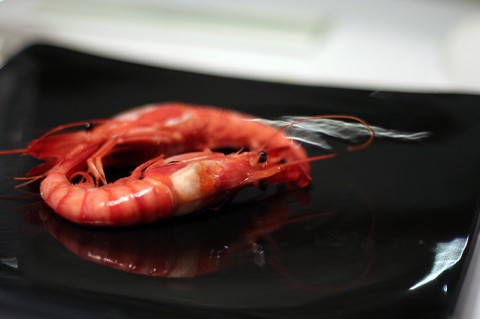 Denia's red prawn (2007)
Of superb quality and taste!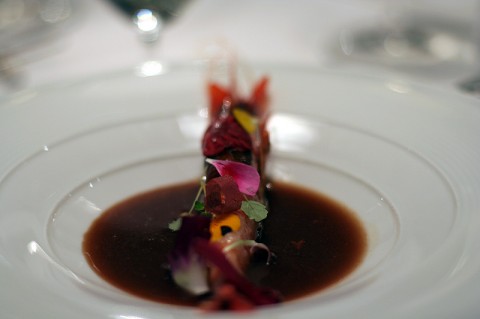 Denia's pink prawn (2007)
I am not so fond of raw prawns but this beauty was very delicate in taste and not too melting or soft in texture.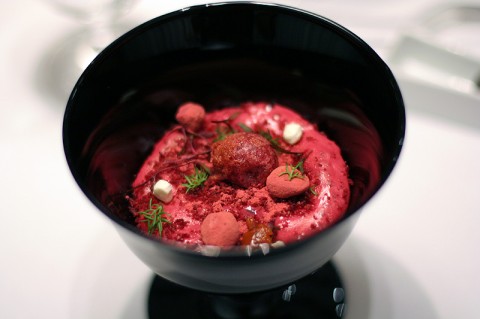 Sea beetroot (2009)
This was really a beautiful creation and the colours were emphazised by the black bowl. But sea urchin and beetroot is not the perfect marriage, I learned. The flavours  just didn't work for me, unfortunately.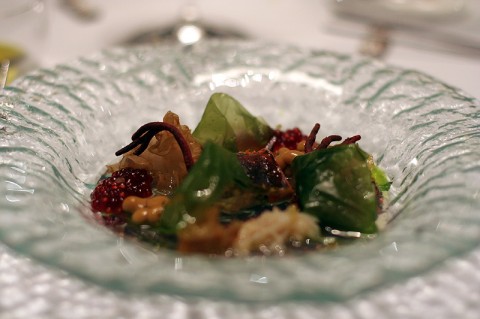 Coral (Expressionism Essential 2008)
Here back on the right track with a numerous-textured food arrangement that played with my mouth's sensing ability. Little rows popped on my tongue, and brittle sea weed, soft jelly and the delicate flavour of shell fish teased my palate.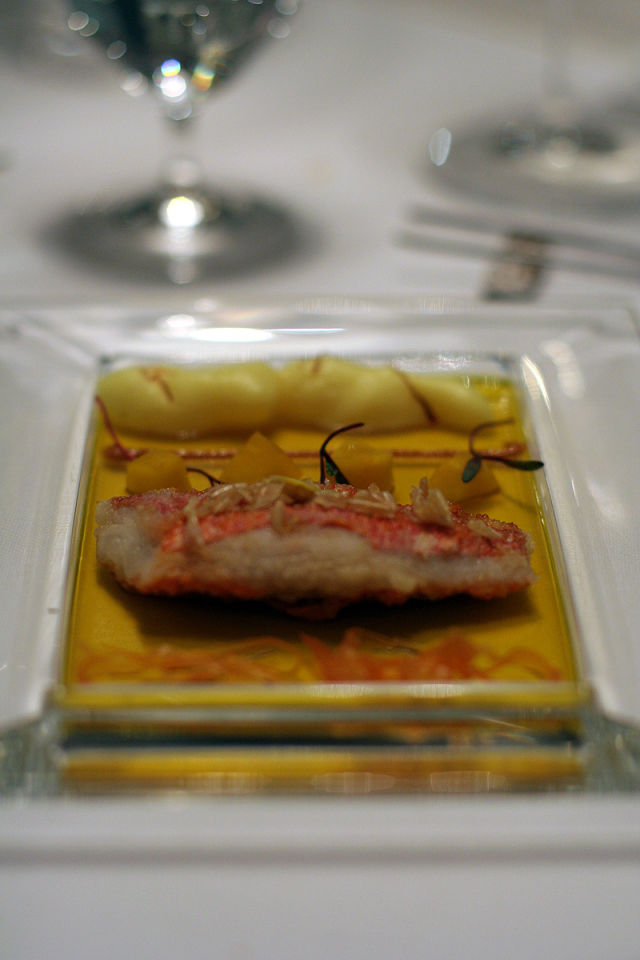 Red mullet "Mark Rothko", saffron (1957/2008)
Then followed fried red mullet served on a transparent glass plate with a puree of celery, parsley root or similar white puree. Under the plate was a piece of paper picturing a Mark Rothko painting which had an amusing affect on this rather simple but marvellous dish. On page 50 in this brochure there is a much better picture of this dish. The flavour of the red mullet was incredibly intense and the saffron was pure and powerful a very nice marriage. This red mullet was definitely the highlight for me and most likely the best red mullet of my life.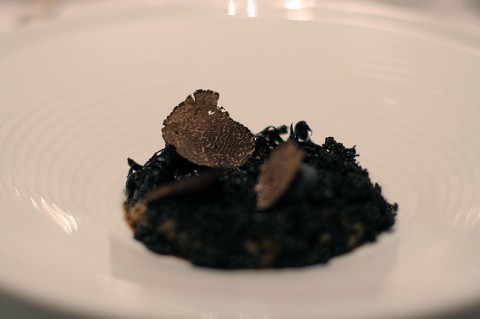 Senia Rice (2009)
This serving looks exactly like it tasted: A powerful black truffle risotto of perfect stiff and sticky texture which I love. The truffle aroma was incredibly strong and I'm almost able to smell them, still. Bravo!
The risotto was accompanied by a 2001 Torcas D.O. Navarra of Merlot, Cabernet Sauvignon, Syrah, Malbec. It was great and with a powerful fruit and refined tannin-like after-taste that suited this risotto dish.
Then followed three desserts: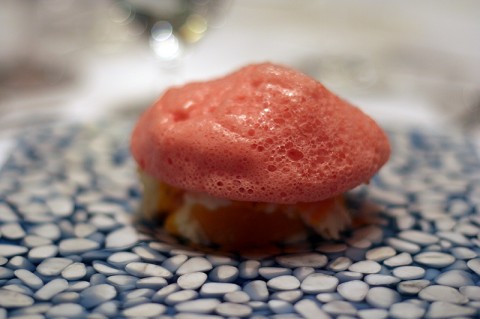 Orange in winter (2009)
When food is as delicious as this is, there's no need to hide it. The orange cleanser was perfectly balancing the sweet and sour and I felt it like had just got a vitamin C injection. I adore desserts that taste like this.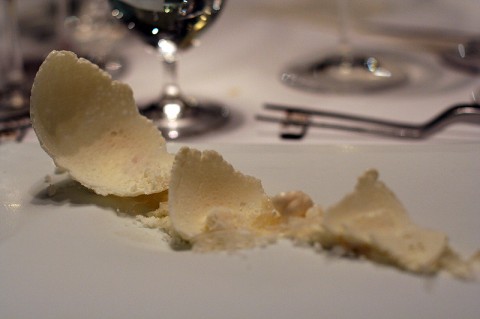 Litchis, sub zero (Metamorphosis essential 2008)
The second dessert offered luchee in different and strange textures from the slight cool and crunchy to tiny chewy pearls, powder and almost transparent jelly strings not visible in this picture. It was a fantastic and light dish with more sweetness to it than the first. Fantastic!
The final and 16th course was Moss (Impressionism essential 2008) with biscuit, Matcha tea, green apple meringue and liquorice. A nice dessert but of which I don't remember much other than it was not as good as the two first ones.
The dessert wine was also nice and offered a sweetish 2006 Casta Diva Cosecha Miel D.O. Alicante and so produced not far from the restaurant.
After finishing the last dish we were asked to move to the pavillon across the courtyard where Didier Fertilati served the coffee. We got a long chat with both him and the kind Dacosta. I was so thrilled, of course. What an extraordinary experience.
What a powerful sea food meal characterised by a curiosity to explore the culinary world and a desire to show that gastronomy on a high level can be just as poetic and stimulating as work of art.
But to explain you something, I need to digress for a moment. Have you ever heard of those restaurants run by blind chefs and waiters and where the guests get blind folded to experience the dinner incomplete darkness? I have wondered how I would like such an experience and I have come to the conclusion that I would rather not go through that.
You see, for me dining and eating is so much the experience to all my senses, including the ability to see. Enjoying the look of the plate with the delicately arranged food items forming a beauty like a marvellous painting in oil – it is as important to me like sniffing the wine before I drink it. When the food is covered up by nitrogen smoke, iceberg foam or a pink toadstool layer I am just not getting as intrigued as when I know what I am just about to put into my mouth. It's  connected with the happily looking forwarded to something, to be expectant prior to something, to build up excitement and to finally hit the climax!
Food must invoke all my senses to make me fully enjoy an eating experience. I need to have an idea of  what I put into my mouth and I lacked this a few times this evening, unfortunately.
Chef Quique Dacosta is unique in his style of cooking. He is powerfully talented and tangent to many of the world's leading chefs of today. He is delightfully poetic in what he creates and presents, and I really loved that. He's a true artist and I'm not really able to compare his cuisine with anyone else, although I do see similarities here and there.
El Poblet is pureness, originality, innovation and top-class sea food and shell fish spiced up with a very fine service and atmosphere. The 2-stars rating is right in my opinion, but I also feel certain that there is enough power and gift there to take it even further. I look forward to seeing that!
Thank you Dacosta and Didier for a powerful and wonderful first fine Spanish epicurean experience!
And thanks to my friend for a great time.