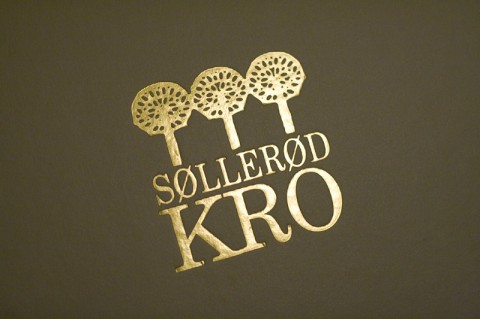 I do love Burgundy wines. Somehow Jan Restorff knows that – I don't know how, but he does. I have always dreamed of one day tasting an Echezaux, Grands-Echezaux, Romanée Conti, Richebourg, La Tache or any of the other marvellous Grand Cru Burgundies in that range, but I didn't really expect to ever get the chance of tasting any of them. Jan proved me wrong. This is the story of a dinner that almost turned into a fantastic Burgundy wine tasting accompanied by lovely food. Jan Restorff, manager and sommelier at Søllerød Kro, invited me for this dinner. I state this fact as a disclaimer.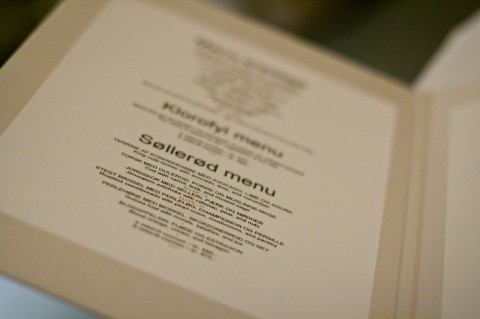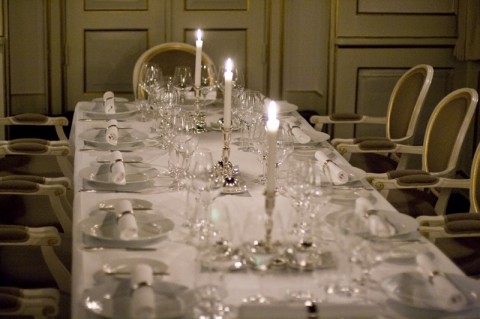 I remember so well the very first time I tasted a Puligny-Montrachet. Not just any Puligny-Montrachet – it was Domaine Leflaive and it happened at this very place, Søllerød Kro north of Copenhagen, almost two years ago at a reunion with two dear friends. Since that day I have been completely in love with white Burgundy wines. There is something very unique and so complex about them. Even more than the red ones, I'm afraid, although it's a tight draw.
Since this last visit, Søllerød Kro has undergone a transformation from a really fine and colourful inn to a refined, elegant restaurant. The look and the atmosphere are much lighter and the dominating colours of green and orange have been replaced by beige and white theme with a golden touch that is iterated everywhere.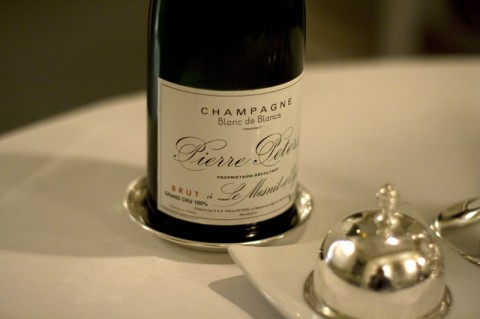 Excellent champagne this one with the right amount of fruit flavour, tost and acidity.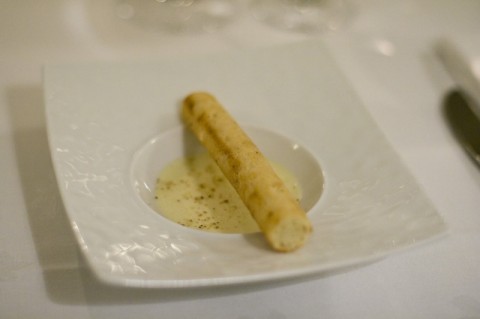 Mushroom mayo and puff pastry appetizer of some sort. Not my favourite thing and a bit too heavy to my taste.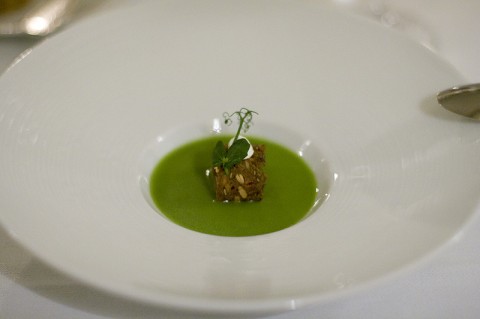 The tuna and green gazpacho on the other hand was delighting and fresh with scents of cucumber and lemon and a savour of many different elements.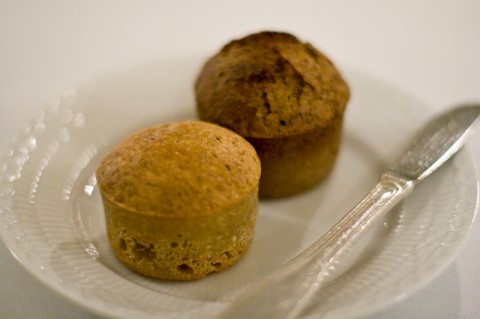 Food wise, I also took note of a slight change. Head chef Jakob de Neergaard has renewed the dishes. They now have a more refined and light touch which suit the new interior. Some of them even seemed like deconstructed classics with the food elements delicately placed aound the plate.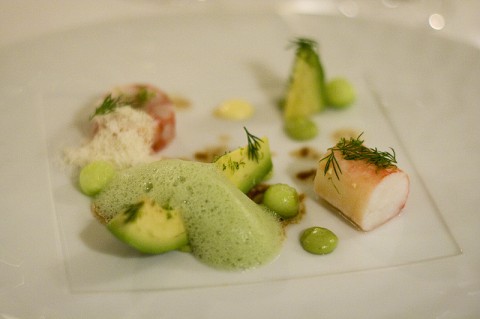 King crab terrine with avocado, lime, and cucumber
The first starter offered a marvelous quality of fine and delicate crab fish meat that had a touch of moisture. The hints of lime suited the dish very well and the avocado gave some substance to the dish without overpowering its taste. A smaller amount of avocado would have suited the dish better, though.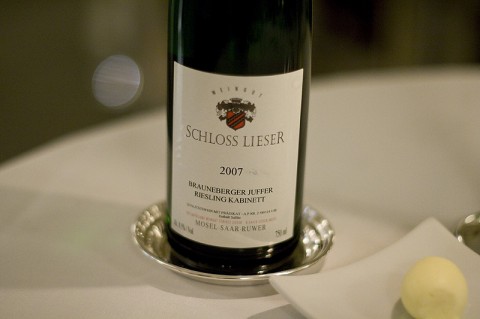 The Scloss Lieser Riesling had a touch of sweetness that was so right for the crab because the wine didn't take focus from the fish.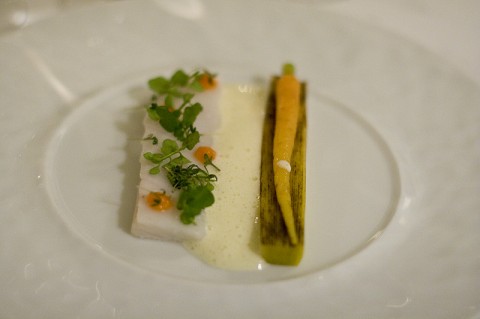 Cod with carrot, leek, and mussel nage
Next was steamed cod which was so delicately steamed that it resembled sashimi rather than cooked fish. The mussel nage combined the flavours of the leek and the carrot with the cod. Excellent.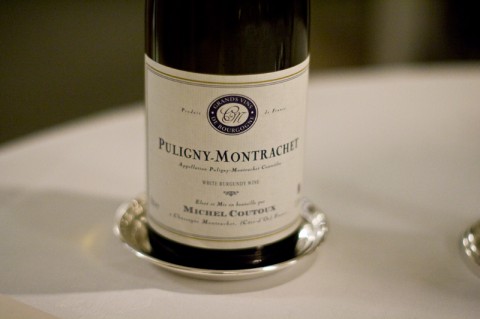 The Michel Coutoux Puiligny-Montrachet had a delighting nose dominated by smoke which disappeared a bit after a while. It seemed a little cool at first which tended to hide the expression. But after a few minutes in the glass it opened and presented a well-formed body full of complexity, minerals and a lot of acidity that balanced the long finish. I really enjoyed it.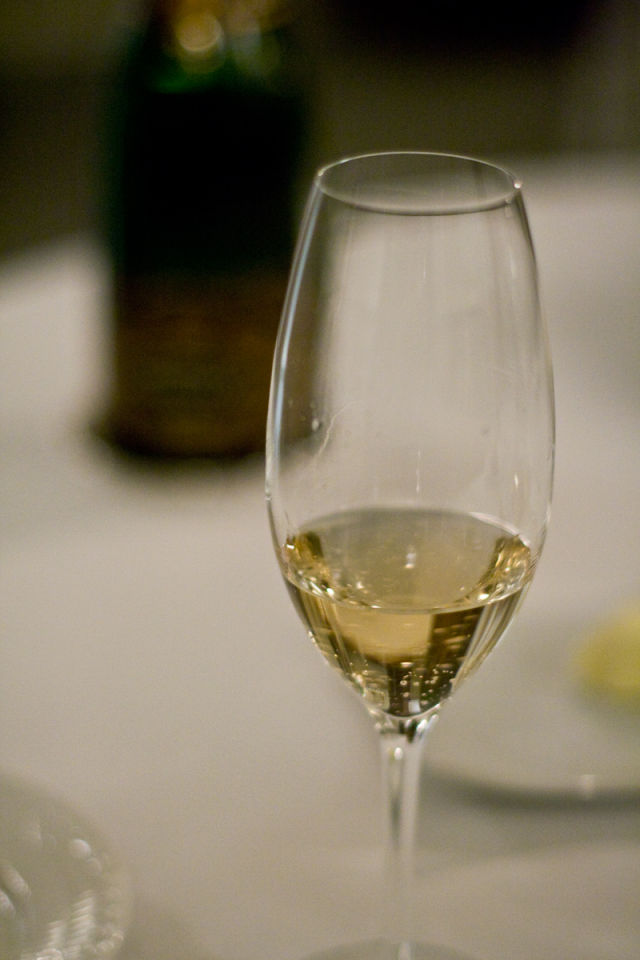 Soon after the next glass was placed on the table and not just any glass. Jan had chosen champagne for the following course and poured André Clouet Grand Reserve Brut into the champagne glass designed by Richard Juhlin. The glass was super thin and incredibly light and I liked it very much.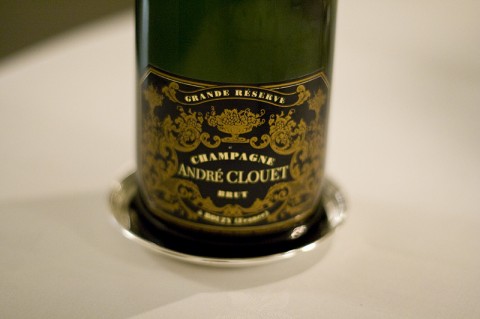 The champagne was quite powerful, a mixture of vintage and non-vintage, as far as I remember. The nose was very fruity and I spotted blackcurrant in the full palate. A bit more acidity would have made this champagne more lovely, I think.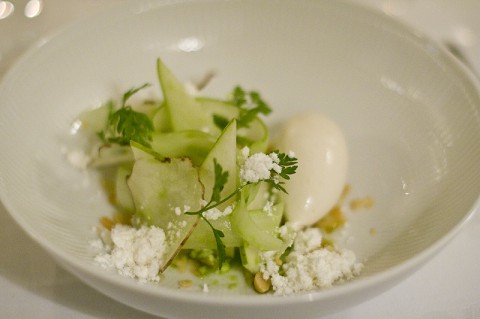 Jerusalem artichoke with celeriac, pear, and nuts
The dish to marriage the champagne was really startling. Jan called it a feminine serving. I understood why he said that. I love Jerusalem artichokes in general and here they had been pacotised into a cool cream and was combined with crispy celeriac, pear, and nuts. It was very refreshing and light but offered a lot of taste. There was a slight saltiness to the macadamia nuts that kicked off the full flavoured Jerusalem artichoke and prevented the dish from being queasy. This was the highlight for me amongst the salty dishes. I was moved.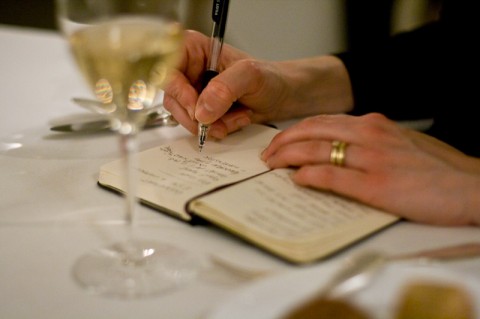 The meal now turned into a wonderful Burgundy Pinot Noir tasting. When we had just arrived and were discussing the food and wine at the early beginning of the dinner, Jan asked whether my preference would be young or old Burgundy. I was bewildered, but chose young. Then next task was to select appellation and I don't really remember all of the options but Nuit-Saint-Georges, Gevrey-Chambertin and Chambolle-Musigny were amongst them.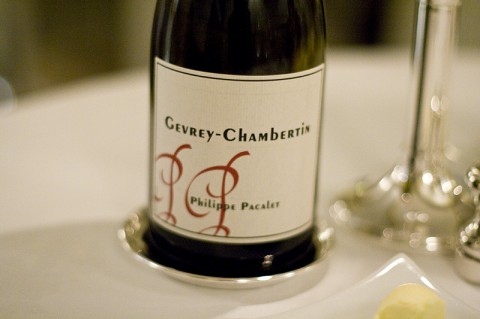 I picked Gevrey-Chambertin because all the wines I know from that area have been utterly delighting to me. So was this 2006 Philippe Pacalet. It was a happy and thrilling wine full of vivacity and fruit in the nose. The colour was light red, and in a way it was a light wine but still offering so much flavour and complexity in a seducing way. Wow!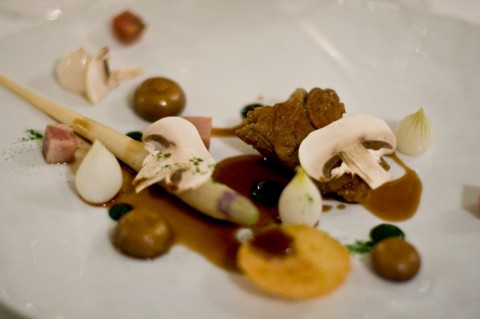 (Deconstructed and) Roasted sweetbread with pearl onion, mushrooms, and parsley
The sweetbread of veal was distinct had a pure and gamy taste that was dominated by the taste of iron. Coursed by the way of cooking it only comprised very little fat, which also underlined the taste. I don't like it so much when sweetbreads are jelly-like because of a heavy fatness. The accompanying bacon, onions and mushrooms were very good too.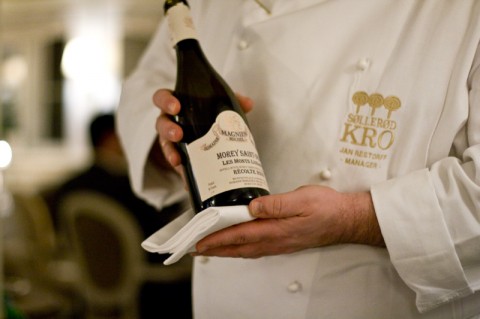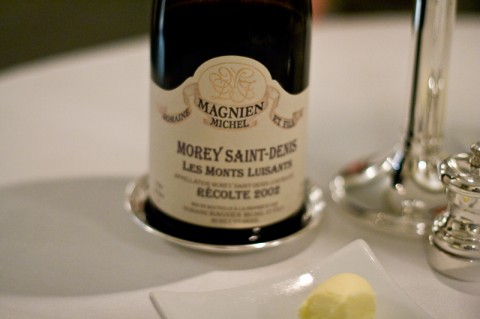 The second Pinot Noir was a step up in intensity. Jan poured 2002 Morey Saint-Denis into my big glass and it was clearly darker than the first one. Compared to the Pacalet it was more robust and more serious, still fruity and delighting and the after-taste was long. I was feeling happy.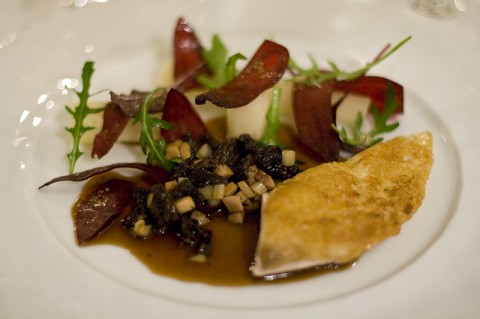 Guinea fowl with morels, salsify, and jus
The main course offered a perfectly cooked guinea fowl breast served with small but full-flavoured morels, salsify, juice and topped with beetroot crudité. It was a very nice dish and a bit more classic in style than the previous ones. I enjoyed that the food did not take focus from the excellent wine.
"Would you like some more wine?" I was perfectly fine and didn't need more wine at this point but would greatly appreciate a big break to make room for the dessert. "Desserts" I should say, but I'll get back to that later.
Most of the guests had left the restaurant and Jan was spending most of his time chatting with us about all the fantastic places to eat in Europe and about wonderful wines.
At some point he returned from the kitchen and declared that we could not be killing time during the break without some more wine. "We need a waiting wine", as he told us. Then Jan asked me "Echezaux or Grands-Echezaux?" Excuse me, was he kidding me?
I had no idea what to reply so I returned the ball to him and made him choose for me.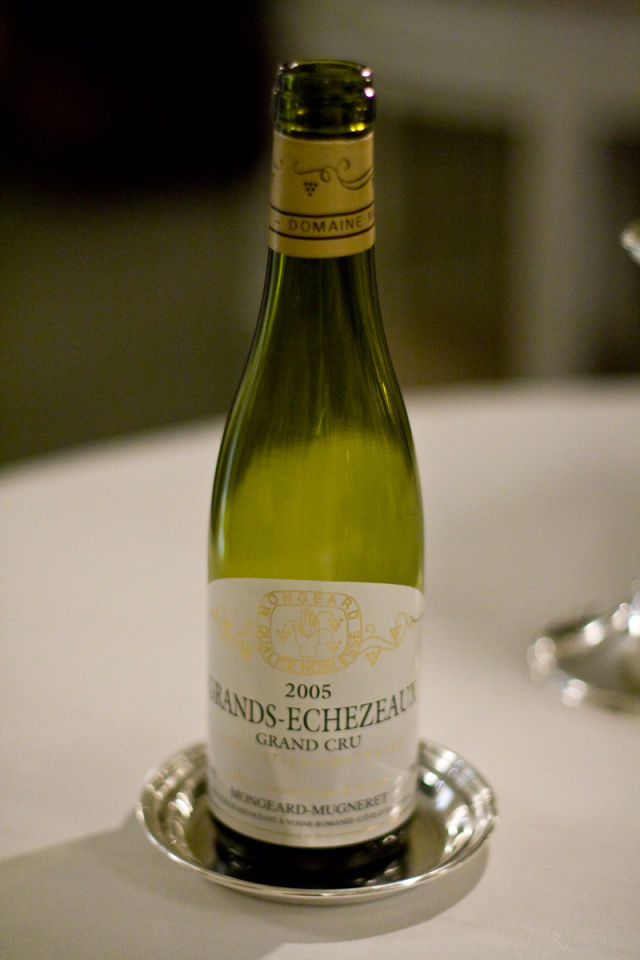 Oh my God!?! This 2005 Mongeard-Mugneret Grands-Echezaux wasn't like anything I have ever tried before. You know, just holding the glass under my nose and breathing normally filled my nose with this wonderful and very intense and powerful Pinot Noir scent. The full-bodied, highly complex and yet elegant taste stayed in my mouth for minutes. More than one, that's for sure. I was (and still am) amazed at how a wine like this from the Grands-Echezaux parcel and less than 5 kilometres from one like Morey Saint-Denis can be so much more concentrated and powerful. It's still the same type of grape. A matter of terroir and where on the hill the parcel is located. This Grands-Echezaux is one of the utterly loveliest wines I have ever tried. If not the one.
Now, time for dessert!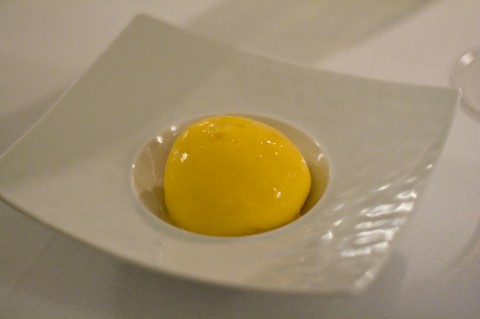 This was only a pre-dessert to shock my Pinot Noir doped palate and clean it from delightful impressions. It was an awesome cleanser of sea buckthorn on top and carrot crumble at the bottom. It offered a fantastic balance of sweet, sour and texture. In fact, I think this was my favourite although all desserts were excellent. Ok, hold on now – here comes the desserts. All of them:
First flight: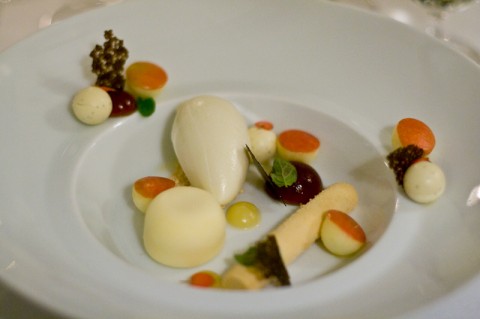 Apple, caramel, and vanilla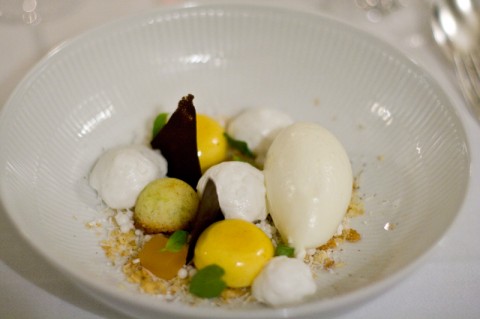 Passion fruit with coconut and basil
Second flight: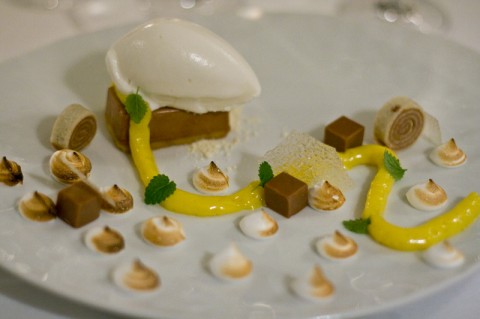 Lemon with meringue and milk chocolate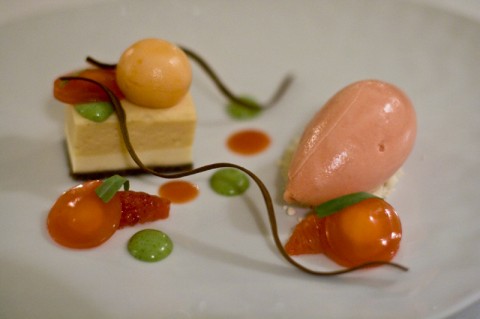 Blood orange, cream and tarragon
Third flight: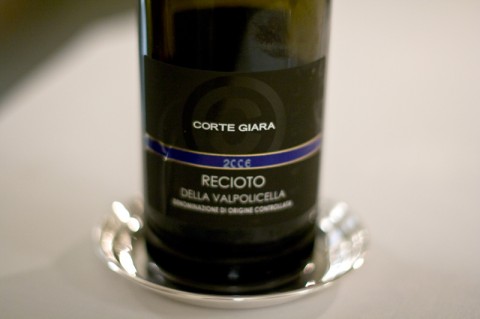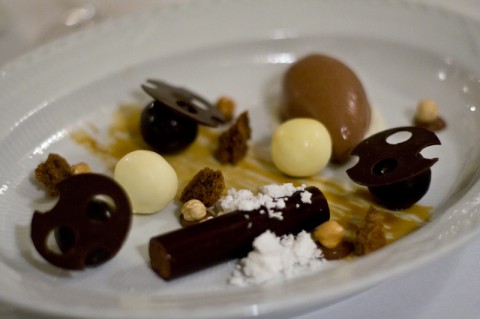 Cru Sauvage Bolivia chocolate with Macadamia nuts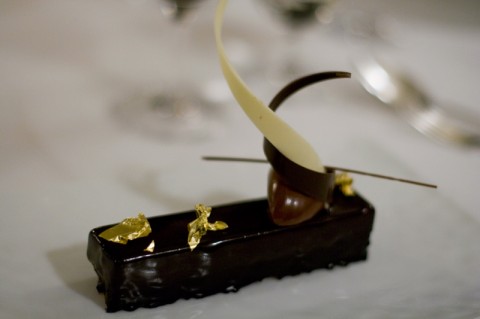 Felchlin chocolate dessert with leaves of gold(!)

Søllerød Kro makes some of the very best desserts you get in Denmark. Or should I say the very best desserts I have been served in Denmark are the ones I have gotten here.
First of all they are always perfectly balanced on sweet and sour – or rich on chocolate. Second, they are so beautiful. Look how the colour harmony on each plate. And needless to say, they taste magnificent. So much that I on occasions have dropped in on a sunny afternoon only for spoiling myself with a dessert and nothing else.
Spoiled, that was absolutely what I was on this visit 4th of February.
Thank you very much, Jan, for a wonderful and very surprising evening! I can't wait to get back.