First time I became familiar with Kiin Kiin was when I a fine day in September 2007 was walking from Sankt Hans Torv towards the Empire Cinema. I stopped to take a look at the menu on the wall of this discrete and new restaurant.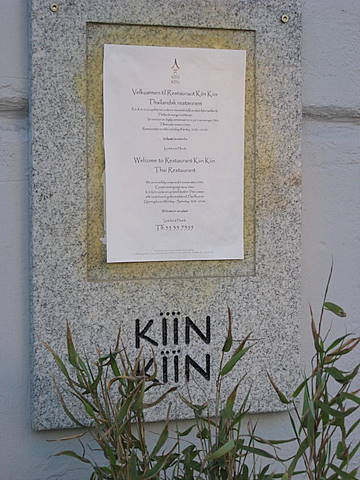 I am the first to admit that my knowledge about Asian food is sparse indeed. I do like Thai food, and I eat it about once a month but mainly as a take away, when I'm too lazy to cook. My general and narrow-minded opinion of Thai food is that it's just the sauce that varies the taste, and if it has coconut milk in it, then that's all it tastes of. Of course, there are exceptions to that rule, and I'm also certain that if I ever went to Thailand, I would completely change my views on this.
Nevertheless, the Kiin Kiin menu and the ambition to take Thai to the highest possible level of cooking intrigued me. Kiin Kiin was even honoured their first Michelin star in this year's guide of the main cities of Europe. Gourmet Thai food, how on earth would someone make haut couture out of coconuts, shrimps, noodles and lemon grass? As I think of myself a complete Thai-novice I needed help, so when signing up for my first dinner there, I allied with a good friend of mine who knows as much about Asian cuisine as I know, umm let me think, about noma's?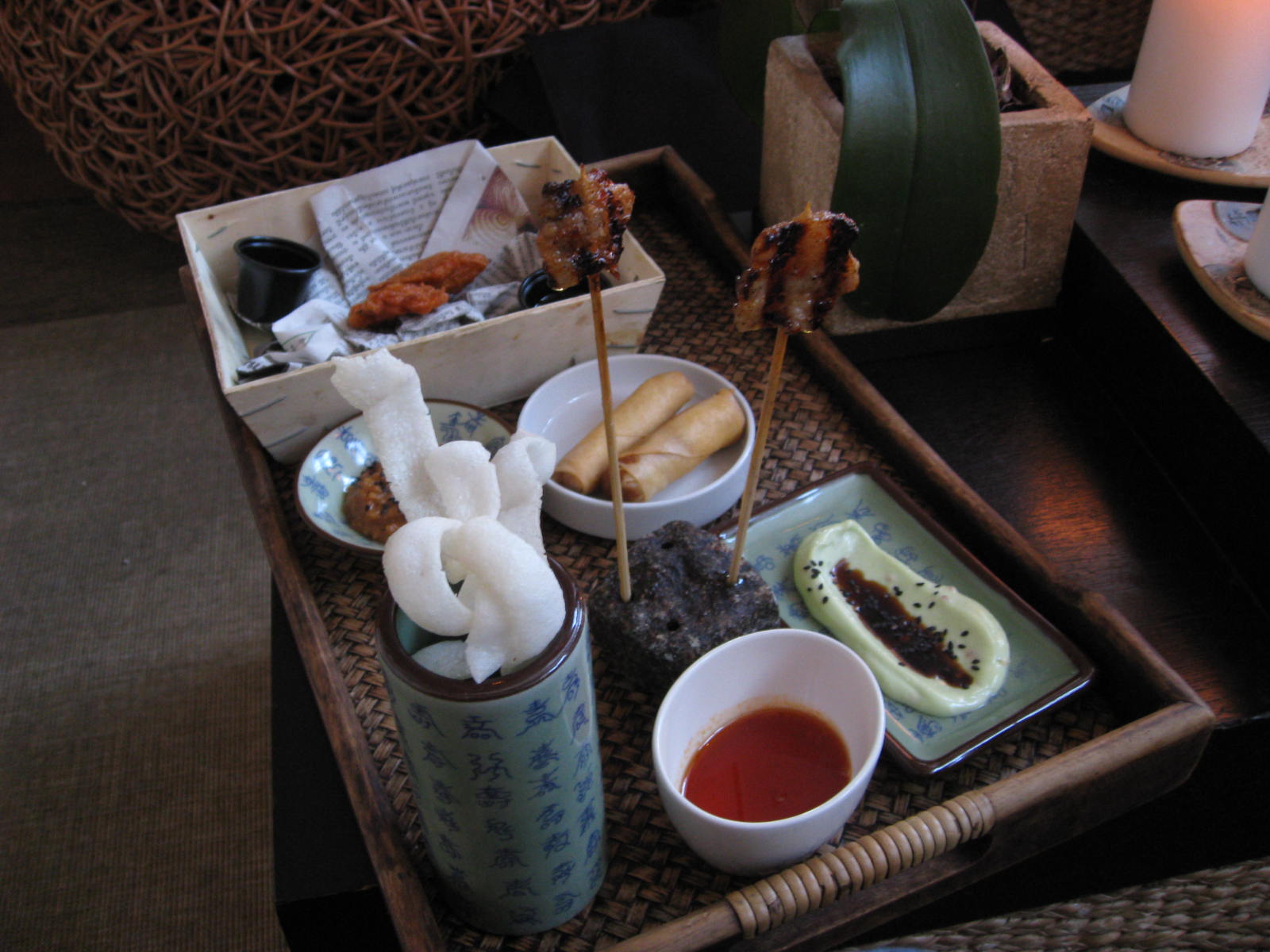 The street food snack
When you enter the restaurant you walk right into the lounge situated in the basement. We were seated in low wickerwork sofas and were served a big plate of street food snacks. I assume this is classic Thai furnishing (have never been to Thailand). The sofas were very low and sort of made me regret wearing the black décolleté top as I leaned forward to pick up the snacks.
The look of the big plate was wonderfully colourful and inviting. The shrimp crisps were very good, but the rolls were not vegetable enough and somehow too doughy to my taste. The pork-sticks were nice and the fish cakes were chewy and a bit indifferent in taste. The cashews were very salty. What I enjoyed the most about these appetizers were the lemon relish to dip the fish cakes and the lime salted lotus crisps. That relish was really stunning and had a perfect jelly-like texture and sweet and sour balance plus a really intense and full flavour. But, I am easy with lemon though, I'm a sucker for it.
I was curious about the Charpentier rosé champagne which Henrik Yde-Andersen, the host and owner, suggested, so I opted for it. The taste was fine and delicate with fruits that reminded me of strawberries. Next time I visit Kiin Kiin I think I would like to try a drink with a bit more character like a not too heavy beer for example as the relish almost overpowered the champagne.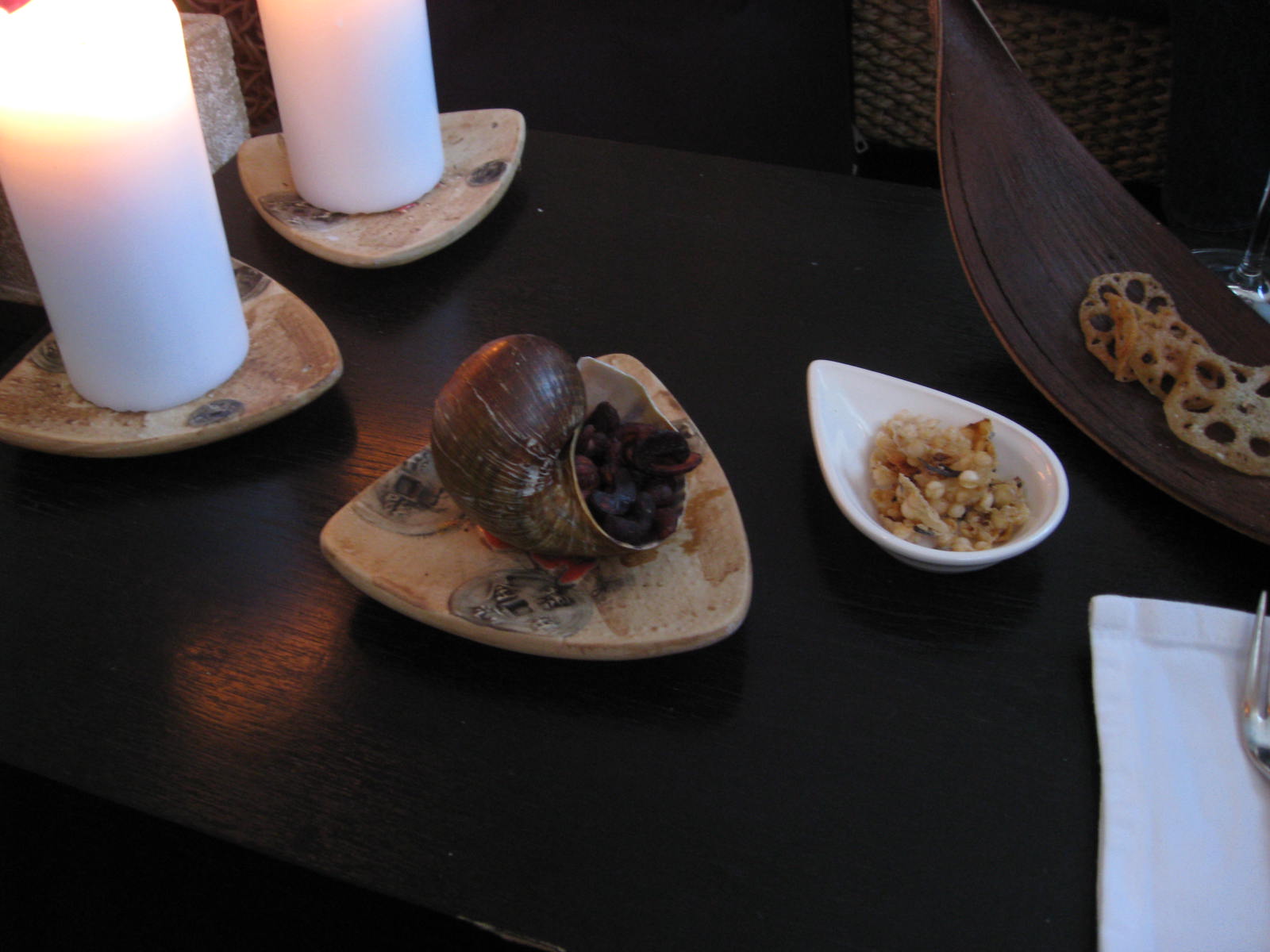 The dining room was upstairs and not a big room, I think 12 tables in all. We were in the middle of the room close to the big windows. The other guests this Tuesday evening 22 April were dressed casually.
I had carefully studied the wine parings in advance at the website, and since I found a couple of excellent producers I thought it was best to try and see how these would accompany the food. After all, I had no clue about the food and what it would taste like and could easily make a fault in forcing one of my favourite wines upon it. And maybe fail to match the taste of the perhaps spicy food.
The wine was poured into lovely Riedel glassware but in tumblers instead of stem ware. I can't deny that I would like to enjoy the fine wines from a glass with a stem, because I feel that my fingers are influencing the temperature and leaving greasy prints on the glass – despite my frequent visits to the loo. I'm not sure what the reason is for choosing this type of glass, but why jeopardise the delightness of drinking wonderful wine?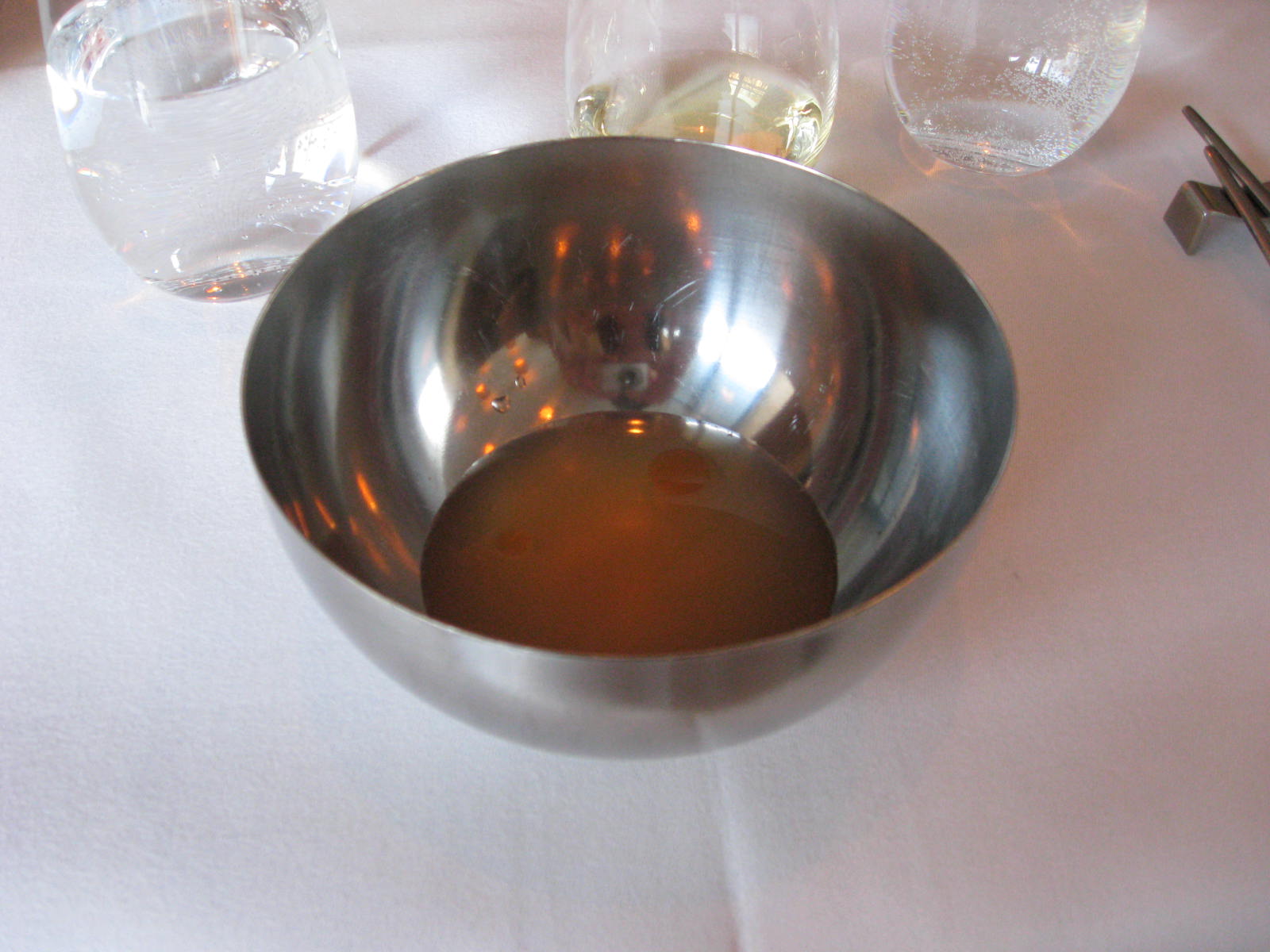 Kiin soup based on ginger & galanga
We drank the soup from the bowl. The taste was pure and elegant. The Prager Grüner Veltliner (year?) comprised a very nice dryness and the sour and bitter after-taste matched the scent of the soup nicely.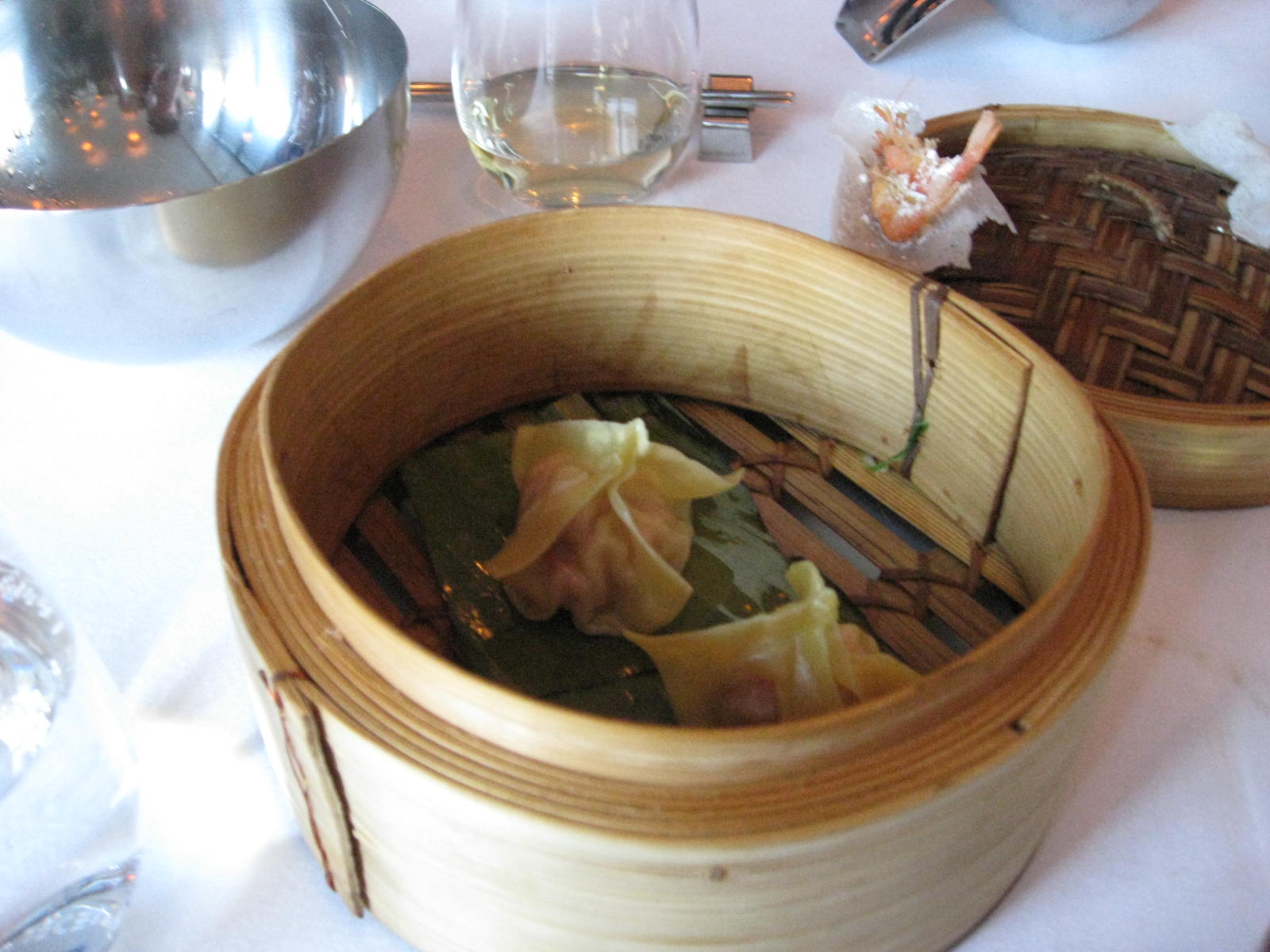 Dim sum steamed with fiord shrimps with garlic dust

The dim sums were very good, but the shrimps? Oh my goodness. They were incredible full of taste, sweet and slightly salt and very surprising as they comprised everything in terms of what any shrimp should be like. A really sophisticated serving and of course I was sad that I got only a single pair. But you know, maybe this is why it stayed with me as long. What a start. I was getting really excited and was already impressed.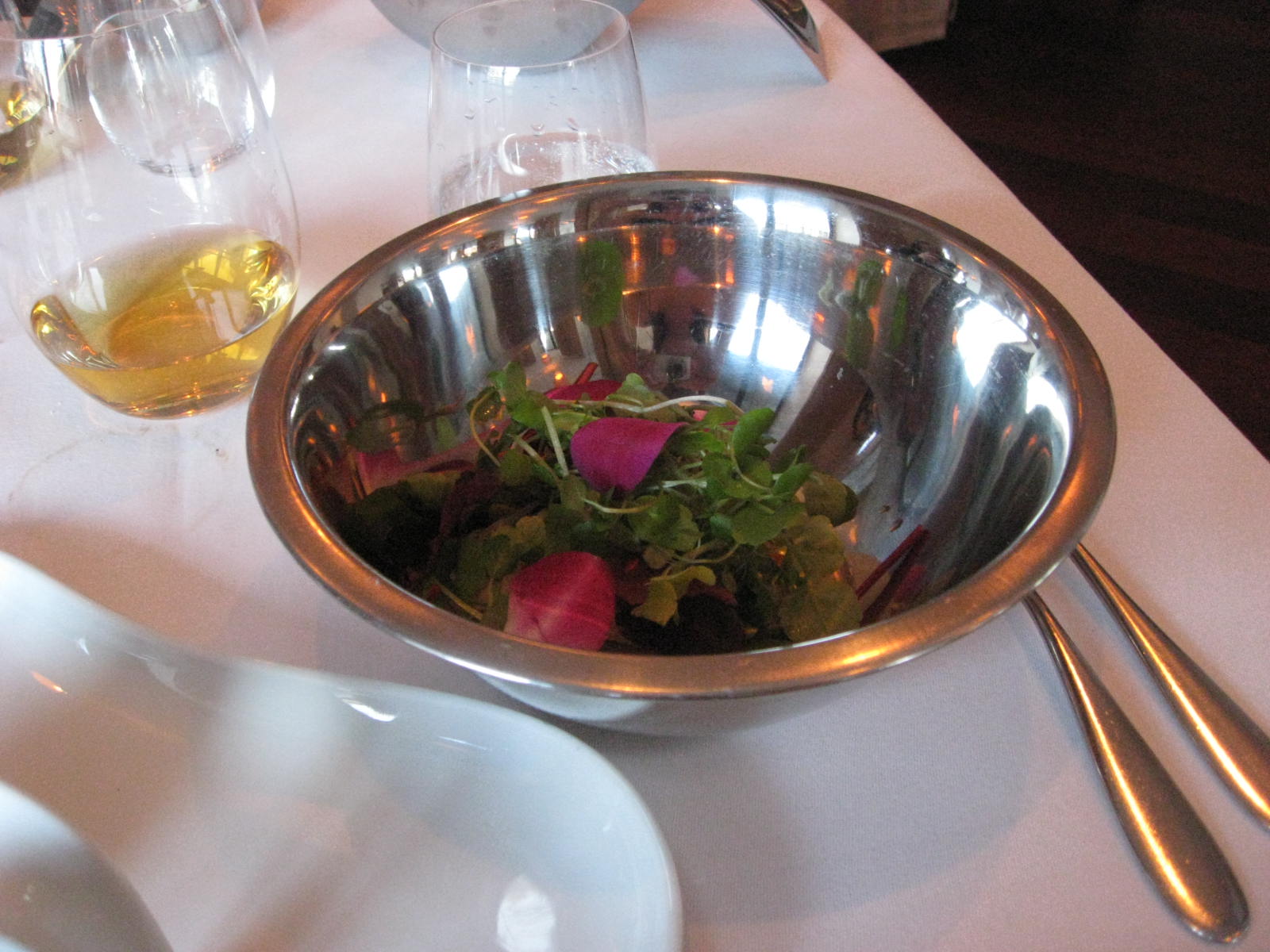 Salad with cilantro & orchids raised squid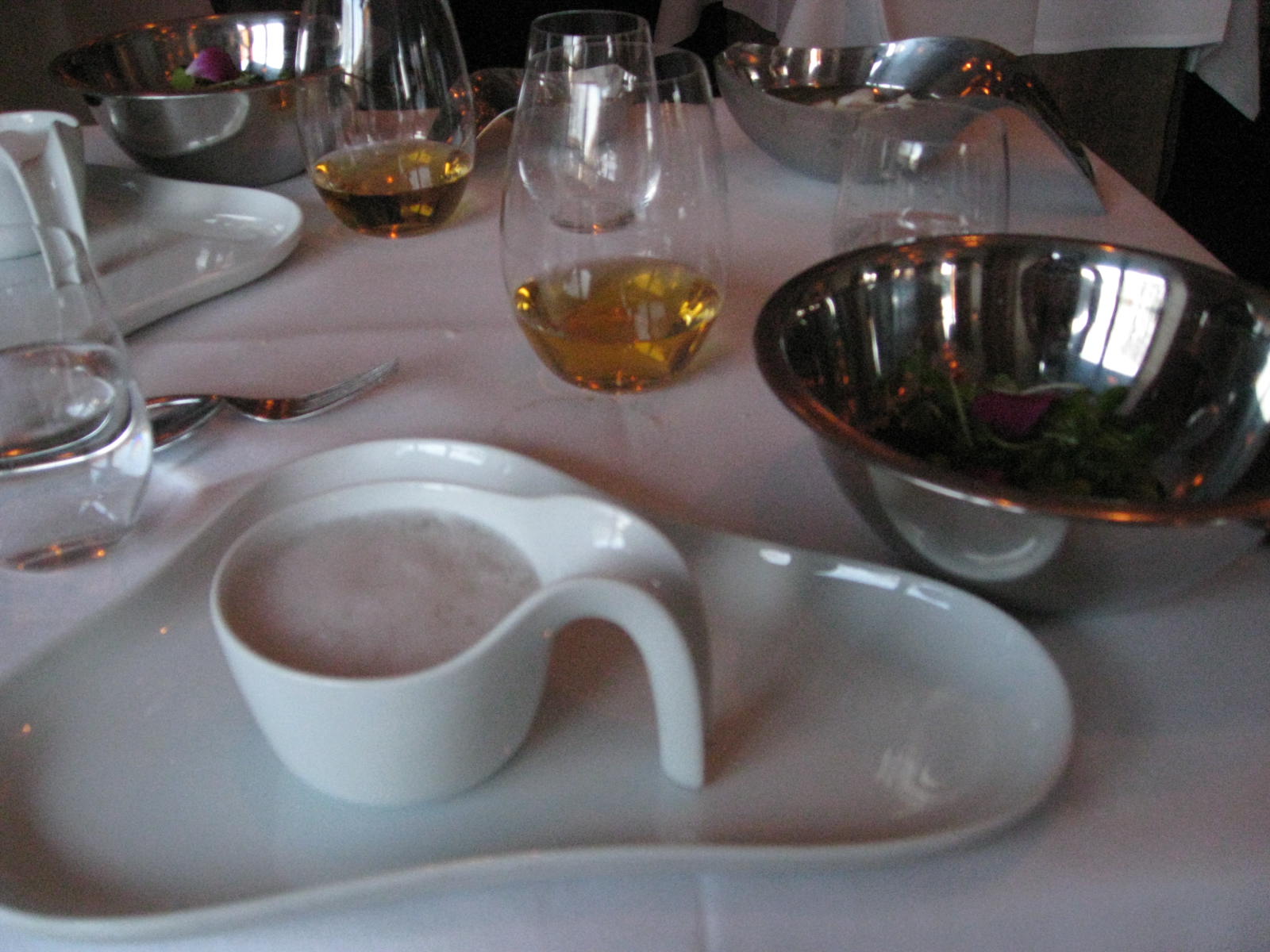 Red curry with scallops & holy basil
I got the salad dish and the red curry at the same time and for some reason I started with the salad first. It had beautiful pink rose hips and a nice acidity and the squid was good but as a whole it didn't impress me. That changed however with the taste of the curry. It was fantastic. The coconut was only subtle in a way, hiding the flavours under the pink foam. I was fooled at first and didn't think of coconut milk, blind tasting but with another meaning to it. Call me naïve, but I really didn't think of coco at first. I really liked this not too fatty or overdosed coconut milk flavour. In the cup I found a lovely scallop and little pieces of ginger offering substance and spicing perspective.
And now, the sourness and the freshness of the salad made perfect sense in this picture!
The wine accompying here was a Zind Humbrecht Gewürztraminer of highest quality. Gewürztraminer is a very aromatic grape. This wine was not only aromatic but also nectar-thick in texture, dark golden in colour and flowery on the nose. It was rich in taste with sweet tones and hints of bitterness. A great wine.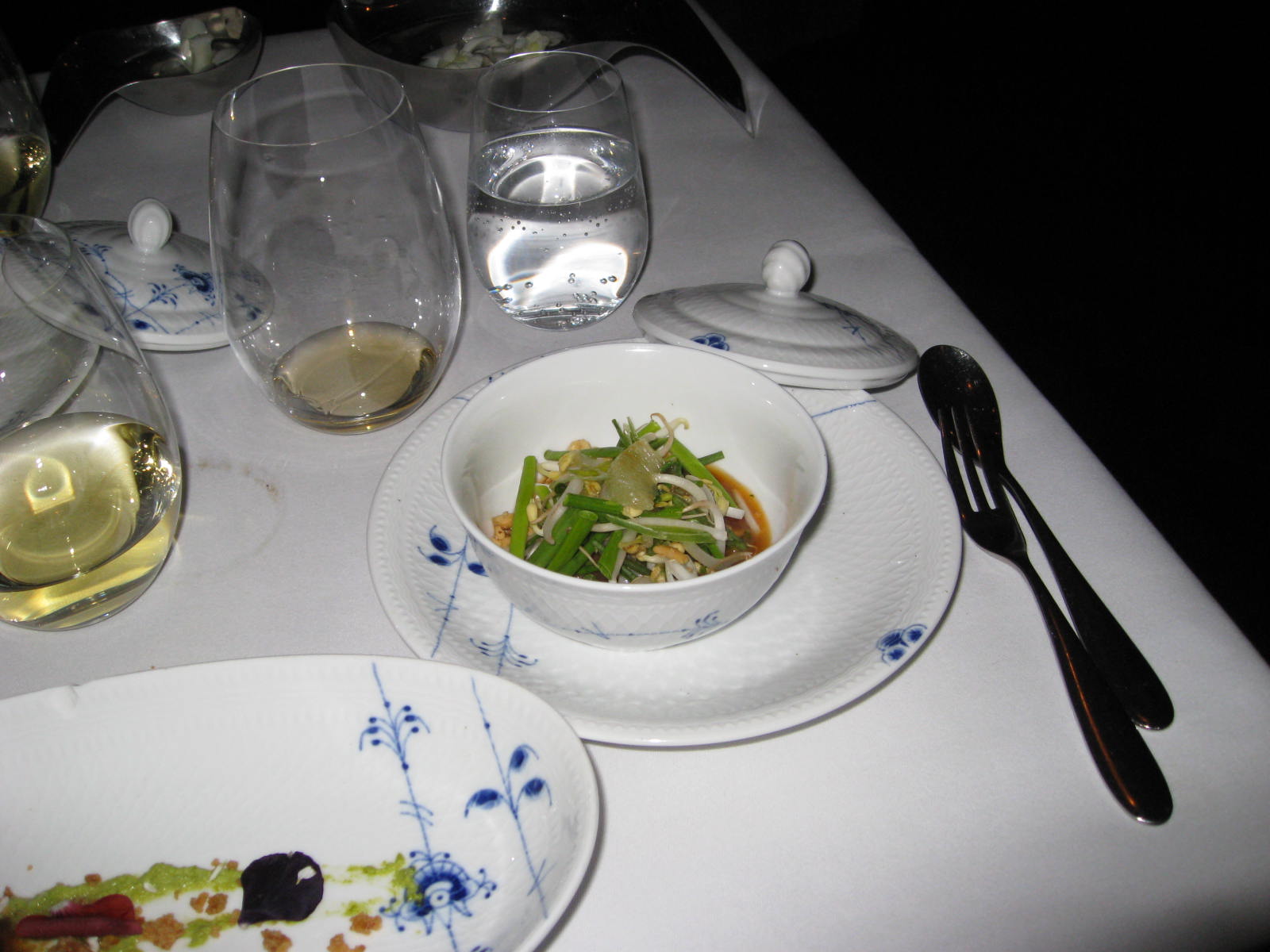 Iced tom ka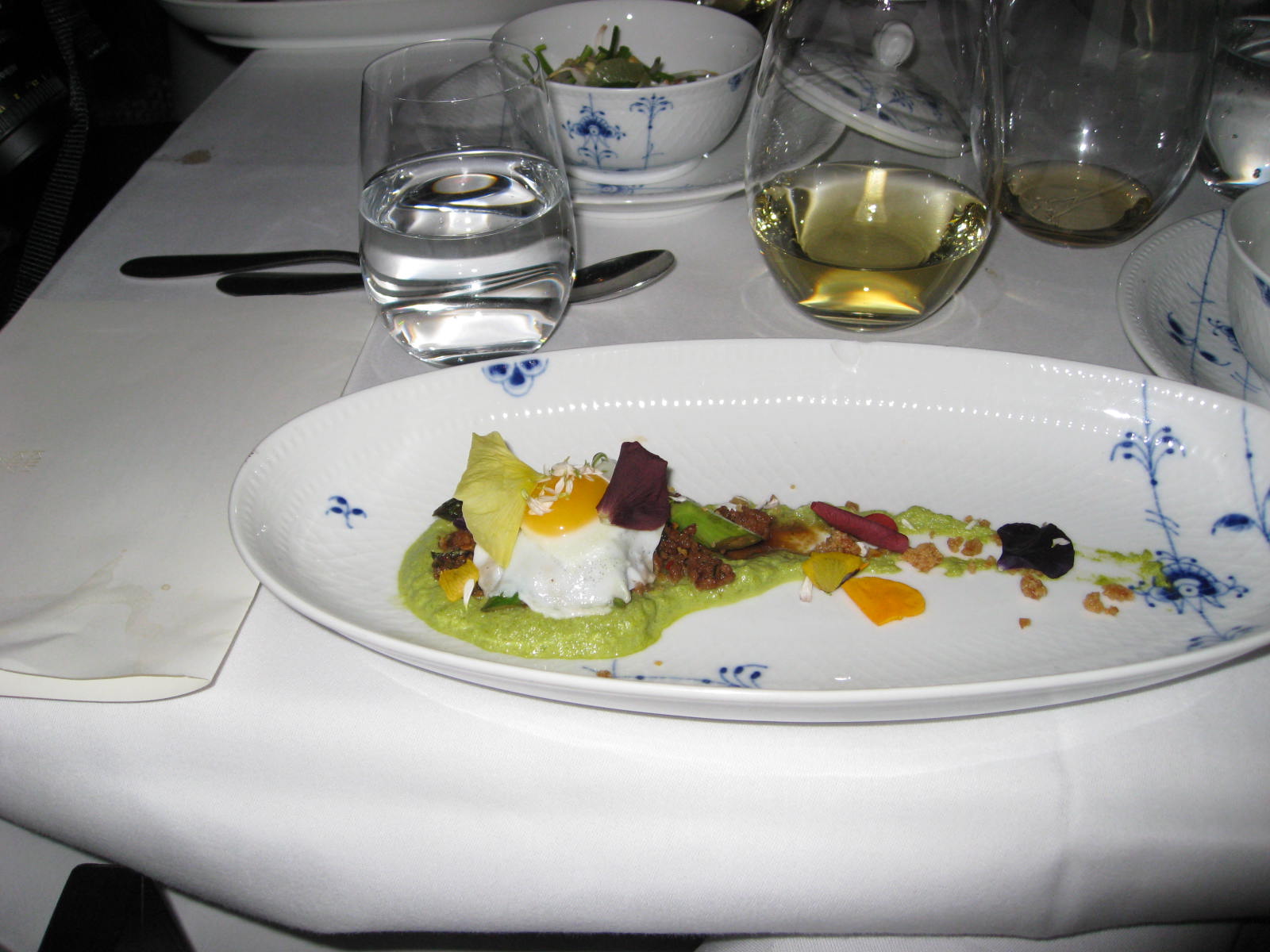 Green asparagus & fried quail eggs
I liked the iced tom ka that reminded of a noodles dish but without the the noodles. The asparagus dish was another highlight for me. The dark crunchy stuff sprinkled about was smoked pork and it was great because it added salt and flavour to the dish – just like bacon on a Sunday morning English breakfast day. Perfectly cooked, needless to say.
The Frits Haag Riesling from Mosel, which accompanied the two dishes above was nice but the least interesting wine of the night. The taste was very sour-ish and stayed with the after-taste as well. It had to be accompanied by food to pleasure. I'm sure a less acidity-heavy wine would have affected the experience of the food in a negative way.
Before the main courses we got the temptation for gastronauts of roasted foie gras with some white topping of tamarind and lychee. Somehow this dish was just too much for me at that point. The quality of the foie gras was good and it was roasted just right, but the tamarind and lychee combination was too sweet for me and was also overdosed in my opinion for the amount of liver. I couldn't finish it.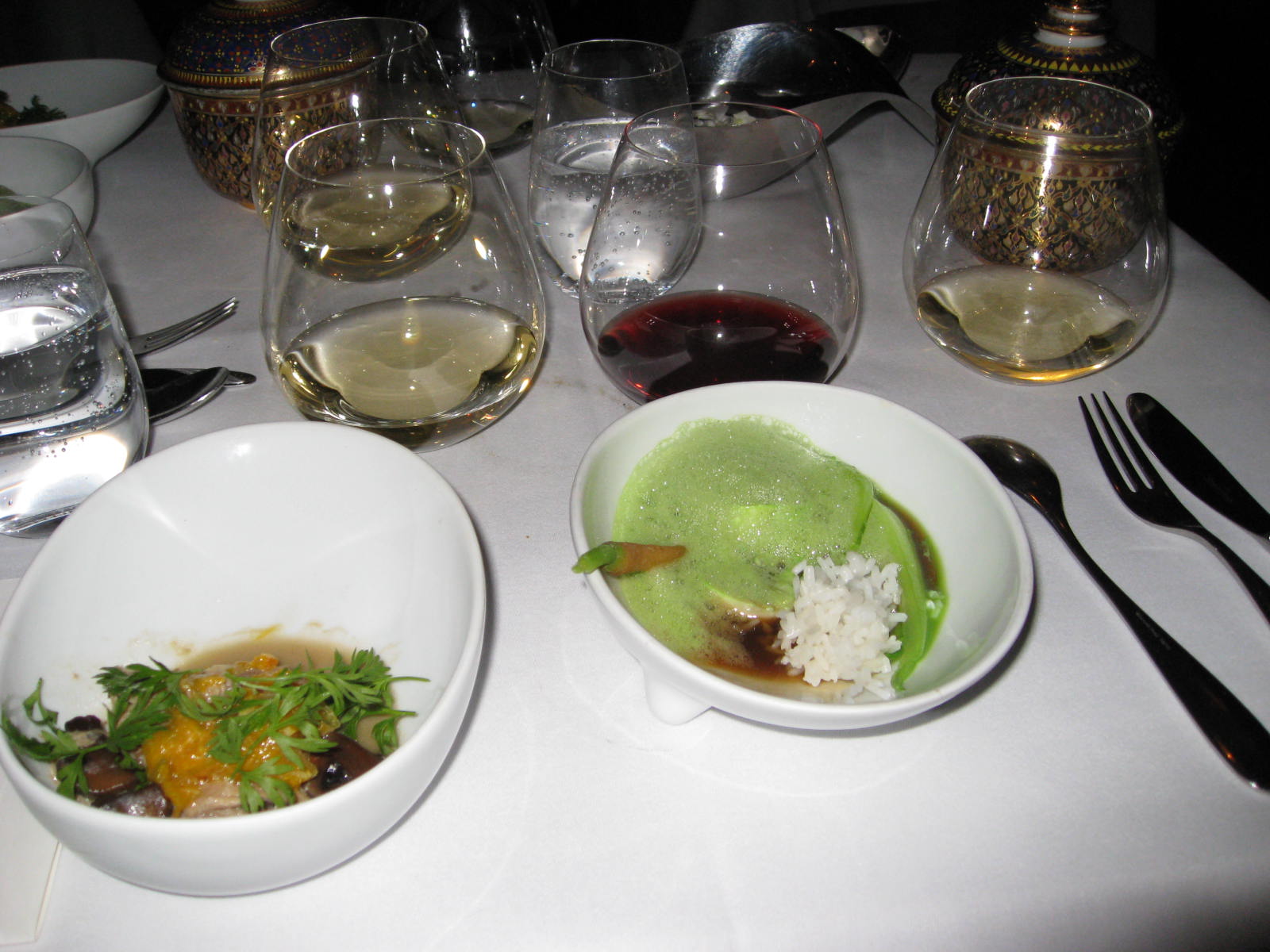 Guinea fowl with green pepper corns and mushrooms in lemon grass
Again two very delicious courses that complimented each other well and were perfectly cooked with moisture of the poultry and firmness of the mini carrot.
For the wine we got a choice (and a taster) of either the d'Arenberg Adeleide Pinot Noir and a Viognier from the US – exactly where from, I don't recall. But anyway, the white was without doubt my preference of the two. It was like the red one was levels below the quality of the other wines we had enjoyed until then.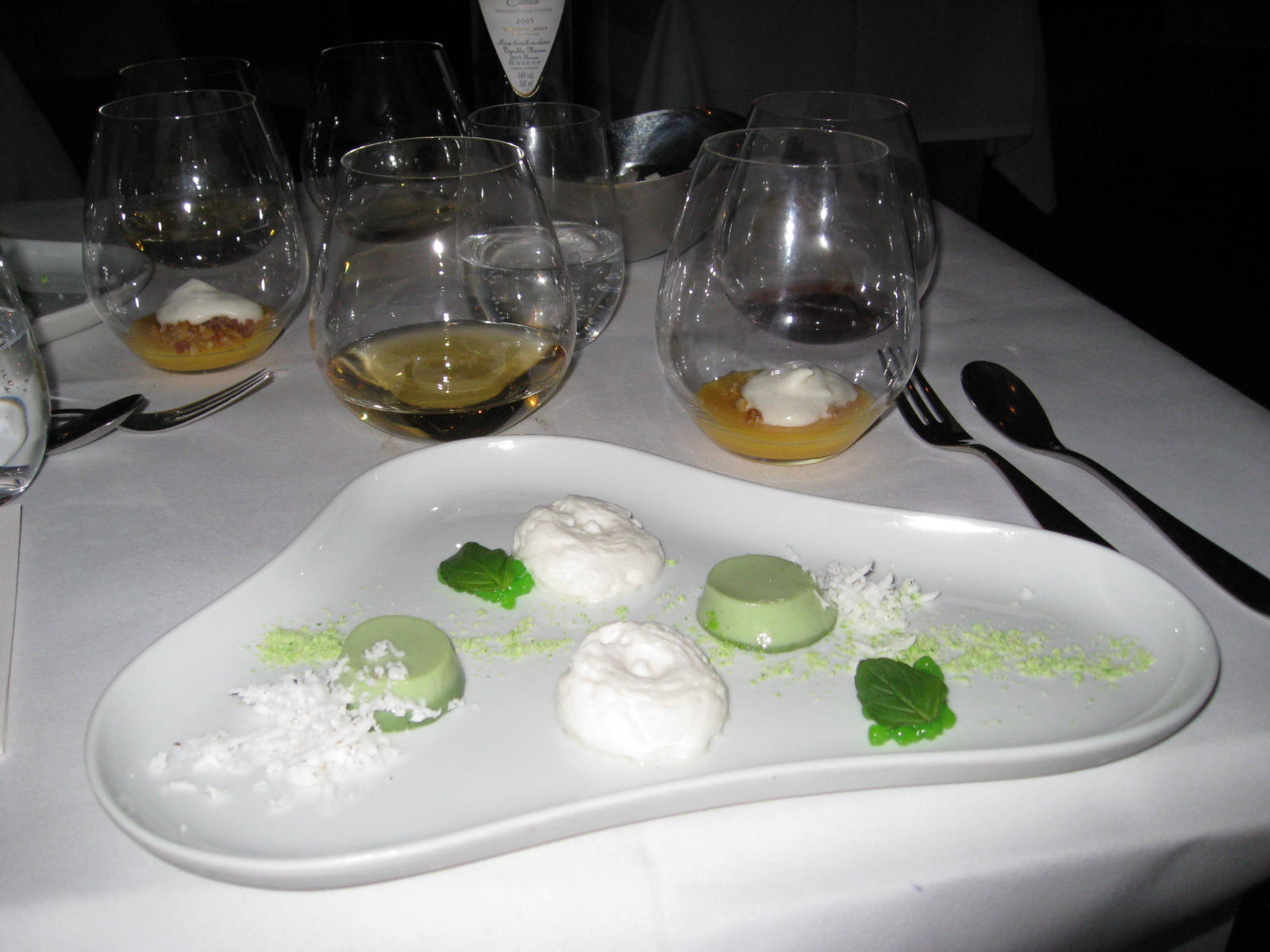 Sankria pudding made from palmleaves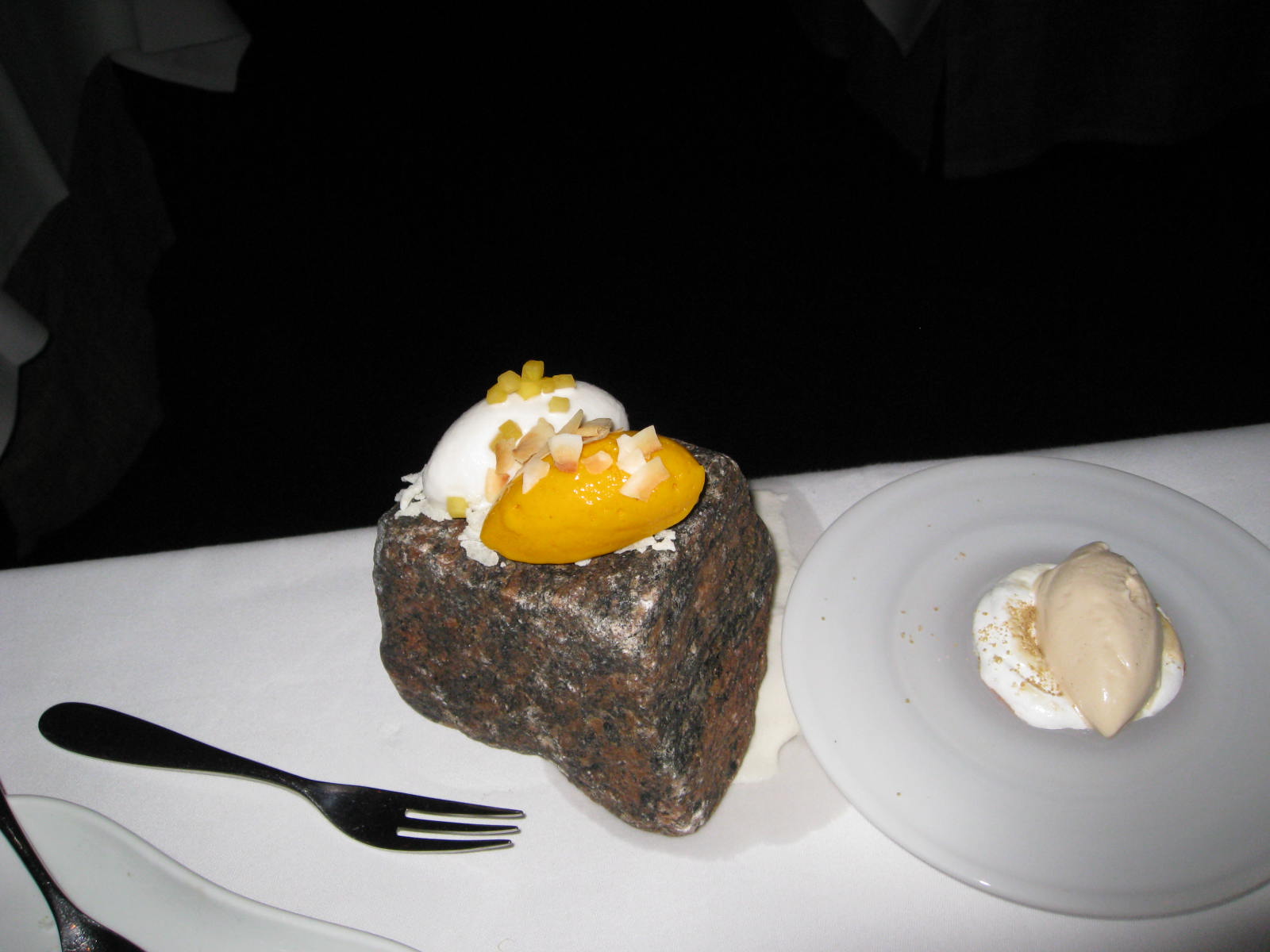 Rhubarbs with star anis-passion fruit with vanilla
The desserts were refreshing, innovative and light, but sweet. The pudding was great and the best were the rhubarbs that with the vanilla form the perfect marriage of sweet and sour. I do love rhubarbs for their freshness and their refined acidic and fruity tones.
We took tea and P4s in the lounge. I chose Earl Grey with the characteristic bergamot flavour, which was very delighting.

For the food overall, I liked the spicy-ness that was adequately distinct to burn, but not too much not to disappear before the next dish was placed before me. It was by far the very best Thai or Thai-inspired nosh I have ever eaten and completely took me by surprise because of the combinations, superb quality and the flavours all new to me. It IS possible to make Asian food posh! The portions were of perfect size and the speed of serving them was just right.
Henrik is a talented and great host. He's also very talkative, but then so am I. Probably this is the reason why the evening became very long; actually my latest one ever.
It's obvious that he's passionate and dedicated about his work, his food and his wine. And when he meets someone who shares this interest, then there's hardly limits to what he'll do to please and serve you.

I'm embarrassed that my first visit to Kiin Kiin got delayed for more than 18 months on account of my scepticism. I hope that with this post I'm forgiven.
It was an excellent surprise, Henrik!

Thank you, and compliments to Lertchai Treetawatchaiwong and your team!