A few weeks ago a good friend of mine invited me to the restaurant Mielcke & Hurtigkarl where I had never dined before.
The restaurant is situated in the separate garden "Haveselskabets Have" in Frederiksberg Garden. "Haveselskabets Have" is famous for its beautiful flowers and many roses of numerous kinds. It's as romantic as a love story. In fact, many newly weds go there for having their wedding photos taken.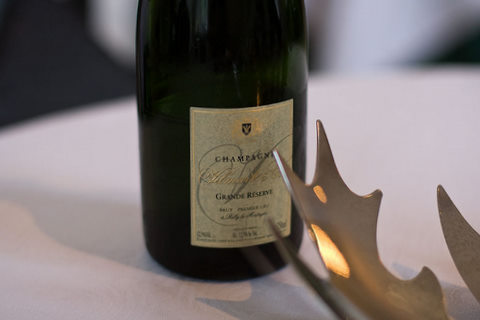 A lovely champagne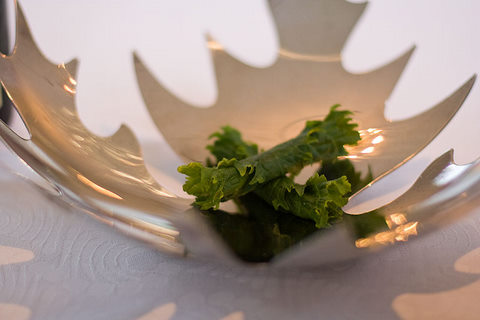 Appetizer 1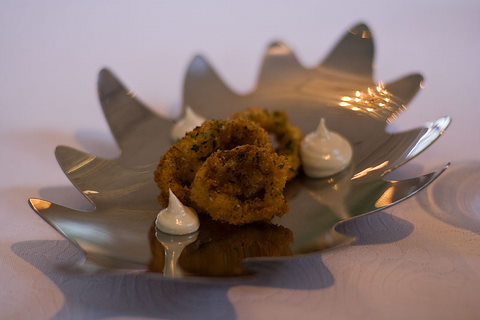 Appetizer 2
The food at Mielcke & Hurtigkarl was such a pleasant surprise to me. Many restaurants in Copenhagen are inspired by the new and trendy Nordic cuisine, so for once I was happy to be served a type of kitchen I won't find anywhere else in town.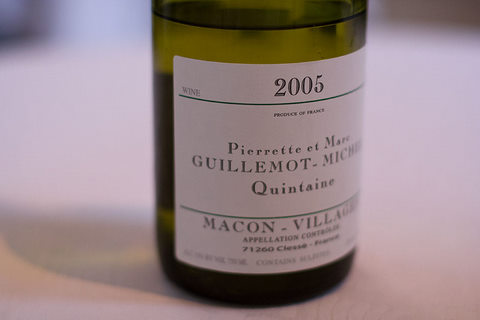 2005 MACON-VILLAGE QUINTAINE, Pierrette et Marc Guillemot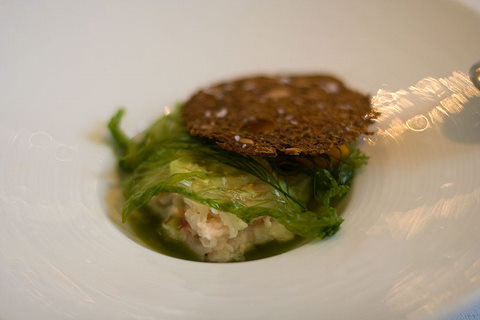 KINGCRAB Yuzu and cucumber jelly, lid of rye bread, fresh cream, sea-buckthorn sorbet, peal from saltet Menton lemons.
2007 Muscadet Sevre et Maine 'Granite', Domaine de l'Ecu, Loire
GREEN ASPARAGUS "Local vegetables right now" This week's emerging flowers, greens and herbs, the illusion of soil and a cream made from spelt
Hurtigkarl is quite famous for all his travels around the world and this shows in his style of cooking. Not in an obvious way, though, but refined and just like if all these impressions had been stored in his memory, and all of a sudden a little something from another part of the world popped up and thus shows in the look of a dish or in the taste.
2006 CONDRIEU, Domaine Georges Vernay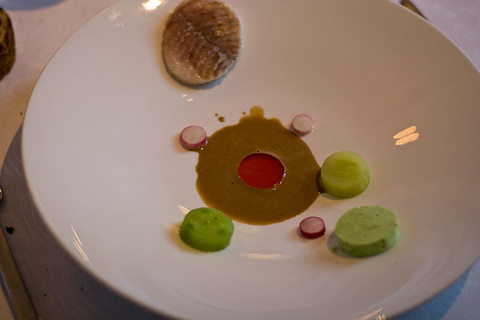 POWAN Smoked just prior to serving, lukewarm slices of apple, radish and cucumber, rhubarb jelly.
We were served the daily menu and I got to try it with all the wines pairings. I liked the wines and found them cleverly matched with the flavours of the food. Some of them were wonderful with distinct a scent, full taste and marvelous balance.
2007 ANGLORE "Chemin de la brune", Eric Pfifferling

TURBOT Seared on the plancha and finished in a beurre monté, with danish strawberries and rhubarbs and Lardo di Colonnata
I didn't appreciate the strawberry which was garnish for the turbot. It was too sweet to my taste and made me think of dessert rather than a fish course.  The rest were fantastic, sharp and innovative, especially the desserts. It was art, there's no doubt about that.
2004 PETALOS, A. Palacios, Bierzo, Mencia
RACK OF BEEF Purée of celeriac with baked garlic, pickled onions from Chris Elbo, sauce with smoked foie gras. White asparagus and wild garlic.
The service was delightful with charm and relaxed friendliness from all the staff, very warm. It made me feel welcome and in the end I was reluctant to leave.
WATERMELON
2004 ALSACE – Andre Kientzler, Auxerrois

BONFIRE
2007 RHEINGAU, George Breuer, Riesling Auslese.
The restaurant was full the evening I visited and the certain amount of buzz in the one big dinning room made us move our chairs closer to each other to hear each other through the noise. About the chairs, with their curved back rests at the top and the pure white color their design fit the romantic style of the restaurant. Unfortunately, after a few hours they become a bit uncomfortable and a bit too hard for a sensitive bottom.
"Best creative match Copa Jerez 2009" JEREZ, Cream, Bodegas Valdivia Pedro Ximenes.

SHERRY CASK
But really, the strawberry that didn't match the turbot that well and my two remarks about the room, that's the only things that wasn't stunning this evening. Yes, the impression I got of Mielcke & Hurtigkarl stayed with me for days. It was almost like I could still sense the food and taste the wines. Thinking back, I was really moved that night. I have to go back and experience Mielcke & Hurtigkarl again!
Thank you for such a lovely experience!