As they do every summer, my parents-in-law are right now touring Europe on bicycles. This means that when my father-in-law turned 70 last week, we had to meet up with them in northern France to celebrate. Now, a car trip to Normandy is a great excuse for visiting new places, and re-visiting some of the places I love in Germany, Belgium and of course, France. Our first stint took us from Copenhagen to Osnabrück, and to a place I've longed to revisit, since I first experienced both lunch and  dinner from Thomas Bühner's very personal but exquisite cuisine, back in 2011.
As opposed to then, La Vie now is a three Michelin star place with own limo and everything. For me that neither adds to nor take away from the food, and I would eat Bühner's food no matter the surroundings and number of stars and cars – but I guess that three stars means an audience which expects all the trimmings. As you can read about La Vie and it's marvellous garden at Schloß Ippenburg in my november 2011 posts, I'll go right to the food this time. To be honest: In my personal opinion, there were one or two less sharp dishes, but also some of sheer genius. Appetizers: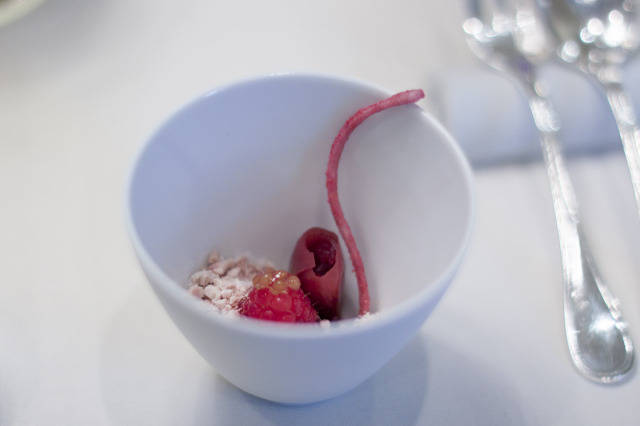 Frozen duck liver with raspberry and pickled onion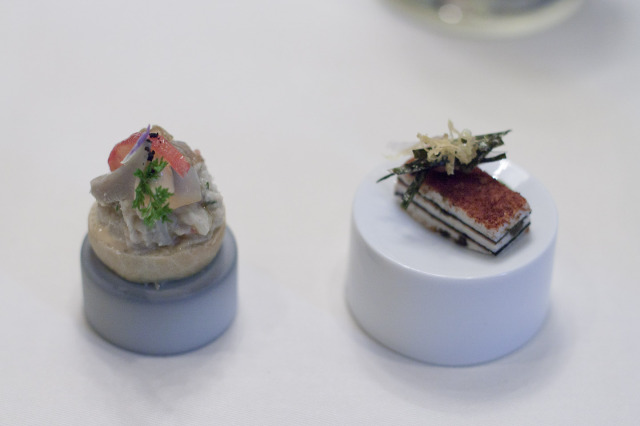 To the left: Mild flavoured pie (I don't remember the topping) –  To the right: Miso, tofu and seaweed of sorts.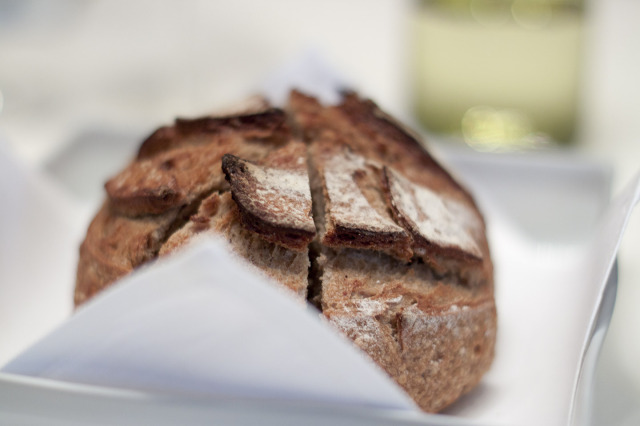 Very nice bread with crispy crust and a soft and juice crumb.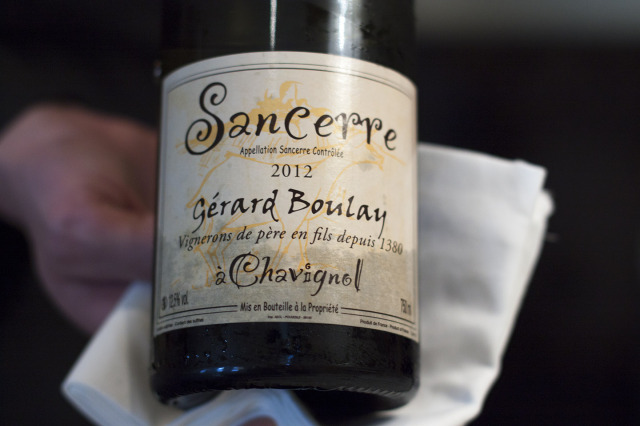 2012 Gérard Boulay, Sancerre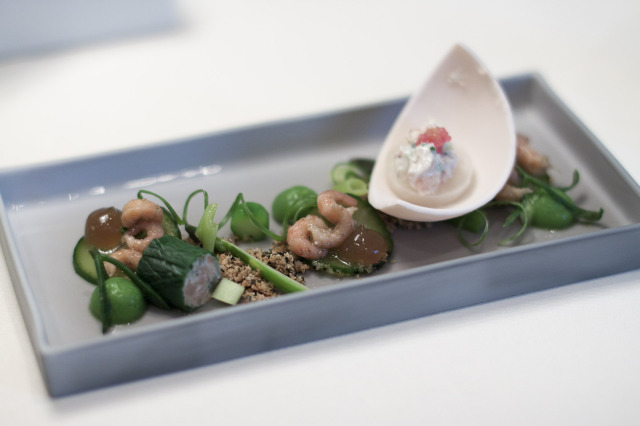 Amuse bouche: Frozen yoghurt with crab and small shrimp.
The shrimp in this one was what we in Denmark refer to as "Fjord Shrimp". This amuse was very, very tasty and balanced.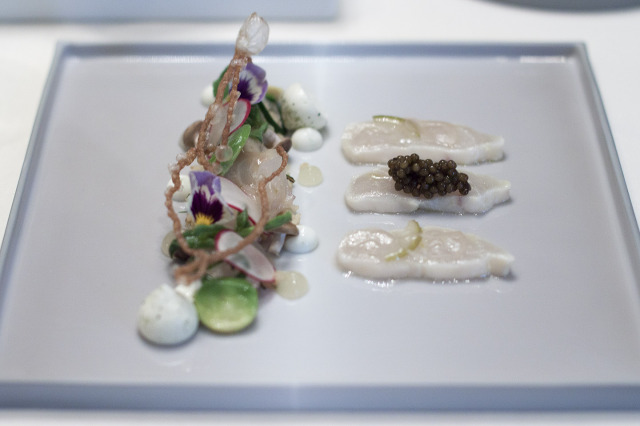 Loup de Mer, limequat, avocado and couscous
One of the highlights to me was this Loupe de Mer (sea bass) marinated ceviche style, but much better than any ceviche I've had – ever. Limequat, avocado and – under the flowers – couscous. And, of course, a crazily delicious caviar. Yes, the combination may seem strange, but it worked. On the side we had a wonderfully light couscous focaccia.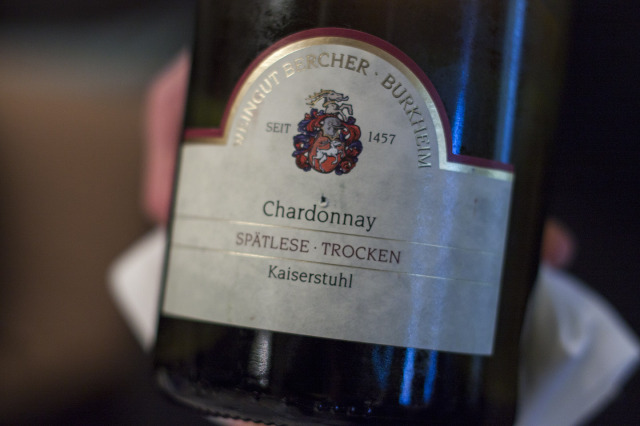 Weingut Bercher Burkhem, Chardonnay Spätlese trocken, Kaiserstuhl (not sure of the vintage)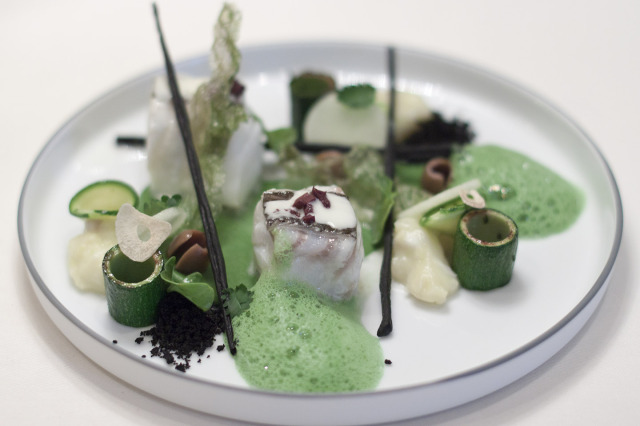 Codfish confit, Bacalao, zucchini, olive and green apple
More fish. A nicely prepared cod fish confit, bacalao, zucchini, olive, and green apple. Also, we spotted garlic and potato. I liked this – a bit heavier than expected from the looks of it. The cod was creamy and juicy.  I found that it was important to have the garlic and the potato together, or the garlic would overpower the fish.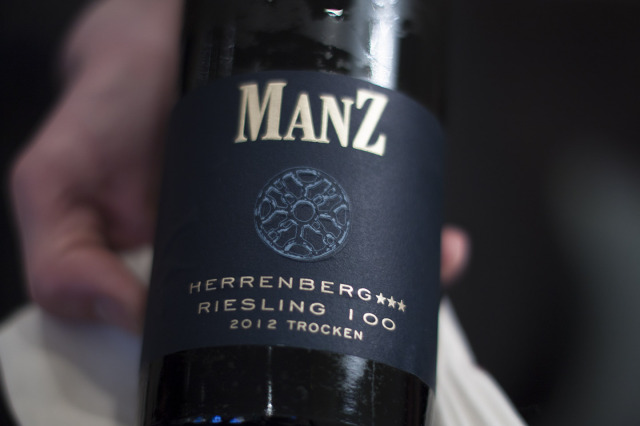 2012 Weingut Manz, Herrenberg, Riesling 100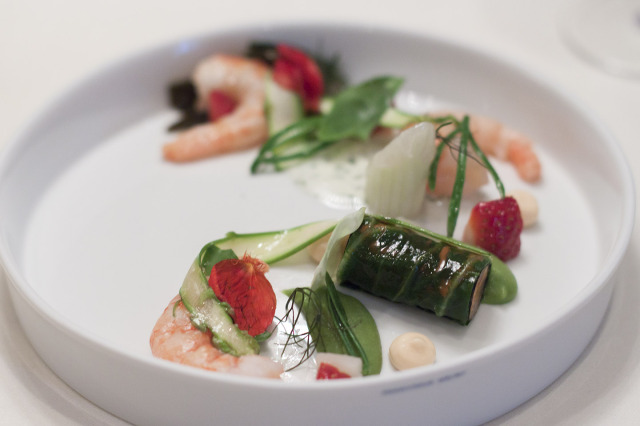 Softly cooked carabineros with sea fennel and spicy strawberries.
To be totally honest, I didn't understand the carabinero dish. To me, it didn't come together in the way the previous dishes had. Somehow the sweet carabineros had a hard time meeting up with the fennel, and I think green strawberries might have had a better chance matching the shell fish, than did the red ones. The two kinds of sweet seemed to conflict, in my opinion.
2005 Albert Mann Pinot Gris Grand Cru Hengst, Alsace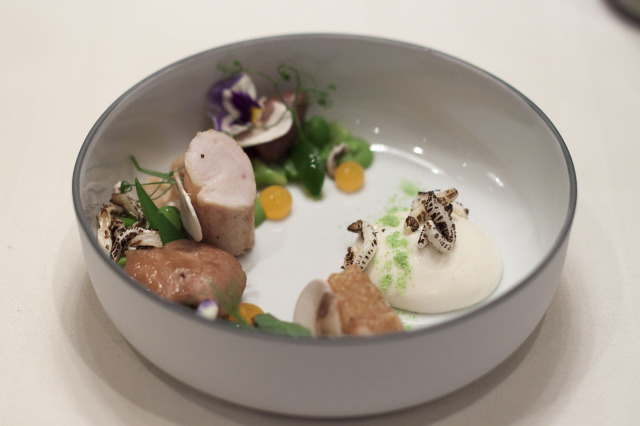 Fricasse from Bresse chicken facon de La Vie
Chicken time. Again: Bühner always prepares his produce to perfection. We were back on track with a tender, juice and tasty piece of Bress chicken, and for once popped seeds really fitted the dish. You meet a lot of popped stuff out there, and sometimes its just too much. But this was balanced.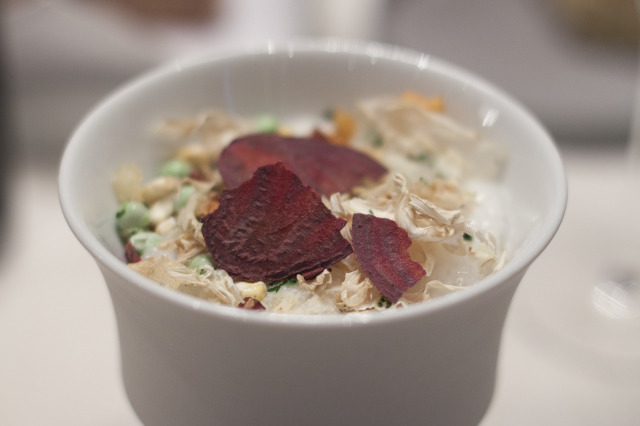 A cleanser from cereal foam with vegetable muesli on top. Kind of a non-sweet, very cereal-ish breakfast experience. Funny enough, it worked very well as it was so light, crispy and airy.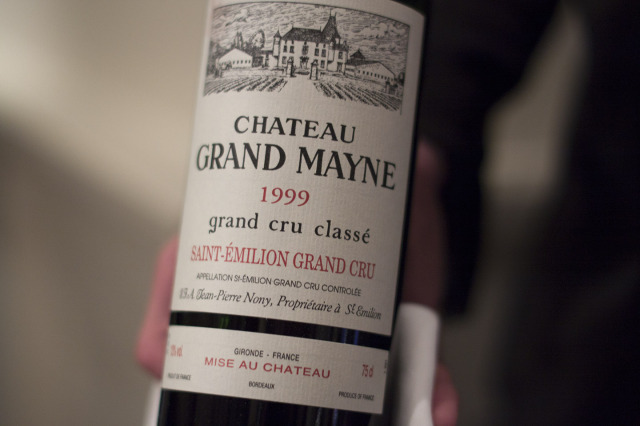 1999 Chateau Grand Mayne, Grand Cru Classé, Saint-Émilion, Bordeaux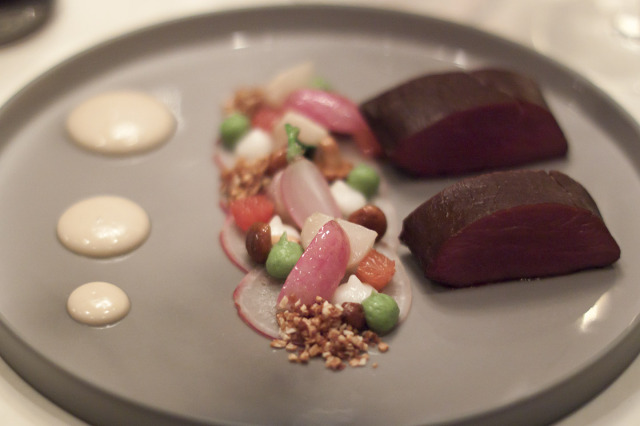 Softly cooked saddle from venison, turnip, grapefruit, chantarelles and smoked goose liver crème
Venison saddle, softly cooked, sous vide. Turnip, grape fruit, chantarelles, smoked goose liver creme, peas and hazelnut crumble. Personally I would have liked the meat to have just a bit of heat from a grill – just a bit of a tan. Nevertheless, the meat was, as always, of outstanding quality. At this point in a menu my senses start to saturate, and I was starting to get seriously full, but I remember this dish as almost too perfect and pleasing. It could have benefitted from a more of an edge or character. Maybe that's why I missed the bitterness from heat treated meat.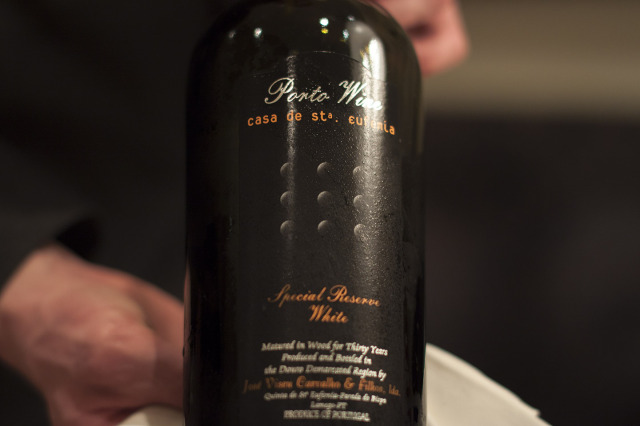 Casa de Santa Eufemia, Special Reserva White – amazing port wine!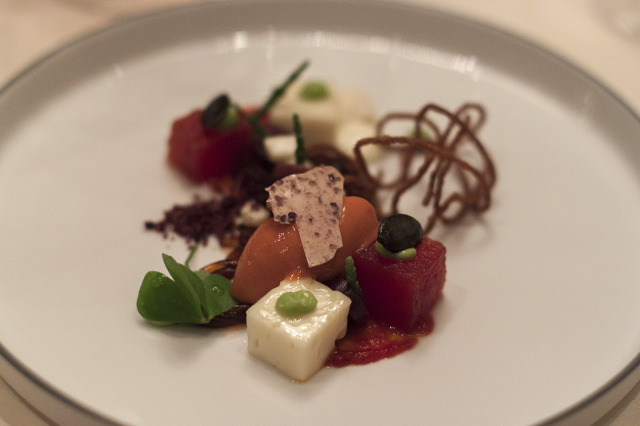 Taleggio cheese & PX water melon
Prepared tallegio cheese with PX watermelon (PX as in the sherry), black olive and potato. Normally I'm not a huge Tallegio fan but this one was good. Also, the preparation made it come alive. But sometimes less is more, and maybe this dish could benefit from a weeding out of some of the ingredients.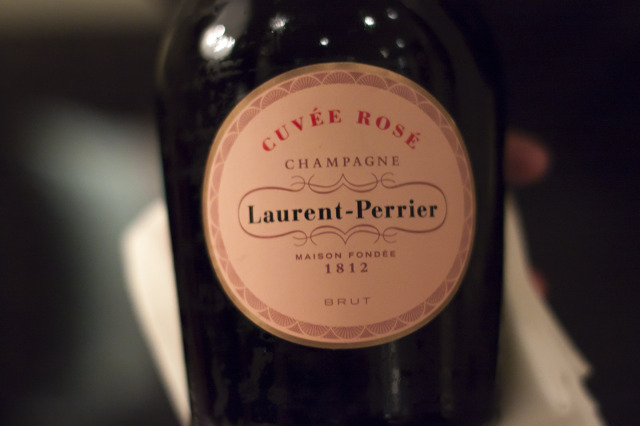 Laurent-Perrier Cuvée Rosé, Champagne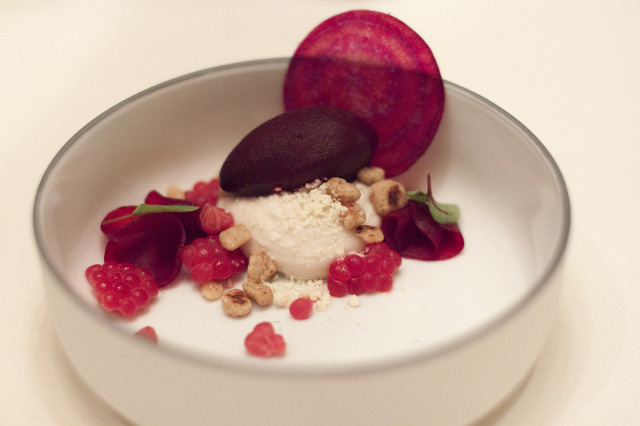 Pre-dessert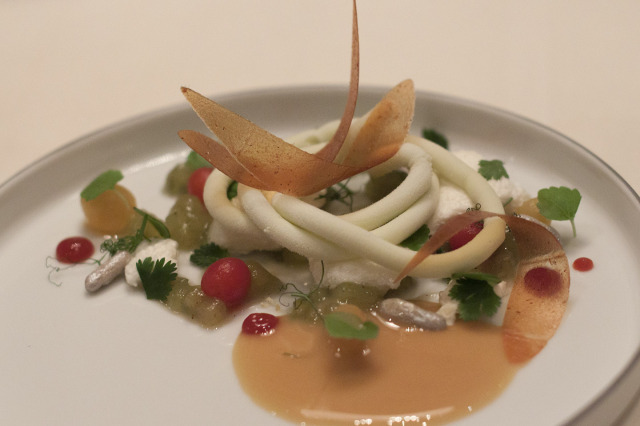 Green tomato & mascarpone, whisky sour (emulsified)
The yellow sauce at the front of the plate was the whisky sour and a marshmallow spaghetti topped it. I remember this as a dessert on the fresh side, which I always prefer and a good finish to the meal. Mignardises…
I need to emphasise the wine pairings. It was a lovely tour around Europe and all the non bubblies were exceptionally matches. The Bordeaux, not even being a top vintage, was a treat: Fruity, deep and lovely. The rose champagne with the dessert was a bit too fresh for the sweetness in the dessert (to my taste), but When In Rome… and in Germany rose champagne often accompanies one of the desserts. It was genuinely lovely to be back at La Vie and to meet Thomas Bühner again. My first visit to La Vie was so overwhelming that I was afraid to be less impressed the second time. You see, it's always hard to return to a place that has an almost mythical status ind your mind – it's bound not to be on par with expectations. But La Vie didn't let me down one bit – and I'll be back the next time my journey takes me through Westfalen.
Thank you, Thomas, for a lovely evening. Take care.