Visiting restaurant L'Air du Temps in Valonia my first time highly impressed me. This was back in 2011. Since then, Sang-Hoon Degeimbre and his wife Carine have in 2013 moved their restaurant out to a new location in Liernu in the flat countryside 40 km SE of Brussels.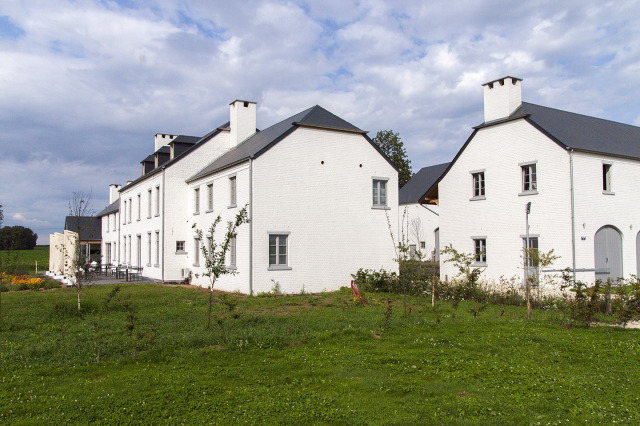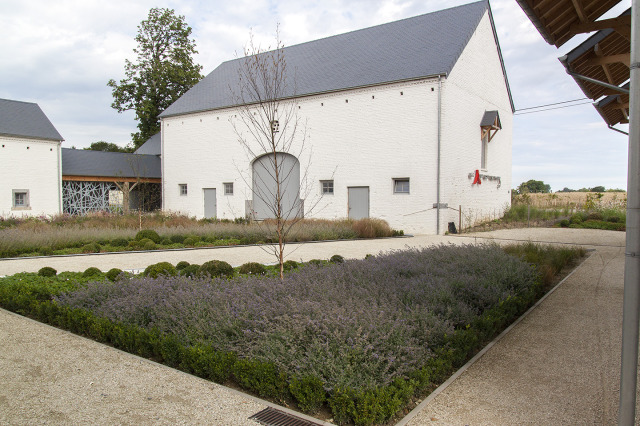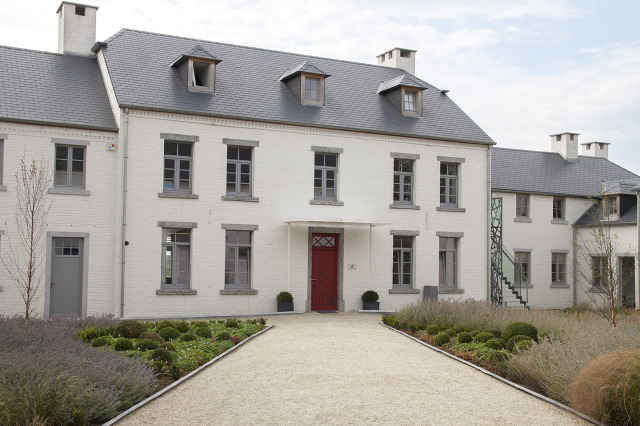 It's an estate of brand new buildings featuring not only the restaurant but also a few rooms for staying overnight, a huge beautiful garden and a cooking loft for training sessions. So, when planning our trip to France this summer I was of course dying to return to San's cuisine and to experience it within his new surroundings.
We visited the restaurant on our way back from France and checked into a huge, luxury suite above the dining room. A very nice place to be, cool decor and nice to see so much furniture from Danish design house HAY 🙂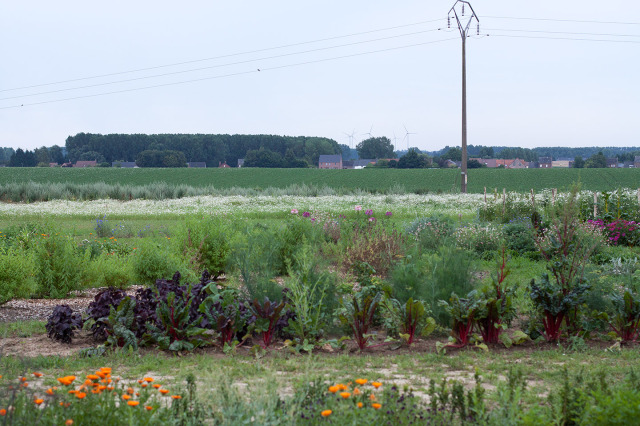 The view from the restaurant terrasse
Despite a grey sky we opted to take a glass of bubbly and our snacks on the terrace outside the dining room. The view over the (very) flat Belgium country side is wonderful, and I think the place will get even nicer in time, when the trees and the garden grow up.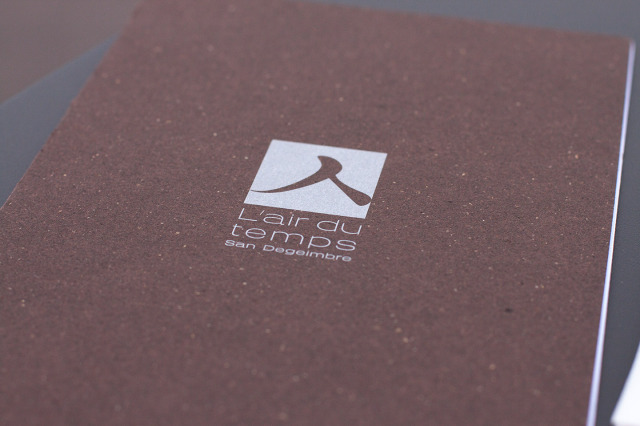 The menu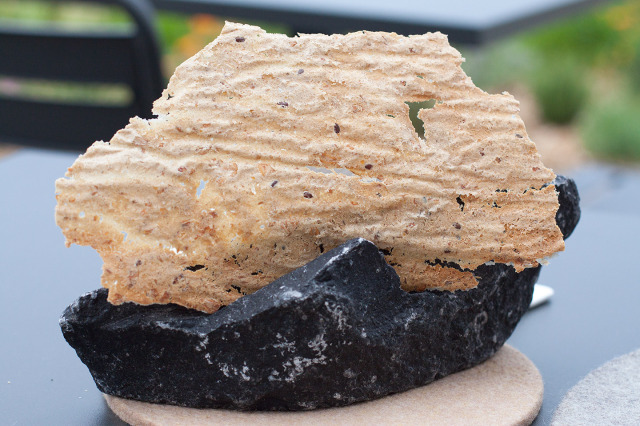 Flat bread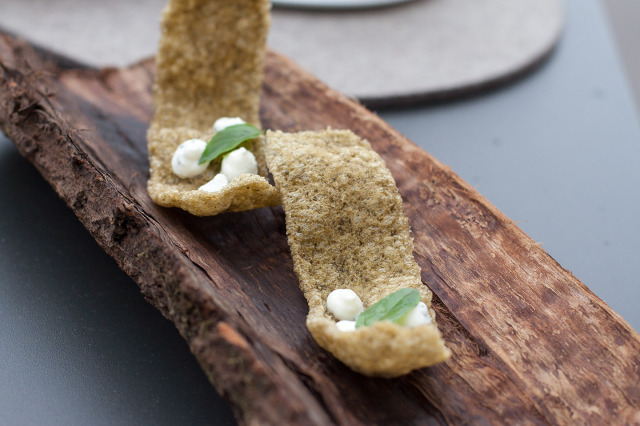 Pork crackling with goat cheese and marjoram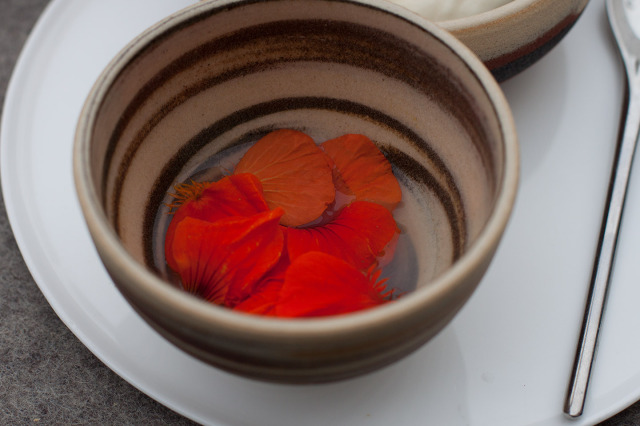 Water of verbena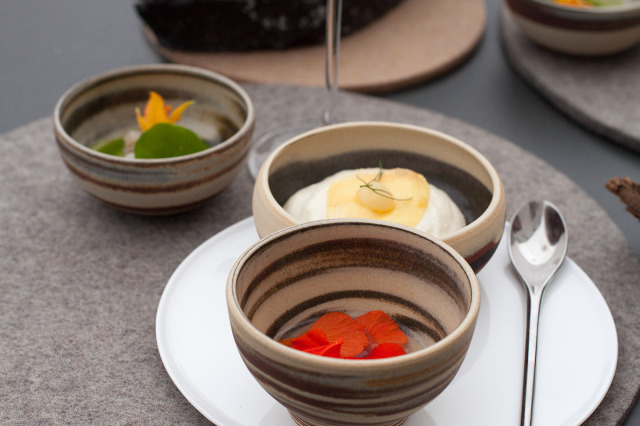 The bowl in the middle: Spinach, smoked potate and preserved lime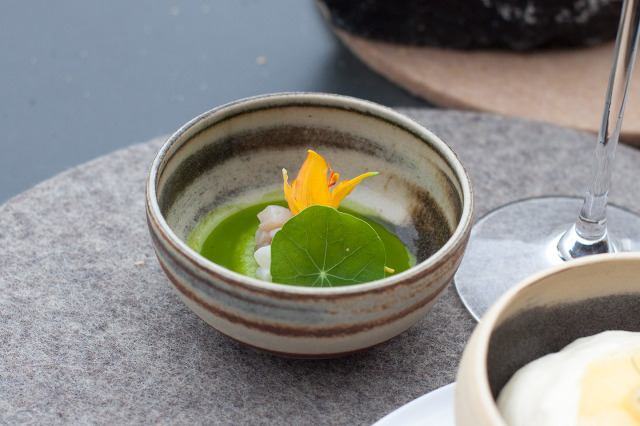 Ceviche of razor shell and wakataï
The amuses were pure and refreshing and demonstrating high level of complexity despite the simple look.  They served their purpose perfectly: My appetite grew and I got really curious about what Chef Degeimbre and his kitchen staff were preparing for us.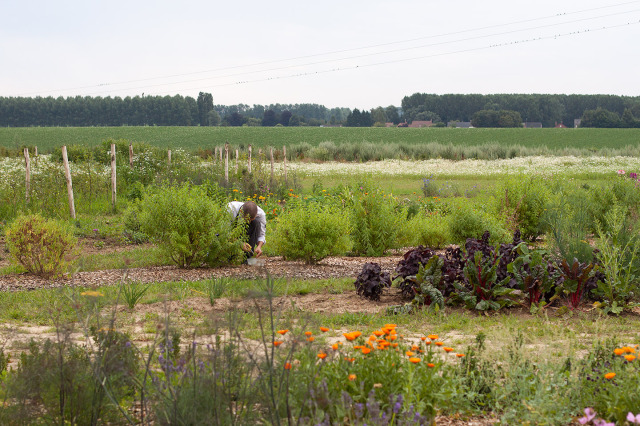 The view to the garden, which is – we learned later on – laid out in the shape of L'Air du Temp's logo.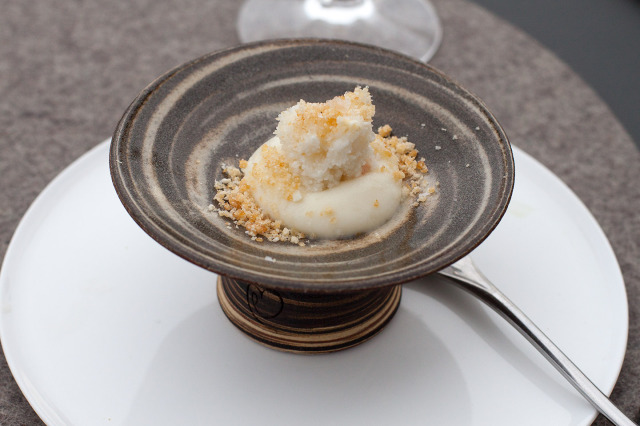 Cauliflower, egg yolk cream with miso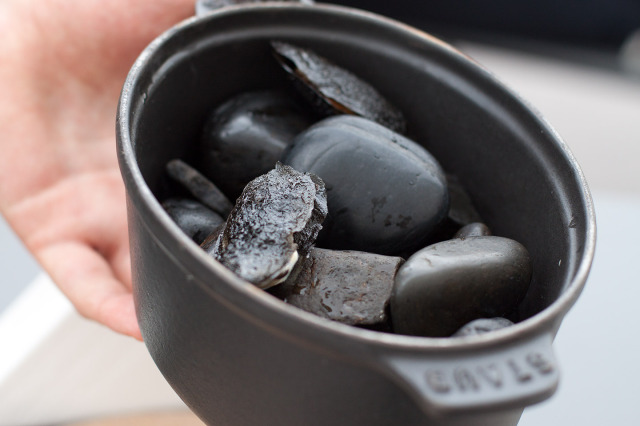 Favourite 2010 : Moules-Frites
Chef Degeimbre's rendition of the famous Belgium Moules-Frites is wonderful. The cooked mussel resides in a fake shell, which is in fact a very edible, camouflaged pommes frite. It tasted like the dream of moules-frites – the pure essence of it.
The moules-frites concluded our snacks, and in perfect timing, as it started raining. We moved inside to our leather cloth table in one of the three dining rooms.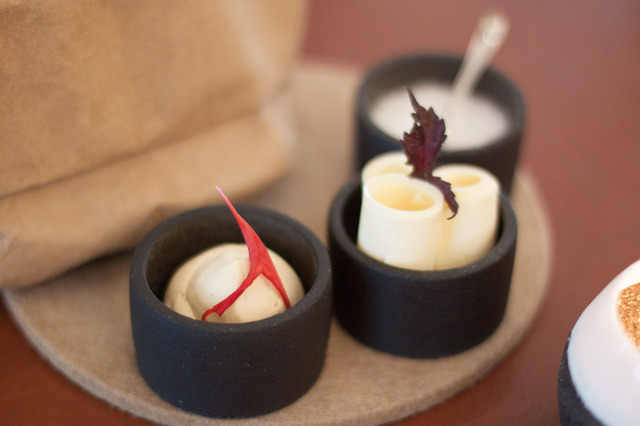 Two kinds of butter
First the bread and butter came in – note the leaf shaped like the L'Air Du Temps' logo. The attention to detail is astonishing.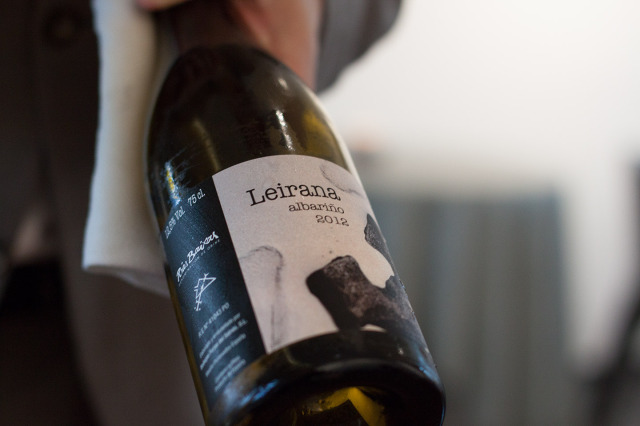 2012 Leirana, Bodegas Forjas del Salnés, Albariño, Rías Baixas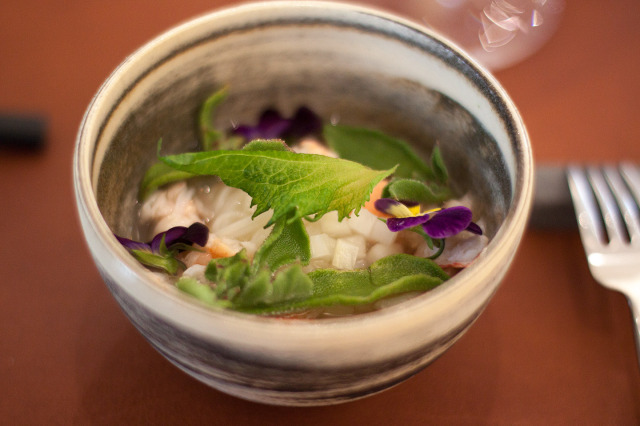 Smoked lobster claw, somen, water of lobster
The first serving paid hommage to Chef Degeimbre's heritage. Tender, lovely somen noodle soup with lobster claw, lobster juice. There were many different tastes but San mastered the  complexity perfectly. Very good.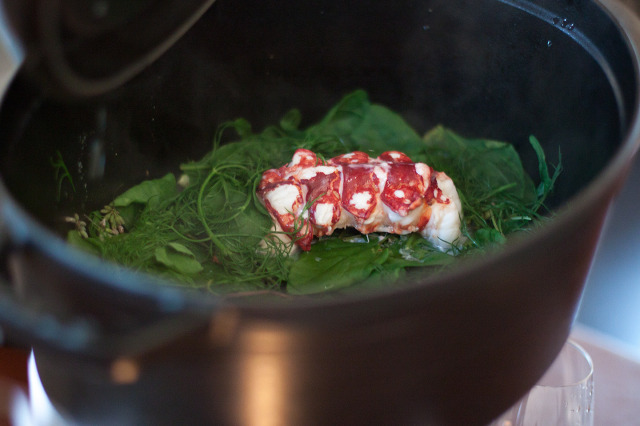 We were then shown the lobster's tail before it went back to the kitchen for preparation. Here it is, steamed only with the water from the leaves and herbs – spinach, basil, dill and more.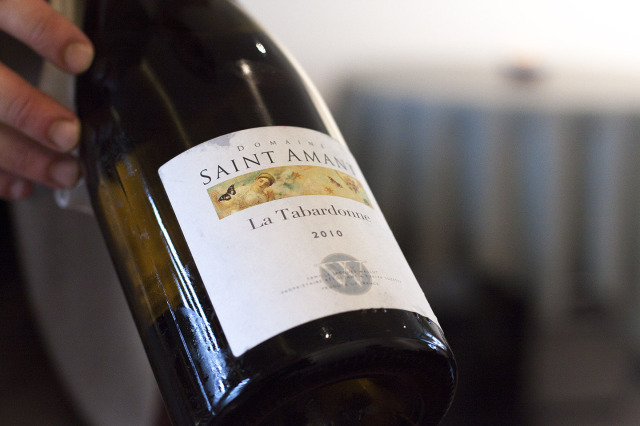 2010 La Tabardonne Domaine Saint Amant, Cotes du Rhone Villages, (Vionier)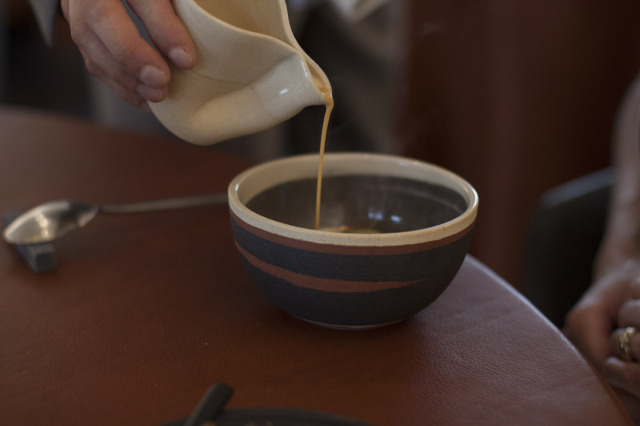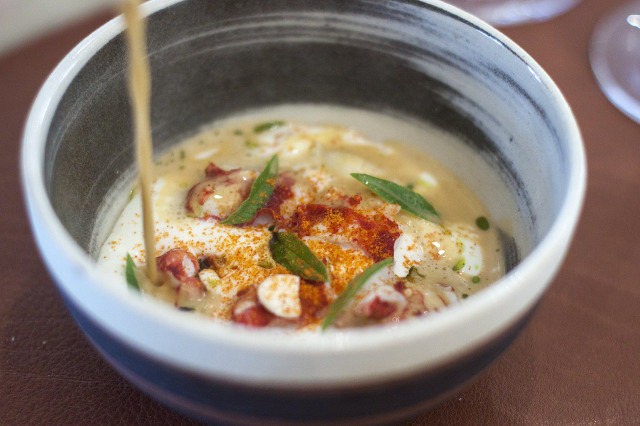 Lobster tail, rice mousse, jus saté and almond milk
And then the lobster returned, now as a generous portion of lobster satay, dressed in almond milk and rice mousse with lemon zest giving it a lovely bitter note. Fresh almonds provided a crunchy texture. A rich, but balanced, wonderful course, this one.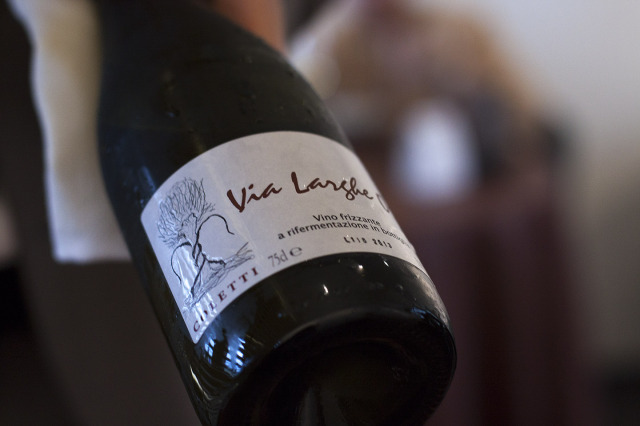 Via Larghe 01, Coletti, Prosecco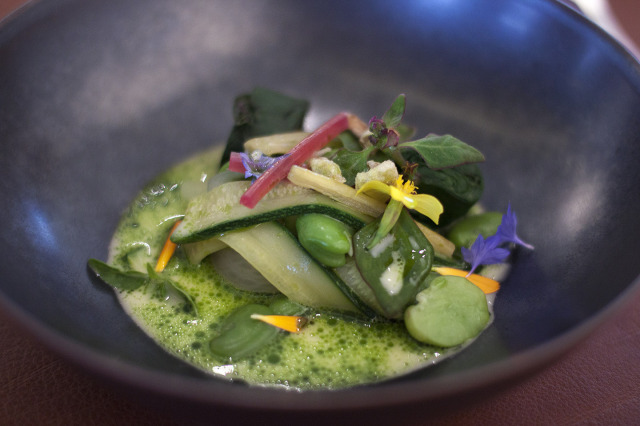 Spring vegetables from San's own garden
Next came a vegetable dish made from the green goodies found in the garden right outside the window. Delicate and complex due to the many different vegetables, herbs and flower leaves. Also, it worked as a cleanser as it zeroed out the creamy lobster taste from the satay.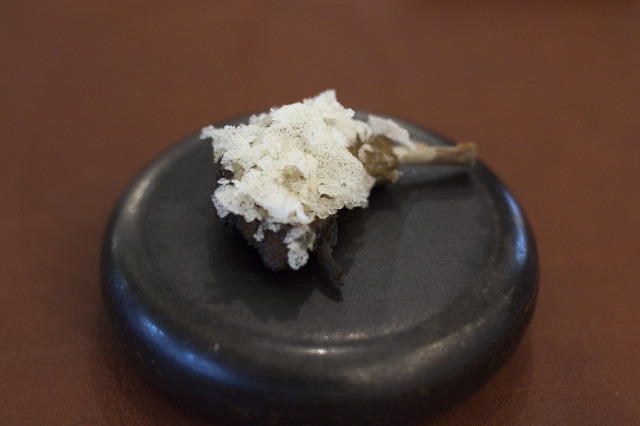 Young pigeon (leg) from Waret, anchovies and rice pancake chips
Time for a bit of bird: An extremely tender pigeon leg with anchovies and a chip of rice pancake. Lovely.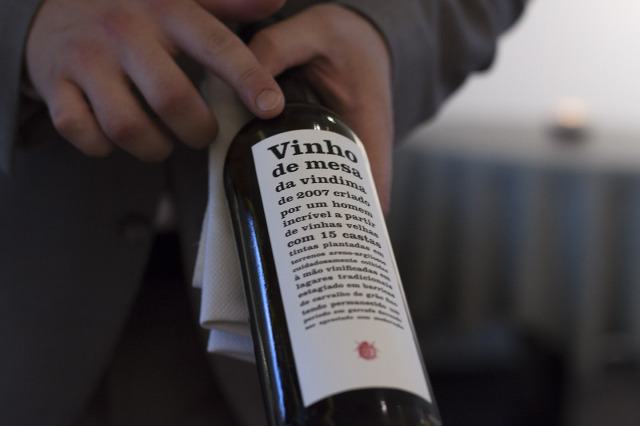 A Portoguese wine – dark and powerful enough to match the spicy meat. I don't know anything else about it and, as you can see, the label doesn't povide much detail.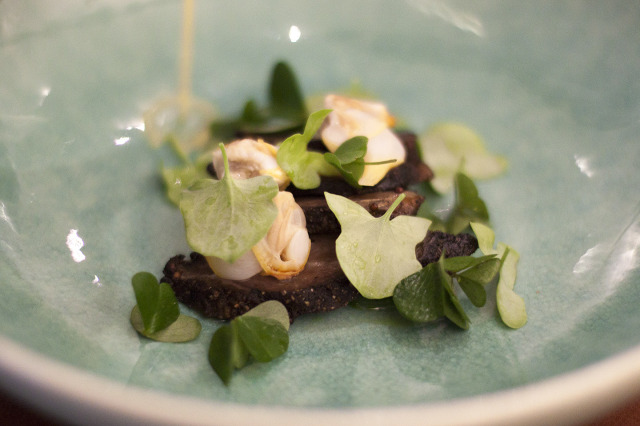 Pastrami of veal cheek, sorrel and oxalys, cucumber
This beautiful dish was one of two main courses. Pastrami from veal (thus brined, partially dried and, as far as I remember, slow cooked for 48 hours) with oxalys (a large sort of wood sorrel), sorrel and cucumber. I didn't get any notes on the juice that was poured – maybe a beurre blanc of sorts – but it all came together quite wonderfully. It was salty, slightly spicy, but a very controlled dish. The acidity control was amazing. Speaking of acidity control: I think this is one of Degeimbre's greatest hallmarks: He controls the acidity level of his creations to absolute perfection.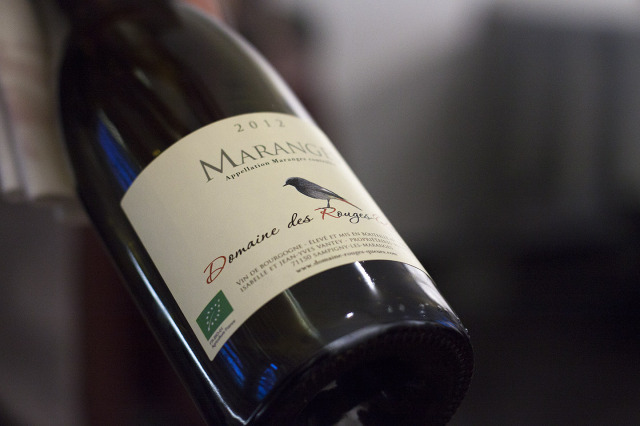 2012 Maranges, Domaine des Rouges Queues, Burgundy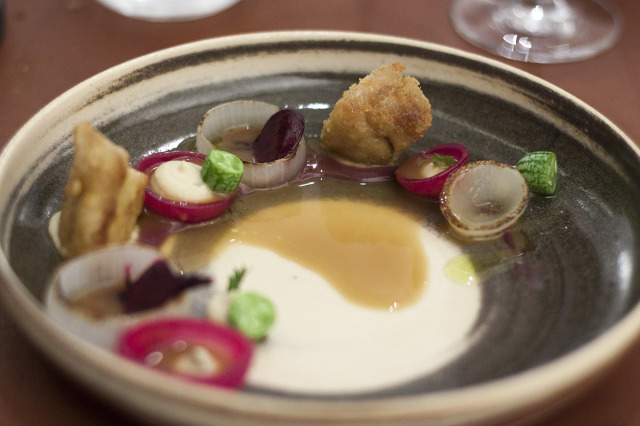 Onions, sweetbreads, amelanchier and beans
The sweetbreads had a nice, burnt note and the onions provided both sweetness acidity. The latter adding a refreshing kick to the dish.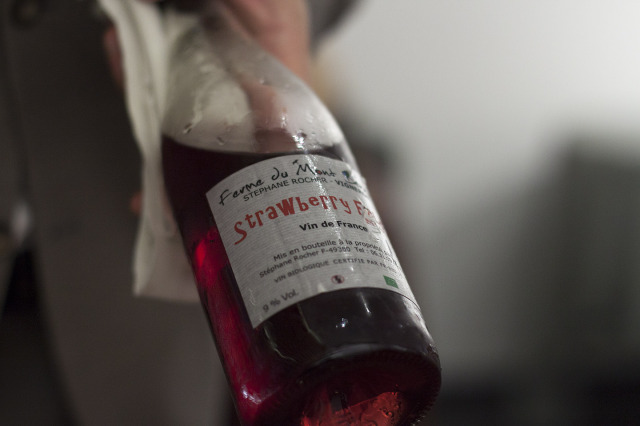 Strawberry Fields, Ferme Du Mont Benault, Stephane Rocher, Anjou, Loire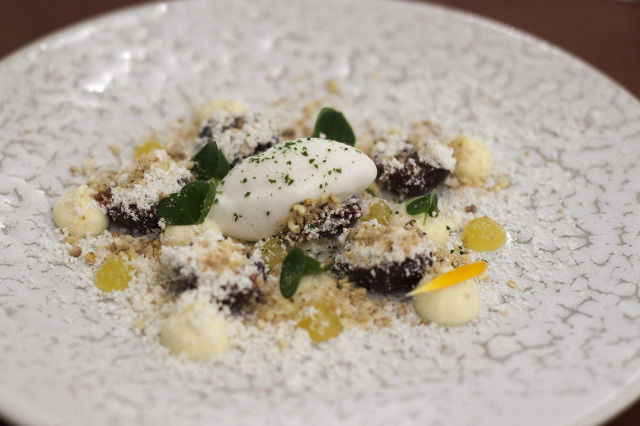 Cherry, white chocolate, wasabi
Imagine a sabayon-ish, creamish dessert, with fresh cherries and then a gentle wasabi note to push it along. A fresh dessert but also with a full and complex width to it. Very good and satisfying.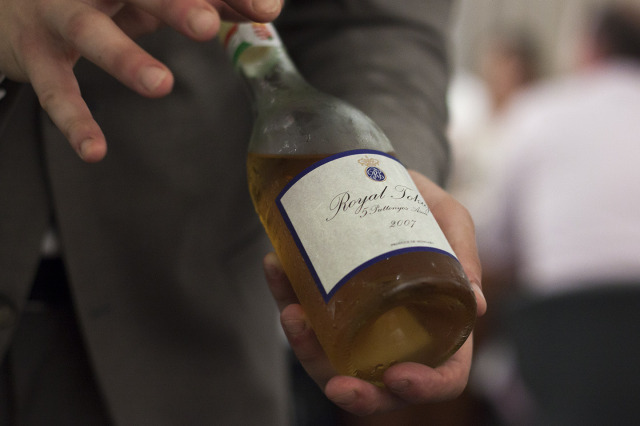 2007 Royal Tokaji, Blue Label 5 Puttonyos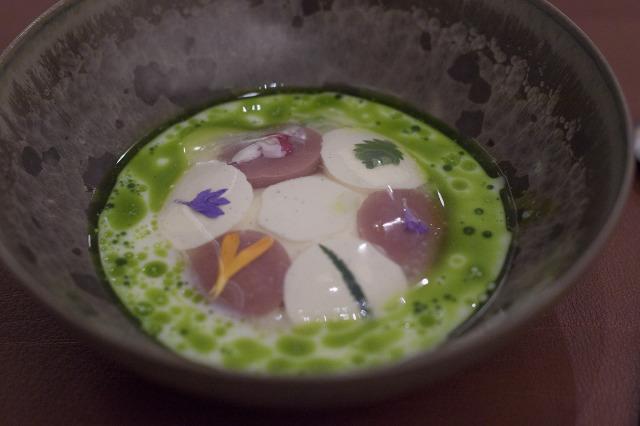 Comme une pêche Melba
The second dessert was not the prettiest dessert of all times, but it was great. As the title says it was like a peach melba, without being peach melba. And better. Creamy and fulfilling with a nice, soft panna cotta-like bite to it.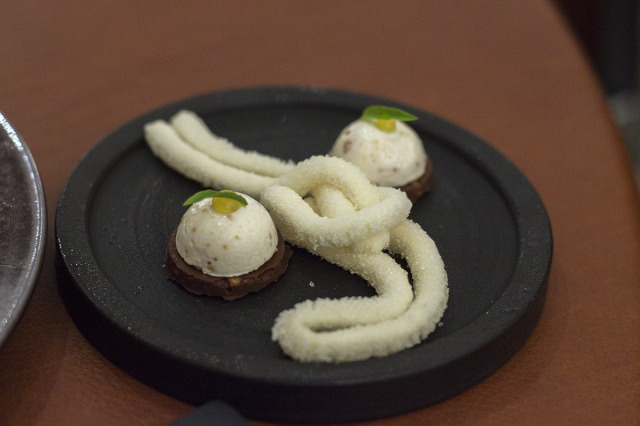 The lovely wines had started to take effect so I didn't get any notes on this one, and as it was a new invention its not mentioned in the menu. However, I remember a nicely textured band of lemon or lime flavoured marshmallow and chocolate somethings.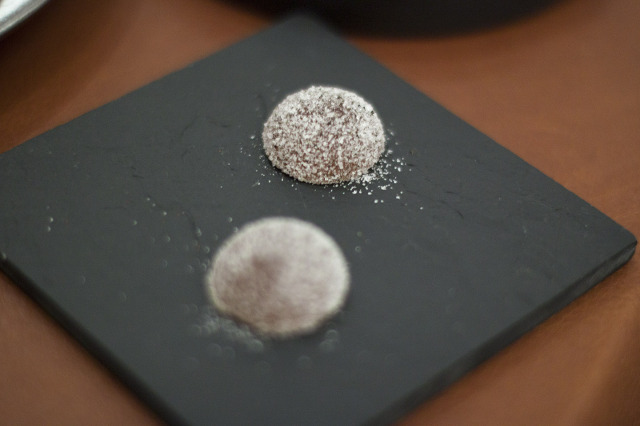 Jelly fruit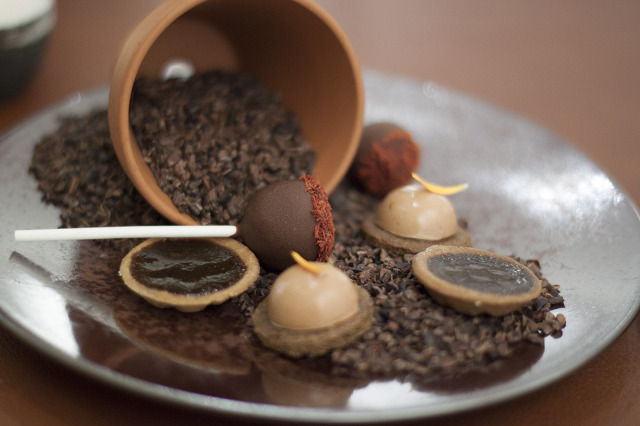 Toffee & coffee
Coffee and toffee themed mignardises to end the meal and…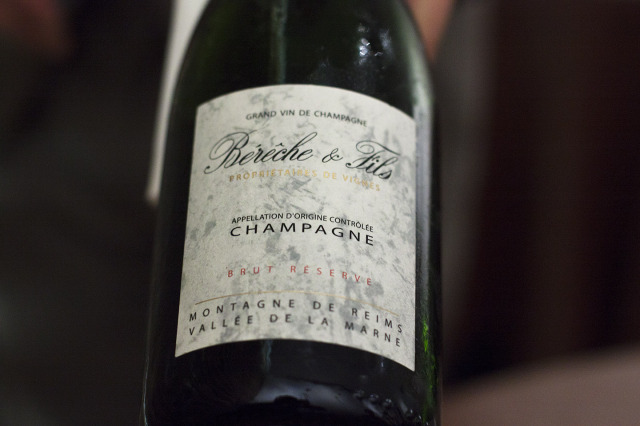 – instead of coffee we went for more champagne, because – let's face it – champagne is more fun.
It was so great to be back to the sharp, detailed cuisine of Chef Sang-Hoon Degeimbre. The meal was perfect in almost all aspects. The pace was just right. The amount of food was just right. The complexity and control of the flavours were just right and all dishes had this airy elegance and lightness that I like so much. Add to that a flawless execution. I really wish I lived closer to this place so that I could return again and again.
Thank you, San and Carine – see you soon at Knuthenlund!