Only two days after restaurant Frantzén/Lindeberg won 12th best restaurant by The World's 50 Best it was announced that Björn Frantzén and Daniel Lindeberg had split up. Frantzén continues as chef at the Stockholm restaurant in Lilla Nygatan 21, now under the more simple name of Frantzén. Daniel Lindeberg will instead focus on finding a small bakery in Nacka, with the ambition to launch around the end of 2013.
On May 1st I went for a late dinner together with En Foodie and Starvefood – curious to experience what this change in management had brought to the restaurant.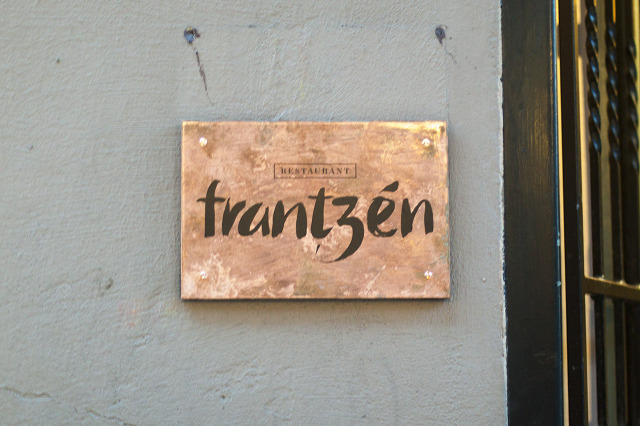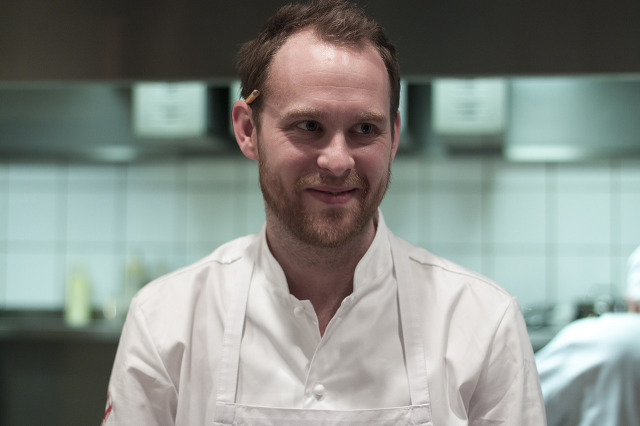 Björn Frantzén – as usual with his pencil tucked behind his ear 😉
As I have recently written a full post on my visit in August last year, this will just be a brief write up focusing on what's new.
Compared to my visit in August last year, I primarily saw three changes. The first new thing is the possibility of the second seating from around 9 pm. Frantzén only book up half of the restaurant for the second seating, so you can still stay as long as you feel like even though you come early.
The second chance was the absence of bread during the dinner. Instead of bread accompanying the food through-out the meal we were served a little cup of fermented bread soup. Fermented produce can taste (and smell) rather… special. But to my surprise this bread soup was very delicious and quite interesting, in a good way.
Fermented rye bread soup – photo courtesy of En Foodie 🙂
Above all I was curious about the desserts, because that had been Daniel Lindeberg's domain till he left. Now, Frantzén would have to include desserts in his act as well. We got two: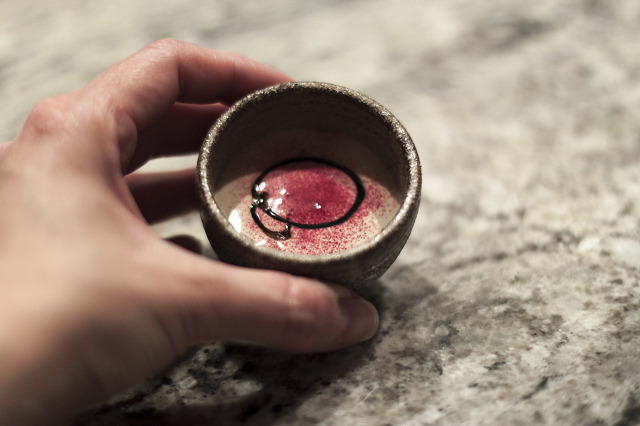 Blackberry, beatroot, licorice
The first one was a small cup carrying blackberry jam at the bottom, then beatroot, licorice, some blackberries and 100 years old Balsamic vinegar. The balance between the different flavours was magical and extremely delicious. One of the best dessert tastings I have had in years.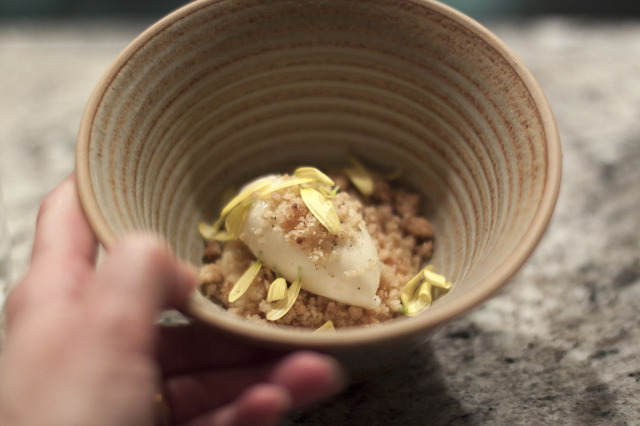 Crème of ginger- & chrysanthemum
The second dessert of cream of ginger- & chrysanthemum comprised smoked, oven baked ice cream perfumed with lime. It was served with tar syrup and birch tree oil, dried meadowsweet and ginger cookies. While the first was my favourite, I liked this too. The ginger wasn't too spicy and it was adequately sweet to please. While I think Lindeberg is a fabulous dessert chef, overall I felt that there were a bit more edge to the desserts now and that they seemed more in line with the expression of the rest of the menu.
Overall the dinner was just as delicious as my first dinner there. We were once again sitting at the counter with the view to the kitchen and served all night by Björn Frantzén – a very special treat for a die hard foodie.
Thanks to you all for a fantastic evening!