Despite being surpassed by El Celler de Can Roca on the Pellegrino 50 Best list, Noma is still a very bright shining star. And the restaurant is leaving a sparkling trail of talent and innovation in its track. As mentioned before on this blog, I think one of the most important parts of the Noma legacy is the ambition and courage that seem to characterize the people who have been through the Noma grinder.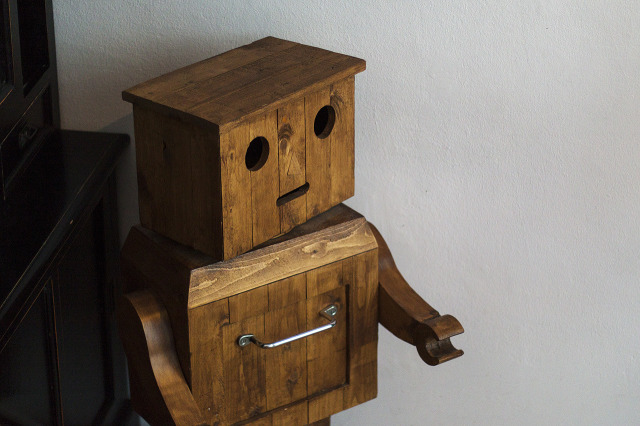 Brobot welcomes you…
Now, two former sous chefs from Noma have opened their very own creation: Restaurant Bror. It opened on 3rd of April 2013 and I was lucky to get a table on this, the first night of what is already something very special. I have just been back for a second time, and now I'm sure: Bror will grow into a truly spectacular place.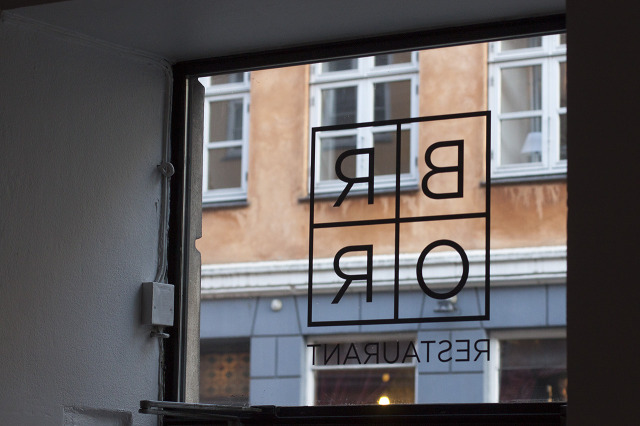 Bror means Brother, and the restaurant is built upon the friendship between owners and chefs Samuel Nutter and Victor Wågman. With no external funding they are in for some hard work, but also, they will be in total creative control.
In style Bror is not like Noma, or anything else, for that matter. But it can be somewhat compared to (also former Noma sous chef) Christian Puglisi and Kim Rossen's place Relæ. Simple dishes, but very skillfully prepared. Simple produce, but of amazing quality. The wine list is all natural and put together by former Relæ/Manfreds & Vin sommerlier Alexander Elsner.
First we got a set of snacks – or maybe I should call them mini-starters, as these delicacies are quite elaborate: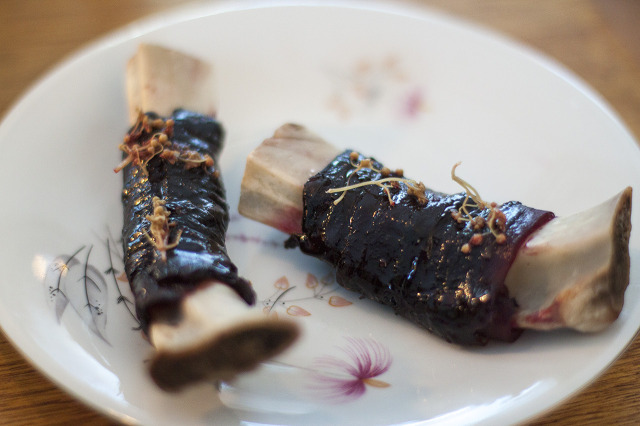 Beetroot on ribs with marrow and elderflower
Very tender and almost meaty beetroot leaves wrapped around a bone, and the flavour was freshened and nicely matched with elderflower capers.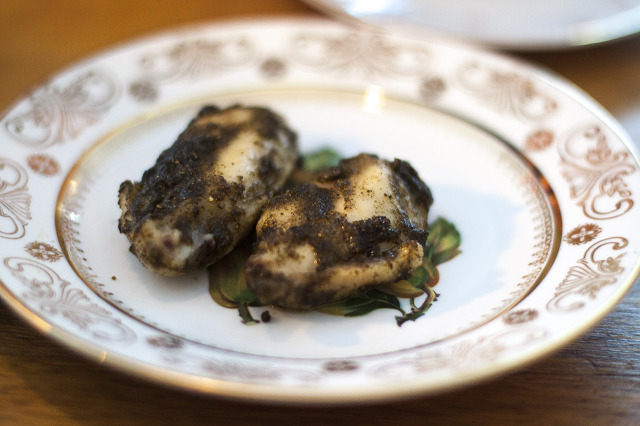 Chicken wings and kelp
Kelp is a type of seaweed. It tastes salty with a mildly spicy note that was a nice touch to the juicy chicken wings.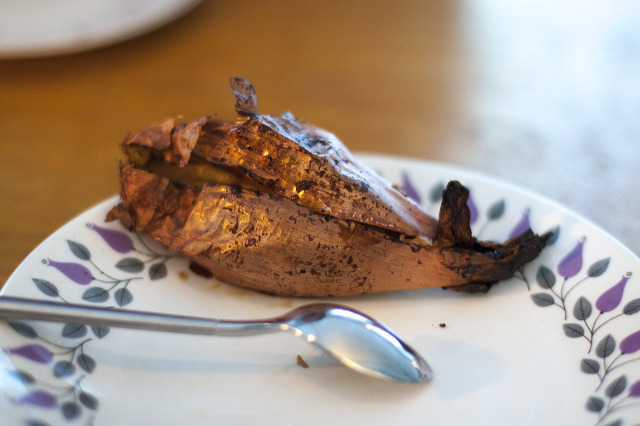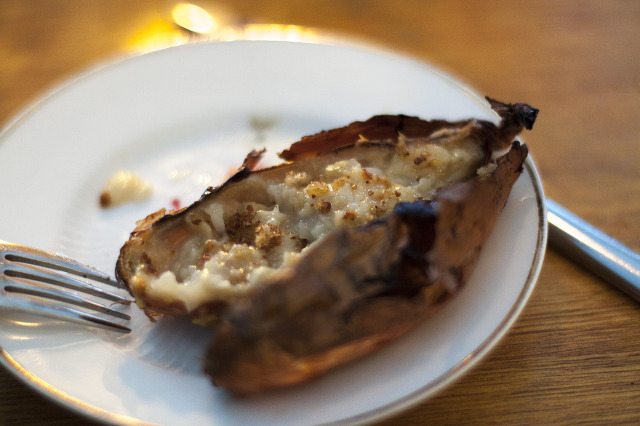 Baked shallot – creamy and yummy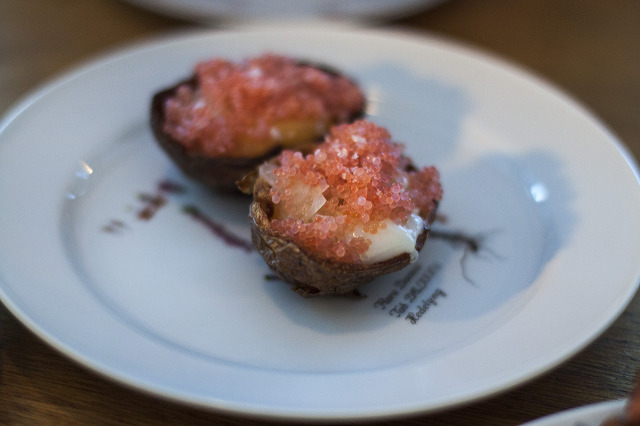 Lumpfish roes, poached egg and potato shell 
Crispy potato shell with poppingly fresh roes. The poached egg combined the textures and flavoures with its creaminess. So yummy!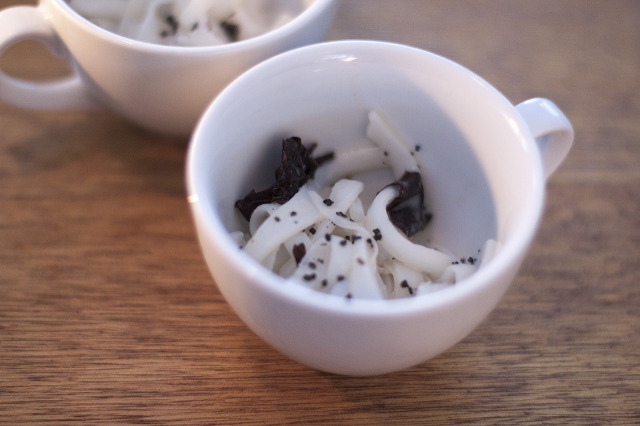 Squid, söl (Icelandic seaweed) and white wine
Now, squid can be both a heavenly or a very dreary thing: Treat it wrong, and it will turn into an absolutely horrendous, rubber-like substance. Be nice to it, and it's one of the best seafoods ever. And this squid was some of the best I've ever had. It was so tender and lovely with a texture like perfectly al dente pasta. It was cooked with white wine, and the squid/wine mixture made a wonderful sauce that I couldn't resist sipping from the cup.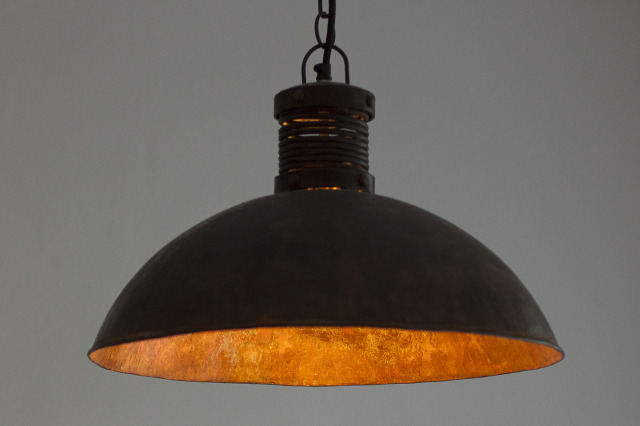 The decor is simple, Scandinavian and quite cool.
After the snack we moved on to starters and main courses… and….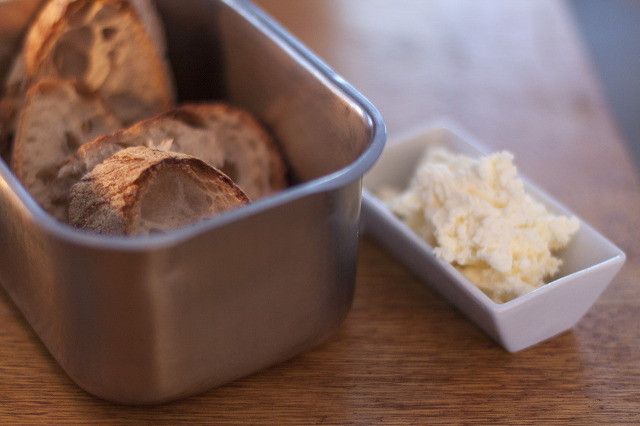 Bread and butter from the Butter Viking in Sweden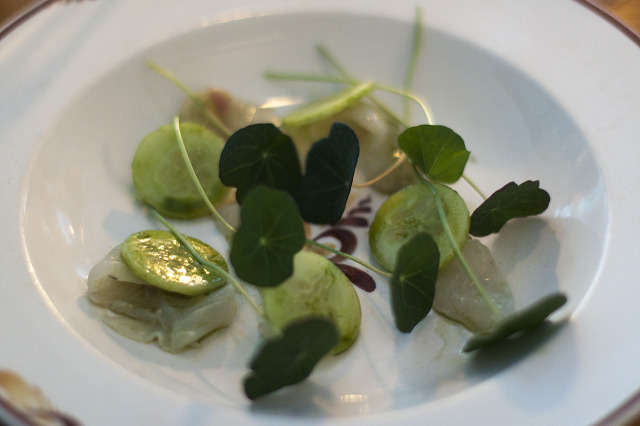 Pike perch, cucumber and nasturtium
The first course was sort of a ceviche-style pike perch with a light and fresh touch to it. I loooove cucumber and the cucumber in this dish were soooo intense and really delicious. By the way a cold, green sauce was also poured over. Very good.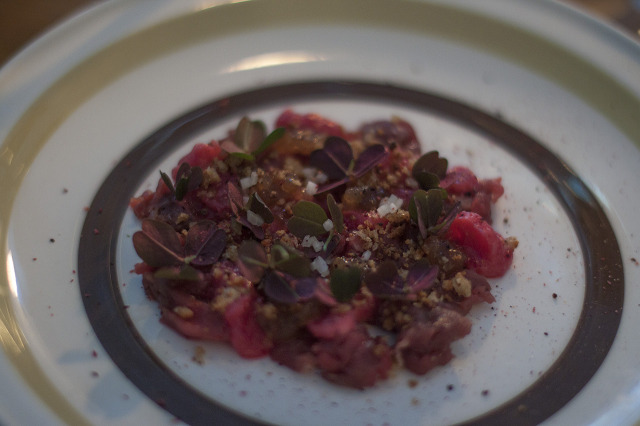 Tartar with rhubarb
Competing with Manfreds & Vin's otherworldly tartar is tough. This one was a tiny bit too fruity for my taste. The sweetness of the rhubard somehow tipped the balance just a bit.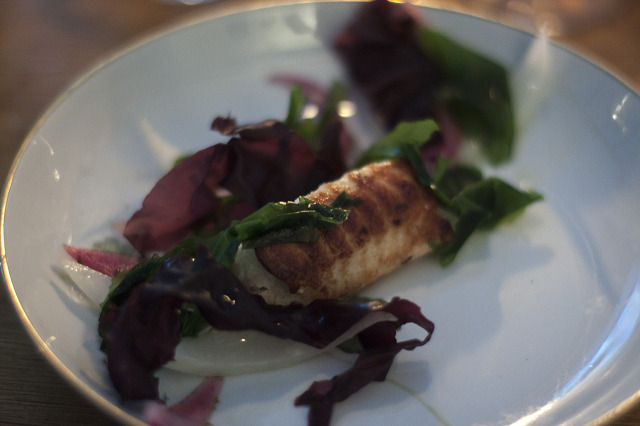 Catfish
Delightfully crispy and very delicious catfish. The different kinds of sea weed were of very high quality. Some times seaweed is used more as a gimmick than a taste compontent, but here it really made sense and added to the dish in a wonderful way.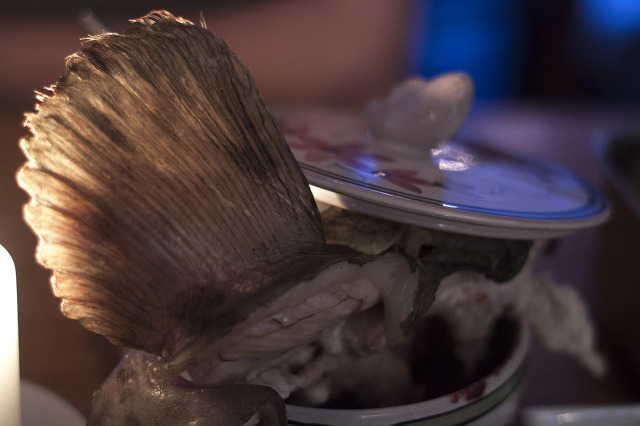 A backlit catfish is quite beautiful. By the way: Try saying "Backlit Catfish" ten times very quickly.
Cheeky. Catfish cheek – served in own head
Catfish cheek is among some of the most delicious fish meet in the world. Firm, meaty texture and with a deep, deep flavour. Here it came wonderfully simply prepared, and served in… well, where it belongs, really.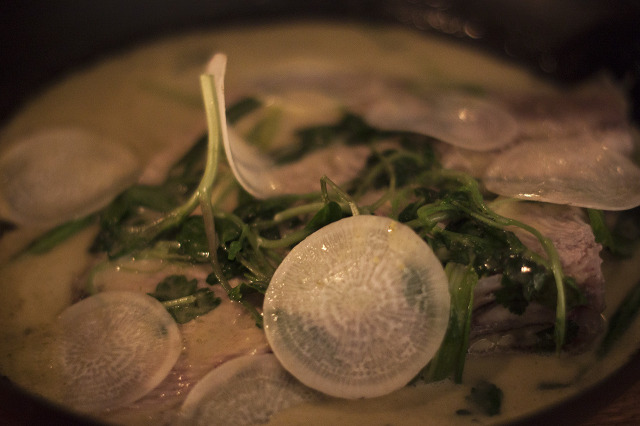 Skate wing
The huge skate wing was served under a layer of spinach and parsley root. The taste of it revealed lots of butter and high quality products. Very nice.
We then concluded the dinner with two fresh and sweet desserts. Both very satisfying.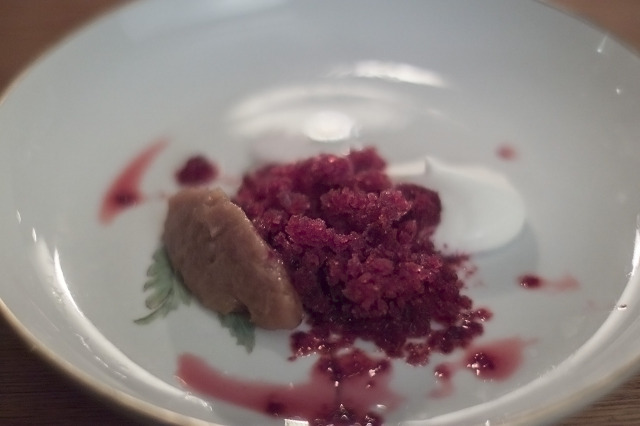 Salsify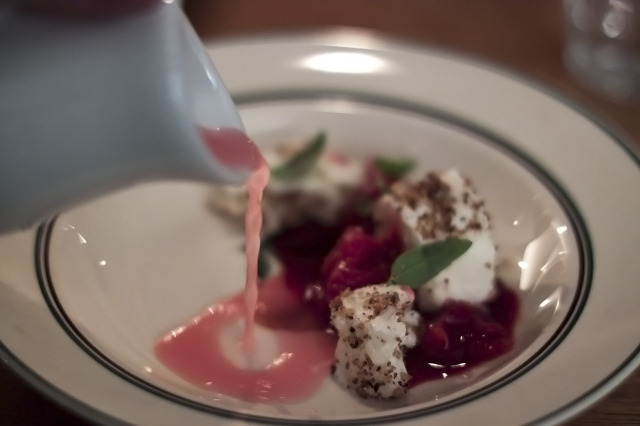 Rhubarb
Bror only offers natural wines and at my first visit we let Alexander give full throttle and suggest a few glasses and a mix of pet'nant, white and reds, which I really liked. Some of them was quite challenging, but Alexander will be able to find something more conventional for guests who are not into the more weird stuff.
What has really struck me both times at Bror is that the food is so Delicious with a capital D. While dishes are new and creative they also appear well thought through and tested in order to please the guest (me). It's all about the taste: The deep, structured and pleasing taste. And I really like that.
Thank you guys and keep it up!!
Ps. My second second visit 6 weeks later was even better 😉