In the romantic village of La Madelaine sous Montreuil, Montreuil-su-Mer there is a wonderful restaurant called Auberge de la Grenouillère. Head chef and owner is Alexandre Gauthier, who took over from his father in 2003, and in 2008 he won back the Michelin star which the restaurant possessed in the past. In 2012 is was declared One To Watch by the World's 50 Best. I went for dinner on 21 September 2012 with 3 friends.
Although I have experienced Alexandre's creations when I attended the 6 hands dinner at In de Wulf in 2009, I was completely taken by surprise of how delightful La Grenouillère is. It is truly a nice place to be.
Part of the restaurant, the kitchen and the dining room was rebuilt in 2009 and at the same time the new extension was erected in steel, glass, concrete, and wood. It is designed by the French architect Patrick Bouchain and has a rough, industrial look and feel to it, but in a very cool and stylish way. The leather chairs and tables are by Hermès design. Each table is unique and designed for a specific place in the dining room. The plates and glasses are put directly on the leather surface without any table cloths. Lovely warm to the touch, a leather table – I so want a table like this for my home, but these were obviously specially made, and I dare not even imagine the price tag.
The new room is clean, with glass walls and without any decoration, except from the industrial looking iron dresser in the middle of the room, and therefore, a complete contrast to the old part of the inn with its massive collection of all kinds of… frogs. Frog sculptures, frog dolls, frog paintings – almost like a museum of past times and a beautiful, almost magical, tribute to the name of the place: The Frogs' Place.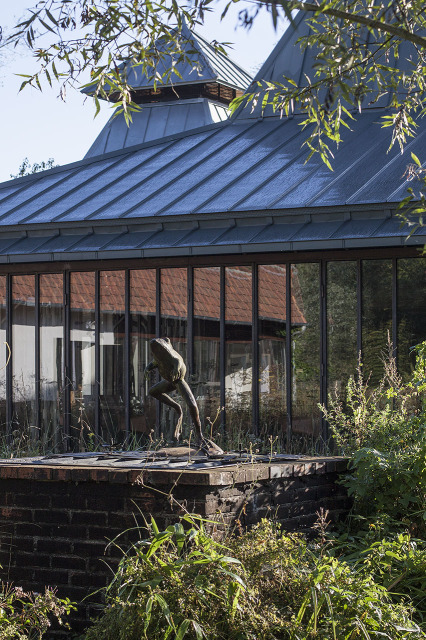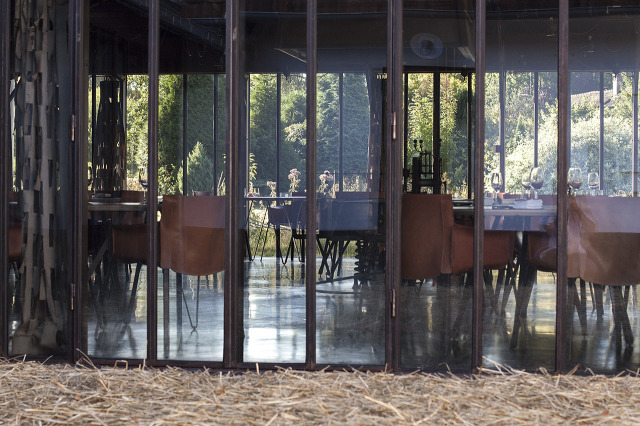 Looking into the dining room from the garden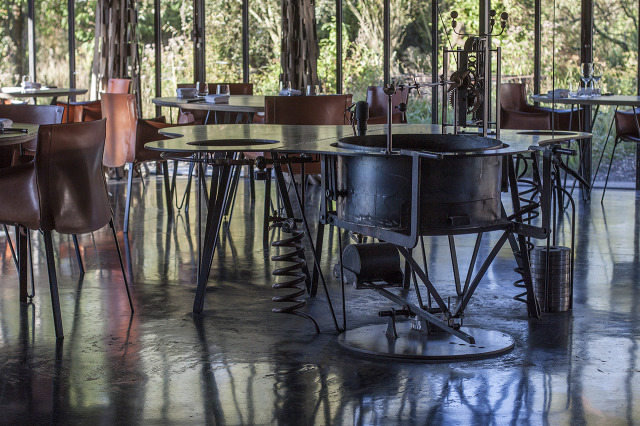 Dining room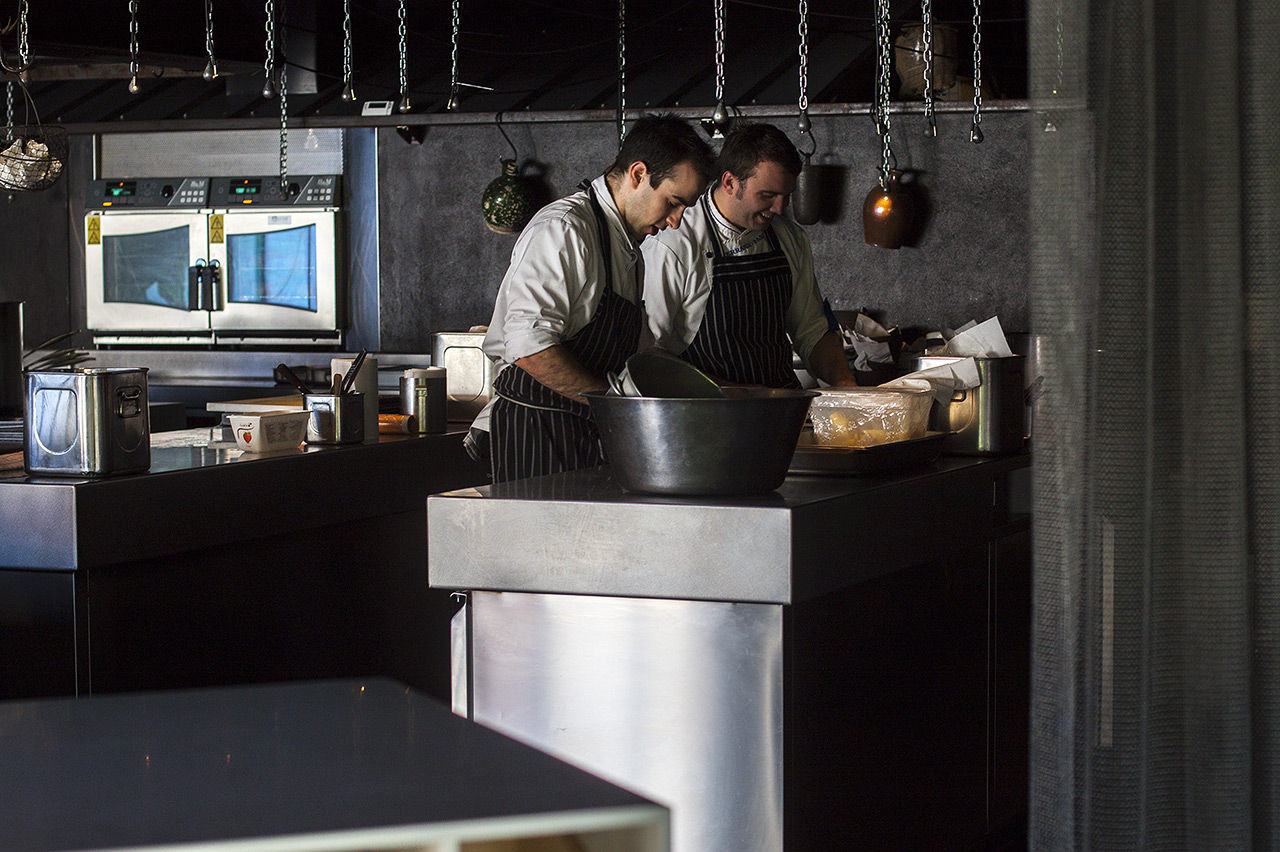 The open kitchen viewed from the dining room. The chains adding to the industrial feel.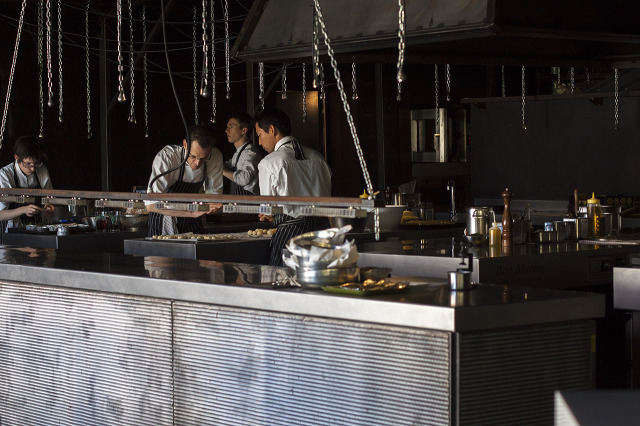 Alexandre's terroir-driven cuisine appealed to me with its simple look and not too many different ingredients and things going on on the plate. The pure taste of the ingredients is in focus and it is honest food. I also I really liked the playful-ness to both the dishes and to the interior with its intense frog's theme going on everywhere. Very charming.
We got about 26 different servings so I won't comment on each of the courses but state my impression of some of them that stand out.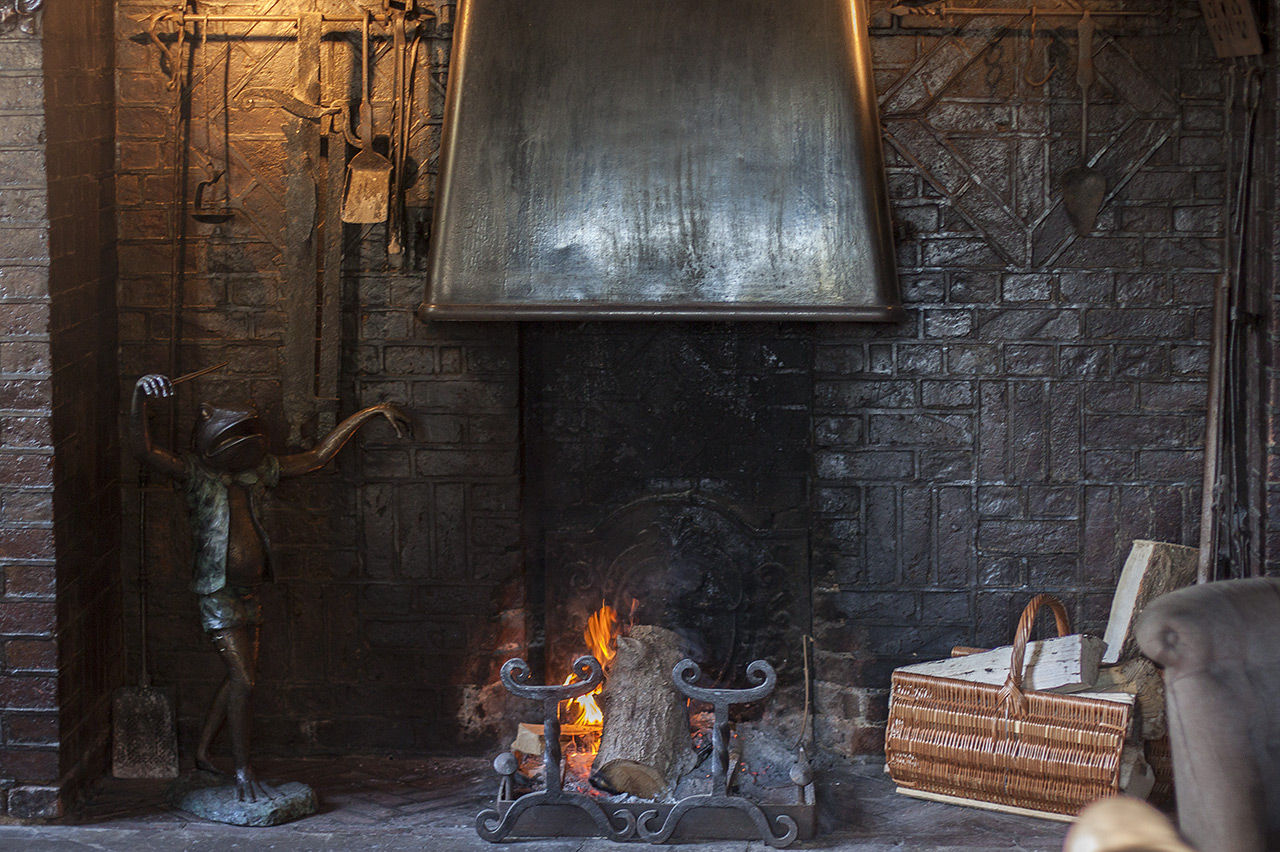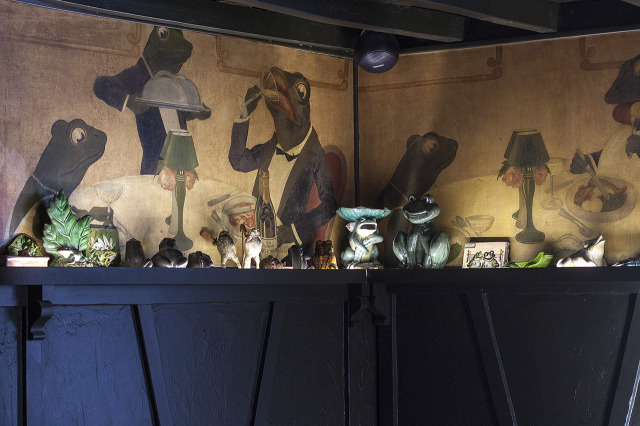 Me and my 3 friends drove from Paris in the afternoon and after a long and rainy drive we arrived late in the evening (thank you once again for driving us, Laurent;). We started out with champagne and some smashing snacks in the old dining room with the fireplace and the incredible collection of l'art de frog.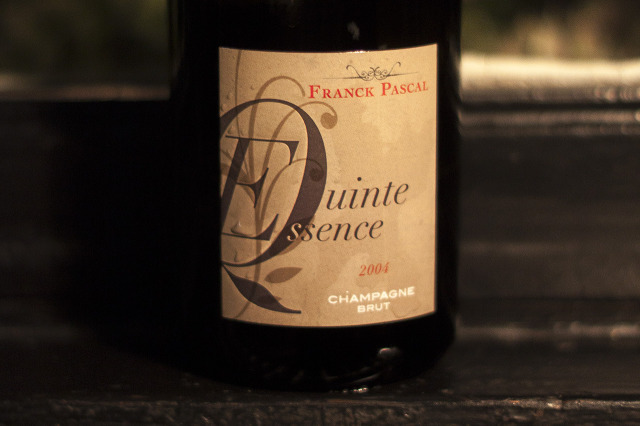 Quintessence 2004 Franck Pascal – that had a refined mousse and was full of mineral notes. I loved it.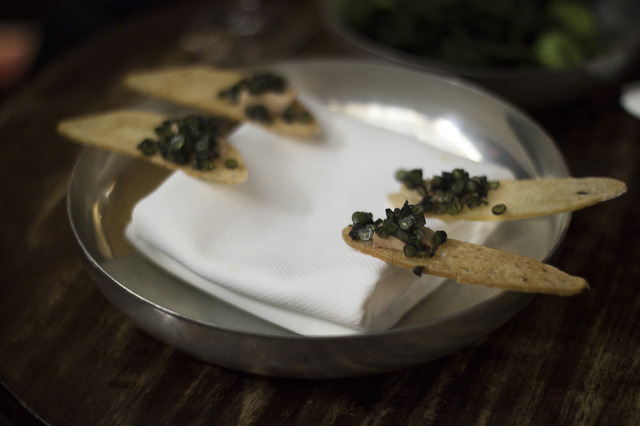 Snack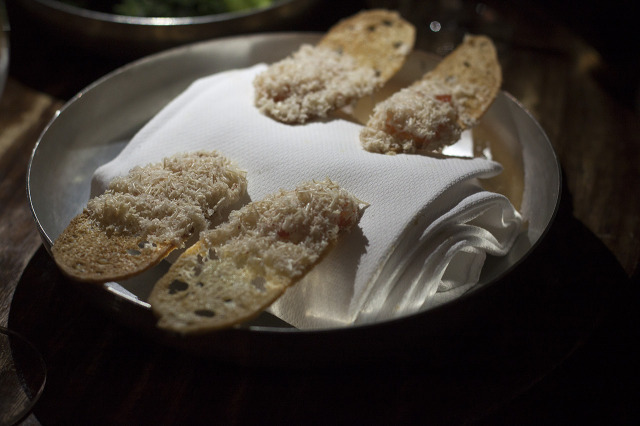 another snack… 😉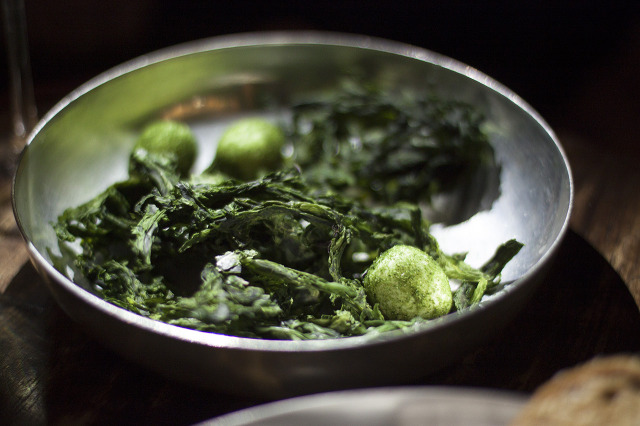 Quail egg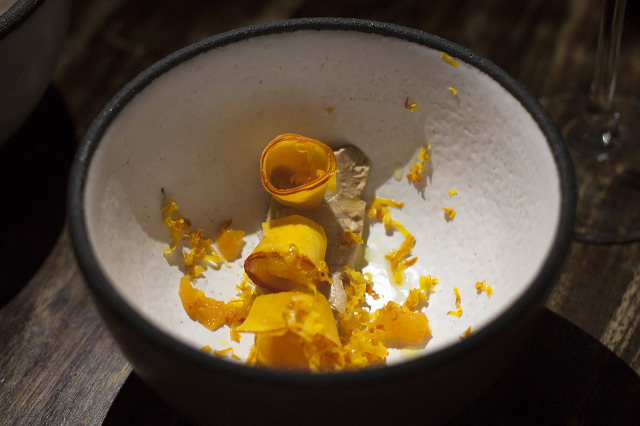 Potimarron, clémentine, foie gras – Pumpkin, clementine, foie gras
Blanc D'oeuf caillé – Egg white curd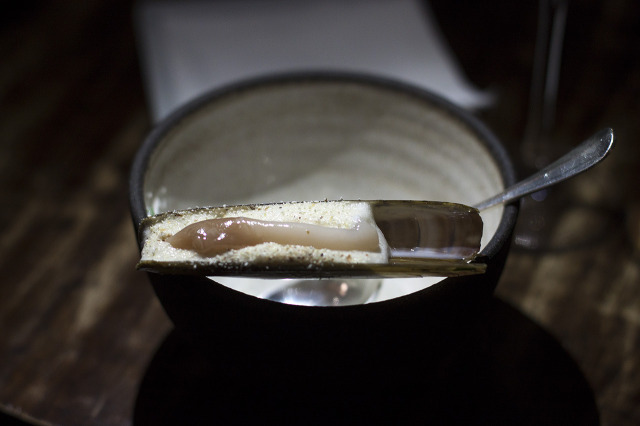 Crevettes grises couteau – Razor clam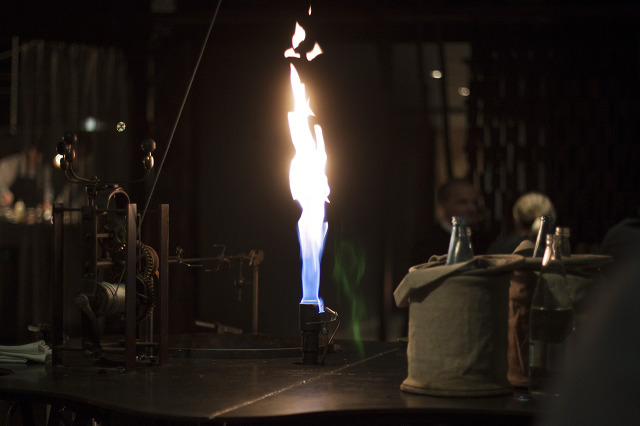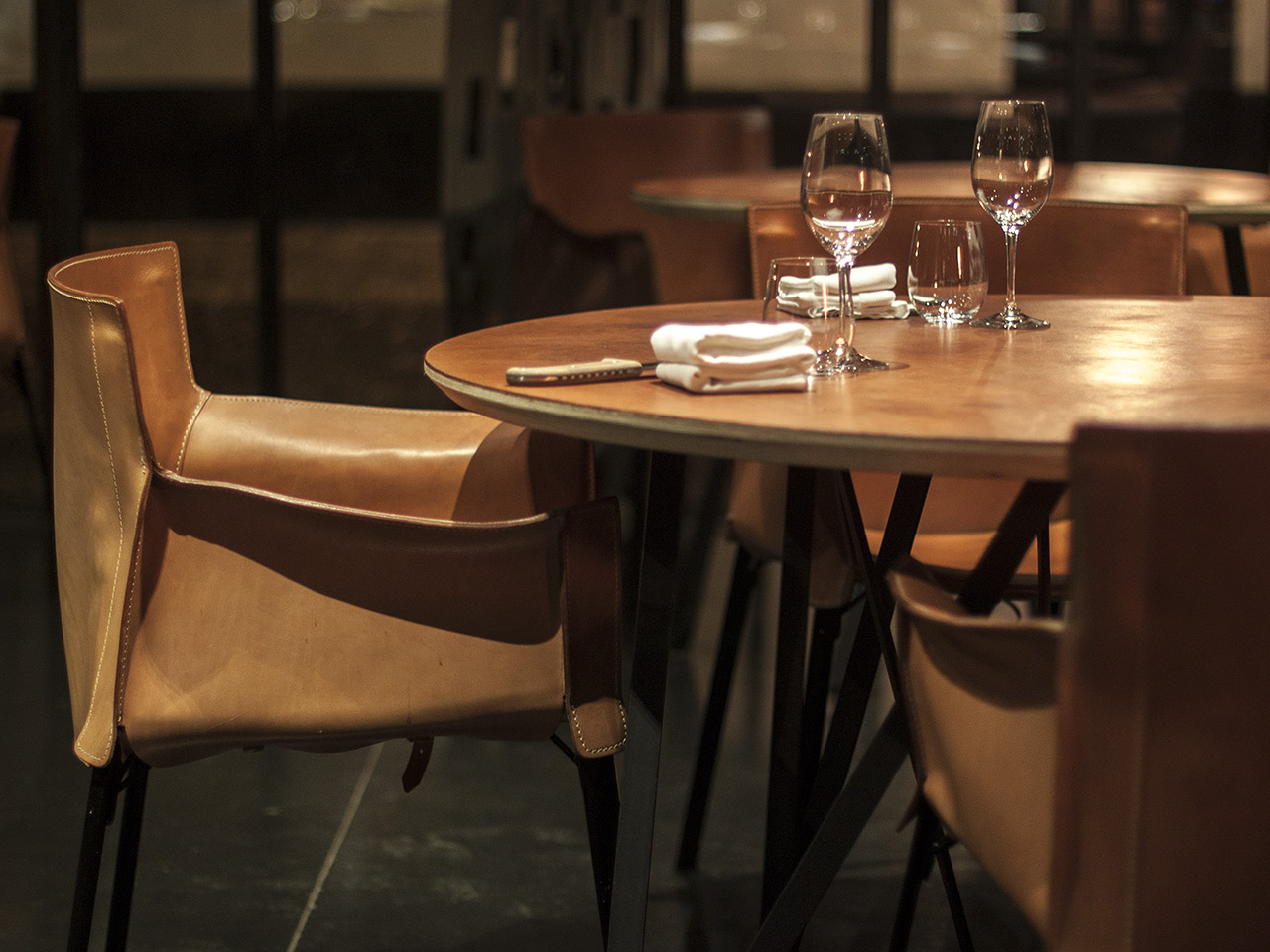 Table by night. Design by Hermès.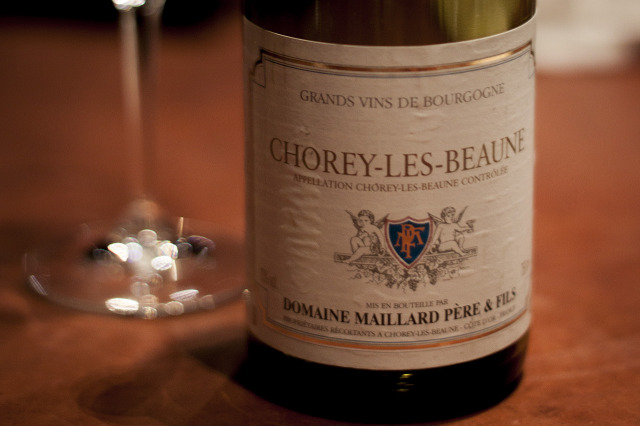 Chorey-les-beaune 2010 Pascal Laillad
At Our table in the beautiful dining room we were served a very nice glass of Chorey-les-beaune 2010 Pascal Laillad.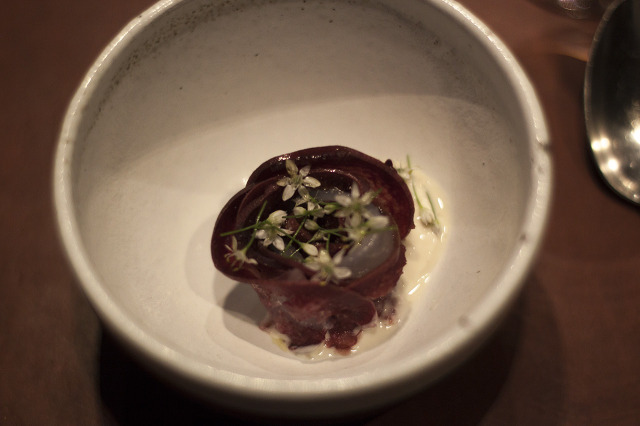 Pêche de vigne, lotte – Peach and monkfish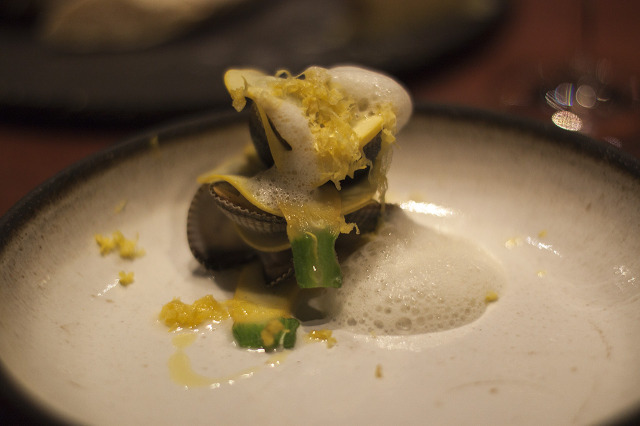 Courges jeunes, coques, fleur – Yellow squash and clams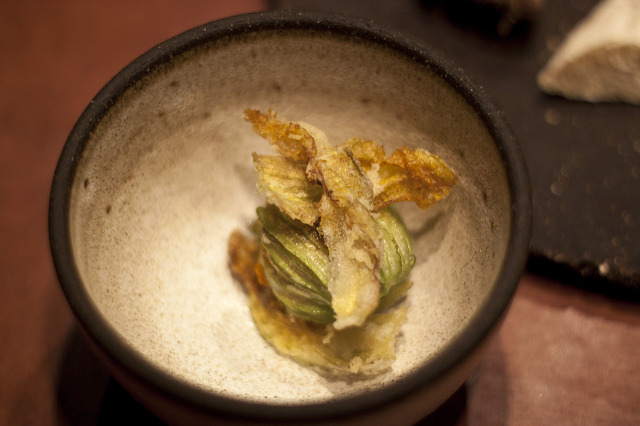 Fleur de courgette farcie – Stuffed zucchini flower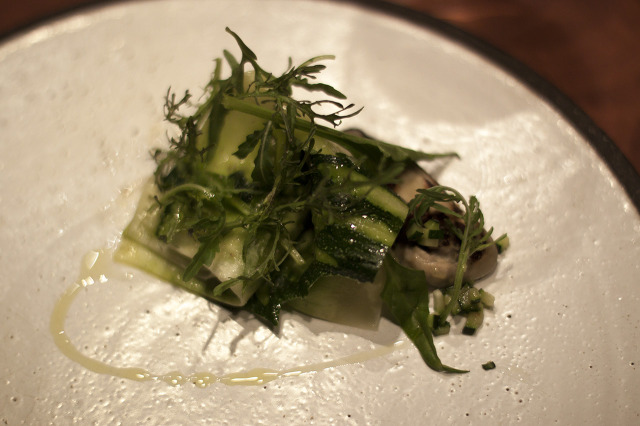 Huître grillée, courgette – Grilled oyster and zucchini
This was a huge oyster. It was grilled lightly and the burnt flavour to it matched very well with the peppery notes to the rocket leaves and the slight sweetness to the zucchini.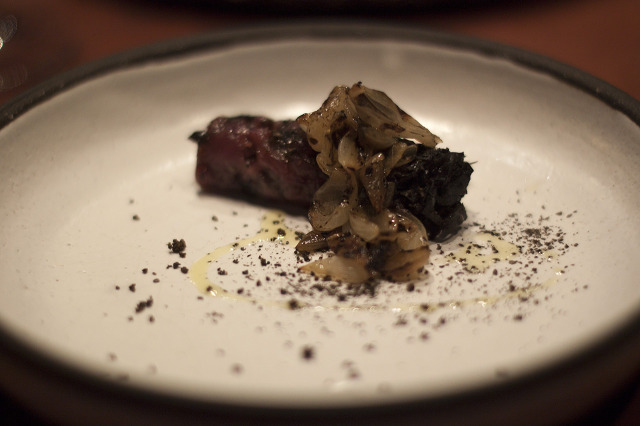 Canard sauvage, trompette, ornions grillées – Wild duck tartare, black trumpet mushrooms, grilled ornions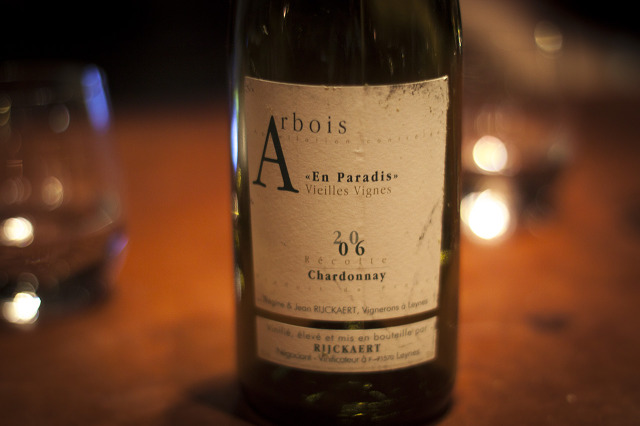 Arbois en paradis 2006 Rijckaert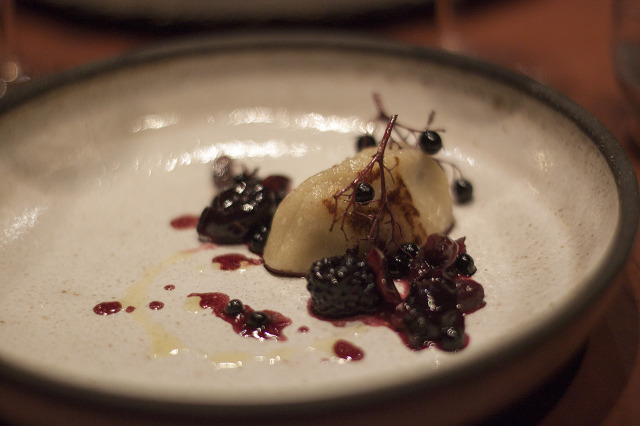 Gnocchi, sureau – Gnocchi and elderberries
The gnocchi and elderberry match was interesting and worked as a pair. However as part of a tasting menu with 10+ courses, I felt that it was a bit too heavy and too sweet to my taste.
Light puf with white truffle aroma. The white truffle scent infused the room. It was extraordinary.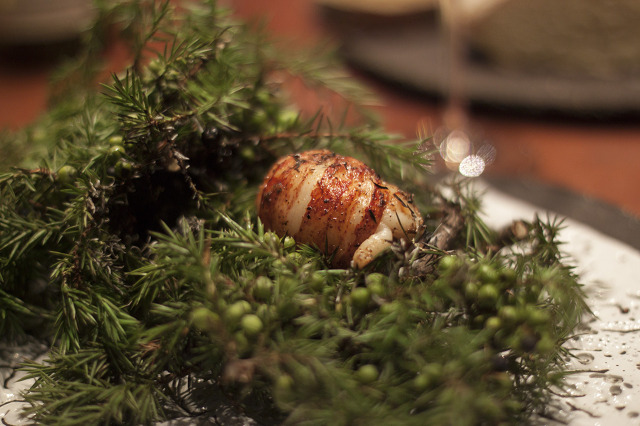 Homard, genièvre – Lobster with grilled in juniper branches
A bunch of juniper branches arrived and the job was to remove the top layer. Inside there was a pure, juicy and delicious piece of lobster, and I loved the scent of the juniper.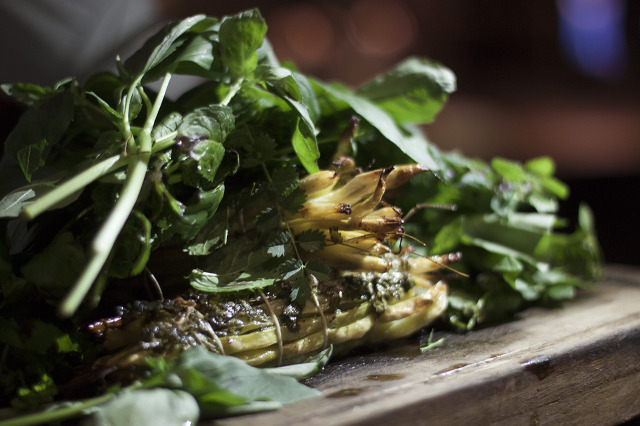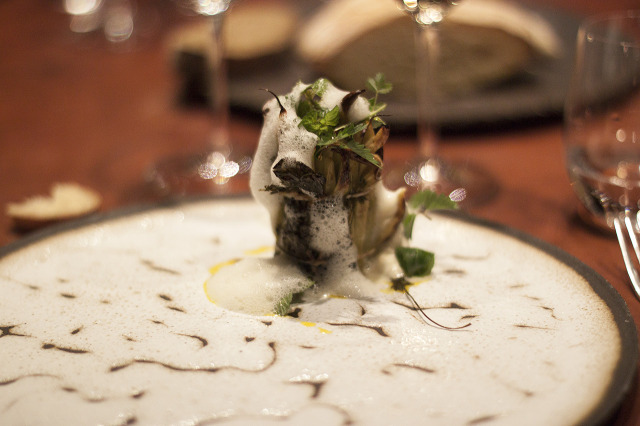 Haricots beurrés rôtis au beurre – White beans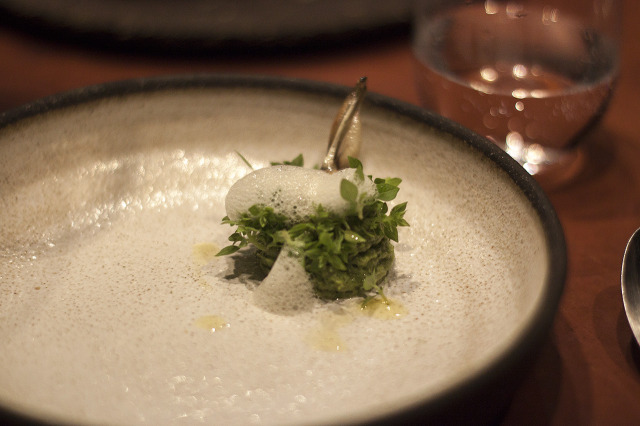 Grenouilles grillées, basilic – Grilled frog legs with basil
The most delicious and tender frogs legs I have ever had.
The Alsatian Pinot Noir grand H 2010 Albertmann accompanied the frog legs and the subsequent courses.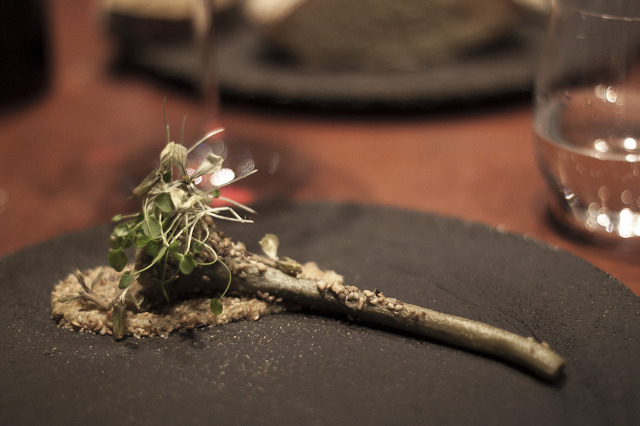 Chardon, grainés – Jerusalem artichokes and thistle seeds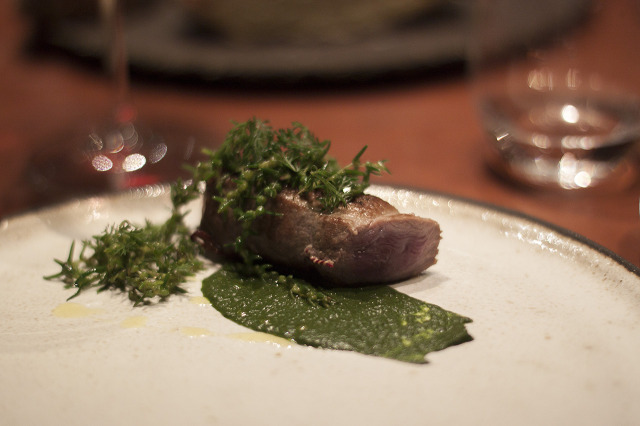 Colvert, épines de la baie – Mallard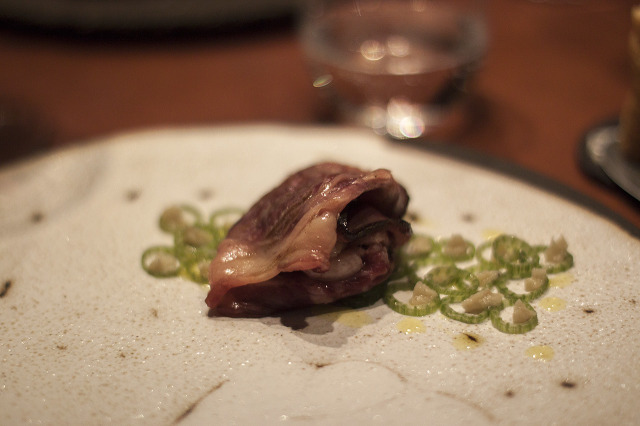 Vachette, tiges – Grilled cow and garlic scapes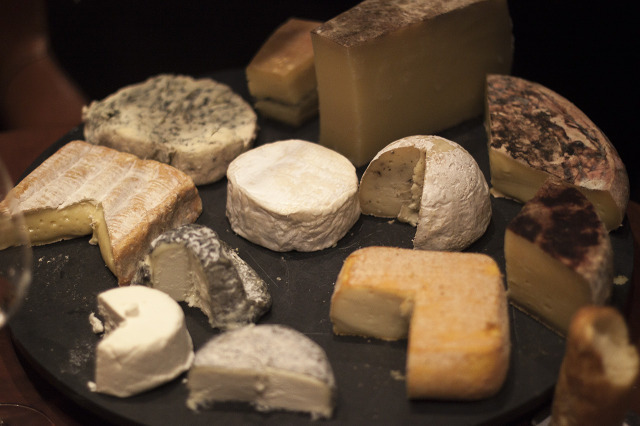 Cheeses
Although I was almost full at the time I simply couldn't resist trying a couple of local cheeses.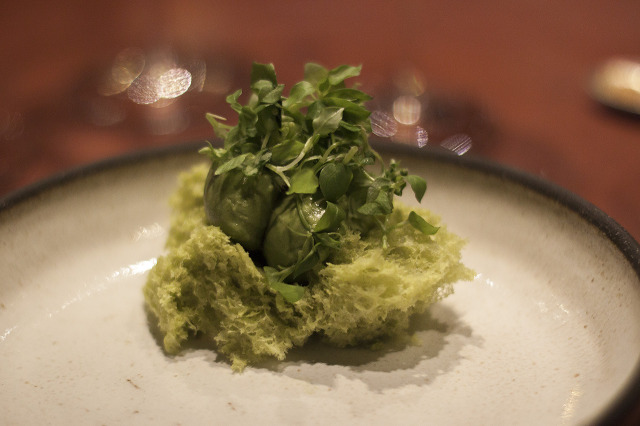 Herbes grasses – Sponge and ice-cream  of herbs
The texture of the sponge was light and fluffy and it gave some sweetness to the fresh but deep herb flavoured ice-cream. I really like this one.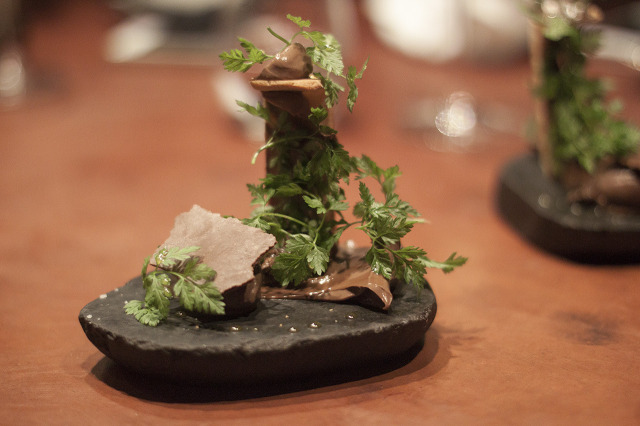 Cacao, cerfeuil – Cocoa, chervil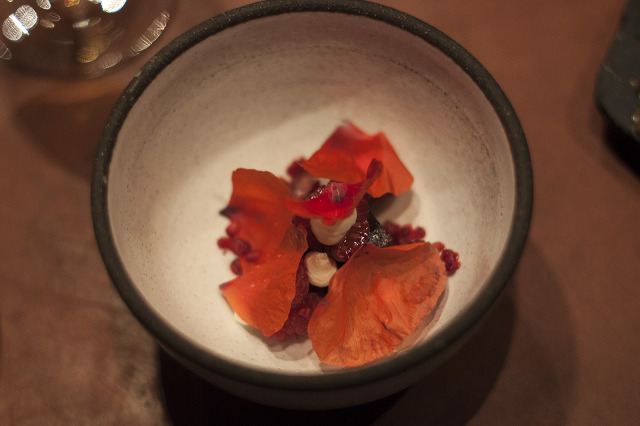 Framboise, coquelicot – Raspberries and poppy
Beautiful as well as fresh.
Here the play with the texture was fun, but the taste was mainly as that of corn.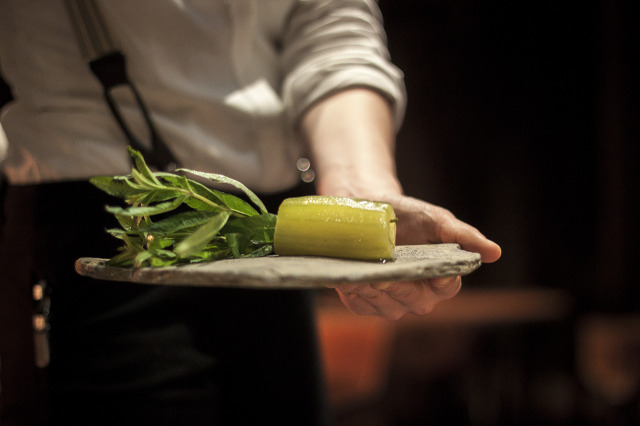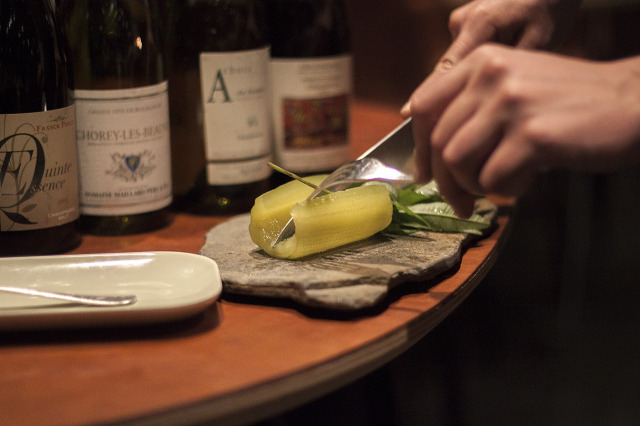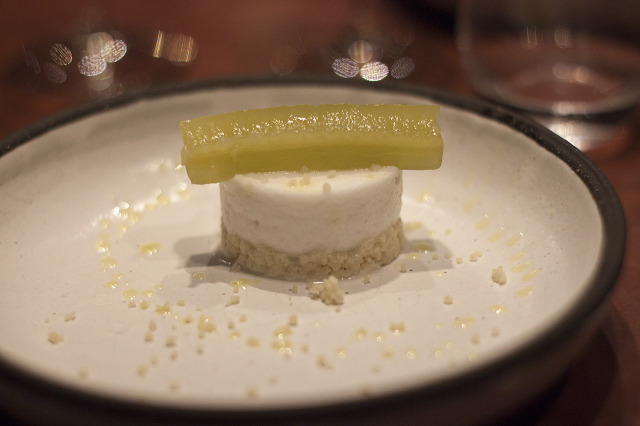 Concombre, verveine – Cucumber and lemongrass
Light, fresh and delectable, but I'm also very keen on cucumber.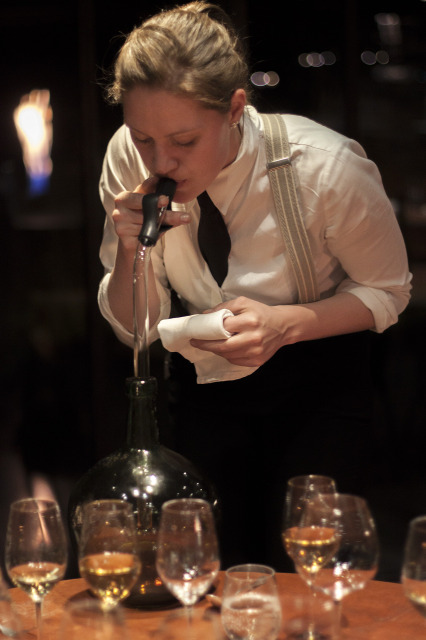 Hydromel – Mead
It is tradition to serve a glass of mead and a piece of honey to conclude after the sweet courses. I loved the show of it, but it was somehow too sweet for my tooth at that point.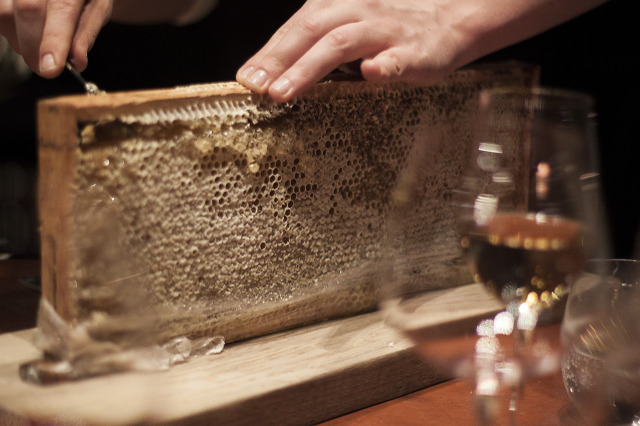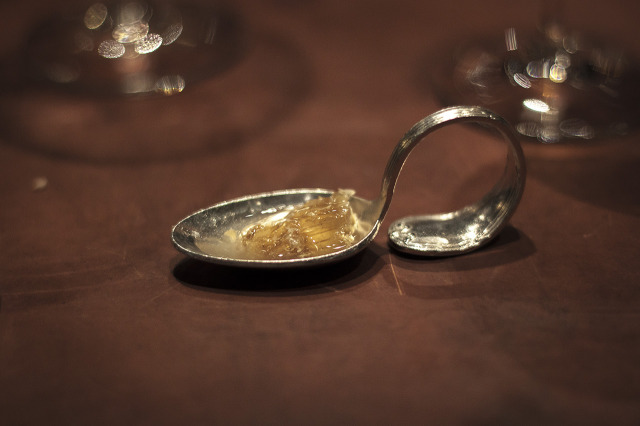 Honey