This summer I had the immense pleasure of expanding my knowledge about German high-end restaurants. During a five-day drive from Berlin to Westphalen, I visited two places that both confirmed what too many northerners don't realize: Germany is more than a freeway. To many Danes, Germany is nothing more than the thing surrounding the Autobahn and German cuisine is bratwurst and knödel. Those people have no idea what hidden gourmet gems they are missing, going with 160 kph right past them, as they blast through this huge and exciting country.
Ironically, one of these treasures are situated in the midst of what made Germany the automotive centre of Europe: The immense Volkswagen factories in Wolfsburg. It's Sven Elverfeld's three Michelin stars restaurant Aqua at the Ritz-Carlton.
For full disclosure I must state that I was invited to Aqua by the Ritz-Carlton and Sven Elverfeld.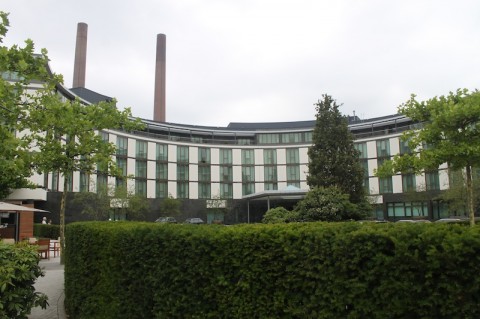 The Ritz-Carlton hotel with the VW-chimneys in the back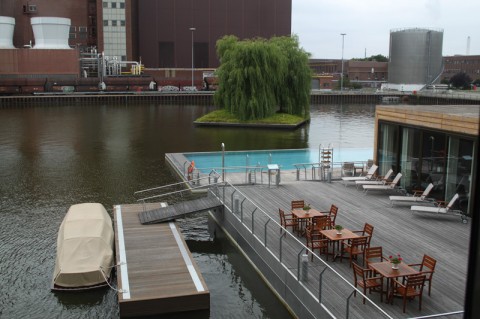 The outdoor spa with view to the VW factory
The Ritz-Carlton hotel was built for the Autostadt back in 2000 and its style is international: Modern and classy, best described as understated luxury. The Ritz-Carlton is situated within Autostad and the surrounding area is a funny mix of pre-war industrial buildings (very cool) and postmodernist steel-and-glass architecture (less cool). The lawns around the hotel are among the best groomed ones I've ever seen, some of them constantly being mowed by robot lawn movers. I wouldn't call the theme park pretty as such, but somehow the style seems to fit the fact that Wolfsburg is a very young city, solely existing because of the giant VW factories.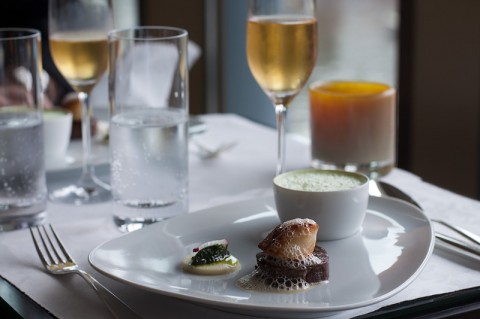 Veal with scallop and pea's soup – very good lunch snack at The Grill
We arrived at lunch time and after settling in and having enjoyed a light snack at The Grill restaurant, we went out to explore the Autostadt park, the pavilions and the museums.
A short note about the Autostadt as a whole, if you like cars it's a fun place to visit. The most exciting parts of it definitely were the VW museum featuring an amazing collection of automotive milestones, the Bugatti Veyron pavillion – simply because it houses a chromed Veyron – and the 4×4 parkour track, where an instructor can teach you how to master a 4×4 in terrain. The brand pavillions, on the other hand, are not worth the trip on their own.
Still, a car theme park seems a curious place to put a three star Michelin restaurant. The German families picking up their VW at Autostadt certainly are not among the clientel as The Ritz-Carlton is not an inexpensive place to stay. But I guess enough business people and executives must be moving through this city to provide a sound market for a five-star hotel and a three star Michelin restaurant.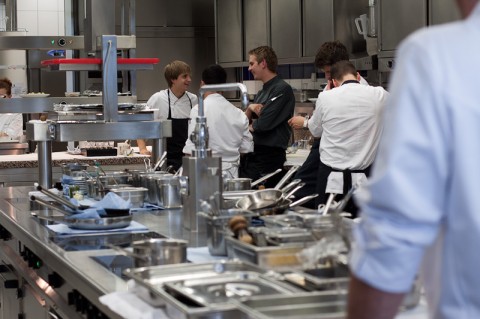 A few minutes before the evening service begins… the kitchen is eerily calm.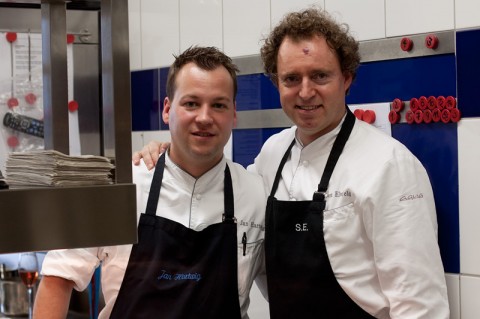 Chef de cuisine Sven Elverfeld with sous-chef Jan Hartwig
Anyway, the main purpose of this visit was not to gaze at cars, but to meet Sven Elverfeld and experience his cuisine. Chef Elverfeld focuses on flavours and strives to invoke memories with the diner. In that way Elverfeld's philosophy reminds me of that of Heston Blumenthal: The eternal quest of forming modern dishes from childhood memories. He lets himself be inspired by everything from a carrot in a field to flavours he has encountered on his travels to Japan or Dubai for example. He told me that he always carries a pen and a notebook – and even puts it under his pillow at night – to be sure to capture every stroke of idea that springs to mind.
After a chat with Sven we were given a tour of his kitchen. Contrary to some high-end kitchens I've experienced, this seemed almost stress-free. Concentration was high, but it was quiet – staff working focused and without any shouting or rushing. Like I imagine an Audi factory floor: Meticulous and precise. Very German, in a cool way.
And then it was time for dinner.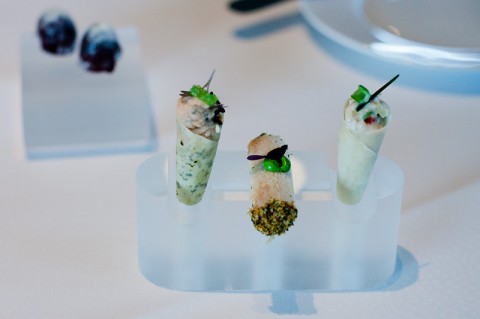 Caramelized Kalanata olives
Crispy cornet of salad nicoise, veal tartar & herb cream roll and Asian salmon cream, sesame, wasabi & nori cornet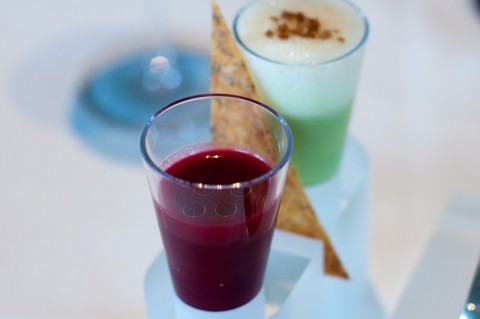 Soup shots
Beetroot gazpacho & olive oil, rosemary-paprika chip and parmesan and a courgette-mint soup & white tomato foam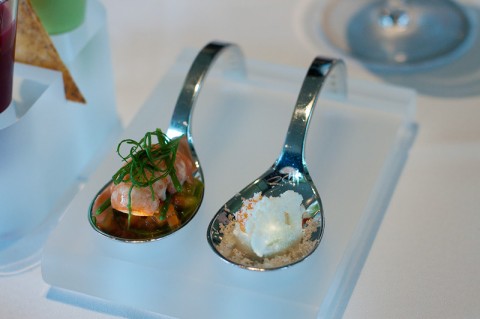 Spoon tasting of crayfish, pattaya mango, vinegar carrots, sorrel & Passe Pierre
Cauliflower, trout caviar & white chocolate
The dinner was initiated with a fireworks of nibbles and tastings to wake up the palate. They were all tasty as well as entertaining and served on tableware designed by Elverfeld himself and laser-cut from clear polycarbonate, making the amuse bouches seem to hover just above the white table cloth.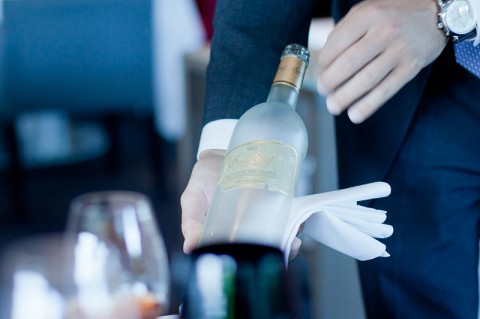 1989 Dom Brial, Riversaltes Ambre, Roussillion, France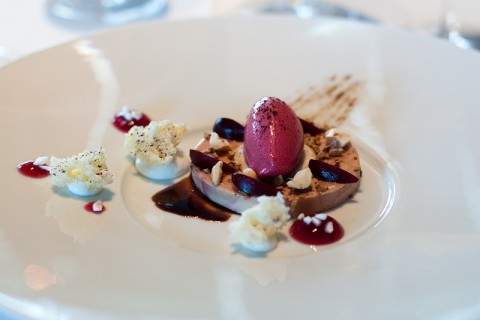 Foie gras, Coffee, cherries, yogurt & hazelnut
By the first course I was blown away. I love, love foie gras, terrine especially, and here it was accompanied by coffee and hazelnut. These ingredients are almost born to be together as the flavours just match each other perfectly and performed a smooth candy-like taste balanced with acidity from the cherries and the yogurt. I just loved this dish.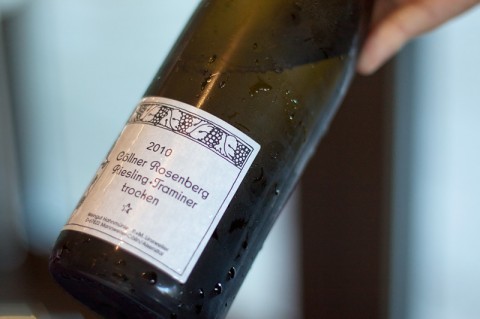 2009 Cöllner Rosenberg, Weigut Hahnmühle, Nahe, Germany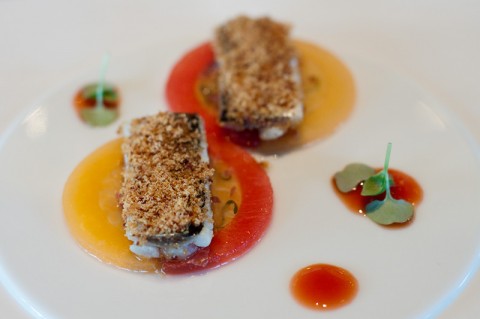 Brittany sardine, Melon & Joselito Jamón Ibérico
Mediterranean flavours were dominating this dish with a very delicate sardine, subtle ham and sweet notes from the melon. All in all, it was a light and refreshing intermezzo after the intense foie gras dish.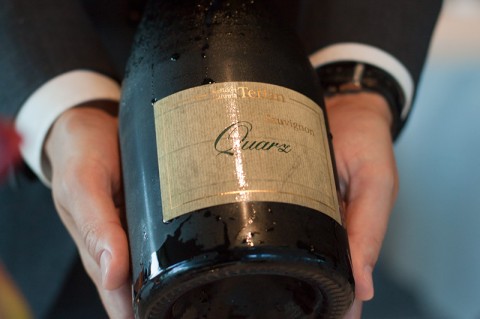 2009 Sauvignon Blanc, Quarz, Cantina Terlan, Terlan, Italy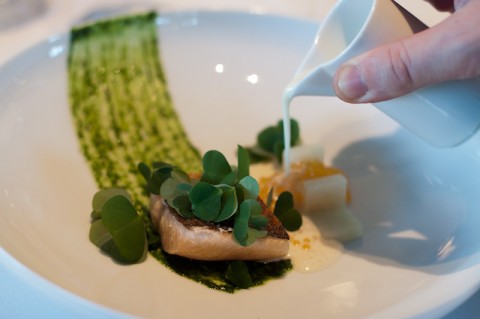 Char & caviar from Tainach, Turnip, dill & sorrel
Simple, beautiful, tasty. The flavours of the delicate and perfectly cooked char, the turnip, the tainach caviare and the herbs formed a very creamy and harmonious taste. One of the highlights.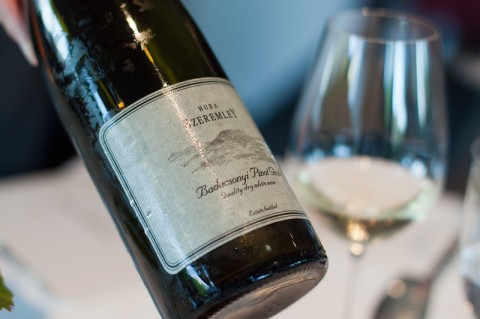 2009 Pinot Gris, Huba Szeremley, Badacsonyi, Hungary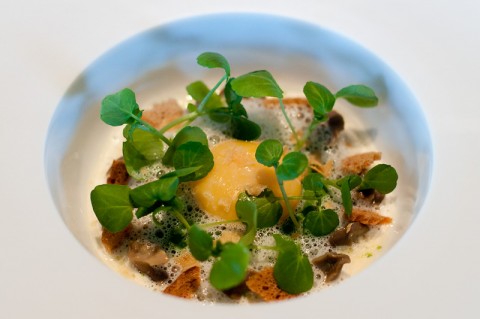 Snails from Odenwald, Watercress, mild garlic & fried egg
The snails were amongst the very best I've ever had in my life. They weren't chewy as snails often can get if they are not cooked to perfection. The dish as a whole was delicious but almost too rich to my taste, the egg adding to the creamy texture – it somehow lacked a counterpart or something that could provide more character to fire it up. In comparison with all the other dishes it appeared somewhat anonymous.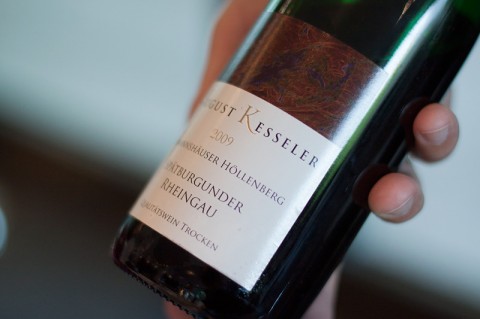 2009 Spätburgunder Assmanshäuser Höllenberg Weingut August Kesseler, Rheingau, Germany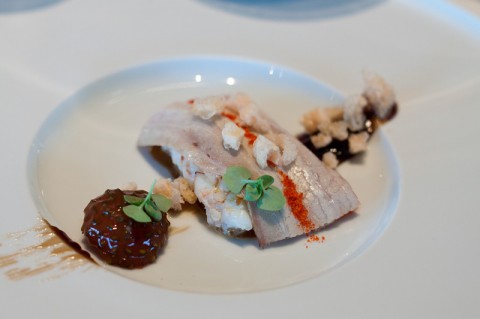 Langoustine & charcoal grilled belly of young pork
Bulls heart tomato, crustacean mayonnaise, balsamic emulsion
The langoustine and pork dish really surprised me – not least by its looks. Typically the langoustine play the leading role in a dish but in this picture it was on par along with the others ingredients. The pork had a vinegar-like note to it which added freshness, there was crunch from the pork crisp it all completely worked and was new and inspiring to me.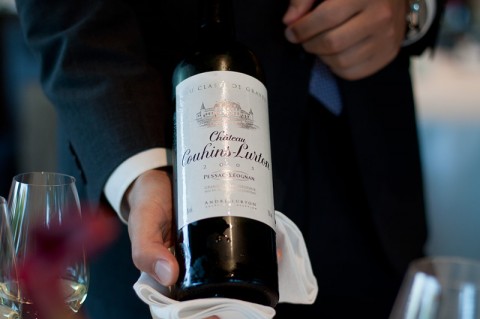 2005 Chateau Couhins-Lurton, Bordeaux
Stewed topside of Müritz lamb
Frankfurter green sauce, potato & quail egg yolk
This is a signature dish of Sven's and justifiably so. Just look at it – it's a Bauhaus-like work of art. The Frankfurter green sauce in the middle surrounded by the potato on the right and the lamb on the left. The traditional dish doesn't comprise the lamb, that's Sven's addition to the dish and it came together wonderfully. Looks simple but really isn't and it was outstanding because of its perfect balance. Where Germans are reminded of the famous green sauce, to me this dish recalled memories of a Danish classic – the skibberlabskovs – a dish with meat, potatoes and herbs.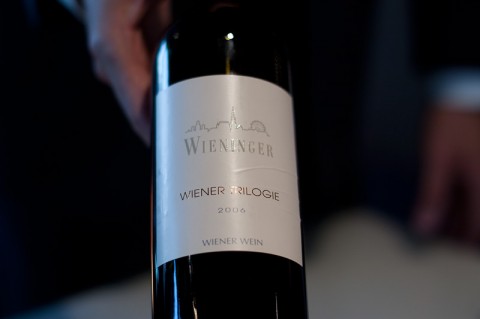 2006 Wieninger Trilogie, Weingut Winninger, Vienna, Austria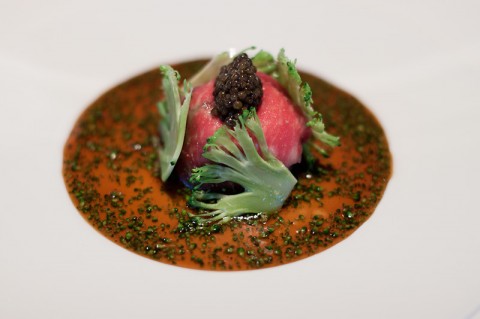 Wagyu beef
Broccoli & Imperial caviar
Now, this dish didn't resemble anything I've tried before, but it was stunning. The way that all the tiny broccoli seeds were beautifully sprinkled in the broth made a tangent to the caviar on top of the Wagyu beef. Raw beef coated the cooked beef inside and the caviar added salt and pulled out more flavours of the meat. Combining luxury produce like caviar and Wagyu beef with the mondain brocolli may seem strange, but it worked so well.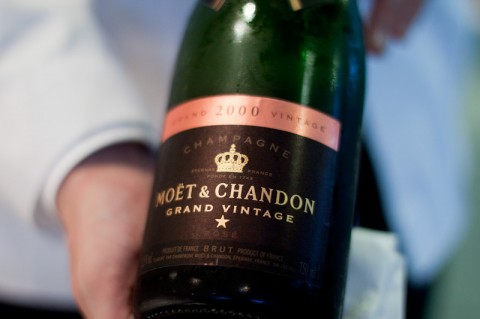 Grand Vintage Rosé 2000 Moët & Chandon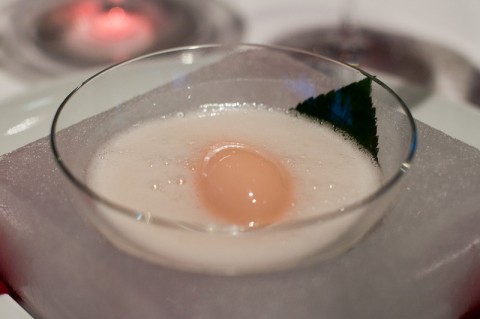 Champagne cream sorbet
This nineteen-ninety style cleanser is an old tradition from the grand opening of Aqua. We were told that the dish is served mostly as a tribute to regulars. How long the sorbet will stay on the menu is uncertain as the stock of Grand Vintage Rosé 2000 Moët & Chandon is drying out. It was a great sorbet, but I certainly can think of better ways of enjoying a 2000 Grand Vintage. It was a fun trip back to posher times before the financial crisis though.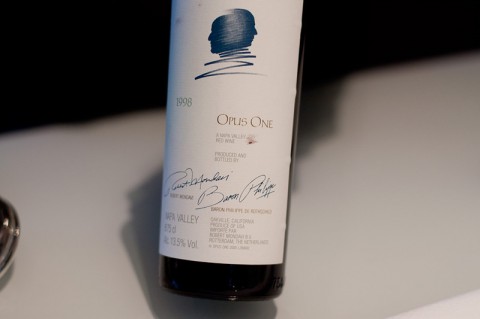 1998 Opus One Robert Mondavi & Baron Philippe de Rothschild, Napa Valley, California – Cult wine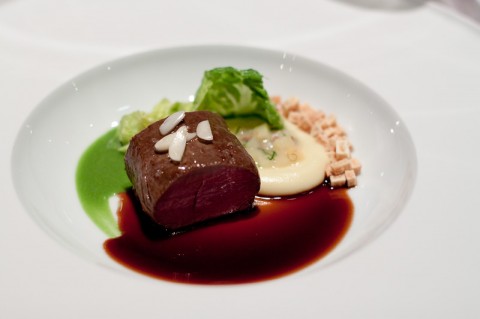 Venison from the region Altmark
Lettuce, medlar, almonds, potatoes
O yummy. The quality of the venison was just superb and full of flavour with only a slight gamey touch. The small potato cubes were light and crunchy. A classic dish but – again – perfectly executed.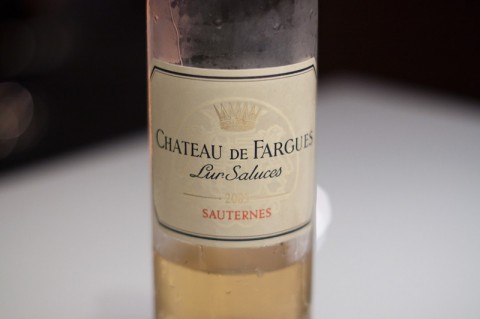 2005 Chateau Fargues, Sauternes, France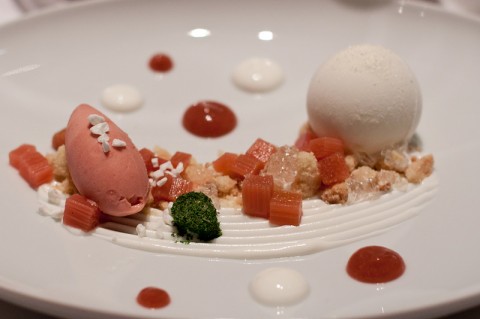 Rhubarb, yogurt & woodruff
A stunning dessert of rhubarb and woodruff, both of which I love, offered freshness and sweetness in a perfect balance. A very delicious and completely satisfying dish.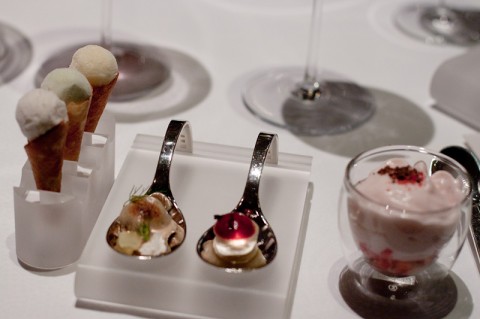 After the rhubarb dessert followed a sweet finale, styled like the amuse bouches as to mark the end of a circle. It comprised
Three kinds of sorbet – lychee, pineapple, avocado,
Liquorice-marshmallow, lemon, dill & fennel,
Caramelized raspberry & caramelized gooseberry,
Apple, goat curd & cassis
Yogurette
With the coffee, which we decided to take in the Newman's bar, came the pralines.
What a journey. Sven is a great guy and it's clear that he is committed and truly passionate about his cooking and his restaurant, and constantly develops and refines his own modern take on fine dining.
Compliments to sommelier Jürgen Giesel, who set this intriguing wine pairing with often quite aromatic wines and wines that I hadn't tried before like e.g. the Riversaltes, the Hungarian Pinot Gris and the delicious Opus One, just to mention a few.
Sometimes fine hotel restaurants can appear slightly worn or less creative, maybe due to the fact that they are a part of a larger machinery. This is not the case of Aqua. The vision and style of the Ritz-Carlton and the one of Aqua matches each other really well, almost like as a kind of symbiosis. I liked that.
Also, the memory of the stay at The Ritz-Carlton and the dinner at Aqua will always be the one of an extraordinary experience full of warmth, wit and dedication. The service – both at the hotel and in the restaurant – was outstanding. Always on top of things and ready to assist in any way, thanks to maitre d' Jimmy Ledemazel.
Someone once told me that the difference between the Ritz-Carlton and other lux-hotels is the people. Based on this one experience, I must concur. Sometimes, striving for luxury tends to take the soul out of a place. Anyone can do valet parking, room service and huge suites – some also combine this with high-end food. But only a few places manage to wrap this entire package into personality and warmth, substituting arrogance and snobbery with genuine, down-to-earth care.
Bravo! And thank you so much to Sven, Jürgen, Jimmy – and of course to our lovely hostess Daniela!