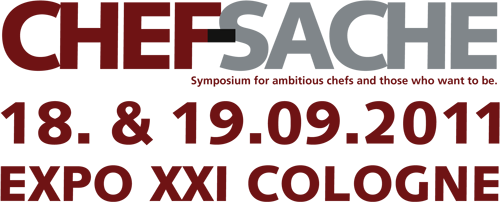 Autumn 2011 – The third round of CHEF-SACHE, the international culinary symposium in Germany.
• The gastronomy branch elite under one roof.
• The top stars of international cuisine up close and personal.
• Forum for the best chefs, organisations, firms and service providers in the gastronomy branch.
• Innovation, conversation and tastings.
• Live presentations and cooking demonstrations on a large stage, tastings, seminars and product presentations at stands.
More on food events – next Month I'm attending the Chef-Sache food event in Cologne reporting from the event as well as be member of the jury of the Young Chefs Award Bauknechtpreis.
Famous chefs like Stars live and on stage:
• Italy's avant-garde: Massimo Bottura
• Dutch Power: Jonnie Boer
• New Basque cuisine: Elena Arzak 
and Andoni Luis Aduriz
• The young German elite: Christian Bau, Sven Elverfeld, Thomas Bühner, Nils Henkel
Stay tuned for more!