On 18-19 September I had the great pleasure of attending what I would like to call the friendliest food event ever, Chef-Sache 2011 – The international culinary symposium in Germany. This was the third round of the event and this year featuring international stars like Andoni Aduriz (Mugaritz**, ES), Elena Arzak (Arzak***, ES), Jonnie Boer (Librije***, NL) and Massimo Bottura (Osteria Francescana** (2012 ***), IT) as well as the young German elite: Christian Bau (Schloss Berg***), Thomas Bühner (La Vie** (2012 ***)) , Nils Henkel (Schlosshotel Lerbach*** (2012 **)) and Sven Elverfeld (Aqua***). For full disclosure I must state that I was invited to Cologne by Chef-sache organisation event and the dinners at Schlosshotel Lerbach.
I arrived on Saturday early afternoon and after I had checked in at my hotel I went for a stroll around the old and beautiful city centre and passed by the Cologne Cathedral. It's so huge and fascinating and next time I'm there, I want to explore the inside of it too.
In the evening I had dinner at the beautiful Schlosshotel Lerbach by Nils Henkel and was part of a party with Erwin Gegenbauer and most kind people from the two Austrian top restaurants Steirereck** by Heinz Reitbauer and Hanner** by Heinz Hanner. It was a memorable evening with excellent food with distinct character and splendid wines paired masterly by Thomas Sommer, Germany's best sommelier 2011. Two of the dishes that really stood out for me were: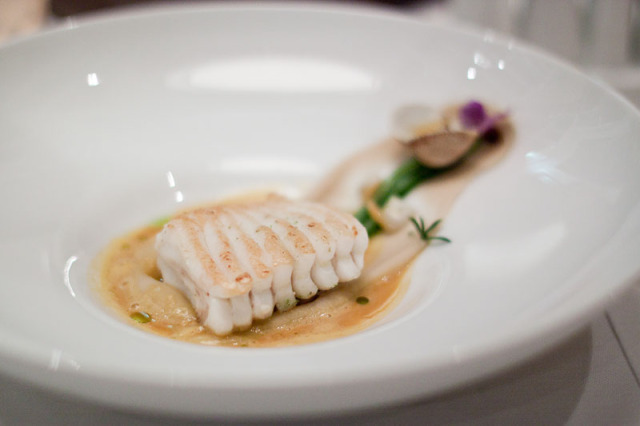 Skate wing bouillabaisse with savory, cockles and palbeans
The beans and the saffron flavours matched each other marvellously.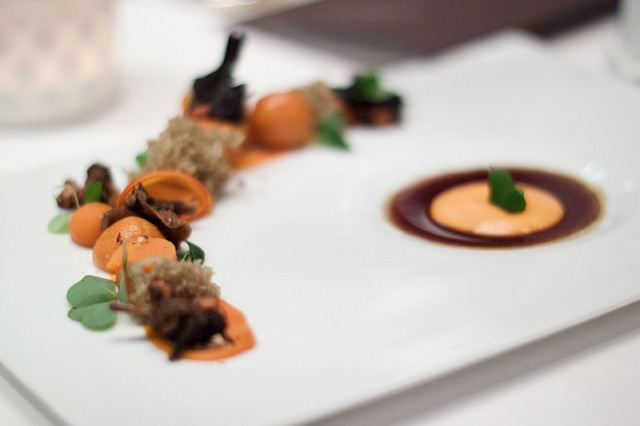 Sautéed mushrooms, pumpkin seed brew, hokkaido pumpkin & sorrel
And the earthy flavours of the mushrooms and and sweetness of the pumpkin was a fantastic match – as well as beautiful to look at.
Then on Sunday late morning I took a taxi to the ExpoXxi where the Chef-Sache 2011 took place, formed by an exhibit venue and a stage venue with presentations throughout the Sunday and the Monday.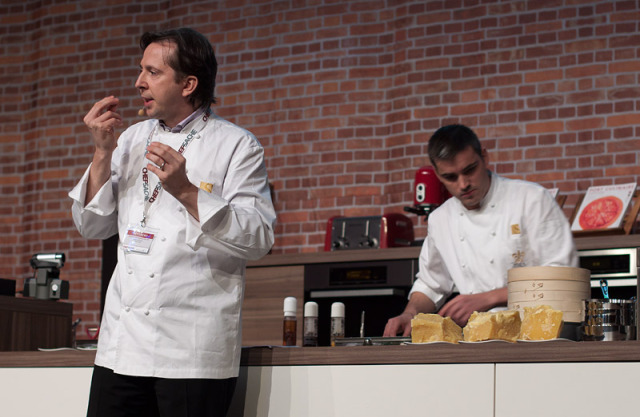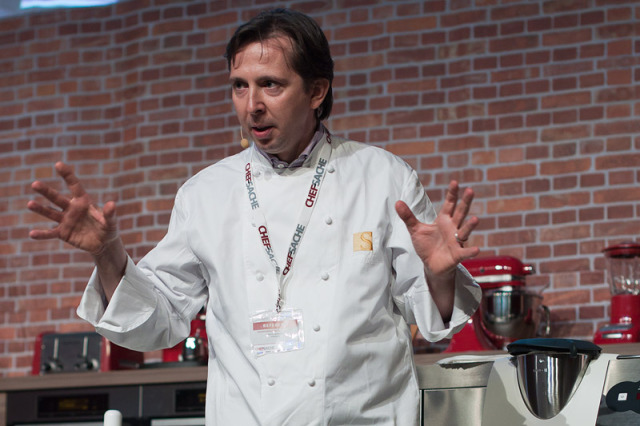 Heinz Reitbauer, Steirereck
One of the most exciting presentations of the symposium's first day was in fact the one by Vienna-based Heinz Reitbauer. I especially liked the way he had composed his presentation offering restaurant background information, short films, live cooking as well as a tasting and it worked really well. Heinz's family-run restaurant focuses on the Austrian, and in particular the Styrian, quality produce, many of which come from their own farm and the rest by local farmers – very intriguing for someone like me who is not (that) familiar with the Viennese cuisine.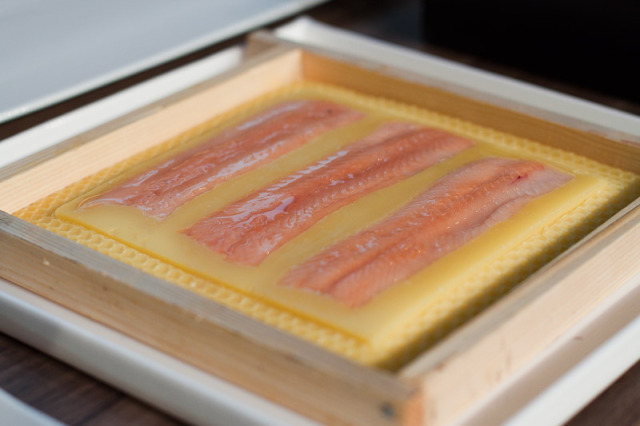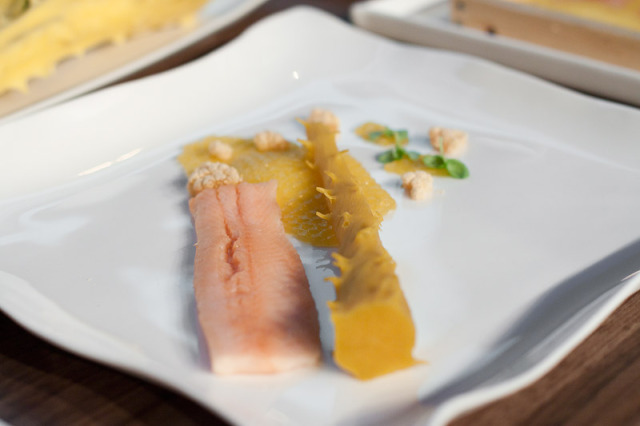 One of Heinz's signature dishes is the char that is gently cooked in beeswax to add the honey-aroma to the fish. I didn't get a chance to taste it, unfortunately.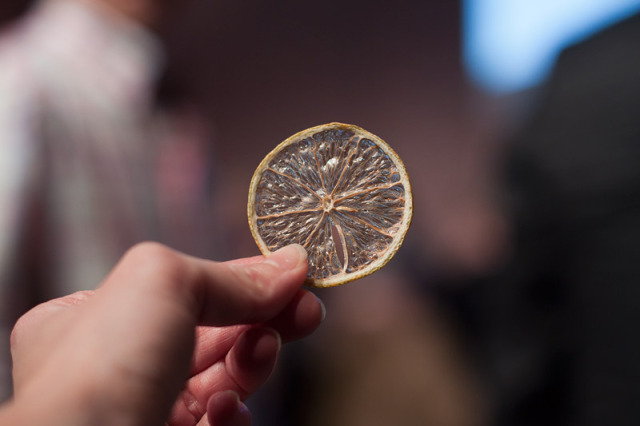 And finally we got a chance of tasting candied citrous fruits and beeswax chocolate.
Next up was Jonnie Boer of  Librije in Holland and before he started the show, smoke from his cooking infused the venue. This must have triggered a silent fire alarm because soon the local fire brigade showed up.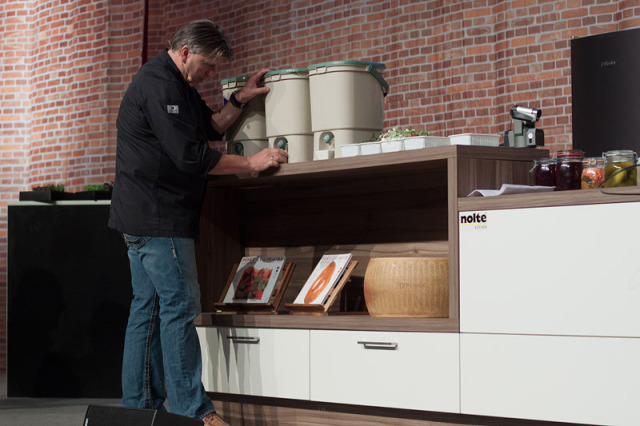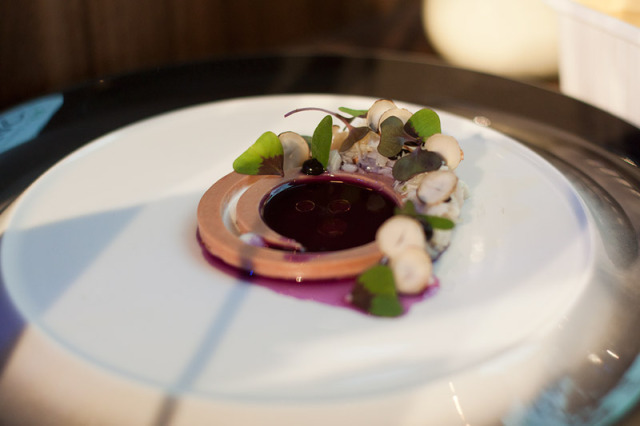 Foie gras, North Sea crab, black olives and fermented red cabbage juice, wood sorrel and hazelnut (if I remember correctly).
Jonnie Boer created one of his signature dishes of foie gras, North Sea crab, and fermented red cabbage juice, wood sorrel and hazelnut. This was the second highlight of the first Chef-Sache day. I found it interesting that Jonnie Boer uses fermentation for his cuisine in the same way as I have experience it at L'Air du Temps and at Fäviken Magasinet, and was sad that it wasn't possible to taste the dish. But that's how it is at events like these.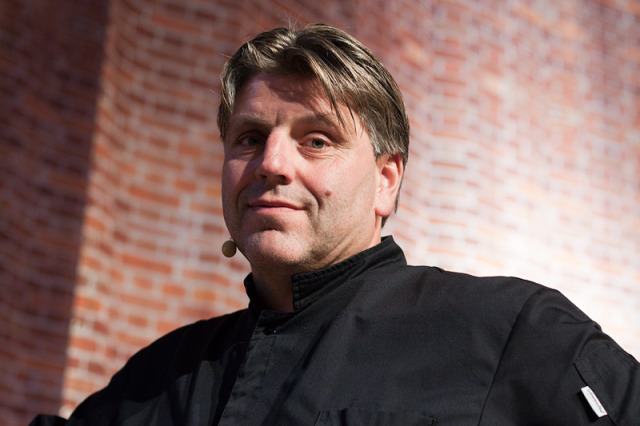 Jonnie Boer, Librije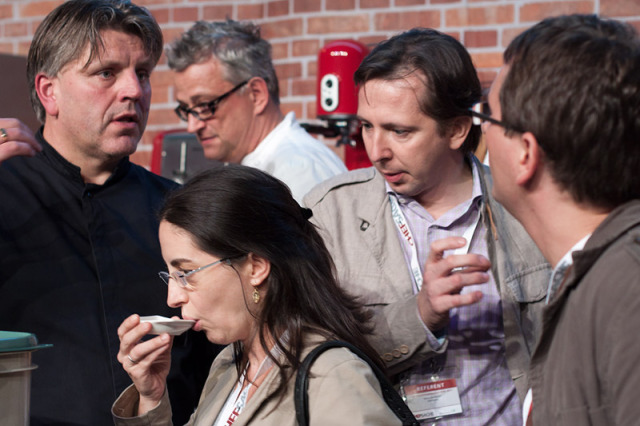 Jonnie Boer, Elena Arzak, Heinz Reitbauer & Andoni Aduritz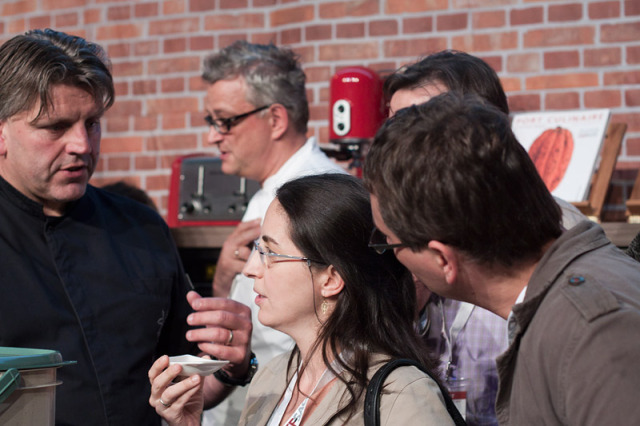 Elena Arzak tasting Jonnie Boer's fermented red cabbage juice and interprets for Andoni Aduritz
Monday the first four presentations on the Chef-Sache's second day focused on the concept of the New German School as a German approach to culinary progress. The idea is, freely interpreted by the press material I received, to make use of traditional German virtues in the design and implementation of culinary creations, and like German design or German engineering, to represent directness, hard work, perfection and ordered creativity.
The four frontrunners of the New German School (Neue Deutsche Schule) Nils Henkel, Christian Bau, Thomas Bühner and Sven Elverfeld  kicked-off the morning and each presented their restaurant philosophy.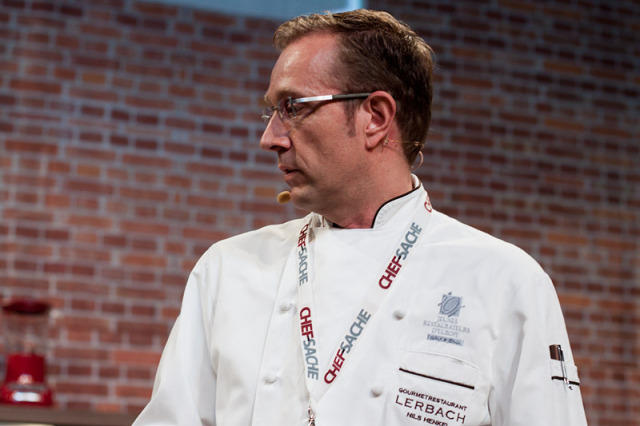 Nils Henkel, Schlosshotel Lerbach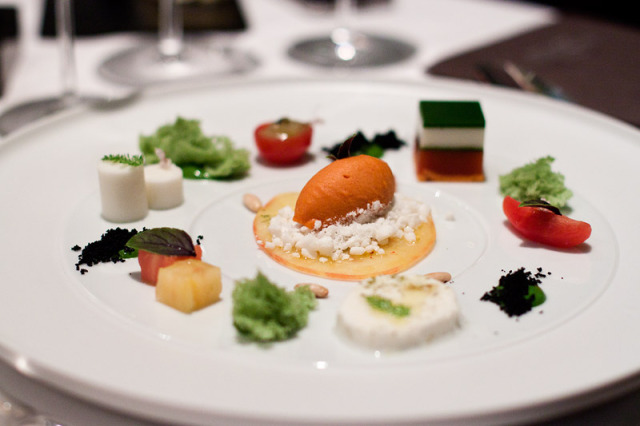 Tomato and mozzarella, Nils Henkel, Schlosshotel Lerbach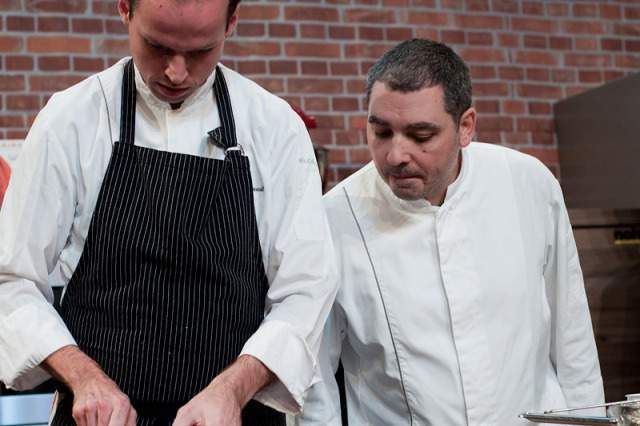 Sous chef Tristan Brandt and  head chef Christian Bau, Schloss Berg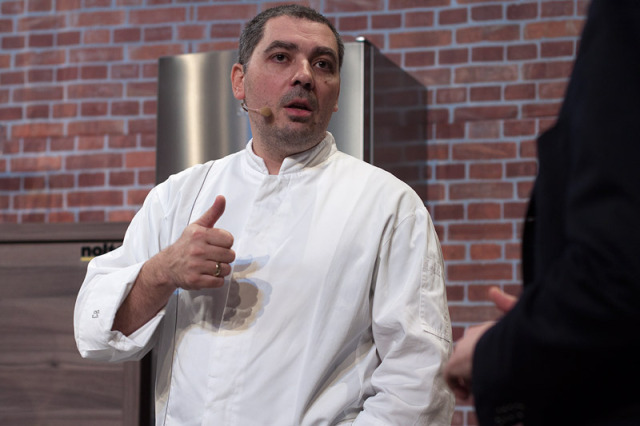 Christian Bau, Schloss Berg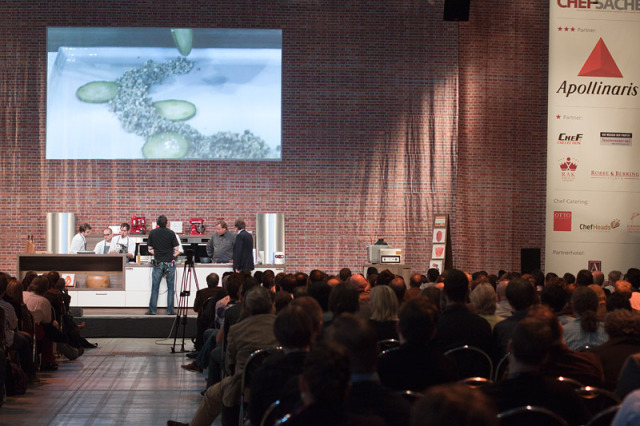 On stage: Thomas Bühner, la vie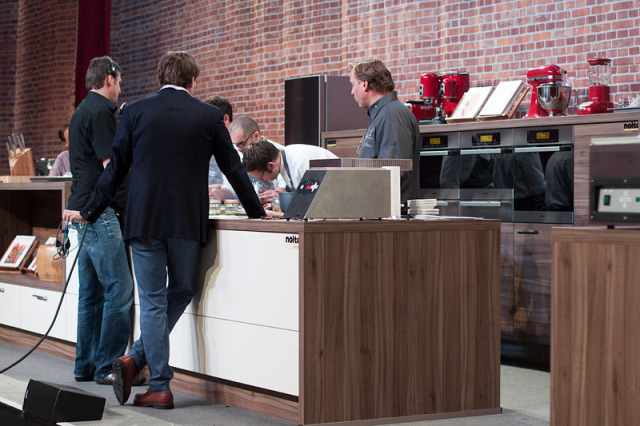 Thomas Bühner, la vie and moderator Prof. Dr. Ingo Scheuermann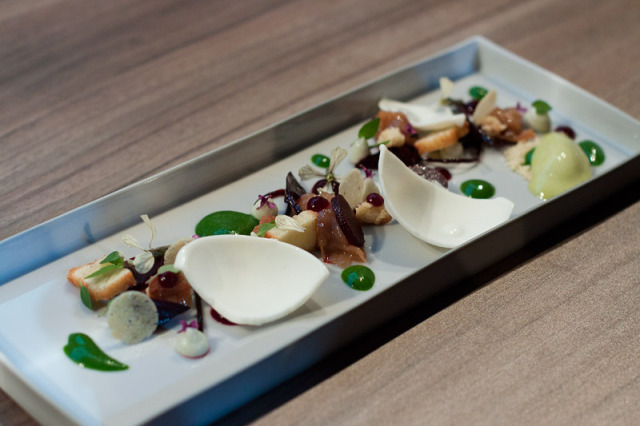 Gorgonzola by Thomas Bühner, la vie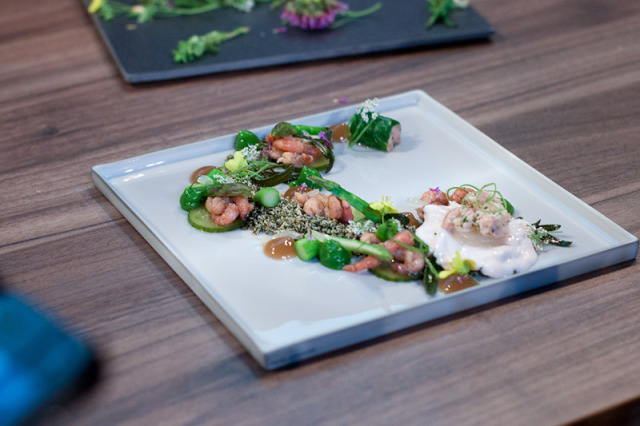 by Thomas Bühner, la vie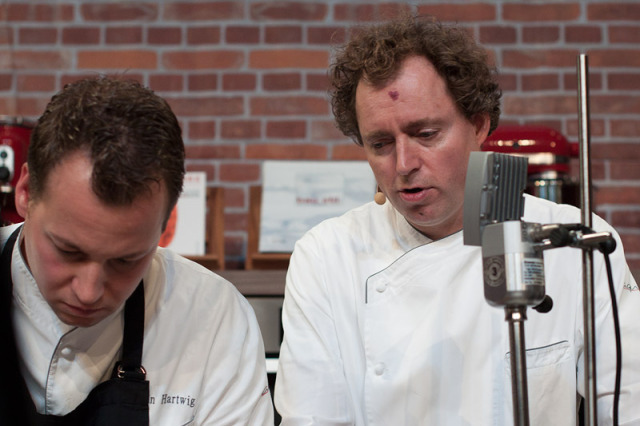 Sous-chef Jan Hartwig & head chef Sven Elverfeld, AQUA
Sven Elverfeld, AQUA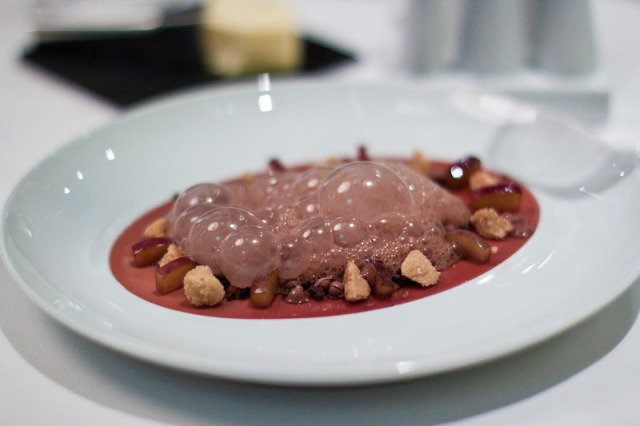 Foie gras and chocolate, Sven Elverfeld, Aqua
With my visit to Schlosshotel Lerbach the night before I've had the pleasure of dining at all four restaurants. To me, Bau and Bühner's creations are dominated by complexity, and with an incredible high number of different ingredients in each dish. I find that Bau leans towards French/Asian style where Bühner's inspiration seems more multinational. Elverfeld on the other hand focuses on local flavours and strives to invoke memories with the diner. So, where the new Nordic cuisine is an exploration of the local produce from the region, then the New German School is not only about local produce but indeed to apply traditional German virtues to the design and implementation of creations – as far as I interpret it. It's more about values than about produce, and that might turn out to be a very refreshing take on what nationality is all about.
As this was the very kick-off of this new German movement we still need to wait and see how it will evolve and what will really make the New German School stand out. Having said that, I'm very intrigued by what I have experienced already at these four restaurants and look forward to following the progress closely.
After the German chefs followed talks by Massimo Bottura, Elena Arzak and Andoni Aduritz.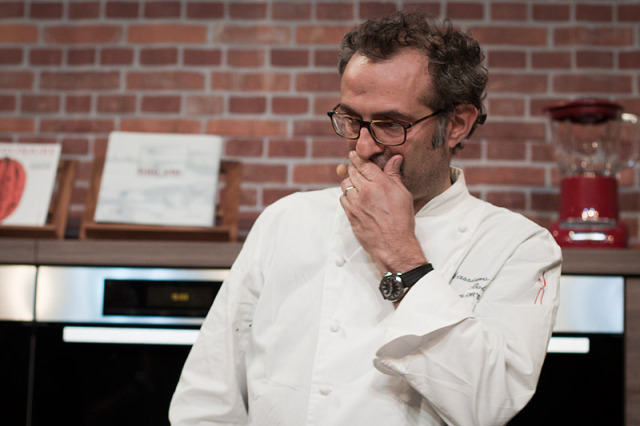 Massimo Bottura, La Francescana
Massimo Bottura showed the film Il Ritorno about food of the region Emilia Romagna, very poetic and beautiful. I was moved as I was the first time I saw it at the MAD Foodcamp in Copenhagen a month earlier.
[youtube]http://www.youtube.com/watch?v=-QqI5fIHuSU[/youtube]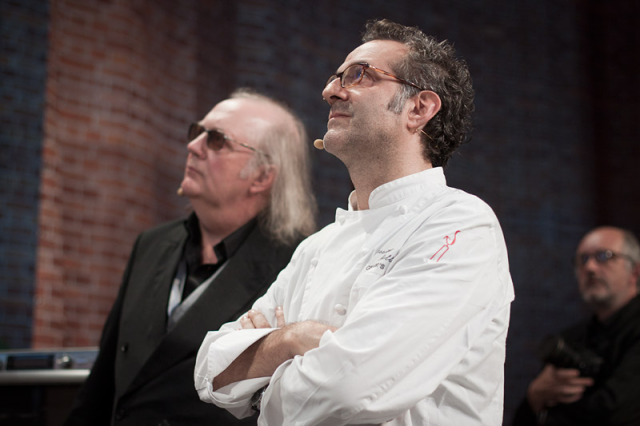 Jürgen Dollase & Massimo Bottura, La Francescana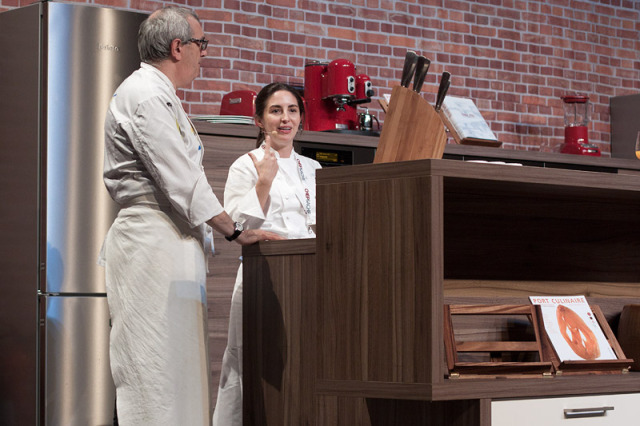 Elena Arzak, Arzak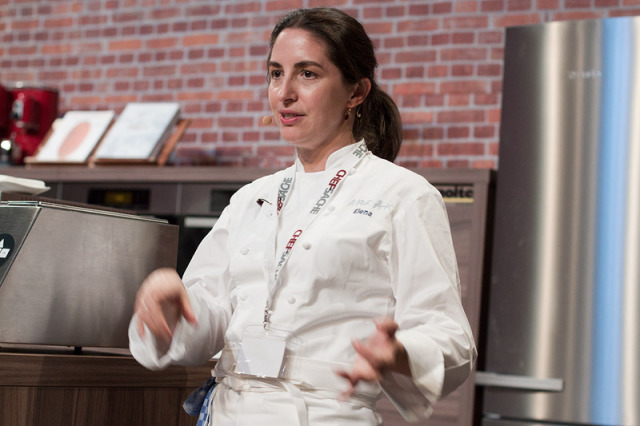 The highlight of all the presentations was to watch the enchanting Elena Arzak. To everyone's big surprise she spoke German fluently. She was so cool. Her performance was like watching a beautiful ballet, gracefully she moved around the stage and were completely in control of both the storytelling and the live cooking. By use of photos and videos she was telling the story of  the family restaurant Arzak initiated back in 1897. It was set up by her great grandfather and now being run by her and her father Juan Mari Arzak. I was completely captivated by her, so charming and a true natural talent.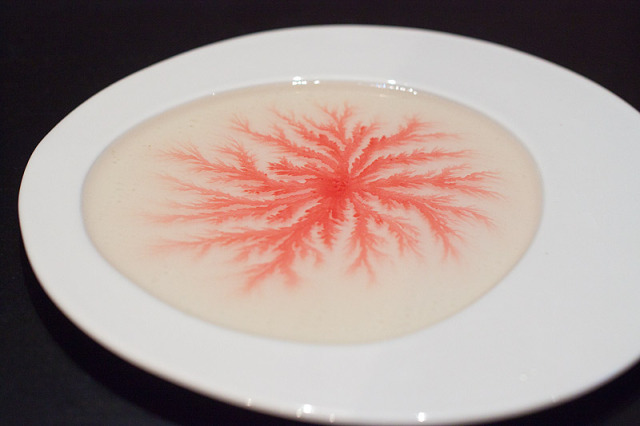 By Elena Arzak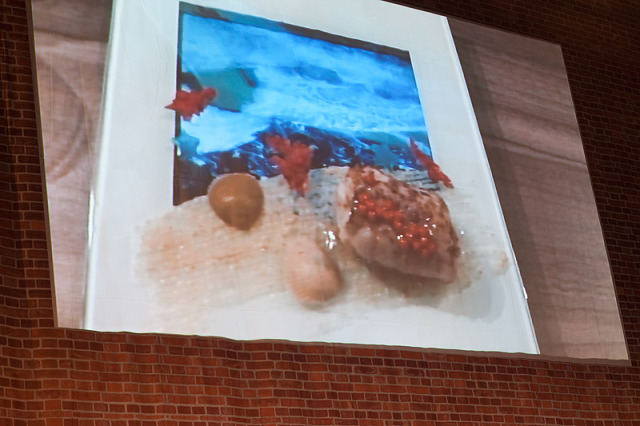 By Elena Arzak
Andoni Aduritz, Mugaritz (and Prof. Dr. Scheuermann in the back)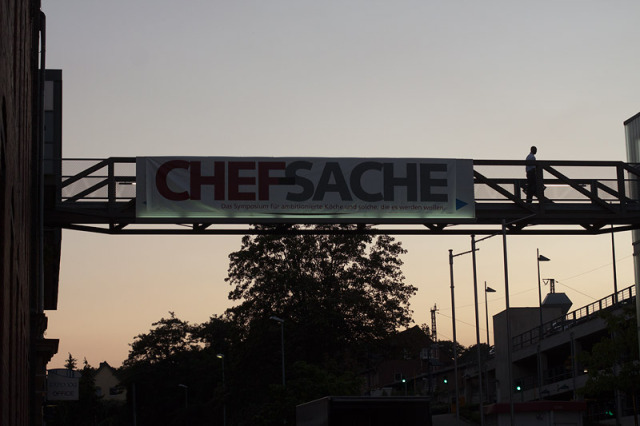 After the closure of the Chef-sache event I was invited to a gala dinner at Schlosshotel Lerbach featuring the four New German School chefs Bau, Bühner, Elverfeld and Henkel, where I got to try some of the dishes they prepared on stage. A stunning, all-star experience!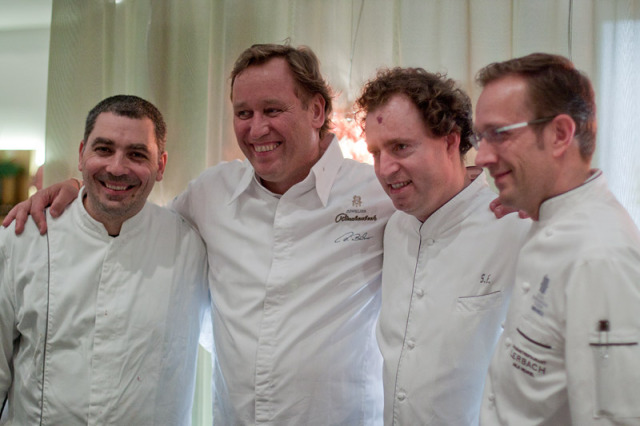 The slogan of the third round of the German culinary symposium Chef-Sache 2011 was: "Let`s move the culinary world". I was first of all moved by the kindness I met everywhere at the event and with everybody I spoke with. It may sound strange but I felt like I was a little fish in the ocean, but in the perfect element. The combination of the live shows and the possibility of chatting with all these star chefs before and after was so inspiring and I have discovered new exciting restaurants that I'd like to add to my wish list.
Not least, it was a great opportunity to meet old and new friends that share my interest (obsession?) with food, wine and restaurants. In a way I'm quite surprised by how rewarding it was for a person like me to attend such a culinary event. It's like to experience a little piece of heaven and I felt  like Docsconz.com said: Pinch me, so I know I'm not dreaming. I would love to return next year!
Many thanks to Ingo, Carola and the entire Chef-Sache organisation for this wonderful opportunity! Bravo!