So, Søllerød Kro was our last stop on the CPH Crawl. Before jumping into the van and drive up north I rang the inn to inform that we would be fine without a meat course. According to our plan we would only have been eating vegetables, fish and shellfish by now and had thus asked Søllerød Kro for a meat dish, main course if you will, as well as the dessert(s). But because of the late hour and the fact that we had eaten so much already, I felt bad about keeping the chefs in the kitchen all night just to cook for us.
It felt so good to see Jan Restorff again. Jan is the essence of the perfect host or maitre d'. He simply has the ability to make me feel good, comfortable, he is kind and friendly but never lose his sense of professionalism. And he remembers everything which is rather amazing. What I ate and drank when etc.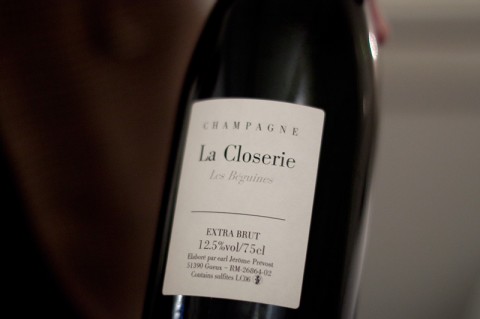 Jêrôme Prévost, La Closerie, Les Béguines Champagne – awesome
Sorry, I need to refer to an old post to show you the first course we were served of Jerusalem artichoke with celeriac, pear, and Macadamia nuts to start off with.
I guess I was too distracted and forgot to snap the dish. Anyway, I loved the freshness and deliciousness of the cleanser. The artichoke ice-cream matched with the fresh and crunchy celeriac combined with the sweet pear and the slightly salty Macadamia nuts.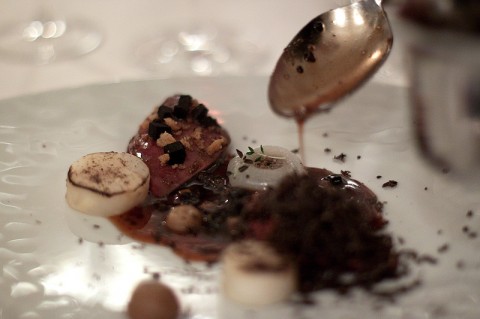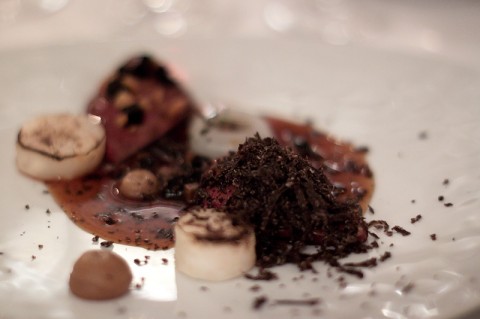 Pigeon, celery, onions and black truffles
Then followed the most marvelous pigeon, one of the best I've eaten lately, full of taste, not too gamy, fine quality without tendons. I was glad they hadn't listen to my request and even though I really wasn't hungry I enjoyed it.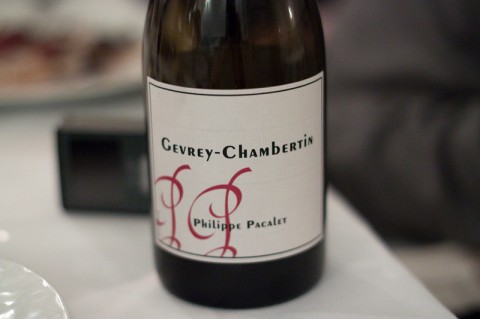 2007 Philippe Pacalet Gevrey-Chambertin
The wine that accompanied the bird was served blind. I was amazed that one of the guys was able to guess exactly what we were drinking and this only by sniffing the wine. This was his first visit to Søllerød Kro. I should have guessed that it was a Pacalet Gevrey-Chambertin for I've been served exactly this wine at Søllerød at least once before.
After the sea buck-thorn and carrot cleanser it was finally time for the delectable desserts we were waiting for.
Each dessert was so good in its own way. I loved the first one which was a new interpretation of a Danish classic of apples, crumble and cream. It's a perfect balanced taste with sweetness and acidity from the apples with the crunchy crumble and then the cream to round the flavours. Yummy!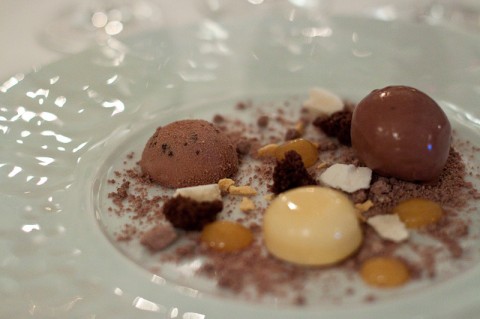 Cocoa, caramel, apricot?…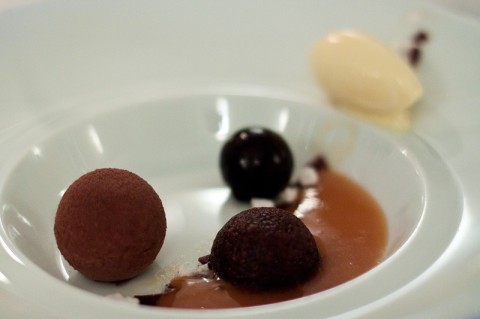 Chocolate, caramel, orange sorbet
The yellow ball here is the most fantastic orange sorbet I have ever eaten. It was bitter but not too much, it tickled my gums, and it was an excellent match to the rich chocolate.
There was one more dessert to go, but at this point I was way too full and too exhausted. I had to head it back to town and get some sleep before work the next morning.
That was the end of a wonderful evening. Conclusion will follow this post.
Warmest thoughts and thanks to all of you!