Last week I dined at the new gourmet palace of Tivoli, Herman, which is housed in the old Nimb palace. The restaurant is named after Thomas Herman, the chef, who before Tivoli worked at Kong Hans, Arzak (San Sebastian) and La Broche (Madrid). Thomas claims that taste has to do with recollection and that everything we eat reminds us of something or someone. I've heard that before. First of all when I eat good food I am often reminded of previous situations where I have eaten similar items. Secondly, Heston Blumenthal and Fat Duck play with our minds and try not only to get us to recollect the past, he also challenges our minds and teases us with food that look and tastes like something we know, but in reality is something else. Thomas takes it further and says that it's the way our emotions work and how we stay connected to the world. Personally, I have pondered about that. I was intrigued.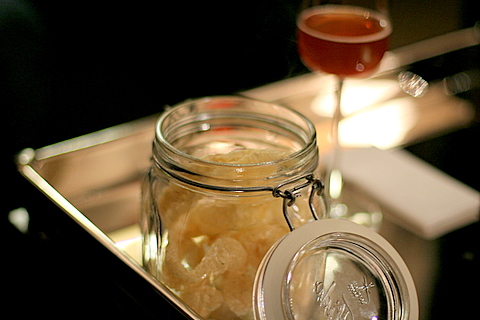 Crispy pork fat and smoke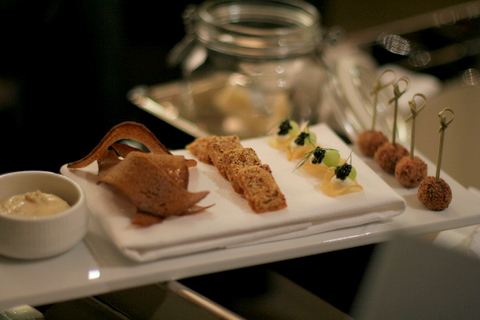 Nibbles
So, on Monday 13th of October I went to Herman with three other foodies. We started out in the arm chairs with champagne and snacks. I have to say that the lounge area does seem a bit snarled-up and not really cosy and relaxing. It's located right next to the reception desk and the entrance. So people pass by every now and again and it had a disturbing affect on me.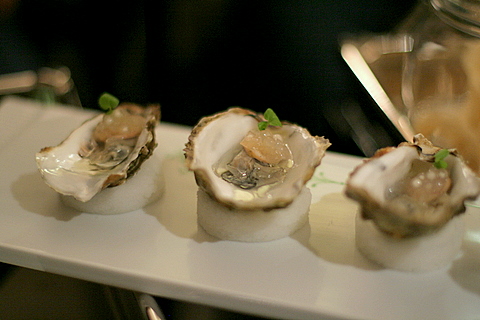 Wonderful Oysters
The snacks were fantastic, especially the oyster which was garnished with tapioca and a tiny bit of bacon or sausage of some sort, heavenly anyway. I could have eaten a dozen of those. Other appetizers were fried foie gras (the little ball) and crispy rye bread with a tasty lobster mayonnaise. We were offered two different champagnes to choose from and I ended up regretting not paying attention because I picked the Blanc de Blanc (and forgot about the name) and missed the lovely rosé NV Pascal Doquet, Le Mesnil Sur Oger which  my companion got and which offers such marvellous balance and a full body, even without being fuss. I don't like it so much when champagne is too acidic. Depends what I eat with it, I guess.
On to the tables and the fantastic interior. You sit in such a comfortable and a beautiful chair designed by the Danish cabinetmaker Hans Wegner. The tables are set with thick white cloths and matching serviettes folded with a silver napkin ring so stunning that I so pondered whether or not it would be too inappropriate and childish to try it on like a bracelet. (So, why didn't I photograph it?). The room was smaller than I expected and comprises about 12 tables in total. It was quite hot that evening and this might have affected how I experienced the wine, but I'll get back to that. There was a bit of noise too, so at times it was heard to hear each other. But this is something the restaurant will improve over the winter, we were told.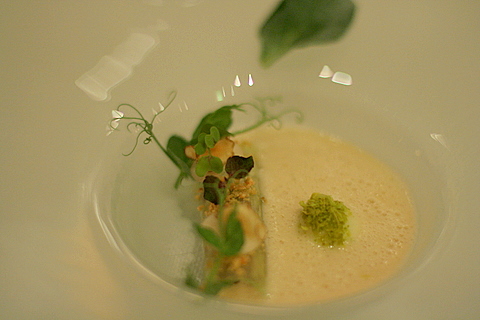 Bisque of jerusalem artichokes with smoked eel & green apples
Jerusalem artichokes in texture and old fashioned Danish doughnuts
Loire, Chenin Blanc (I missed the producer here)
The first dish was tangent to the oyster in delightfulness. Highly complex and so lovely. I can never say no to Jerusalem artichokes nor eel and this presentation was pretty and savoury. Note the soup that stays only on the right side of the apple-eel bridge. Marvellous.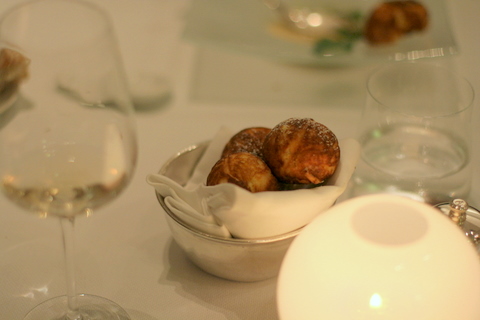 Lovely batter balls
The bisque was accompanied with light and tasty mother-in-law-recollecting æbleskiver – batter balls and apple compote.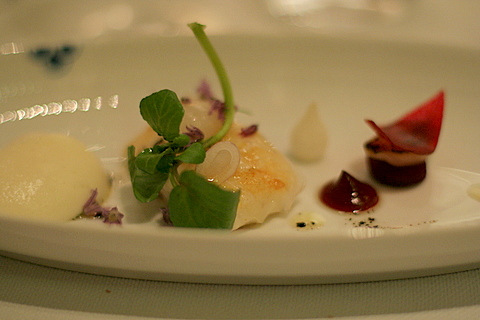 Turbot from the north sea as burning love
Lardo, potato sabayonne, roasted onions & wild watercress
2006 Domaine Leflaive, Mâcon-Verzé
Next was the turbot served with characterful garnish that supported the turbot very well and also improved the whole impression of the dish. Excellent.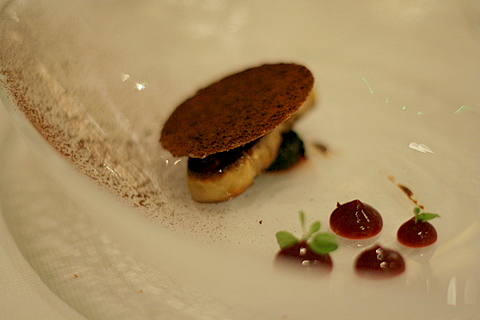 Fried froie gras & parridge made from plums
Cocoa beans, prunes & honey cake
2007 Felton Road, Pinot Noir New Zealand
Now, the fried foie gras was accompanied with plums that gave a good portion of sourness and fruitiness to match the fine-quality goose liver. A nice dish, but it didn't have that exclusive touch which gleamed the first ones.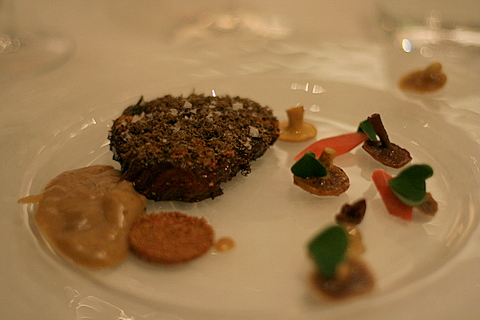 Beef (entrecôte?) with mushrooms á la crème & wood sorrel
Cep, brown clamshell mushroom, chantarelles & breadcrumb
2000 Château Lauduc, Bordeaux
At this point it was like the gastronomic imagination had completely left Herman. Alright, I asked for a different main course than pigeon, which I didn't fancy that evening. When debating the main course with the waiter I said that I would be perfectly happy without none if they weren't able to offer something else. After all, I wasn't exactly starving at that point and there were also both cheese and dessert to come. Anyway, I was offered entrecôte which I accepted.
The problem here was not only the bad quality of the meat (part of it wasn't possible to chew) but also the fact that it was cooked the exact same way as the poultry and that didn't suit it at all. The topping was truffles crumble, but lacked the flavour. The mushrooms á la crème had a nice cep-scent but the taste was sexless and completely without distinction. A disappointing dish.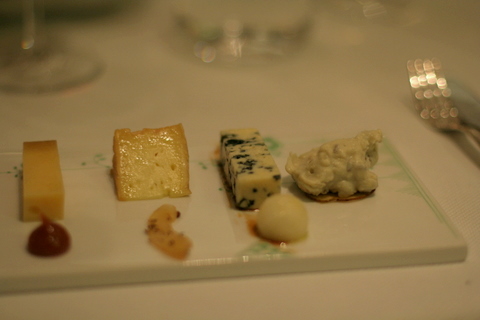 Danish farm cheeses with corresponding garniture & pumpernikkel
2005 Domaine Bott-Geyl, Gewürztraminer
Schloesselreben L'Exception, Alsace
A short break and we moved on to the cheeses of solely Danish kinds and each one paired with different fruit fitment. I was impressed by these cheeses because of their variety, quality and taste. I have a big soft spot for French cheese but these Danish ones easily made me just as happy.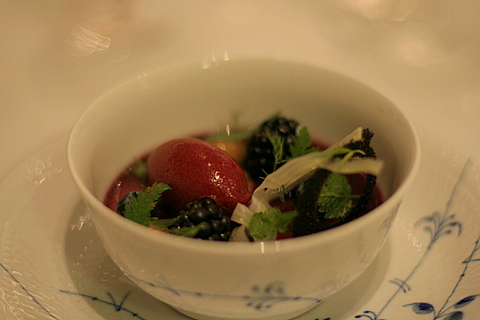 Junket mousse with dark berries & terragon
Brown sugar, liquorice & fennel
1998 Chateau la Casenove, 15/10 V.D.N, Riversaltes Ambre
The final dish hit the level of the first two courses and offered sophistication and complexity and wasn't too sweet. I liked the fact of including ingredients atypical for a dessert such as fennel for example. Excellent.
Tower of cake, cake and more cake
Unfortunately the kitchen hurried the southern Jutland cake, cakes and more cake so I couldn't really eat all of them. Well, one of each I mean. But the ones I tried were good.
I normally consider the set of wine pairings being good value for money, and I was therefore curious to try what Herman's sommelier, who's name I don't know by the way, would choose for each dish. He didn't impress me. Why not? First of all the wines were served at too warm. They may have had the perfect temperature in the bottle, but after one minute in the glass each pouring was loosing touch and the personality fizzled out. This alone may have caused my displeasure. Maybe I should state a disclaimer: I'm highly sensitive about temperatures. But, what I'm sure of however was that the Domaine Leflaive, Mâcon-Verzé left more body and a longer finish to wish for. Yes, you cannot expect the Mâcon to be as fulfilling as a Burgundy village, but comparing with Mâcon from other producers not as esteemed as Anne-Claude, some of these have been more fulfilling to me. The Felton Road Pinot Noir was okay (no oak), very fruity of course, and somewhat cool in expression but without the depth and sophistication that characterises the lovely red Burgundies.
Bordeaux 2000 is an excellent year but this Château Lauduc left me a bit puzzled – like it lacked something, fruit maybe or simply to have the right temperature. What I mean is, it lacked distinction.
I liked the Bott-Geyl, Gewürztraminer and it went well with the cheeses. It was aromatic, I like that for some reason, and so was the Chenin Blanc which offered a full bodied and greatness too. The nicest surprise was the wine accompanying the dessert, the Chateau la Casenove, 15/10 V.D.N, Riversaltes Ambre. It was rich in texture, full-flavoured and with a wonderful but only slight, highly balanced, bitter note and tempted with other spices. It made me think of pine trees and resembled a port-sherry mix. Too sweet dessert wines are not my thing, so this wine was great and it matched the mousse perfectly.
This write-up is from pure memory. I didn't take notes this evening as my priority was the party. Speaking of which, it seemed like it was the server's priority as well and seemed a bit overdone and too disturbing to me.
All in all very nice food. I'd surely like to return – also to give the wines a second chance. The dining room has a classy feeling to it that I fancy and feel comfortable with. Apart from the main course the food was very good to stunning, in glimts. Especially I was happy to see some new snacks that didn't seem to be copied from somewhere else I had just been visiting.
It's Thomas' desire to touch people's emotions by invoking memories. I only learned this last week when I started to write this post about my Herman experience. I didn't realise, for example, that one of the courses was an interpretation of  the old classic Danish dish 'Burning Love', which I haven't eaten since cookery class at school, by the way. Perhaps I would have don, if I were dining alone. The only food that gave me a flash back were the batter balls. Anyway, it might have been my fantastic company that stole all my attention that evening. If that's the case, it was worth every second of it. Thanks guys!
Thank you Thomas for the very good food – I'll be back for more!