The weather was lovely, the sun shining and the sky blue with white puffy clouds here and there above the old red bricks farm of In de Wulf.
I arrived in the late afternoon on a stunning summer day. We are in the Belgian countryside far from everything but close to green and yellow softly curved hills. I immediately wanted to photograph this beautiful setting – what luck that the weather was so nice after tree days of showers in Germany, Holland and Belgium.
For months Laurent has been rambling on about that beloved place of his, and I finally couldn't resist anymore and completely changed my holiday plans to squeeze in a visit to In de Wulf during my summer trip. Thank you, Laurent!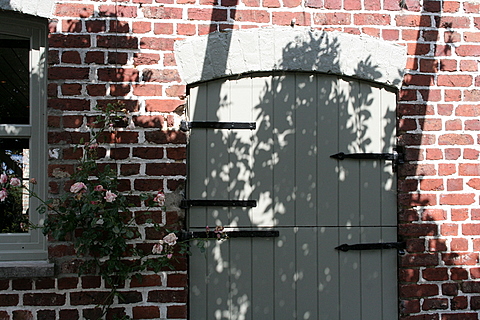 The scent of smoke and burnt wood hit my nose the instant I entered the door and stepped into the reception. A smiling and beautiful young woman (Chef Kobe's girlfriend Darinka as I was later to find out) in a simple but smart black t-shirt approached me in Flemish. I didn't understand a single word. "Ahh, you are Trine?" she asked. She welcomed us and explained about the dinner, our room and how the breakfast would be arranged the next morning. The guest rooms are located on the first floor above the restaurant and are decorated stylishly in harmony with the modern country style and light colours. After lodging, I hurried down to snap some photos of the house and the terrace while the weather was still good.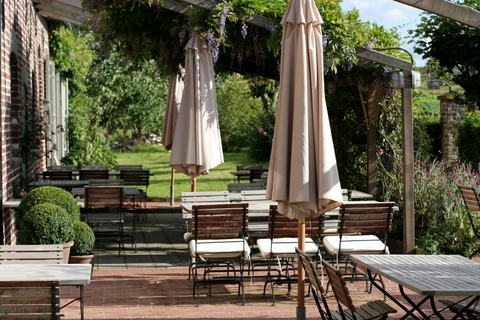 Part of the kitchen faces the entrance hall with windows at the top allowing chef and owner Kobe Desramaults to keep an eye on the lounge and the reception desk while he is working. I was photographing towards the kitchen and suddenly Kobe showed up, welcomed me kindly to In de Wulf and explains how it all started. Kobe's mother was running a brasserie and hotel in the old farmhouse where Kobe grew up. After the apprenticeship Kobe worked at the restaurant Oud Sluis and after that moved to Barcelona to develop his abilities further at Comerç 24. When he returned to Dranouter in 2003 he started to renew the kitchen but still with focus on the Flemish roots, not only with regard to the food and the menu but also to the interior and guest rooms. In 2005 In de Wulf was rewarded with the first Michelin star which made Kobe one of the youngest Belgian star chefs ever.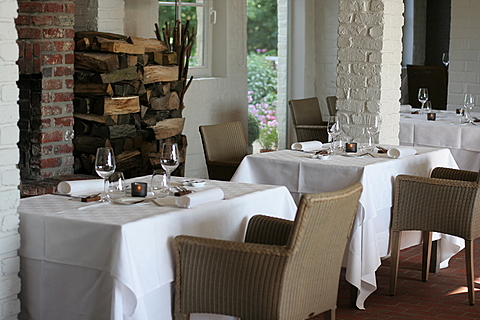 My dinner was set to 7 p.m. but I went downstairs ten to seven to get a chance of shooting some photos of the dining room before people would start to arrive. The room was sunbathed in lights from the big floor to sealing window and romantically lit-up by candle lights on the tables and the shelves around the room. I was excited.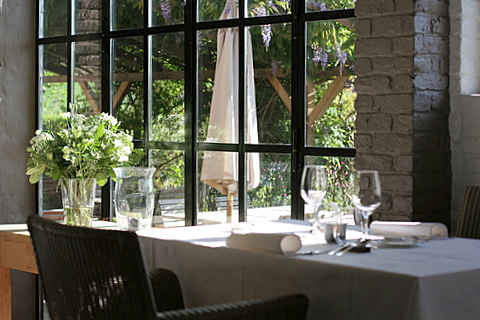 Although it was still warm and sunny outside I was invited to have the appetizers in the lounge. I kinda regretted that I didn't suggest the terrace for this lovely summer evening. I suppose that I just hadn't imagined that the black t-shirted and slightly shy-ish waitresses to bring me five delicate appetizers to accompany my glass of very nice and full-flavoured champagne.
The Appetizers…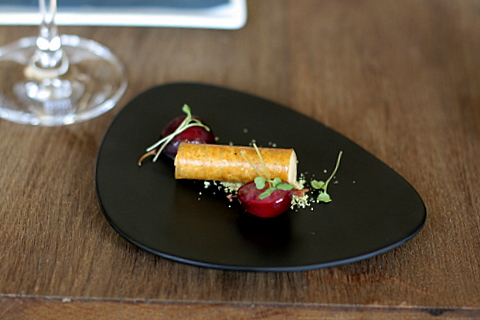 Foie Gras Crisp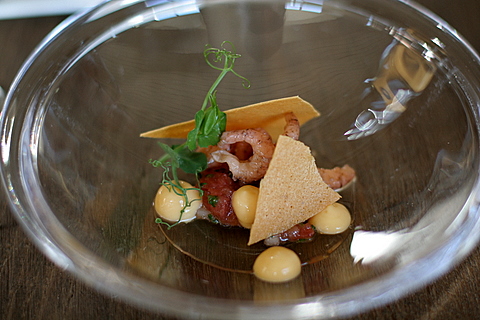 Tomato, shrimp & mimolette cheese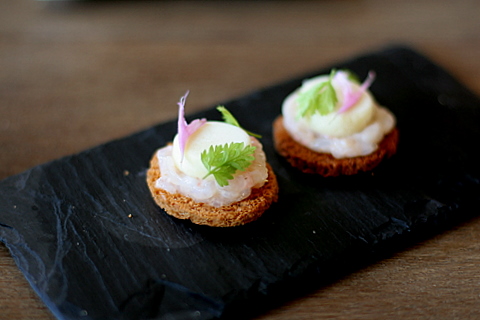 Langoustine sandwich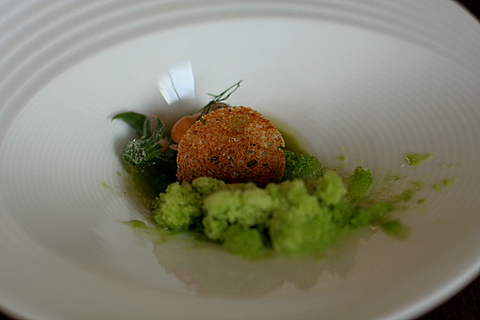 Bouchot mussel "escabeche", green apple & lavas coulis,
celery powder ice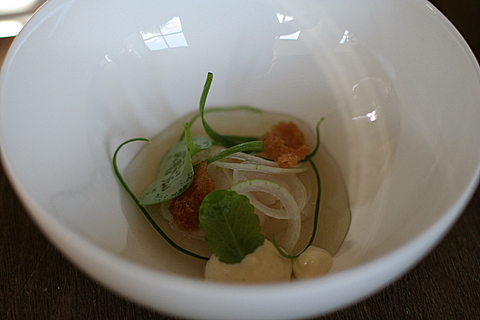 Marinated bass, wood onion, alga jelly
Take a look at the photos of these appetizers. They are as beautiful as they were tasty, and I was amazed at the generosity of such exquisite products like foie gras, langoustines and bass. I was amazed at the variety of them in terms of products and compositions. They presented an overture of what I would experience at the dining room table. One minor thing. I wasn't given a clean fork and spoon when a new appetizer arrived and I found that such a pity because it disturbed the aesthetic sense of this otherwise perfect start. My tea spoon and fork was put on a little wood block while waiting for the next one to come. I didn't see why we couldn't have got a clean set and wondered about this type of saving. The menu was named Land and Sea
Herring, herbal yoghurt, borage, pickled cucumber and herring caviar
I am Danish and I grew up by the "store kolde bord", a number of classical Danish open sandwiches, where the vinegar-marinated herring with bay laurel leaves is the invariable first course, served with fresh onions and capers. The taste of this dish is very aromatic and it was that kind of herring that was on my mind when I read herring on Kobe's menu. I found it hard to translate it into something taking part in a culinary and fine dining experience, and I was therefore a bit distrustful. But my scepticism sank into insignificance by my first bite. A magnificent balance characterised this dish and was composed by the green and intense-flavoured herbs puree and the salty caviar. The highly-acidic cucumber cubes drew away the fatness of the fish that was delicate in taste and not too acidic. I found it a very daring but fully justifying dish. I was impressed and even more curious about the dishes that would follow.
Duck liver terrine from Bekegem, red beet
This dish transported me backto the Denmark again and another the classic of pork liver pate on rye bread with marinated red beet on top. The beet and duck liver terrine marriage works because of the sweet and acidic beet balancing the particular taste of the liver. Like the amuse, the flavour of this foie gras was mild and refined.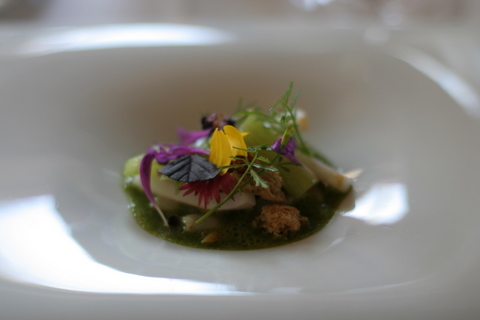 Sepia of Nieuwpoort, cockle razor shell, young fennel, tapioca and flowers from the garden
This squid was one of the highlights. First of all it looks like a oil painting with all the colours of purple, green, yellow and pink and this is always a good way to start, if your purpose is to seduce me. Also the flavours were excellent with the shell fish that had a nice fresh taste of the sea and the perfumed flowers added sophistication. A frail and beautiful serving. The first few dishes were accompanied by a 2007 Nikolaihof Grüner Veltliner, Wachau, Austria which was very pale in colour and offered a delighting fruity nose and palate dominated by crispiness and lemon/lime peel tones.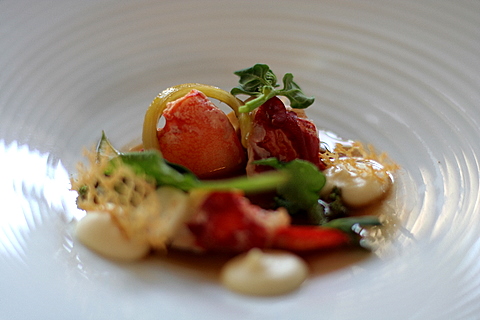 Lobster, celery, clarified broth from crustacean, herbs
I liked the lobster too with the bitterly flavoured herbs, but I don't remember much from it as it wasn't as surprising as others of the many culinary impressions of this evening.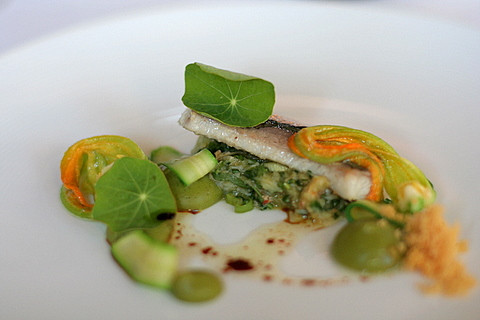 Eel from Oosterschelde & North Sea crab, courgette cream and flower, tarragon and crab dressing
I love eel and this was of a fine quality. The courgette flower and the tarragon especially almost over powered the delicately flavoured ell. I still found it very good, though. The wine that accompanied the lobster and the eel was a very aromatic but enjoyable 2006 Savennieres Chenin Blanc, Loire that matched the dishes well.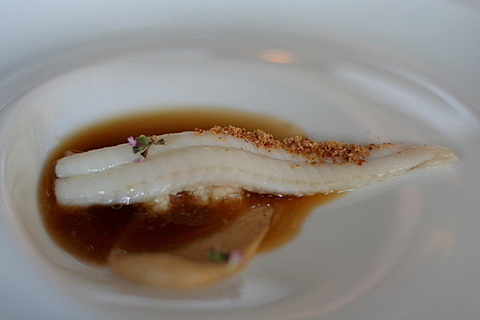 North Sea sole, young cauliflower, broth of poultry and smoked garlic
A pure and simple sole fish of incredible high quality and which was perfectly cooked and still juicy. The cauliflower was nicely tuned in for the delicate sole and not too powerful. Brilliant.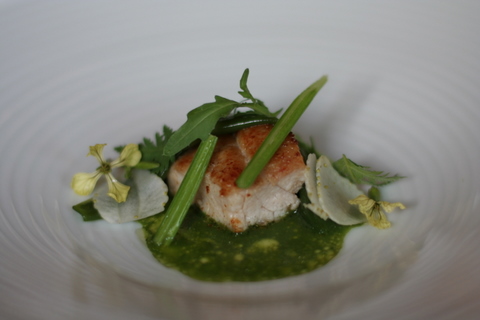 Sweetbreads, celery, coulis of rucola, chervil and green strawberries
Like with the herring, the sweetbreads were accompanied by a green sauce of bitter-flavoured herbs. Very good. The wine here was a 2005 Grand Enclos du Chateau de Cerons from Graves, Bordeaux of Sauvignon and Semillon grapes. Its full palate revealed oak in a refined way and a sour-ish but elegant finish. Then followed the Flemish milk pig, belly lacquered with Cole seed flower honey, sun flower seed "gomasio" & mustard lettuce. I'm so sorry because I completely forgot to photograph it. It was lovely and very unlike pork in flavour, more rich than usual. It reminded me of the five year old pork I had at noma earlier this year. But how the intense taste was given to the suckling pig is still a mystery to me. An Australian 2006 Brown Brothers Everton of Cabernet Sauvignon, Shiraz and Malbech with a spicy and Spanish-like nose and palate, full of fruit and tannin and with a long finish accompanied the pork. It could have been served a little cooler.

Cheese Accompaniment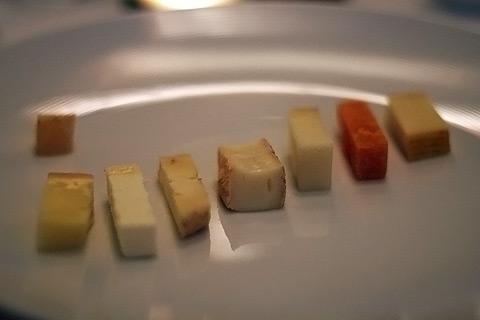 Assorted plate of typical North-French chesses
I was keen on trying the chesses but wouldn't sacrifice the desserts, so we split and I tasted a bit of it all. The cheeses were all of cow milk because there are only few cheeps and goats around the area close to the French border, but that suited me well as goat's cheese is not my favourite thing. The cheeses were served at room temperature and their flavours seemed somehow more pronounced, and I really liked that.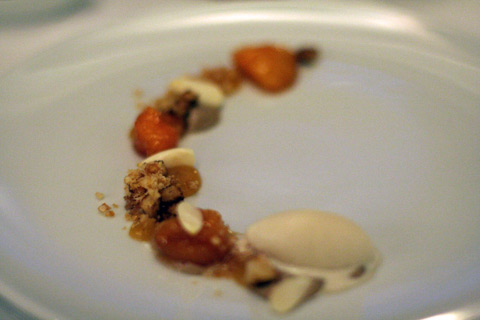 Marinated apricot, "babelutte" & brioche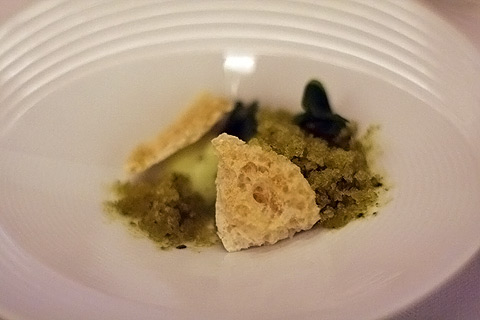 Sorrel, mint, lemon balm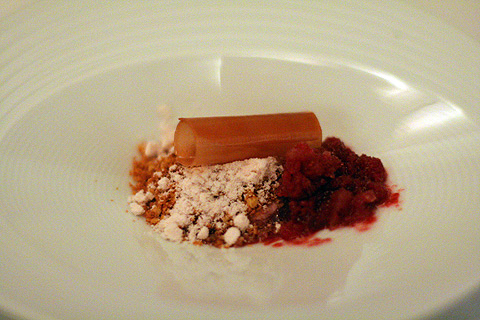 Chocolate, cassis and red fruit
Unfortunately, I have no notes on the desserts. But I remember thinking that the green sorrel and mint one reminded me of the sheep's milk mousse and sorrel dessert of noma, in fact many things did, but I'll get back to that. Lovely sweets and I didn't really have anything to add there, or to the perfect and strong coffee afterwards.

And when I thought that this was it, one more sweet was placed in front of me.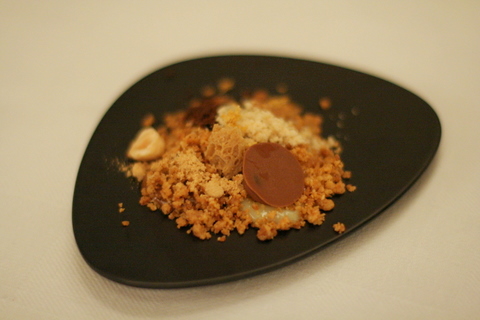 A signature composition of Kobe's comprising wonderful hazel nut granules that I immediately became addicted to.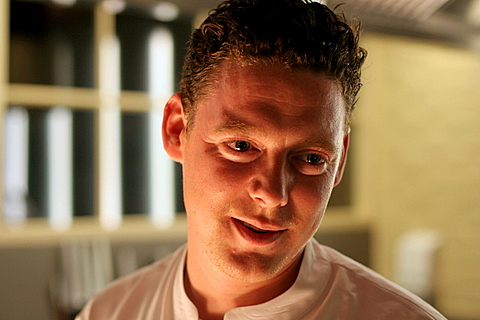 Kobe Desramault
After the coffee, Darinka kindly invited me to visit Kobe in the kitchen which was a fantastic thing for a foodie girl like me – like if I in some naive way hoped to discovered one little secret about the fabulous food beeing created there. It seemed like a well-equipped and great place to work. At least it's three times bigger than that of Mr Pierre Gagnaire.
It had been an fantastic dinner. Each of Kobe's dishes was followed by another delightness thrilling me more and more. All the servings were refined beauties and I like that so much about Kobe's creations. And of course it's admirable to dedicate a restaurant to one's roots. This brings me to the number of small coincidental similarities with my beloved noma. I took note of little black serviettes, squared plates of wood for serving things, the extensive use of (wild?) flowers, the tasty pork, the decoration of the loo with dark wood, candle lights and flowers. A feeling of being close to nature, the use of fur and the jazz music being played softly in the lounge. The pureness, the simplicity but elegance all at the same time combined with the wonderful and high-quality of the delicate food products and impressive technical skills, this was outstanding and precisely my kind of food.
I went to bed full and happy.
The next morning after a good sleep I went down stairs for breakfast and what a pleasant surprise. I sensed the smell of fresh coffee. The breakfast room is small but most romantic and beautiful. It was just like stepping into an old doll's house with the old wood stow, the white-painted tin jugs and patent containers.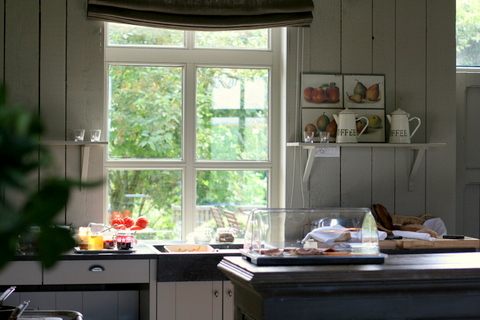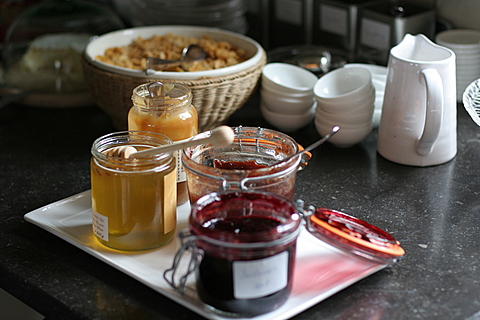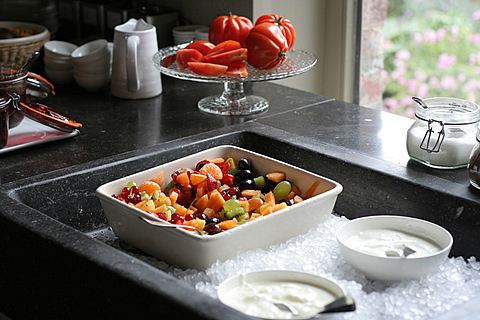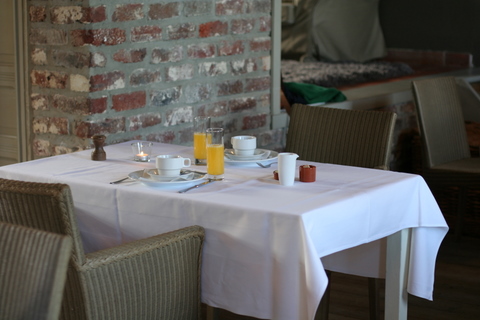 Everything was tasty and of high quality. The croissants were perfect with the fragile crust and slightly spongy inside, homemade jams side by side, the cheeses were excellent and full in taste, the fruit salad was fresh and clearly prepared the same morning and made of the best fruits, the bacon and egg prepared just as I desired. I believe this is the loveliest breakfast I have ever experienced. It was a perfect setting of an idyllic farmhouse. How could I simply not love it?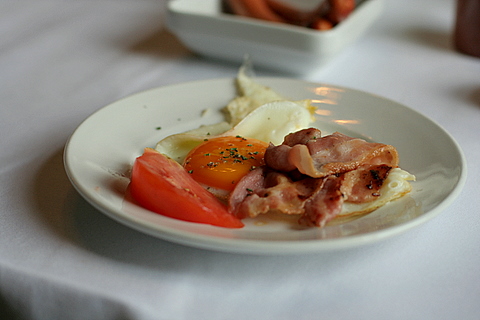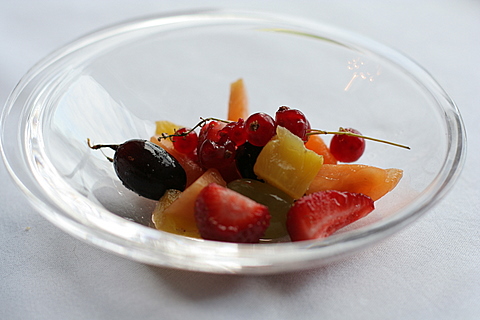 I have often pondered about those top notch restaurants with all the glory and incredible creativity and how it all began? Well, this post is about a place where the team is gifted to take it to the next level, if they continue to work as hard as they do at the moment. The team is still very young, resources may be limited, and improvements can made here and there, but they possess a huge talent for quality and to make things right in everything they do. They know what they want, and most importantly they know what the customers appreciate. I was completely blown away by their sincerity, their opennness and being down-to earth, so personal, humble even, and by their belief in how In de Wulf should be run. I can't wait to go back! Dear Kobe and Darinka and Heidi, thank you for such a surprisingly wonderful experience. I'm in love!