"Let me know the day you're ready for Gagnaire… I'll join too", this is what Laurent wrote to me months ago and by that the first very good food / Gatros on Tour epicurious date saw light.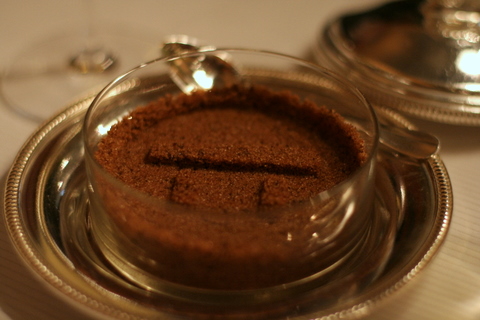 Laurent discovered my very good food blog, when he was searching for some information about noma prior to his first visit to the restaurant. Laurent also wrote about his Fat Duck experience on the blog, which made me realise that I had to try Mr. Heston Blumenthal's innovative and unique cooking. Together with noma, Fat Duck is to date my number one dining experience. Both restaurants have a unique personality and serves distinct and impressive food with an enormous and a smitten enthusiasm and I'm unable to put one above the other.
With our same taste in restaurants, I thought I must try Laurent's favourite Parisian restaurant Pierre Gagnaire and we set the date to April second – code name PG0204. Each of us have reviewed our lunch and I am grateful that Laurent had the patience to wait with publishing his PG0204 review until I had finished mine. We have shared the photos so you will see identical pictures in both posts.
By the way, Laurent did suggest other less expensive places for our lunch, but I was determined that Pierre Gagnaire would have the unique personality and would be the right place for my very first fancy meal in Paris. I had been to Paris a few times before and looking back, the forgettable meals and gross disappointment at the oldest restaurant in town sort of seeded my idea for this blog – I wanted to share my very good restaurant experiences, so that people would not make the same mistakes as I did. Life is too short for bad meals, you see.
Anyway, early morning on April 2nd I flew in from Copenhagen, taxied to my hotel and changed clothes in the tiny bathroom of the hotel basement, because my room was not yet available. Like any other woman with just a little bit of vanity, I had pondered about what clothes I would wear for such an important occasion. I had concluded that my brown Helen Mirren dress with the matching shoes and black Wolfords would be appropriate for my lunch in one of the world's finest restaurants. OMG, I could hardly believe that I was just about to really experience a three star Michelin restaurant in Paris – I expected the quintessence of fine dining, no more no less.
I took a taxi from the hotel and tried to calm myself down and enjoy the view of the Tuillerie Gardens, Les Champs Elysées and the other beautiful and historic attractions I passed by on the way to 6 Rue Balzac. The excitement was about to take control of my being.
Our appointment was at 12:15 and I was fashionably 5-10 minutes late when I finally shook hands with Laurent V of Gastros on Tour. He was waiting for me in the lounge that you enter before you reach the dining room.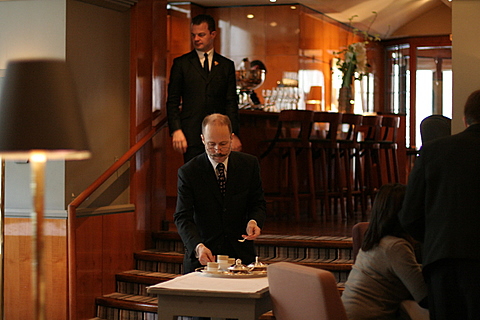 The Pierre Gagnaire restaurant is actually situated in the Hotel Balzac so the loos for example are part of the hotel building. I'm not 100% sure why it is so, but there's something about hotels and luxurious restaurants that I do not like so much. I prefer independent restaurants. Sometimes there can be a slight worn-ness about the interior and the bathrooms in such hotel restaurants, which also was the case there.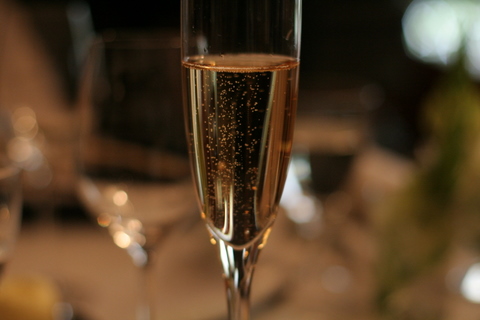 We got seated at the little plateau at the back end of the exclusive and carpet-flooring accommodation and amused ourselves with a glass of Henry Giraud, cuvée "Esprit", N.V. offering a nose full of complexity and sophistication reflected also in the rich and balanced taste that was weak on acidity. I loved this champagne and it's fine tiny bubbles.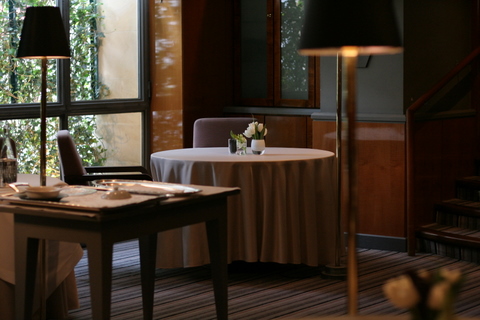 We well-conductedly studied the menus but quickly agreed that 255€ tasting menu was the only choice to fully get the sense and impression of Mr. Pierre Gagnaire's highly esteemed restaurant, which is in the top 5 of most restaurant guides of the world.
The appetizers arrived immediately:
The atmosphere at Pierre Gagnaire is very elegant and fashionable but in a cool way, I would say. There was very much a business feeling to it although some of the other guests surely were not at work, or seemed not to be, that is.
To drink we ordered a 2001 Domaine Leflaive Puligny-Montrachet which of course was very nice but didn't really reach the level of what I have encountered with the 2004 ones, ironically because I tend to say that the acidity of 2004 is a bit to racy sometimes (same producer). This 2001 one was delicate in taste and eveolved during our meal. But is never became as powerful and with the character I usually find in them.
About the wine list, for a *** Michelin restaurant I would consider the list shortish and the white Burgundy section only counted about 15 different ones covering village to grand cru – as far as I remember.
Le menu Printemps /01/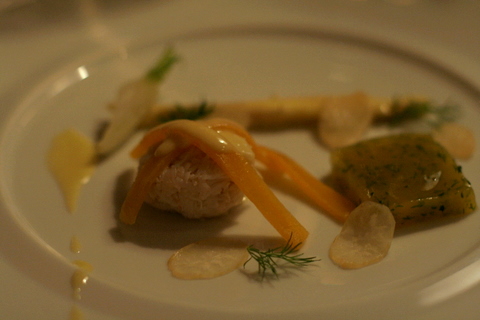 Pressé de tourteau, gelée d'agrumes à l'aneth.
Aiguilles de raie, chaud-froid d'huile d'olive foisonnée au miel du désert des Agriates.
Abricots secs et navets croquants déglacés de cidre fermier.
The first dish comprised a really nice, pressed hermit crab and citrus fruit jelly with dill, turnip and dried apricots. I particularly liked the green jelly even though is nearly was too intense for balancing the sweet crab meat. Very good.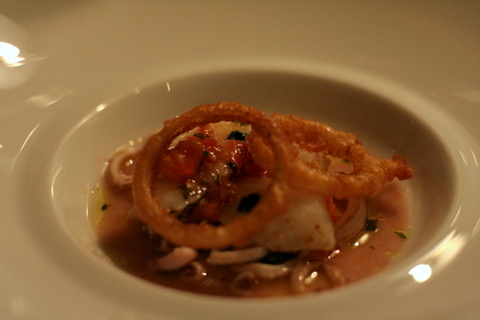 Blanc de Saint Pierre raidi dans un beurre mousseux estragon et piment d'Espelette ; coeur de tomate, rouelles croustillantes d'oignon doux. Salade d'encornets en fond d'assiette ; sirop de rhubarbe acidulé.
This is the most delicious John Dory fish I have ever had judged by the quality and the preparation. The dish as such was quite classic though, but balanced in taste with the fried onion rings.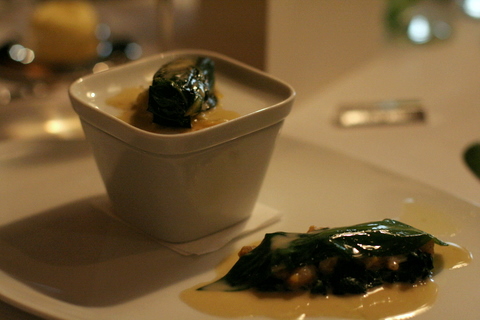 Mousseline de sandre : fèves, petits pois et lard fumé.
Blette en paquet, choux coeur de boeuf, sauce Poulette.
Grenouilles meunière enrobées d'une fine polenta au colombo, ail des ours.
A very interesting, creative and delicious dish, mild in taste but with a earthiness to it. In the cup were delicious peas, and now trying to translate the menu I realise that I was eating frog, but it was very good. It's actually very difficult to describe what I liked about this dish as I was kind of eating blindfolded not knowing was I was eating. I'm sorry I didn't have an English menu to my aid.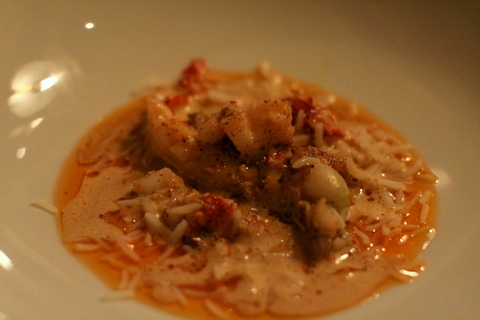 Homard bleu au gingembre frais ; crème de grenailles de Noirmoutier au Pineau des Charentes, cassée du jus de carcasse.
This was a lovely lobster and lobster-shellfish juice but sadly accompanied by rice that gave a heaviness to the dish that was completely unnecessary and took away some of the delicate characteristics about the lobster. I could see the point in the beautiful look of the dish kept in white and orange/red colours, however.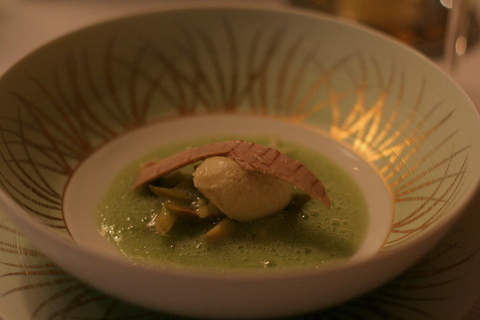 Glace d'asperge blanche à la cardamome ; velouté clair de concombre, olives vertes de Lucques, mangue du Vietnam. Ventrèche crémeuse de thon blanc.
I loved the look of this serving. It's brilliantly capturing the grooves of the tuna piece and the golden stripes of the plate like the green colour matched the soup. But the taste of the dish didn't become me that well. I'm not so fond of cooked tuna and cucumber soup. I prefer raw tuna. But from a quality point of view it was top. I think perhaps the dish as such lacked a bit of sweetness.
At this point we were kindly offered to visit the very small kitchen considering the size of the restaurant. Wow! This was a fantastic experience for me. While Laurent spoke with head chef Michel Nave and I understood nothing, I shot as many photos as I could for the approximately five minutes we were there. I'll let the images do the talking here.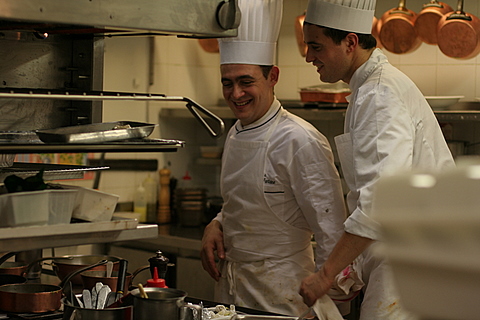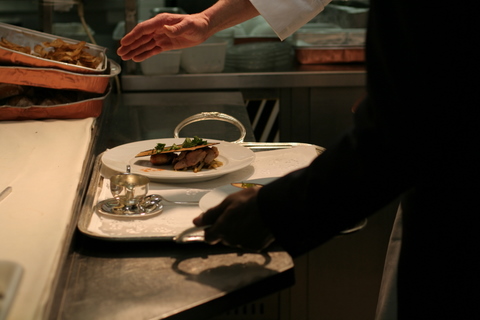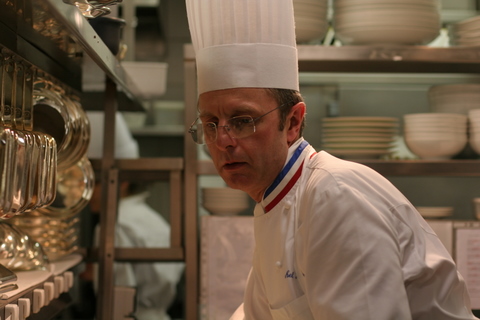 Head Chef Michel Nave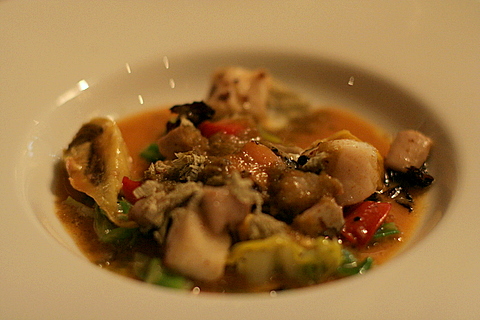 Poêlée de rouget de roche au vadouvan, huître Gillardeau et coquillages du moment. Artichauts poivrades croquants, dés de lisette et jus de bouillabaisse en assaisonnement.
This oyster dish was the highlight of the meal and it's a candidate for the meal of my life if I should ever compose one from all my lovely dining adventures. I don't know how to described to give it full credit for it's excellency. All the ingredients complemented each other, I wasn't able to really tell what they were. It was completely complex and completely moving, and I was so amused to hear the sounds of concurrence from across my table.
Red mullet, oysters, Jerusalem artichokes, shellfish, vinaigrette sauce with pepper and bouillabaisse as far as I'm able to translate with a dictionary. Simply so stunning!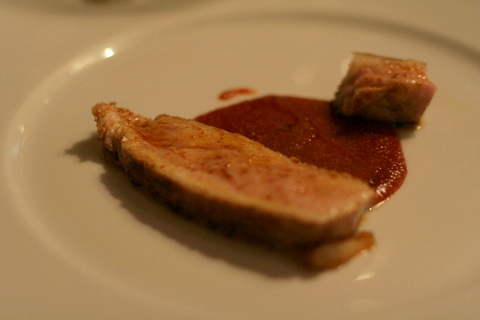 Côte de veau de lait rôtie entière au plat.
On vous sert une tranche, badigeonnée de paprika et de curry doux de Madras, puis posée sur un coulis de poivron rouge à l'amarante. Mascarpone et chlorophylle de roquette.
The main course offered a fine slice of exquisite veal of the highest quality which was stressed by the mere presentation of the dish. I greeted the simplicity after extensively complexity of previous courses. The red paprika-curry sauce comprised some grains, which I haven't found out what was but complimented the softness of the meat.
Trois fromages…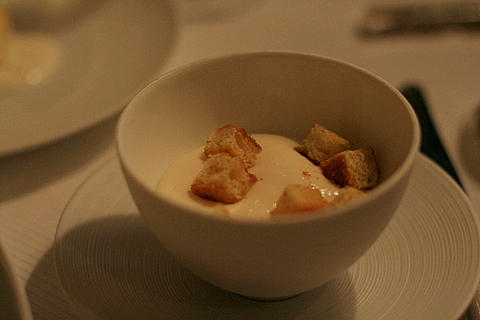 Parfait brebis, bûche du Gers ; mélasse de caroube.
Bourse de Stilton, velouté de laitue.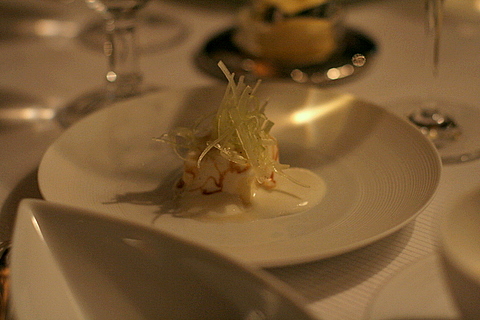 Brioche de camembert fermier, feuilles de pomme.
Have you ever tried cooked cheeses? I surely hadn't and what a pleasant surprise completely new to me. Camenbert, Stilton and Basque Brebis are all my favourite cheeses and I think it's a nice choice of selecting the Stilton to a French blue cheese. I love cheese but I'm no expert so I'm unable to figure out what made that decision.
The essence of these three dishes was that in a cooked way you get more fulfilment of the cheese dish as you add sweetness, sour and bitterness to the cheese which underlines the characteristics of the cheese itself.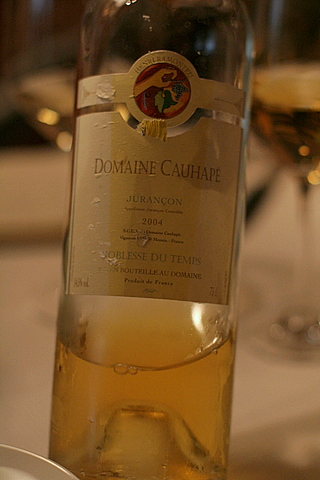 2004 Domaine Cauhapé, Noblesse du Temps, Juracon
On an other cyber occasion Laurent encouraged me to try a Juracon and so this wine was an obvious choice. It also proved to be excellently matching the citrus with the bitter tones in the after taste.
Les desserts de Pierre Gagnaire…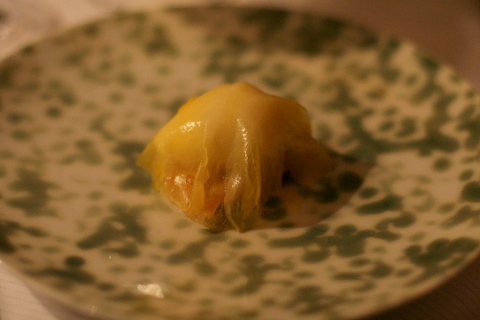 Pinapple layer covering a lemon sorbet and lemon confit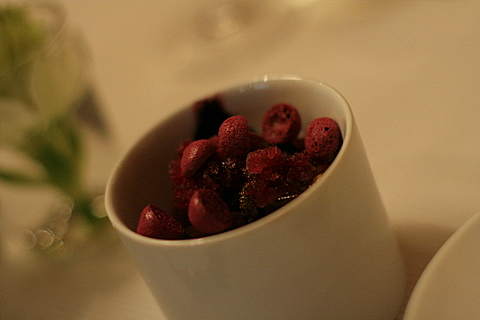 Wine granité(?) cassis, meringues… something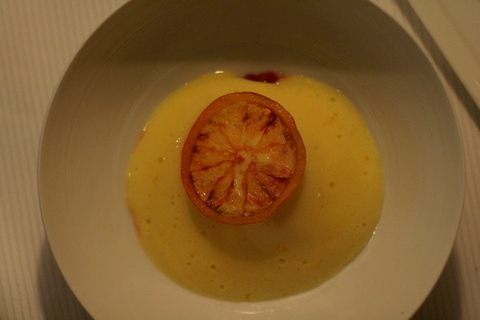 Blood orange underneath the yellow papaya(?) cream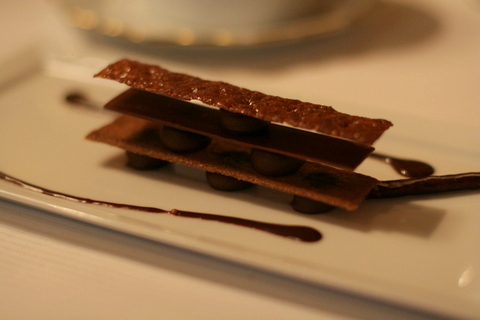 Chocolate!
The desserts were fabulous! The citrus based ones were perfectly balanced with a sweetness to them and the chocolate was just delicious. I was so sorry that it was impossible for me to finish them as I was so full.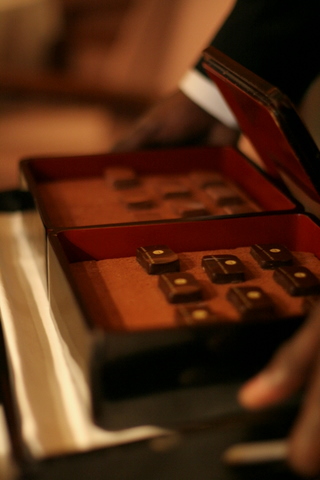 Chocolates for accompanying my coffee
As far as the service, the staff was remarkably good at adjusting the level of interaction with us as well as the level of formalness. I easily felt good about being there and was also excorted to the door to the hotel where I would find the ladiesroom.
Hungry Hedonist has recently been to Pierre Gagnaire and in comments on her post people applause the service and claim their water glass was never empty. Mine was, but probably my inner is just a dry dessert that suck ups all the water props finding their way to my mouth. I could easily have drunk even more water than the amount that was poured into my glass.
This post is the most difficult one I have ever written. It seems that this is a common thing for Pierre Gagnaire as Chuck has experienced the same thing and speaks of a "roller coaster" curse. I didn't know how to express the fact that I was a bit disappointed but at the same time had experienced a wonderful lunch. It's important to me to convey exactly what I feel and what I think. Until I feel that the post is true to my feelings, I am unable to publish my review. So, this is the reason why I took me forever to write up this experience. I'm sorry.
Monsieur Pierre Gagnaire wasn't in that day, so unfortunately I didn't get to meet him, but I don't believe that this is the reason for my disappointment. A tasting menu will always comprise courses that are more appealing than others, that's the essence. You'll need the less impressive dishes to balance the level of what to expect and find what your preferences are. If they were all marvellous how would you know that they were marvellous (enough)? Plus people have different taste. One dish that's heavenly to one person can appear average to another. It's like a holiday where you visit points of interests and that makes the holiday memorable, but you also need days to digest all the impressions to be ready to gather and comprehend new.
So, how to know whether a dish is moving or or not when taking into consideration that the chef cooks the same dish over and over again to adjust the flavours and textures to perfection? It's like reviewing your own text where you overlook the details and typos because you know what it's supposed to say. The few chefs who are able to review their own inventions again and again to reach perfection and excellency are true artists.
The dishes of this Spring 01 tasting menu were flawless and inventive. Some were more innovative than others, and especially the three appetizers were almost only that and without being tasty. The green herb paper thing was clearly the best of them. To me it was like the innovation was the main purpose and it lacked personality and a thin red line in explaining why the dishes were composed that way. This was not clear to me, but it's probably just me not being able to comprehend and not being experienced enough with Pierre Gagnaire. Again, I must turn to literature to better explain what I mean – some books you have to read them over and over again to really understand the meaning. Not that it always has to be comprehendable, but when a restaurant carries the name of the creator, the signature should be strong, or at least I would expect it to be that.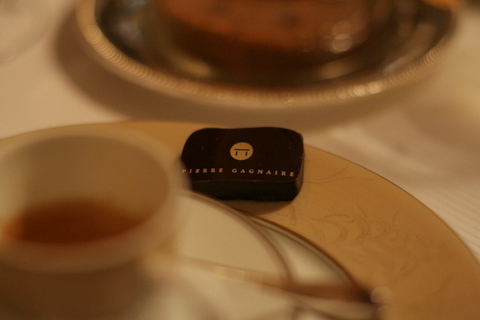 Would I return to dine at Pierre Gagnaire? Tough question. I would like to, but before that I would like to visit other Parisian restaurants to become more familiar with this scene and what to expect from a *** level. The question is though how long to wait for a revisit? A restaurant named after the inventor – I mean when Mr. Gagnaire retires what will become of this place?
My first Parisian Michelin *** experience remains memorable and not only for the reason of being my first time. What marked it out were the heavenly oyster dish, the fantastic cooked cheeses, the excellent desserts, the tour of the kitchen and, of course, the sharing it with a knowing and true epicurist foodie friend.
Thank you Pierre Gagnaire, Michel Nave, the waiters taking care of us!
Thanks so much to you, Laurent! I look forward to our next fine meal!