Last night I dined at Restaurationen, owned and run by Lisbeth and Bo Jacobsen since 1991. It's my second visit there, and ever since my first time, which was lovely, I had longing to go back. Bo and Restaurationen had a Michelin star for a couple of years during the late nineties, I think it was, but lost it and never got it back.
I love the atmosphere at Restaurationen. It's very down to earth and friendly, and reflects Bo and Lisbeth's kind personality. The room of the restaurant, and especially the toilets are decorated from the floor to the ceiling with awards, reviews from news papers and magazines as well as printed articles and tell the successful story of 16 years in business. The food is served on beautiful porcelain from Royal Copenhagen, underlining the Danish style and traditions.
As you know already, 2008 is my year of exploring the Bordeaux wine region. So, my dinner had to be some place, where I could get a nice bottle from that area to extend my wine knowledge and to stimulate senses and my mind with new and challenging impressions. As Restaurationen had a free table and a nice wine list this was the place to go.
Sorry to say I only have a few photos of my dinner. The reason is that I've got this new lens for my camera and I'm not yet that experienced in using it, so I only shot a few ones to allow myself to focus more on enjoying the food and not watching it though a lens.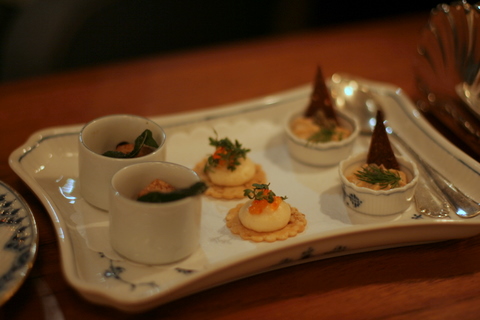 Amuse Bouche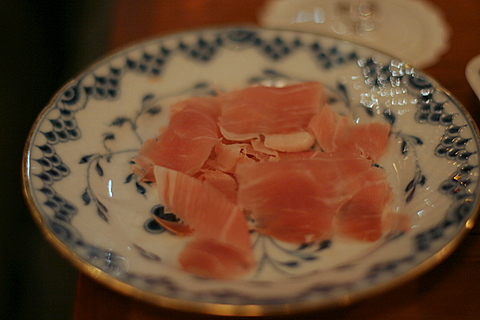 … and Bo's home made Danish ham
Restaurationen only serves one menu comprising five courses which can be extended with The Extravagance and with cheeses selected from the trolley.
This evening, 19 January, the menu offered the following:
Home made smoked ham with poached egg, butter toast, winter truffle and chives
Jerusalem artichoke cream soup with steamed cod, Jerusalem artichokes in lemon and breadcrumb with parsley
Pan sheared scallop and langoustines with endive "meuniere", beurre blanc, glace and lovage
Entremets
Beef fillet with mustard sauce, white cabbage baked with maple syrup and black pepper, breaded breast of beef with soup vegetables, horseradish and chervil
Pre dessert
Honey cake with nougat custard and dates
Orange parfait "en surprise"
Bread pudding with home preserved black cherries
The Extravagance is a small luxurious dish served as an intro to the menu and matched with a glass of wine.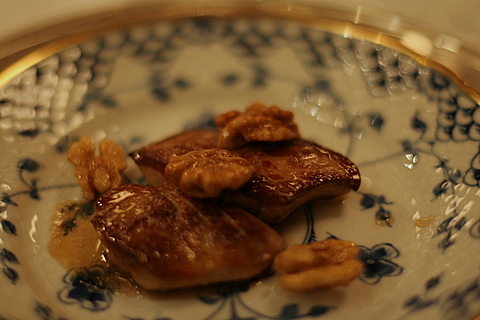 Foie Gras, Chardonnay Syrup and French Walnuts
Last night The Extravagance presented two pieces of fried foie gras, Chardonnay glace and fresh walnuts. The delectable nuts had a very delicious taste with some bitterness to it, which was great with the liver. One of the two pieces was sinewy but the other was perfect and melted on my tongue at the instance of touching it. A Riesling Spätlese accompanied the duck and added sweetness to the food. The wine was very rich with a high density and to me a bit too powerful for a first course. In my opinion this luxuriousness should have been fourth and followed by the main course.
Going back to the wine and the main theme of the night. I had studied at home, compared the prices on Restaurationen's wine list, their selection, and my bank account, and found a couple of suggestions for my wine-lover friend, with whom I shared this dinner.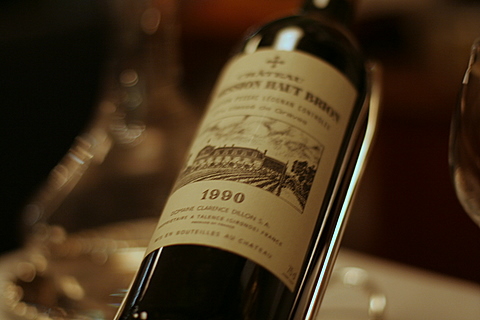 1990 La Mission Haut Brion, Graves Grand Cru Classé
I wanted to try the La Mission Haut Brion because it was amongst the first fine Bordeaux wines which made Bordeaux famous for it's wine back in the 17th century.
The colour of the wine was very dark, almost black. When tilting the glass a light orange tone was revealed. Even though the nose was a bit closed at first the power was striking. Most pronounced were the scents of ashes, smoke and tobacco. The after-taste was long like nothing I have ever tried before. Even after the first mouthful of cod fish and Jerusalem artichokes, I could still sense it on my tongue.
About 30 minutes prior to the main course the bottle had been opened at my table and decanted above a candle light lit with matches with the lovely smell of cedar tree. I loved the show of it.
After a while in the decanter the flavours were unleashed. Only a light sniff to the wine was enough to sense it. I didn't need to breath deeply to absorb all the nuances. Much more taste had evolved, but the after-taste was a bit short of fruit. The La Mission was a very intense wine dominated by pepper, cherries (made me think of Amarena cherries), hints of oak, tobacco and smoke above all. These flavours were followed by a drowning bitterness, ashes and smoke accompanied by a creaminess to it. A most enjoyable wine that matched the sauce accompanying the beef brilliantly.
The food was great, very classic but nice and tasty. I loved the amuses of sweetbread, eel's mousse and cod fish roes, they were all really sophisticated. And the starter of Bo's home made delicious ham, and the black truffles which were gorgeously earthy in scent and taste although only at the size of my index finger's nail; the tiniest truffle slices I have ever got but beautifully decorating the dish of red, yellow, white and now black colours.
There was one thing I disliked a little bit about this dinner, which was the size of the courses. Okay, I admit that my tummy is not the biggest one these days, but I do have quite a talent for squeezing huge dinners into it. But this was too much. Also for my wine-lover friend. We had stomach aches afterwards. Sure it's my own fault but really I left food on my plate after every dish. That's a waste in my opinion.
Anyways, Restaurationen was a very nice way to start of my 2008 Epicurous Itinerary and a lovely wine study indeed.