Tim? I'm not sure whether you're still reading my blog from from time to time, but I'd like to thank you for mentioning your favourite restaurant in London: St. John. It was the first time I ever heard about the place, and since that day I've wanted to try it at the first chance I got.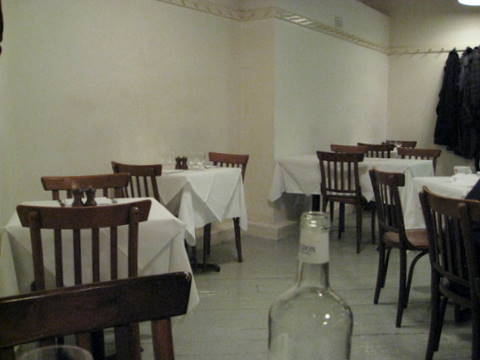 I think it was about two weeks before going to London that I reserved my table. I was lucky that I needed a late booking, because it wasn't easy to get a seat for dinner.
Really, I cannot keep this in the dark any longer: I loved St. John. I was in London for four days and had my dinner there the first night in town and wanted to return immediately the following evening. I'd like to describe why I think St. John is such a great place, and why the same goes for the sister restaurant St. John Bread and Wine.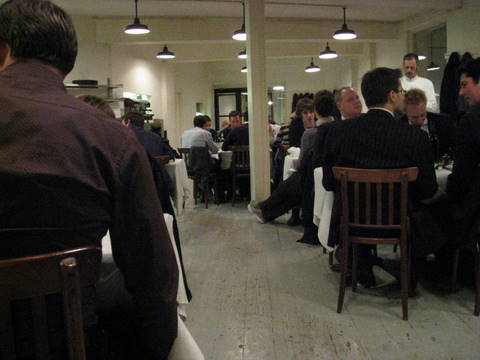 The white look of St. John's website very much reflects the way the restaurant is designed. Very white, and with white table cloths on the tables. The chairs are brown and all of the same (great) design, black lamps are coming down from the ceiling like shower heads and giving an industrial feeling to it, a bit like an old fashioned train station with a white painted iron roof with detailed curves high above the tracks. The inside of St. John is all very simple and discrete, but in a rough way. A row of white coat-hooks is the only decoration on the white walls. The waiters are wearing white jackets. I adore white.
What immediately struck me, when I entered the restaurant was how the interior appeared balanced, plain and inviting, perhaps invoked by the wonderful smell, which tickled my choanae with freshly baked bread from the open kitchen. I observed the people seated side by side all around the place full of a busy sound of murmuring. Good friends eating out and enjoying the food and wine, themselves and their company. It comforted me, and made me feel safe and welcome.
The hostess seated me at a small table right behind the front desk by the entrance, and I was handed the white paper slip menu. All the dishes sounded tempting and delicious and made me stare at the offerings completely disillusioned. It was very hard to make a choice.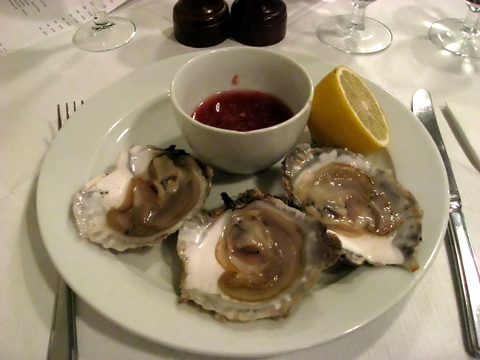 Native Oysters
While musing on the menu I ordered a glass of Blanc de Blancs 1er Cru champagne, which turned out to be very nice; sour at first with slightly hard bubbles, a good and full taste and a lovely bitter finish. I also got some delectable native oysters served classically with scalottes vinaigrette. Wow, I've become fond of oysters lately, and I'm not sure why. The first few times I tasted them, I thought they were all sea water and jelly, and couldn't see the point. I was so mystified by the fact that many people are crazy about them, and I thus went on slurping to try and find out what it is that attracts people so much. The survey has now resulted in my own falling in love, too, but I'm still incapable of telling you why it is so. It's just exotic to eat oysters, I suppose. And with champagne it's superbly decadent.
These oysters were all very good, meaty and full in taste. When I added a bit of the red and strong flavoured vinaigrette, the oyster taste became more distinct. The champagne and the oyster flavours were a lovely couple.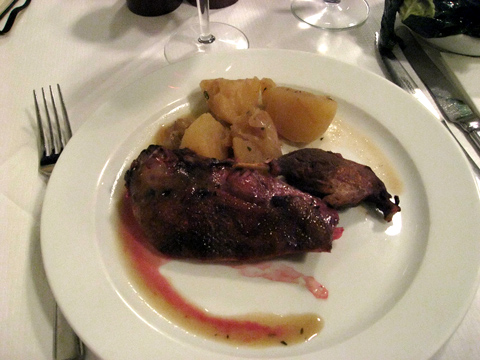 Mallard and Sweet Potatoes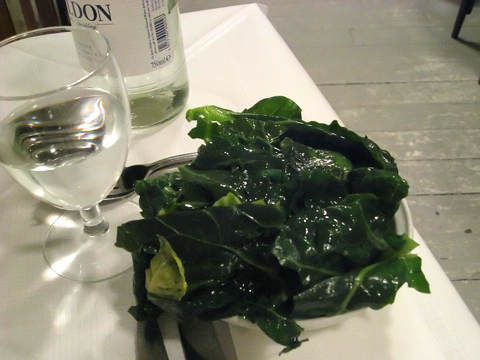 Sprout Tops
I settled for the mallard as the main course with the sprout tops recommended by the sweet guy waiting my table the whole evening.
The mallard was cooked perfectly, very rare and a drop from being raw. The seeping blood indicated the moistness of the poultry. The meat was very tender and the taste was great; exactly the right choice for my starving appetite saved all day for this dinner. I also enjoyed the sweetness of the potatoes.
The green sprout leaves were buttery with bitter notes on the balanced and rich taste. They were still crispy and seemed fresh, cooked and prepared just before serving.
St. John offers a good handful of wines by the glass. Having recently been very content drinking Charteneuf du Pape with mallard, I ordered a glass of Vincent Paris, Cornas, 'Granit 30' from the Northern Rhone (think it was a 2004). The flavour of it was that of a young wine, it comprised fruit but less than expected, good tannins and a lot of acidity. Actually too much acidity, which made it not the best match with the game taste of the bird. I had definitely expected more from that wine.
The food tasted so good, and even though the piece of duck breast was rather big, my craving wasn't satisfied until both plates were clean. This is the proof: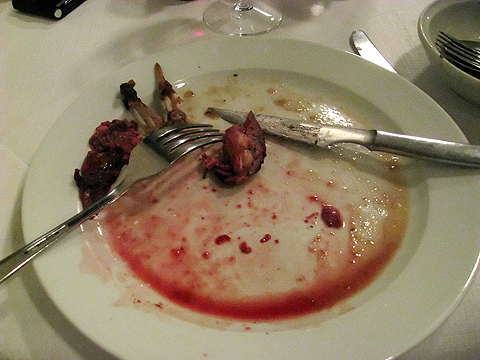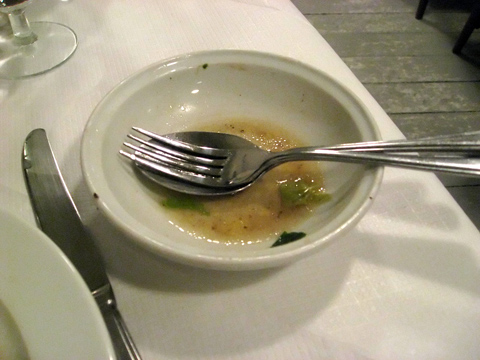 I had I insisted on having room for a dessert and was keen on trying one of St. John's specialities.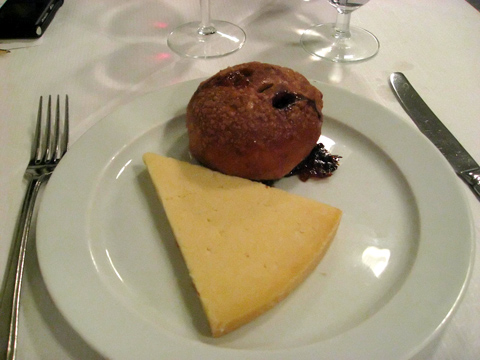 Eccles Cake & Lancashire Cheese
I liked the combination of both a sweet and cheese at the same time. The Lancashire was a bit friable in texture and mild and salty in taste. The small cake was covered with a hard sugar shield, and when braking it, tiny dried raisins teemed out, otherwise the cake was hollow. The bottom was caramelised and gave sweetness to it and a sense of Christmas, for some reason.
The inviting look and simplicity of St. John, the kind hostess, the sweet waiter and the very good food all in all formed a very enjoyable night out on my own. The restaurant was full that evening, so the staff worked hard and effectively but still providing enough and very knowledgeable attention to a sole diner.
Like I said, I wanted to return again as soon as possible, but St. John was completely booked the following nights. Instead the kind waiter suggested St. John Bread and Wine, in Spitalfields, and made the phone call to make me a reservation. Just like that, and I could walk back to my hotel and go happily to bed.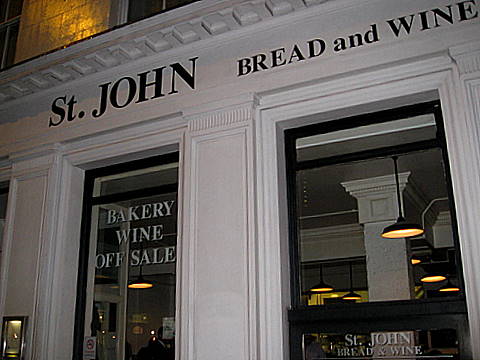 St. John Bread and Wine
Just briefly about the more casual version St. John Bread and Wine on Commercial Street near Spitalfields Market. I dined there three days later, a Friday evening and the last day of November 2007.
The restaurant was crowded and full of jolly people and somewhat noisier than St. John. I shot this video clip to get you an idea of it.
[googlevideo=http://video.google.co.uk/videoplay?docid=-5778714649648923968&hl=en-GB]
Different from St. John the tables are bare, and probably it doesn't reduce the noise of a fully booked restaurant.
The menu offers a lot of lovely sounding dishes and most of them cost between £5 and £11 each. I wasn't sure about the size of these portions, so I ordered three different dishes.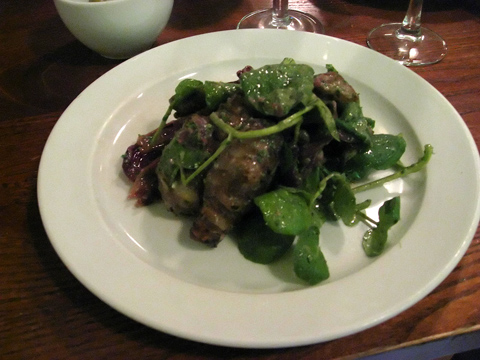 Jerusalem artichokes, red onions and watercress
The food was outstanding. I also got those lovely firm green olives that apparently are commonly used in London eateries.
The Jerusalem artichokes course was a very well balanced dish. The rich flavour of the tender but firm Jerusalem artichokes was kicked by the sweetness of the red onions and the fresh, lightly crispy and bitter cress leaves. Very nice and generous.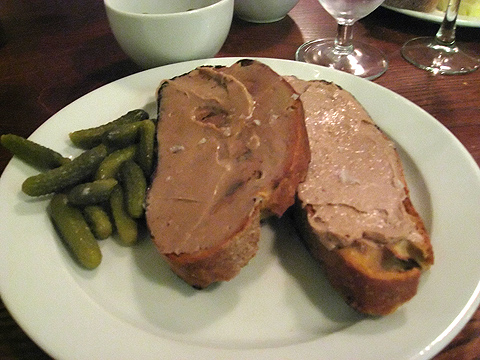 Duck Liver & Foie Gras Toast
You know it's funny, but the food at B&W actually appeared a bit more sophisticated to me, more elegant but still simple. The bread was fantastic and for the pate, the slices had been gilled, which added more taste to the bread and to the experience of the whole dish.
Cauliflower Soup
I was warned about the heaviness of the soup and on purpose, I must say. The taste was delicious with a mild cauliflower tone, a good thick texture, the way I like. Very hearty, and yes I couldn't finish it. This soup proved that St. John and his sister are sincere about the food, and how the meal is enjoyed. Please note that there was no decoration of a parsley leaf or whatever swimming around on the soup, and which you would fence around with the spoon to avoid. Or if unluckily eating would appear too spicy and chewy and ruin the whole soup experience. No, the soup was perfect as it was, which was being stressed by this simplicity. That's one of the things that makes me love St. John and the entire concept. No bullshit. Only very good food.
I asked for some wine to go well with the foie gras toast and accepted the suggestion of a Muscat. The waiter brought me the filled glass and i didn't get to see the bottle, so I don't recall any facts about it. It was very perfumed in the nose and palate and yet light with a delicate fruit. I liked it, but it wasn't the most interesting wine, a bit too average with no real character.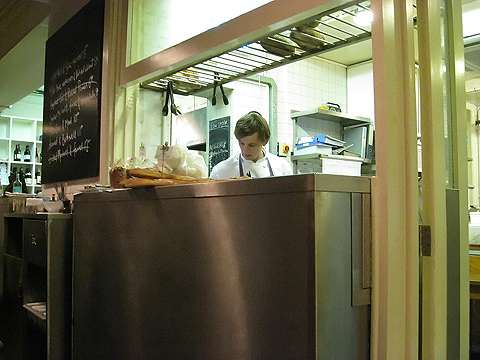 When I was sitting there enjoying my food and the buzz of the place, I was suddenly interrupted by a spectacle plate coming out from the open kitchen carried high up by a waiter. A whole roasted suckling pig. How about that!? I so much wanted to take a few photos of it, as I've never seen anything like that before, but the table with the people enjoying it was far from mine, and I was to shy to ask for permission to immortalize it. A nice roast smell tailed the giant plate. What a show.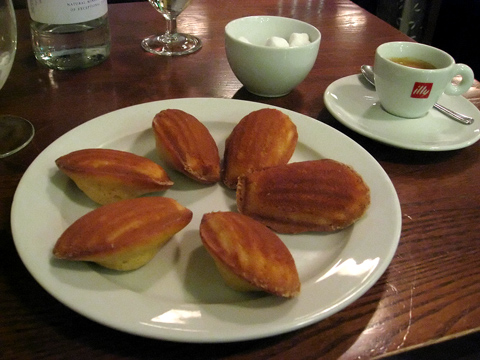 Madeleines
With my Illy espresso, a favourite, I just had to try the madeleines and waited the 15-20 minutes it takes to bake them upon request. Ever since I first (not too long ago) heard about Marcel Proust's instance of involuntary memory and the episode of the madeleine, I have wondered what they are like. That night at St. John B&W they arrived hot from the oven and were so lovely with a tender and very slightly moist middle. I got my leftovers with me in a brown St. John paper bag and guzzled them for breakfast the next morning. Now, I know what madeleines smell and taste like, so perhaps one day the sweet buttery and lemon-ish scent will send me and my memory right back to the restaurant of St. John W&B.
Sitting there my last night in London, I just wished that the good fellows Fergus and Trevor would export their splendid eateries to Copenhagen, because I knew I would be missing this great food and atmosphere. You know, I really do. I'll return to St. John and St. John Bread and Wine every time I'm in London, that's for sure!
So, Tim. Now I wonder what other favourite restaurants you might have??