A stunning view, posh interior, excellent food, fine service – a fantastic experience.
Sounds of horse shoes on cobblestones, a murmur of Italian business men dressed in black and brown suits, gesticulating when talking loud on the phone, Dutch, German, Chinese, American voices and even Danish, the splashing water from the fountains I pass by on my way round the ancient and amazing eternal city of beloved Rome, full of history and atmosphere. This is Rome. I am back. Wide and narrow houses polished in orange, pink, white, yellow, light blue or rose colours, the front decorated with the eyes to the world, windows with brown shutters to cover, the Piazza della Rotonda, my very favourite spot in this capital, resting my tired and worn out feet for a little while, steeling a moment to sit an enjoy a cold and refreshing soda, the sun shining from a clear and azure blue sky, a few white puffy clouds drifting and changing the picture, and, above all, the stunning view of the magnificent Pantheon.
How much I had looked forward to this event. Months. Reading reviews (Gastroville)but finding it very hard to imagine what it would be like. My very first three Michelin stars experience. I booked the table at La Pergola, at the roof garden of the Cavalieri Hilton hotel, back in February. They were not used to such early bookings and requested that I would confirm the reservation one month prior and two days before the big night. Circumstances would that I had to move my booking one day and when doing that I specifically asked for a window table, but as the restaurant was already quite booked and therefore could not honour my request. They also told me that they did reserve me a window table when I first booked. To my surprise, I eventually did get window table and was thrilled about that.
In the taxi on my way to La Pergola sitting with an ear-to-ear frog's smile on my happy face and brimful excited, I saw the most beautiful sun set, an orange-yellow golden painted sky, a combination of mist, city smog, jets' vapour tails and a volatile cloudiness smearing out the bright colours, in the front black silhouettes of the pine trees. A magnificent view and start of a great evening. I mentioned the beauty of the sunset to the football match listening driver (Inter was playing against Roma) who not too enthusiastically concurred with me and added: You're romantic, huh? I suppose, I am.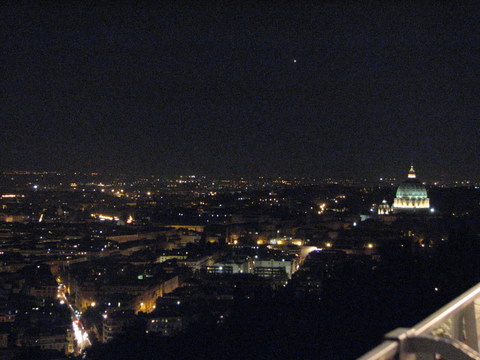 The cocktail waiter was great. Had the other staffs been just like him I would have been in heaven. What was so fantastic about him was that he was communicative to a very large extend. I arrived early before my three friends and decided to have a drink at the top floor balcony. Yes, the panorama from up there is really amazing; this evening even rewarded me with the most stunning almost but not completely full moon. The waiter recommended me a cocktail. I'm no cocktail fan. However, he managed to talk me into trying one because this place creates cocktails like no other places, according to my waiting friend. OK, let's give it a shot, I thought. What I eventually found myself enjoying was an orange-pink champagne cocktail of ingredients I don't recall but with pinot noir champagne and a decorative cocktail stick darting a twisted slice of green lime and a blue-white heartsease flower. Bitterness and champagne – exactly like I had requested.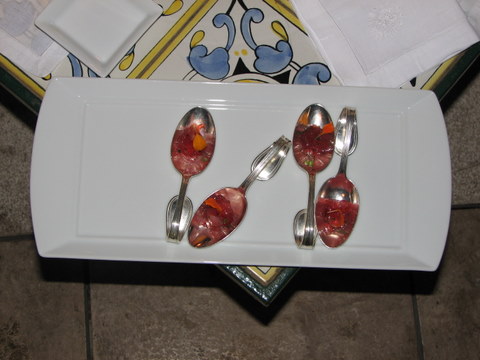 Sorry to say that there are no photos of mine from this evening. I forgot to bring my battery charger at home and although I spent half of my Saturday trying to get one, I didn't succeed. My thanks to Steve for the lovely view and appetizers' images I'm spicy-ing this review with.
The Menu:
Raw tuna on amaranth grain with dehydrated pea purée
Cylinder of scampi with olive oil powder and tapioca vinaigrette
Artichoke ravioli with red shrimps and grey-mullet roe
Crispy red mullet with autumn herbs
Amberjack cooked in garlic-flavoured olive oil
on cannelloni beans with salt cod snow
Duck liver escalope with toasted hazelnut purée
with Amaretto puff and fig marmalade
Pigeon breast with corn powder and black potatoes
A fine selection of cheese from the trolley
Grand dessert
The dishes were all very good, sharp I would say, absolutely distinct and polished. The first three and the foie gras with the nicely matching hazelnuts were the ones that appealed most to me, the dessert too, of course. The amuse bouches were fantastic, the intense and bitter-flavoured grey-mullet roes were brilliant with the pasta dish, and I adored the sweet taste of the langoustines balanced with the restrained acidic juice of the tapioca. The red mullet was wrapped in a thin paste of some kind and fried; this was the crispy-ness, and it resembled a spring roll in look as in taste. Very good and kindly also given to my friend, who had chosen to go a la carte with only three courses. It's astounding what frost can do to food, experiencing the white frozen cod with a lovely and full flavour was another highlight. The pigeon was the least interesting dish, but that may have only been because of the amount of gastronomical impressions. An overdose. I was close to risking a suffering from food hangover the next day.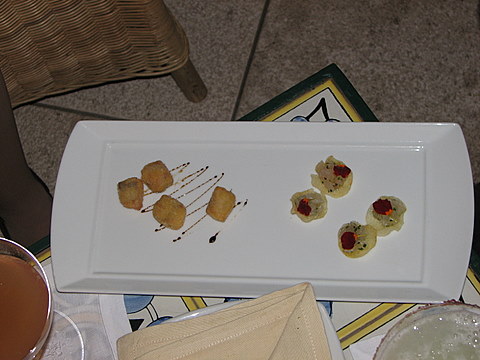 They were not kidding. The grand dessert is enormous. Before the first sweet dish they even presented a pre-dessert of white apple sorbet in a brown soup, which I've forgotten what was. With it we also got a silver shrine for two to share containing 12 drawers with two petit fours in each one. I started regretting wearing the tight black dress. We got nine different and small desserts served in three flights. I recall a soufflé, gratinated raspberries, a cocoa shot, almonds' gelatine, a pineapple cake, crème brûlée I believe, and the winner: a cocktail glass of a lovely coffee ice-cream reminding me of Milan where a six years old Trine went down to the bar all by herself and asked for un gelato, one of the few words I knew in Italian, the brown plastic coffee cup with the delicious beige coloured ice-cream.
A water menu. Okay, I admit that I do find it a bit ridicules, but that's probably because I'm not refined enough and used to this entire cornucopia of it. When I read the menu offered water from the mountains of Denmark I could not help myself laughing. Quietly. Ironically, Denmark is flat as a pan cake. The highest point is 171 meters. I usually don't say anything about prices on this blog but I have to state the fact that I do find it ridicules to offer a 155 € water bottle. I don't even remember where the water came from and I wonder who would ever order it.
We had two bottles of wine a 2003, Martinelli, Sagrantino di Montefalco, Umbria, Italy and 1999, Terre degli Svevi, Aglianico del Vulture Re Manfredi, Basilicata, Italy.
One thing that didn't work out very well. We ran out of wine by the fourth or fifth course and asked for the wine book again. But this didn't stop the kitchen from rolling out the next courses; dishes kept coming in like bowling balls popping up from the ball return rail. It seemed that the stone-faced wine waiter didn't coordinate with the cooks.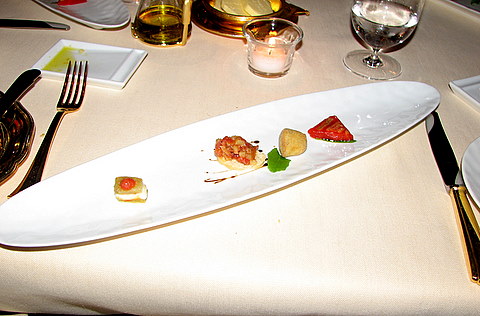 About the wine. I chose the Sagrantino and I didn't find as nice as I would have expected. It comprised a nice dryness but not enough fruit and body, unfortunately. I liked the Aglianico much better: rocks and restrained fruit, a full body, even cheaper. Why is it that my wine-lover friend is always outdoing me on wine knowledge? The expert on Italian wines was supposed to be me!
When Mr. Heinz Beck greeted us at our table I thanked him for a delicious meal and asked him to sign one of his cook books for me to bring home to Copenhagen to be a hearty recollection of my fancy night. Unfortunately, they were out of English versions and had forgot that I had said an Italian one would work for me as well. I was thus very pleased when the manager, I think he was, most kindly offered me to leave my email address for contacting me when the book would be in stock again by December. They are going to send me a copy with Mr. Beck's signature in it, being a nice Christmas present for myself, hopefully. I really liked the hospitality at La Pergola, they have rules but it didn't make me feel uncomfortable. Especially I appreciated the service from the sweet hostess and from the bartender like I mentioned earlier.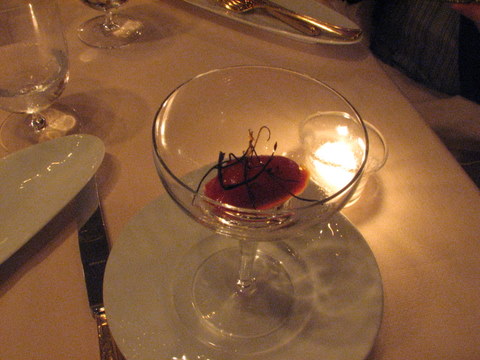 After the coffee I had to order a grappa just to extend my first three stars night. The waiter brought me a 1999, Berta Grappa di Moscato. I usually find Muscat grappa too perfumed, but I was very keen on this one, actually.
When we were leaving the restaurant, each of us got a card listing the wine and exactly the courses we each had had – all the nine courses and the three a la carte dishes plus the kind extra red mullet plate for my friend who didn't choose the set menu.
To be honest I loved the luxurious exclusiveness of it: the escort to the loo each time I went, the gold-plated cutlery, the little stool next to me for my bag elevating it for easy access, naturally the food of very high-quality products everything perfect, the fact that they changed the table decoration, smoother lightning, and brilliantly gave us all new serviettes before the dessert dishes arrived. The gentlemen all wearing jackets not allowed to cool themselves taking it of during the dinner. Yes, they do provide a jacket for you if you had forgotten one yourself. With this entire extravaganza I couldn't help myself thinking about the Roman Holiday. I was Hepburn-ish a princess for one evening, lavishly coddled, wonderfully rapt and didn't want the whole thing to end.
I really feel privileged about this experience and feel that it was worth it, it's highly recommendable, and I would love to go back to visit La Pergola if I ever get the chance. Having said that, I imagine though that going back to Rome would be for the history, the archaeology and the sentiment of the city. Not for gourmet dining.
La Pergola's view and the greeting moon in the horizon repeatedly in the sky, when I the next evening sat on the plane back to Copenhagen writing this, I delightfully lived through this fabulous night once more.
One thing is certain. This is not my last three Michelin stars experience!
Saturday 29 September, 2007