The Italian trattoria style restaurant FAMO 51 has become one of my favourite low end dining places. Simple, variant, creative and above all deliciously good food. I have written about FAMO 51 before at my blog but not shown any pictures of the food I eat there.
A couple of days ago the restaurant was hosting an informal family reunion of mine and we all enjoyed the following dishes.
We shared a Bellavista Franciacorta Spumante which to my regrets is poured into a bowl glass and not a champagne glass which would better retain the fine and fickled bubbles.
As always, a good hiding of various antipasti flying in at high speed from the kitchen. Cheeses (no photo as I generally don't find cheese very photogenic), Parma ham – the best in Denmark, sausages, marinated or grilled vegetables.
Parma ham and coppa sausage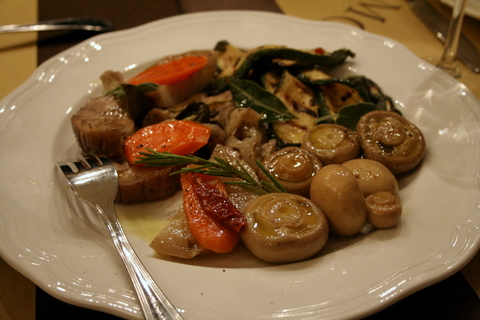 A mixture of grilled and marinated vegetables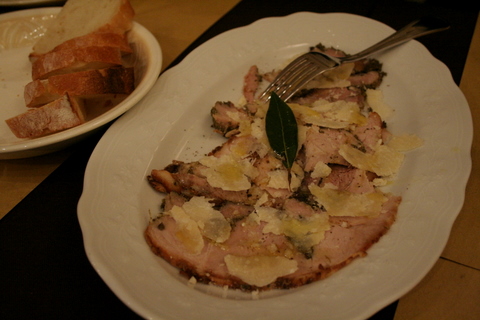 Porchetta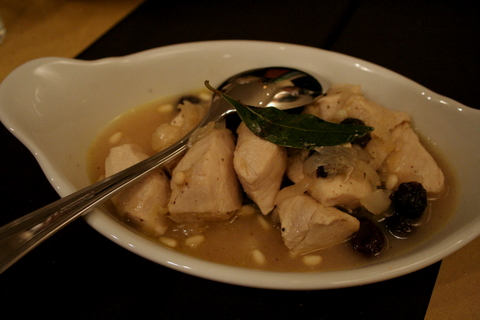 Chicken with raisins and pine nuts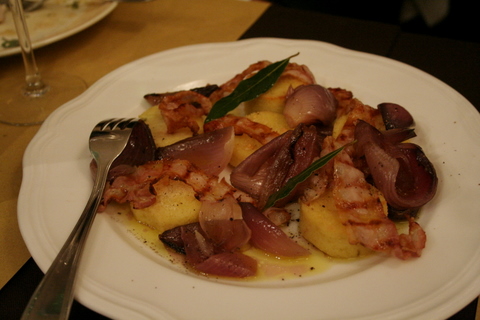 Polenta with red onions and fried panchetta
Porchetta is a boneless roasted pork stuffed with herbs cooked slowly and here served with a few drops of olive oil and Parmasan cheese. The herbs add an intense and wonderful flavour to the pork meat.
The polenta came with red onions and fried panchetta cut very thin. I'm not sure why but in find that dried meat is most delectable, when it's cut as thin as possible. It's more delicate and elegant that way. A bit like truffles, there's no reason to chop thick slices, I mean the flavour is not doubled in any way. Furthermore, the thin slices make the enjoyment last longer. This panchetta was so lovely, salted in the best way and perfectly crispy without being too hard or elastic.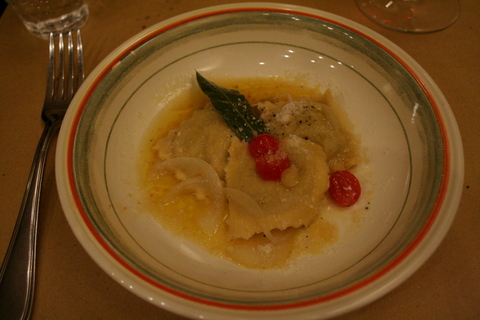 Ravioli with aubergines, onions and tomatoes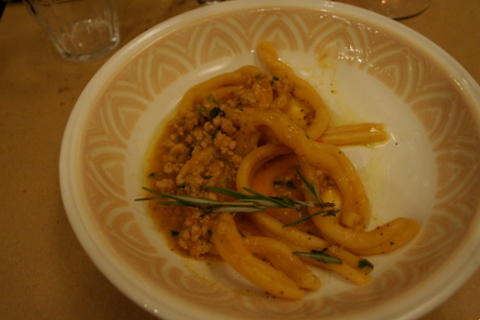 Pasta with rabbit ragout
This evening the two pasta dishes were somehow better than the pasta dishes I've got here in the past. I love aubergines and the mild and slight subtle taste was fine. However, the ragout of rabbit was the highlight of my evening. Wow. Salt, hidden sweetness of vegetables combined with the meat, exactly like I've had it in the North East part of Italy and I recollected images from my nice occasions in that region, I feel very close to in my heart.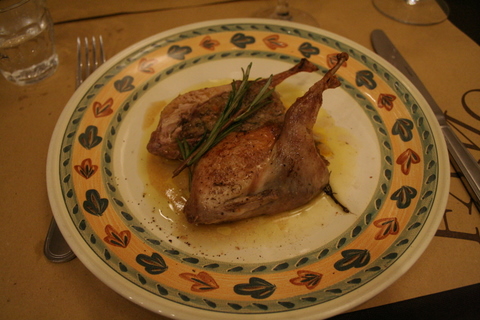 Stuffed quail
The main course comprised a quail stuffed which was good too, tender and tasty, but not unique like some of the other dishes that night.
Two different red wines accompanied the food, a 2003 Marsaglia, Complotto, Langhe Rosso, Piemonte (Nebbiolo and Barbera on Tonneaux barrels) and a 2004 Sesti, Rosso di Montalcino, Tuscany (100% Sangiovese, organic and on oak for 12 months). The Complotto was dark red in colour and very fruity, cherries, in both nose and palate and with an adequate amount of tannin to balance it. The Rosso was lighter in colour with a slight orange note, a lovely warm and vivid feeling and taste with a delicate and weak fruit flavour – oh, how this pleased my palate. The Complotto was too fruity and too squashy in my opinion, but I was outvoted – the rest of the table favoured the juicy one.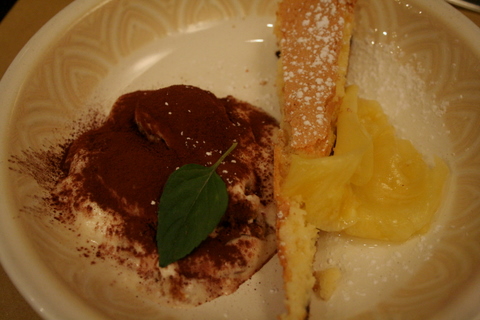 Tiramisu and cheese cake
We were unable to choose between the Tiramisu and the cheese cake and so got a combination of them both. But I should have made up my mind for only the lovely homemade Tiramisu as it was levels better than the cake. The cake was anonymous and I didn't finish it. The yellow texture on the side was pineapple marinated with a liquor of some kind – very good.
FAMO 51 is stable and a marvellous place with personality. The food is always perfectly balanced, delicious and nicely compopsed by numerous dishes providing a wholesome meal of very fine quality products. I too love the relaxed style of it and that Fabbio (I've never met Morten Kaltoft) always greets his guests.
Fridays are shell fish night both at FAMO and FAMO 51 and is also highly recommendable.
Going back to my family dinner, we were the last ones leaving the place that night, and what was a bit odd about it was that the waitresses were much more into finalizing the nights accounting business than saying good bye to us. Very unlike Fabbio, and made me miss him. Anyway, we still had a splendid evening!
Grazie di nouvo, Fabbio!