Not many international guides cover Copenhagen in their restaurant guides. Even less go outside the capital of Denmark. In fact by early 2007, I only knew of the Michelin Guide. Thanks to Luxeat I now know more (thanks, A.!).
In a comment The "Gastronaut" questions lack of Michelin coverage of provincial Denmark and Scandinavia and why the great places outside Copenhagen don't qualify for a Michelin star? I think that's a very good question.
But we don't have only to use that one for our references. There are many other resources like for example the many passionate food bloggers, of whom I have already mentioned a few and list more in my favourite blogs' list.
Another great site is Steve Ploticki's blog Opinionated About Dining, a guide to where to eat and why you should eat there, which I stumbled upon a few months ago.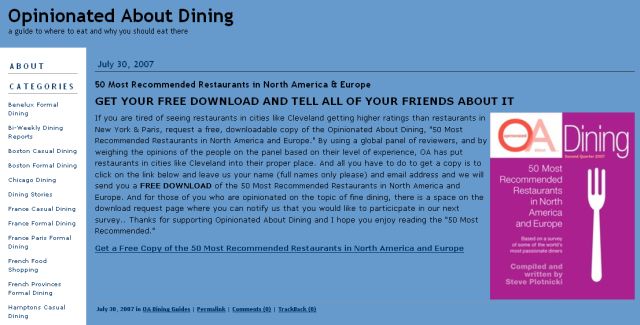 Steve has collected information from friends and people who can be described as 'Destination Diners'. These are people who travel for the purpose of eating in the world's best restaurants. Their opinions are gathered in the guide '50 Most Recommended Restaurants in North America and Europe'. You can get a copy of Steve's guide by hitting the link on his page. Sadly noma or no other Danish restaurants are on that list but hopefully will be next year.
This year the survey is open for everybody to rate, and I urge you all to sign up and state your vote for your favourite restaurants over the globe, and indeed so Denmark's fabulous restaurants will be represented in next year's the guide too.