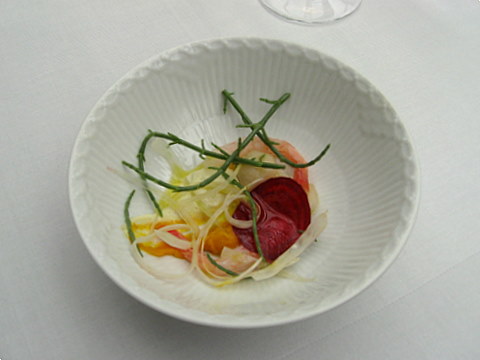 A little appetizer
Copenhagen is great when it comes to eating out. Well, that said by a Dane, of course. What I mean is, although I dine out very often, there are still great places that I haven't been too, yet, and where I want to go. Copenhagen has such variety someone once said. It's true.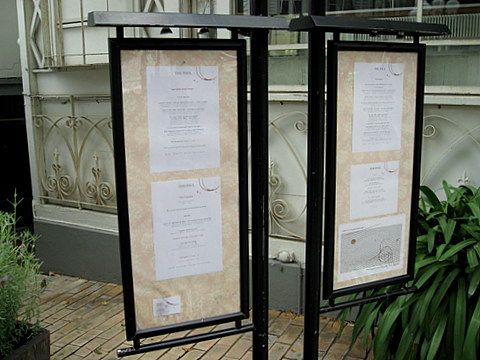 With so many temptations why did I pick The Paul, run by Paul Cunningham, for this lunch then, you might ask. Good question! Well. First of all, not many fancy restaurant are open for lunch on Saturdays, so that eliminated quite a few (and indeed my favourite one). Second, I had dinner at Paul's a year ago and liked it a lot, but it wasn't the dinner of my life. And I guess that was what I expected. So, I would like to see what Paul could bring this time, 13 months later.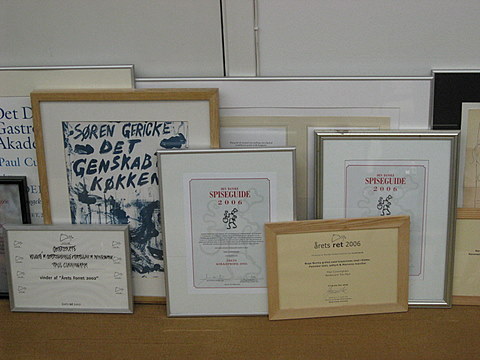 For my birthday I had got "Madjournal" by Paul Cunningham with delicious and easy to make food with a fun and loving greeting from him with a little now dry purple flower, the devil's horns drawn on the picture of his head and a note saying 'your parents rock'. Paul is very creative.
The atmosphere at The Paul is very special and very unique. So, in that sense the name of the restaurant is perfect. It's like stepping into Paul's own house, his living room. Even when he is not at 'the office', you sense his appearance everywhere. This place is the most personal fancy restaurant I have ever been too. I love that about it. The loo is pretty and nicely decorated in a feminine way with flowers and very old photographs on the wall of, I don't know naturally but with this place in mind, I would say old family pictures. Toothbrushes. A bright idea.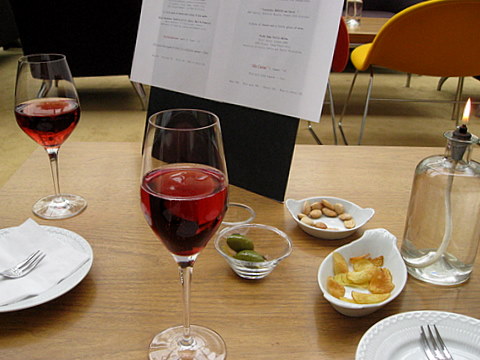 We began with a snack and a drink in the lounge. My friend wanted kir. I fancy neither kir nor kir royal and asked for Champagne. But the waiter misunderstood and thought I wanted the royal thing. Like my white skirt that day was royal in the sense that there's a picture on it of HRH Queen Magrethe II at her new year's speech one or two decades ago. Kir and kir royal is a bit too sweet as pre-dinner for me, but this kir royal was actually nice, maybe because of the early time of the day.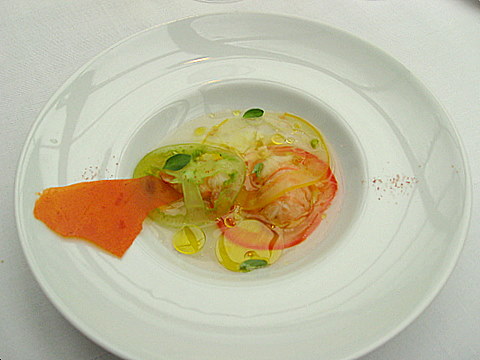 Crayfish 'pil-pil' olive oil, garlic & mild chilli – texture of tomato
Our first course, I loved the tomatoes. It's very rare to get a dish in fine dining that focuses on tomatoes. Red tomato. Green tomato. Yellow tomato. Finely sliced as thin as truffle flakes. The piece on the edge of the plate turned on images in my head of an intense pasta sauce, which had been simmering for hours, sweet and delight because of the volatile-ness of it. The very delicate consommé was poured into the plate, and at first glance it looked like vinegar. The drops separated in the oily liquid already in the plate. The course comprised crayfish as well, but the tomatoes out done the taste of them.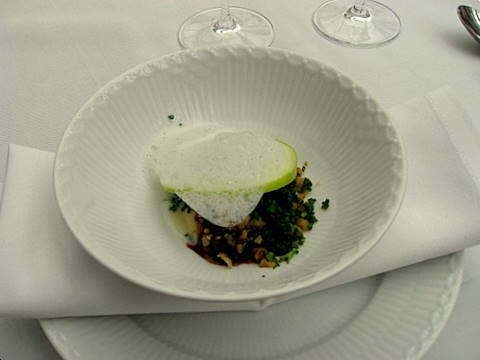 Confit of pork cheek, vanilla seed – green apple & cocos blancs
Why is the meat closest to the bone always the best? This pork confit was tender and had a lovely gentle taste. The colour of the meat was dark rosa. The greaves, not exactly crispy like they never are, were so good with the pork contributing salt. On the top was a slice of green apple and vanilla foam. I perfectly understood the purpose of these – sour and sweetness, but somehow it was like this dish wasn't complete. Too much vanilla? But less might diminutive to the point where I wouldn't notice it, so I don't think that was it. Wondering now, it could be the fact that the apple was raw, too much acidity to connect with the other ingredients. Perhaps the apple should have been cooked in some way. I'm still not sure, this dish puzzles me.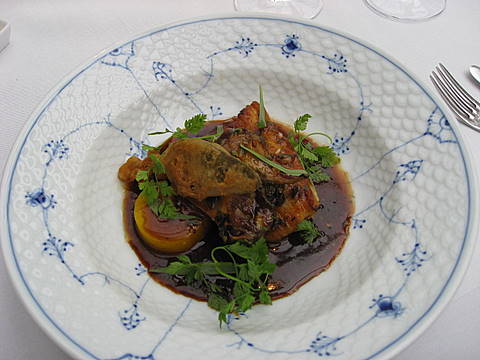 West coast turbot, roasted à la provençale. Artichoke, olive, tomato – herbes fines
A wonderful and intense sauce a bit more liquid in texture compared to what I usually get at nice restaurants. The grilled artichokes. Wow. I liked the firmness of the potato spiced up with saffron amongst others. To my taste though it wasn't cooked enough. The fish was good too, fresh and firm and delicate in taste.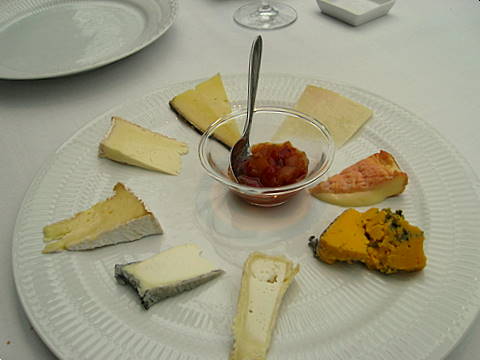 A little plate of cheese
I really couldn't settle at this point, so I was very happy that my friend would like to share a plate of cheese (I wasn't really hungry anymore at that point) and that the waiter would let us do that. Imagine me eating all the cheese on that plate, huh? Seven various ones mainly from France, brie, goat, Camenbert (a favourite), Parmesan, cheese with ashes and accompanied with a compote of onion and something else that I have forgot.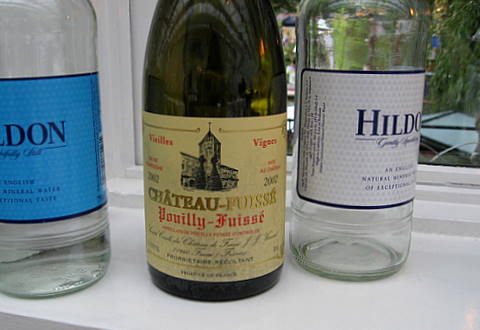 The wine menu didn't attract me very much (my ignorance), and as most courses were light, to some extend, I believed a white burgundy could accompany the dishes and make my nose and palate happy. I have become very fond of Chardonnay from this part of the world. The 2002 Château-Fuissé Pouilly-Fuissé village was nice with character of minerals and rocks, creamy with restrained fruit, quite acidic. Some of the acidity disappeared with time, but not all. I prefer white Burgundy with less acidity than this one. The nose however was great with smoke, minerals and I really enjoyed sniffing it.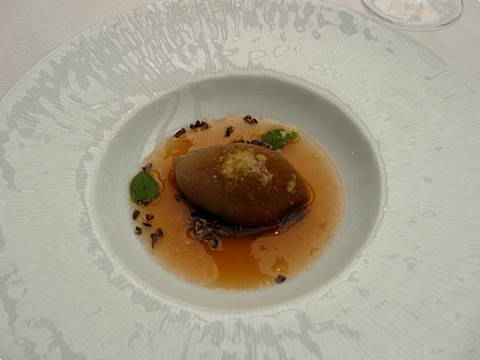 Melon charentais. Sorbetto of P.X. sherry. Wall St.Financier.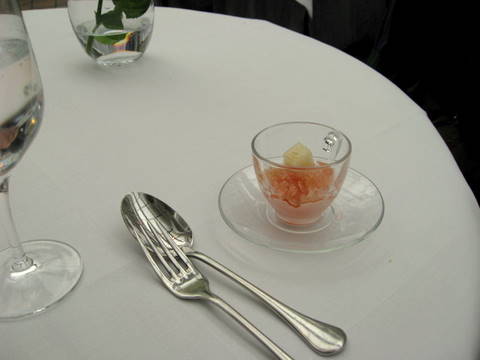 This dessert was nothing like I've had before. The sherry sorbetto was magnificent and very good with the tiny chocolate dots swimming around the melon soup. At the top and sprinkled about was baking powder noisily popping like it was a pot of boiling water, tickling and creating fireworks inside my mouth. I love this feeling, which also provides a new dimension to the sense perception. The thing that made the dish brilliant was the mint leaves.
A word on my thing about serviettes, I went to powder my nose a couple of times and each time my chair was pulled out for me and I found my serviette nicely folded on the table. You see that makes sense. I have a habit of throwing it on my seat. My serviette wasn't changed during my meal and that was perfectly fine with me.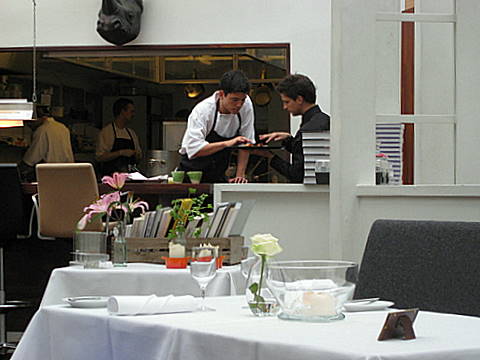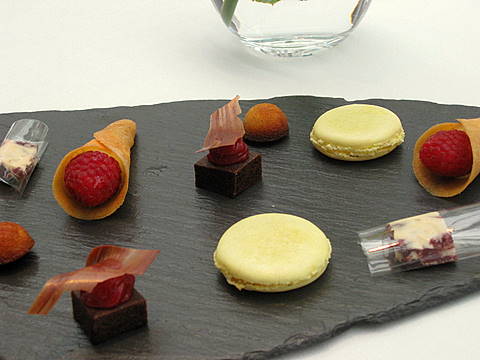 The petit fours were fantastic: Chocolate fondant, meringue burgers with toffee, corns filled with ice cream and role model delectable raspberries, nougatines, all were great and providing the kick of sweetness that the dessert hadn't given me. A final perfect warm and strong espresso indicated, sadly, time to go.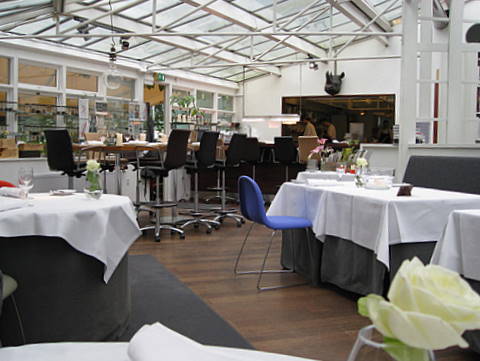 The light of that place is really something and with the colours it's bringing a warm and cosy and very friendly sentiment over the place. I didn't want to leave. I felt like 'hey, put on some quiet jazz music or a Puccini opera and please pull of my boots so I can stretch my legs on the sofa and hang out here for a while.'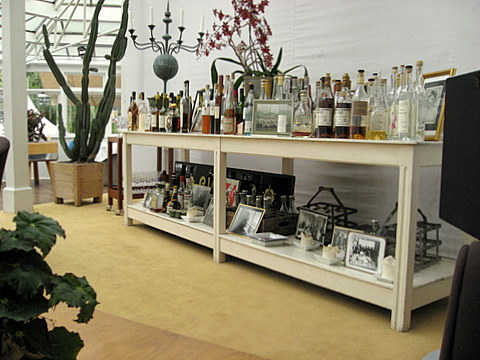 To be perfectly honest, and I think I should, I very much enjoyed this lunch, but I had expected a bit more from Paul and his team, food wise. Have absolutely nothing to be unhappy with as to their service. The appetizer of pink raw scrimps, white baby scallops, red beetroot, orange carrot, white cabbage and green brownwort, I believe it was, was fantastic and a surprising highlight like the dessert. The tomato and crayfish, and the pork were not sharp enough.
Especially one of the waiters was very kind to us. When we were about to leave, he showed us round the restaurant and explained about Paul's creativity, colourful scrape books, and the story behind the three huge paintings on the wall by Maria Dubin.
I took a last look at the giant and fascinating Helmut Newton's photo book 'Sumo' and then stepped out in the Tivoli Gardens heading for a last ride in the daemon roller-coaster, where I sort of regretted wearing a skirt.
Thanks, Paul
for the kind note in my book (lovely potato recipe with olive oil and blue cheese) and an enjoyable lunch!
1 September 2007