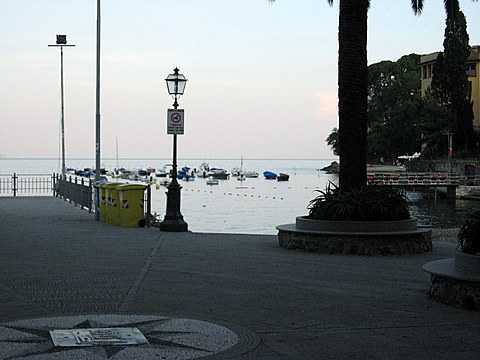 I'd like to tell you about La Nave.
La Nave is located on the Ligurian Riviera in a tiny town named San Michele di Pagana between Rapallo and Portofino. It's a family style trattoria, very down to earth and very friendly. The food is simple and classic Italian dishes and very good. The reason why I want to tell you about La Nave is that I was completely taken by surprise by the food quality and the very warm atmosphere around this place. At first glance it really seemed like just an other indifferent beach restaurant.
I discovered the place a year ago and have eaten there six times now. Fish is the speciality of La Nave, and fish of high quality and good taste.
La Nave is owned by Piero and Adriana. They are excellent waiters and are the reason for the very special local sentiment, which I love so much about Italy, in the sense that they can adjust to any kind of customer, and make him, her or them glad: The lone business man, the ebullient mum-dad-three-kids-family, the couple in love.
This is a review of my three latest dinners there.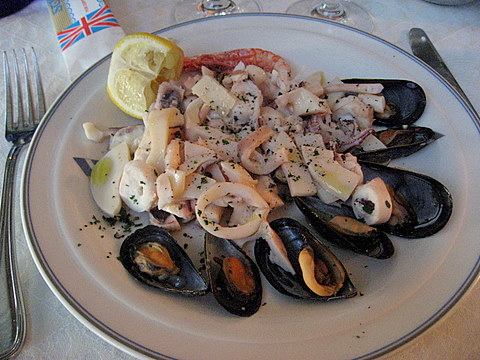 Antipasto frutti di mare. I confess I ate it all. It was like candy, I couldn't stop. The only one prawn there was almost as sweet as sugar.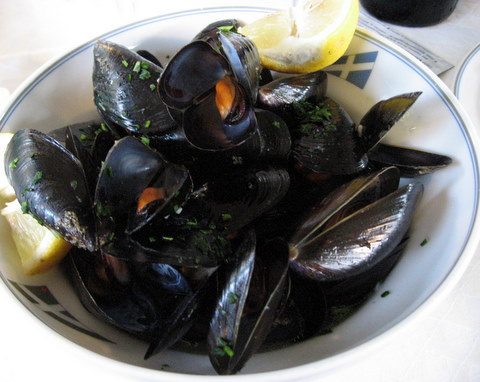 Tasty muscles with a juice so lovely that I noisily spooned it up with one of the shells.
The risotto is fantastic, the perfect firm texture of the Arborio rice, the flavours of subtle tomato and various kinds of sea food. Very delectable and way, way too large a portion for my womanly stomach.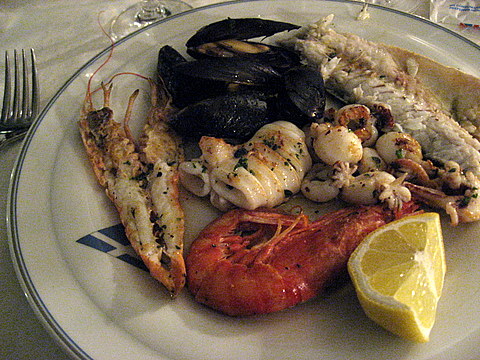 Various fishes on the grill stimulating my craving for always wanting to taste a bit of everything.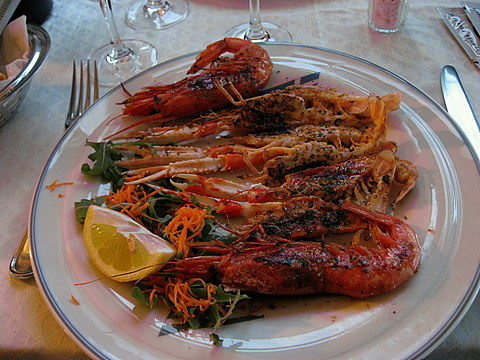 Grilled langoustines and prawns. It's my favourite dish of La Nave. I think that they have some kind of sauce that they glaze on the shell fish, because it doesn't taste of the fish alone. There're other slightly spicy flavours too. You'll only get two of each but the quality is exquisite and the size of them is larger, than what's on the plate with mixed grilled fish.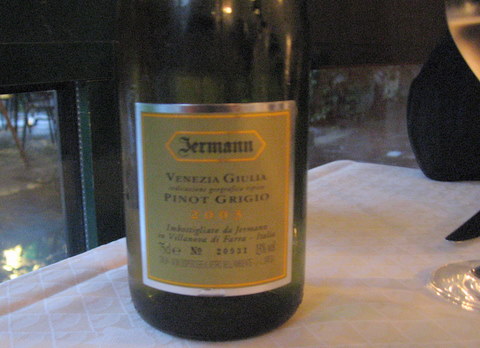 I had a different wine each night, first some nice local Vermentino, and the second night a Jermann Pinor Grigio 2003, which was a little disappointing being not completely balanced and lacked fruit. Too acidic to my taste.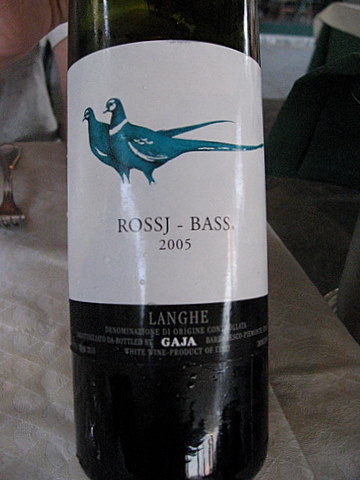 The best wine was for sure this Chardonnay. A bottle of Gaja, my first one. Fruity and tannin to balance it, a full flavour and a good structure. One of the waiters came and gave me the cork from the bottle. I brought it home and keep it as a kind of souvenir. It's a pale white and a pretty cork with almost no dark granulates.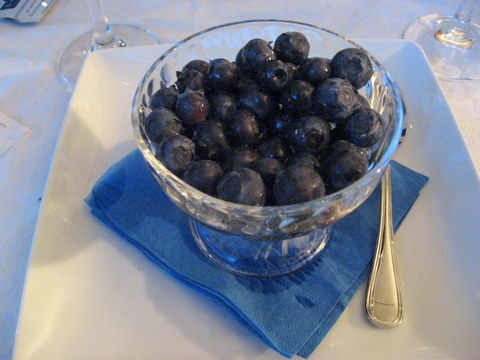 Adriana is the grand dessert chef. I had blueberries with Maraschino liquor twice because it was so good and because I love blueberries. Very blueberried, and I was close to be in paradise.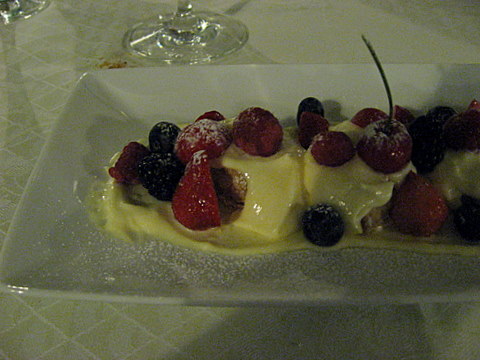 My last evening I felt like varying and not have blueberries. My choice was instead the delicious Chantilly cream with small puff pastries and berries, which was a very good alternative to my blueberries. Adriana was so kind to offer me a glass of Malvasia to accompany this fine dessert.
The final night I was lucky to watch the fireworks at the coast downwards from Rapallo. A spectacular ending of a nice trip to the beautiful Ligurian coast.
Good food, good and personal service. I certainly hope to be back some day!