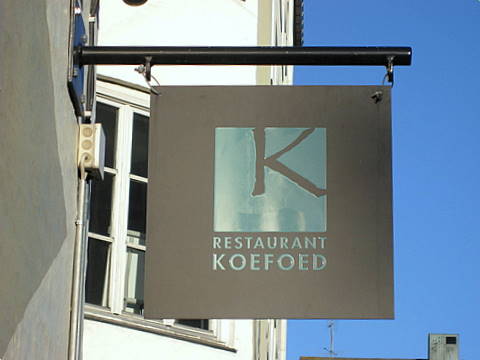 With the fridge comprising nothing but some Parmasan and Präst cheese morsels, capers in salt and a glass of old olives a sudden improvised dinner in town at Restaurant Koefoed saw light on Thursday 6 September. I had phoned a couple of restaurants in vain for a booking and then came to think of this nice place, where I had lunch six months ago and always wanted to return for dinner.
The man behind this nice basement spot is Timo Hoffmann, a Copenhagener, and very passionate about the rocky Baltic sea island of Bornholm. So much that he has dedicated his restaurant to celebrate it by using all the products he can get food and interior-wise from Bornholm. A beautiful thought.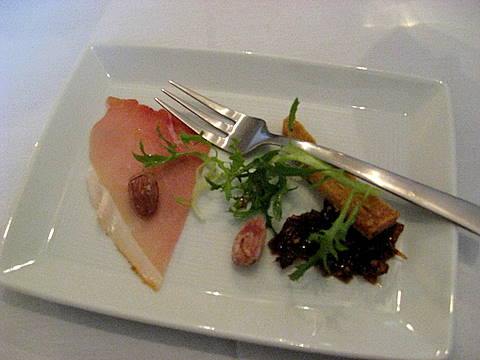 Shortly after we had given our orders, a little amuse bouche arrived with smoked and salt-cured ham with figs, salted almonds, frissée salad and a bread stick, which was oily but crispy and slightly salt. The fragrance of this little ham dish is still very present in my memory. I have a thing for scents, like with wines, I enjoy the flavours even more when my olfactory sense is being prodded before I lead the fork into my mouth. It's like a warning, or a hope, a prelude and a promise of something nice and intriguing to come. An allure. Makes me excited.
The ham slice was thin as paper, hugely aromatic and almost melted on my tongue. I liked too the sweet figs and salty bread stick.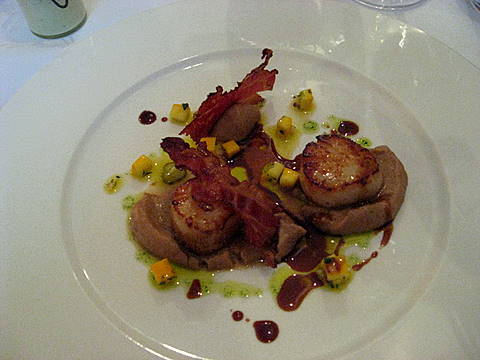 Fried scallops with caramelized cauliflower puré, pepper bacon and jammed courgette followed. The scallops, oh I love, love scallops, the fresh and nutty taste, and the smell of them welcomed me when the kind waiter palaced the plate in front of me. They were perfectly cooked with a crust and still a bit raw on the inside. The puré was delicious and I wouldn't have guessed it was cauliflower, if I didn't know. The bitterness of the vegetable was turned into a fullness of aroma, very interesting, and nicely matched with the courgettes. The pepper bacon was also good, could have been a little more crispy to my taste. I didn't notice the pepper of it.
My scallops were accompanied by a Riesling from Waipara, Stratum, New Zealand which was nice and with notes of sweet fruit, perhaps because of the temperature of it, but went well with the scallops and courgettes.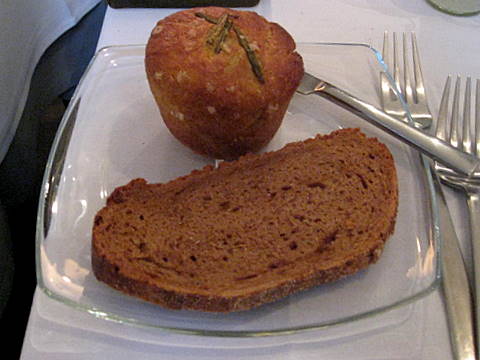 The bread could be something they had baked themselves, so good. A remarkable malt flavour with the sliced one, and the muffin formed one was almost like a cake, somewhat sweet and salted on top, spiced with rosemary. It was filled with oil but I enjoyed it, perhaps a little too much, as I had to go and wash my hands bore gripping my food tools again afterwards.
Before the main course came I got a palate cleaner of apples granite with vanilla, which was very fresh and amazed me with it's great rinse capability. A delight intermezzo.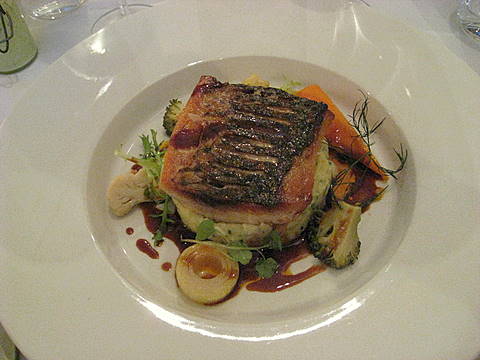 The main course was a generous portion of fried mullet and mashed potatoes, smoked cheese and late summer vegetables. I didn't know that a Mullet could be this big. This piece resembled mackerel fish in size and in texture, actually a little bit in taste too but more fine and delicate. The boiled vegetables of carrot, broccoli, onions and cauliflower were very firm and had a nice taste. Again lovely fragrances, and the course was so good that I couldn't stop eating until the plate was clean.
By the way, I tried to look-up the Mullet fish in my new North Atlantic Seafood book, by Alan Davidson, couldn't find it, but maybe he didn't cover the island of Bornholm.
To go with the Mullet I got a North American Chardonnay, from the Sebastiani producer, Sonoma. It was opened at my table and was cold, but not too much. Very fruity and voluminous both in the nose and the palate and balanced with tannin. I liked this one more than the first one I had.
As for the service it was as friendly and accurate as my first time here.
So, conclusion. What's the conclusion? Well, go to Restaurant Kofoed! Taste the traditional Danish cuisine with a new touch, high-quality products, sense the passion and the carefulness for the food, discover Bornholm and be glad!