こんにちは – Konichiwa – Hello, I'm just back from a wonderful visit to Japan, my first ever. The purpose of the trip was of course to experience some amazing food and restaurants, there are 14 *** 3-stars, 54 ** 2-stars and 198 * 1-star restaurants alone in the Tokyo, Yokohama and Kamakura Michelin Guide. However, the purpose was also to discover a little bit of a country that I for many years have been fascinated by: the ancient culture going hand in hand with the most advanced technology, 120 million people co-existing on roughly the same amount of habitable land as in Denmark.
Thanks to my dear family I got the flight ticket as a birthday present. Thanks also to a very kind friend who let us stay at his place in Tokyo city. We were there for 9 days with a short break of a 2,5 days trip to Kyoto.
At home I tried to prepare myself for the trip to Japan. I expected it would be a challenge not speaking the language and not knowing the culture at all. How to prepare for that, really?
Here are a few snapshots from my trip. I will of course return with more detailed post on my best restaurant experiences.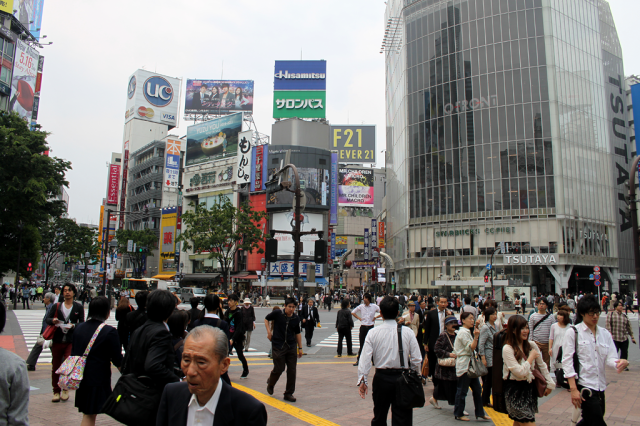 Shibuya Crossing, 2 million people passes through here every week day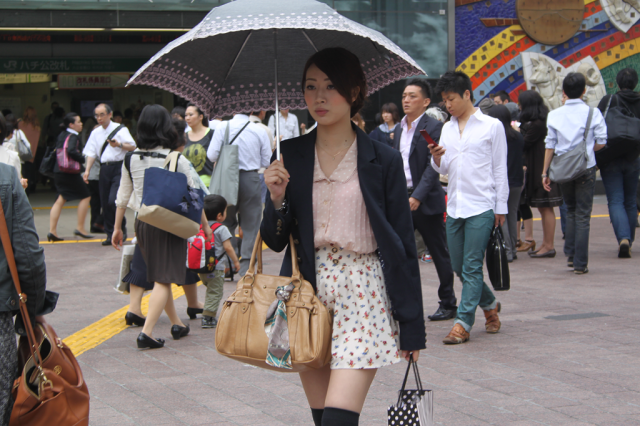 The trip turned out to be the most amazing trip. It shocked me, moved me to tears, made me smile, made me sad to leave and, above all, provided me with experiences I will treasure and remember for the rest of my life.
Many thanks also to my fellow bloggers, Wandering Epicures, Luxeat, Chuck Eats, A Life Worth Eating, Andy Hayler and Gastros on Tour for inspiration and guidance.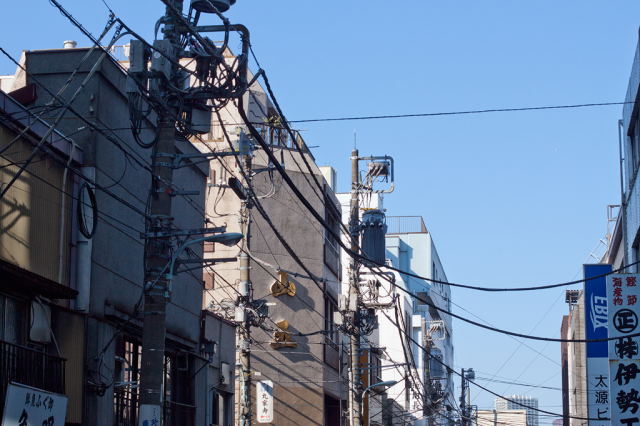 Electricity cables are strung to the outside of the buildings to make it easier to spot broken cables after earth quakes.
The incredible Shinkansen. Not only does it go very fast – the whole system is a marvel of precision.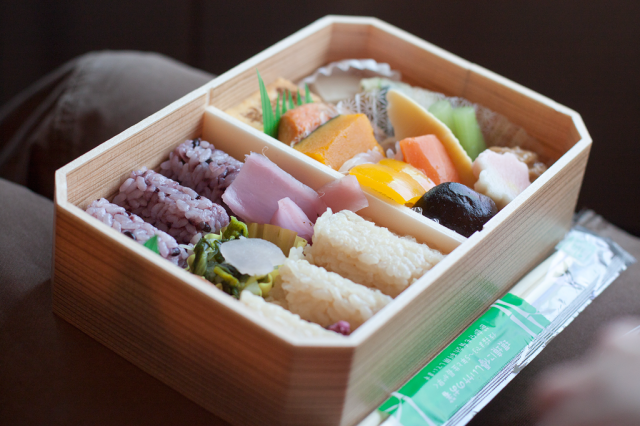 Traditional Bento Box for the train trip – rice, dried salmon, pickled and cooked vegetables
(not so much my taste though 😉 )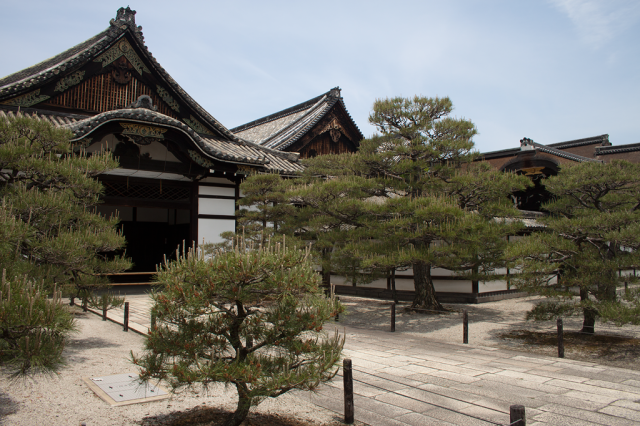 西本願寺 Nishi Hongan-ji temple in Kyoto. Here I attended a Buddhist mass that was so moving that I could not help myself crying.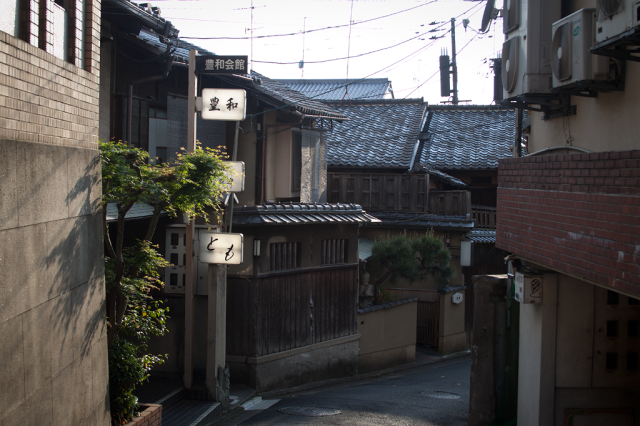 祇園 Gion, Kyoto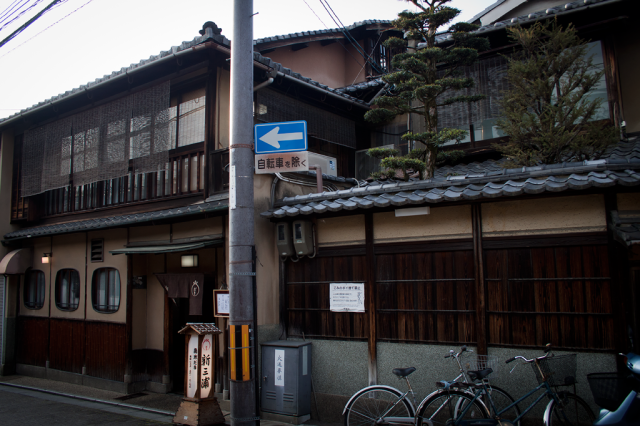 祇園 Gion, Kyoto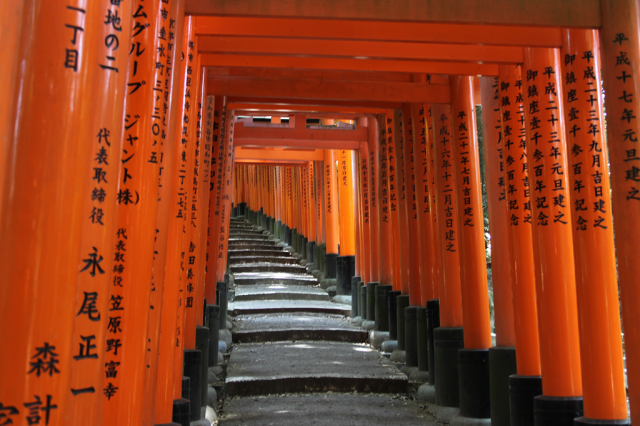 Gates at the Fushimi Shrine (伏見神社), Kyoto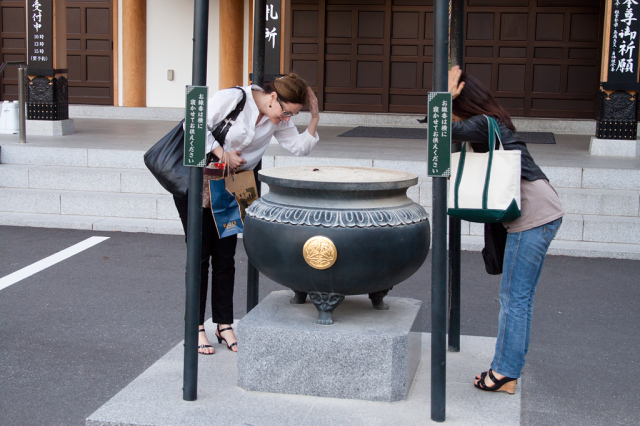 Smoke of visdom at the Zojoji Temple (増上寺), Tokyo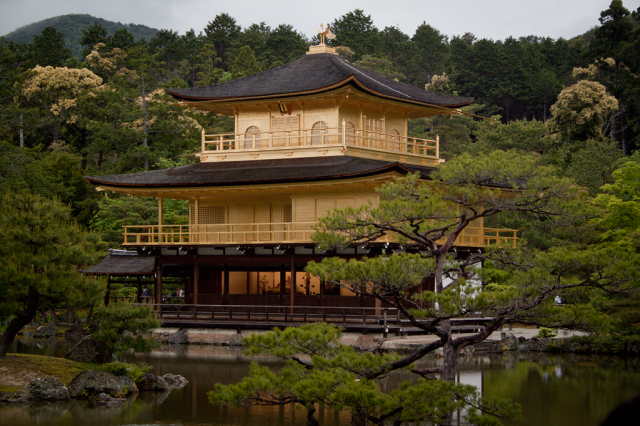 Kinkaku-ji (金閣寺), Kyoto (Golden Pavillion)
It was like this country opened my senses and removed any filter between me and the reality around me. Everything hit me with a deep emotional impact; from watching the lush, green mountain landscape passing by on the train rides from Narita Airport and the Tokyo-Kyoto roundtrip, witnessing a Buddhist mass, walking through the hundreds of orange gates at the Fushimi Shrine, being interviewed by a shy and nervous, but brave, schoolboy for his home assignment, gazing at the pittoresque and paralyzingly beautiful Golden Pavillion, getting lost in Kyoto trying to find the Philosopher's Walk…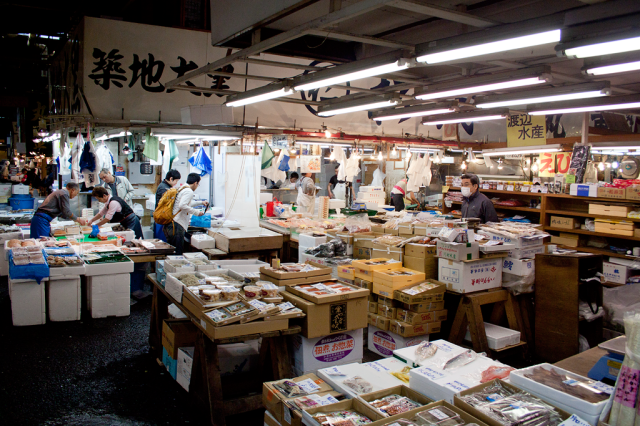 Tsukiji (築地) – the world's largest fish market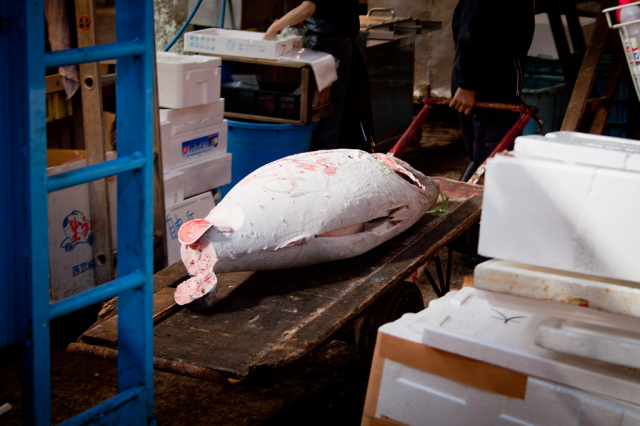 … to enter the restricted area of the Tsukiji fish market and then – politely of course – be ordered out again by a very serious police officer, eating live mackerel sashimi from a still gasping fish (morally not OK), having shabu-shabu dinner with Japanese karaoke-singing colleagues (thank you, guys, for your warm hospitality!), playing golf in the middle of the night, sipping champagne on the 52th floor and Park Hyatt's sky bar (had to – I love the film Lost in Translation, despite its clichees)…
Bluefin Tuna at the esquisite Sushi Kanesaka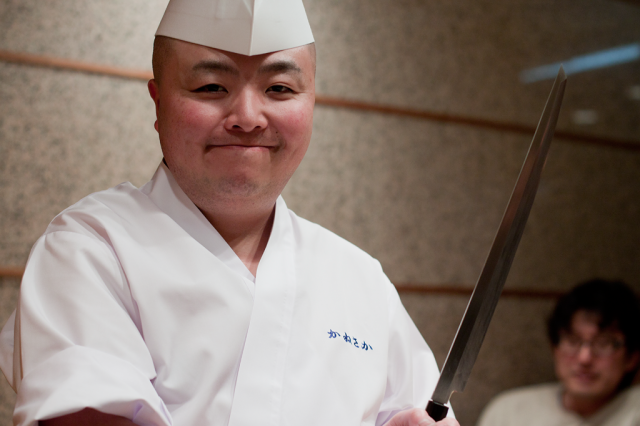 Our chef at Sushi Kanesaka
…to eat mindblowingly good sushi at Kanesaka and be fascinated by the complex keiseki served by our own sweet server-hostess in Kyoto, to learn how discipline and precision makes people stand in line during rush hour for their turn to board the train or metro (watch and learn NYC and Copenhagen!) and to see how the Shinkansen train system works with clockwork precision. Nine days in Japan was enough to make me feel not quite the same person now than when I boarded the plane in Copenhagen Airport three weeks ago.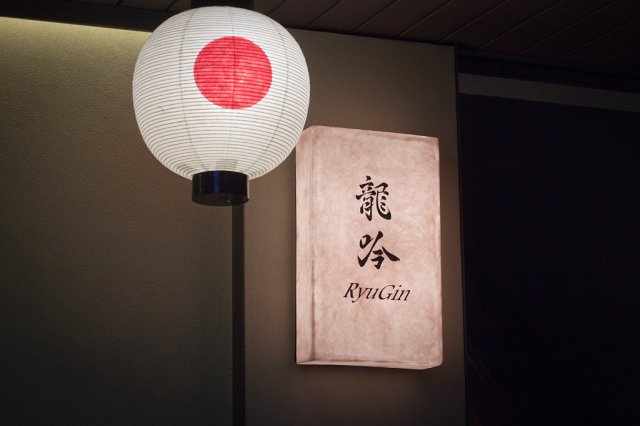 Now, Food-wise:
The top restaurant experiences of this trip were: Ryu Gin (龍吟) ***, Sushi Kanesaka ** (8-10-3 Ginza | Misuzu Bldg., fl. B1, Chuo-ku, Tokyo Prefecture 104-0061, and Hana Kitcho (HANA 吉兆) *. More on those later. However, local places were great too and it is really true that the quality is immensely high everywhere you go. You know, even McDonald's food taste better in Kyoto than in Copenhagen!
One thing is certain: I'm so thankful for this opportunity and I hope I can return to Japan again soon! 🙂