The first time I heard about Restaurant De Librije was when I watched Jonnie Boer's exciting presentation during the Chef-Sache in Cologne in September 2011. He was show-cooking his signature dish of Foie Gras, North Sea crab and fermented red cabbage juice. I had the pleasure of meeting both Jonnie Boer and his sweet wife Thérèse at the Chef-Sache, and after the conference they most kindly invited me to explore the world of De Librije. In 2004 restaurant De Librije was rewarded 3 Michelin stars.
To make a long story short, Jonnie and Thérèse Boer's success in Zwolle started in 1993 when they took over Restaurant De Librije. Jonnie had already been working some years with Ed Meijers, owner at the time of De Librije. Jonnie Boer applied there in 1986. In the meantime Jonnie got to know Thérèse who at the time was attending the hotel and catering school to specialize in wines. Before long Thérèse became a respected viticulturist and hostess.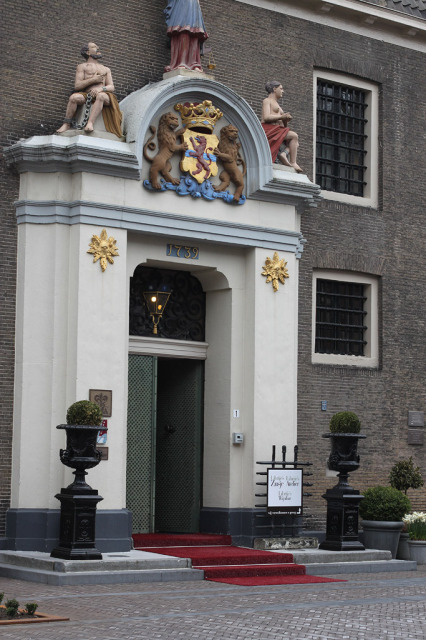 Librije's Hotel
Then, in 2006 the Librije's Hotel and Librije's Zusje (Librije's little sister) restaurant were born, located in a former women's prison built in 1739. The building has been carefully restored and turned into a 5 star hotel with hints of its past history and full of luxury.
The restaurant Librije's Zusje is awarded two Michelin stars and offers classic dishes from Restaurant De Librije as well as adventurous creations and vegetarian dishes. "A touch of Librije prepared and served with a passion" as Jonnie and Thérèse Boer present it.
For this trip I invited my brother. I have long wanted to share some of my food passion with him, and as he had just quit his job to start in another company, he had a few weeks off and helpfully volunteered as driver for the eight hours' trip from Copenhagen to Zwolle. After a stop-over in Hamburg he and I arrived at Librije's Hotel around lunch time on Wednesday 4th of April 2012. We were warmly welcomed by our personal butler(!) Hans, who gave us his business card and kindly informed that if we had any need what-so-ever we should just call him. Stylish.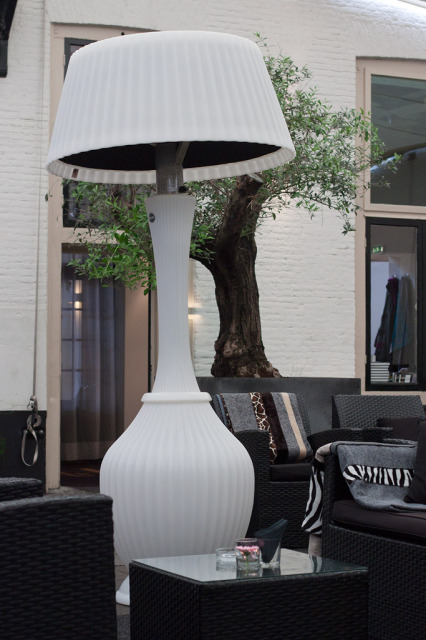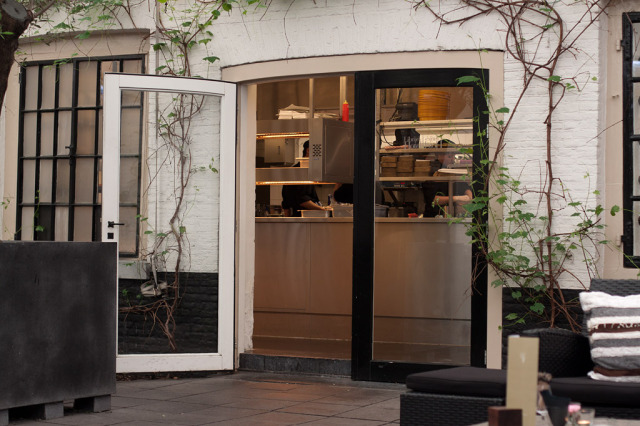 The entrance to the kitchen at Librije's Zusje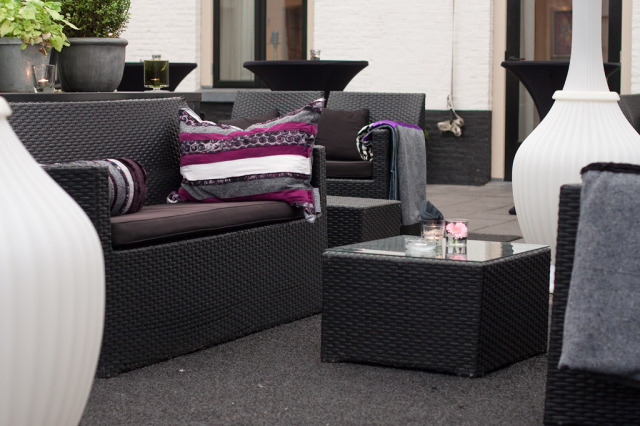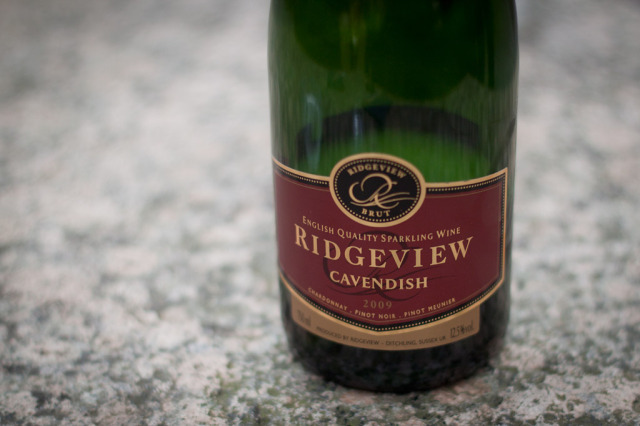 RidgeView Merret Cavendish, sparkling
Nicely installed with a surprisingly nice glass of English RidgeView Merret Cavendish "champagne" in the prison courtyard in the centre of the building, our lunch began with a number of delicious, sharp and very distinct appetizers. Excellent.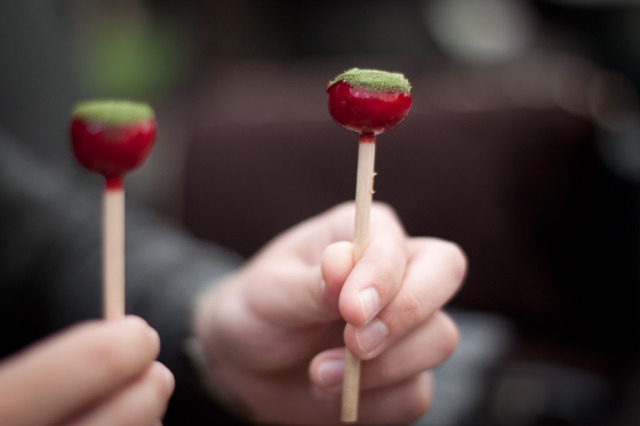 Foie gras lollis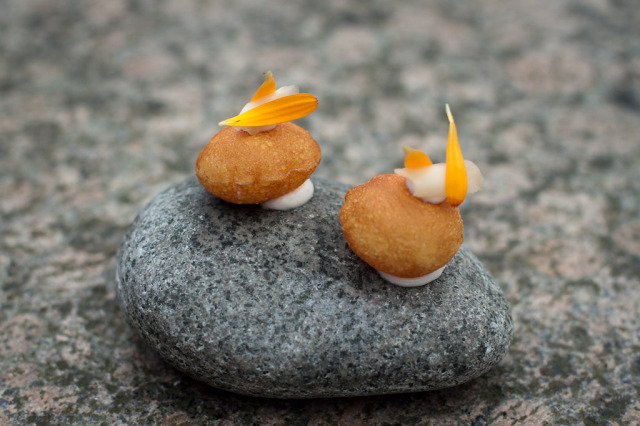 Light, fried dough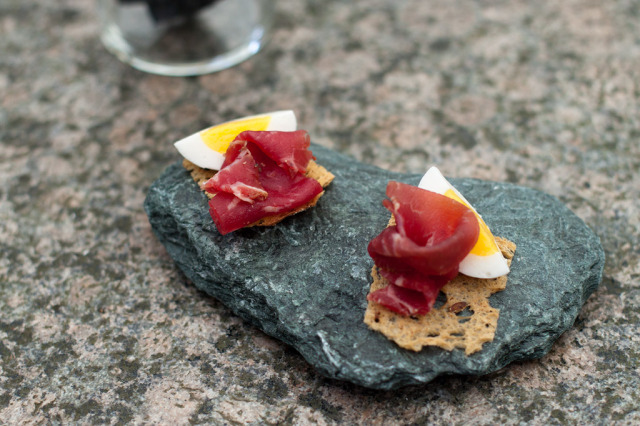 Cured beef and quail's egg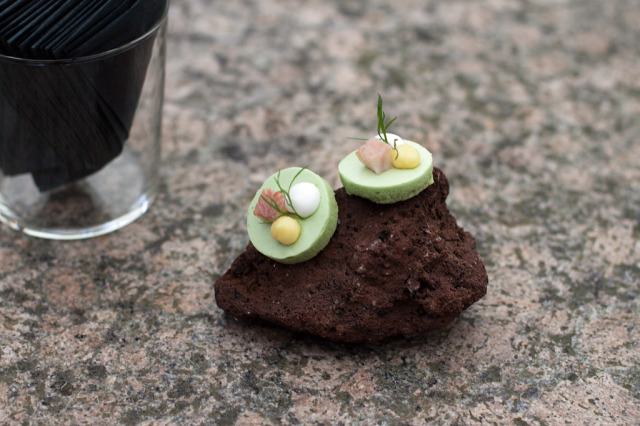 Green meringue with smoked eel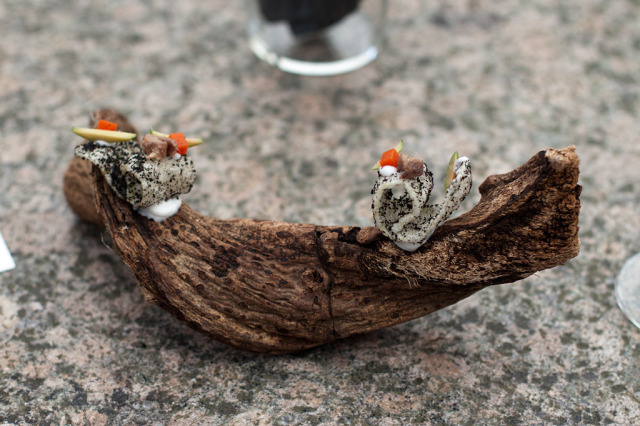 Pork crackling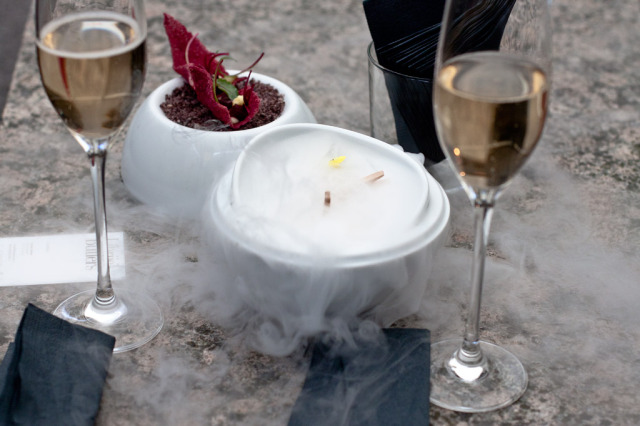 Beetroot snack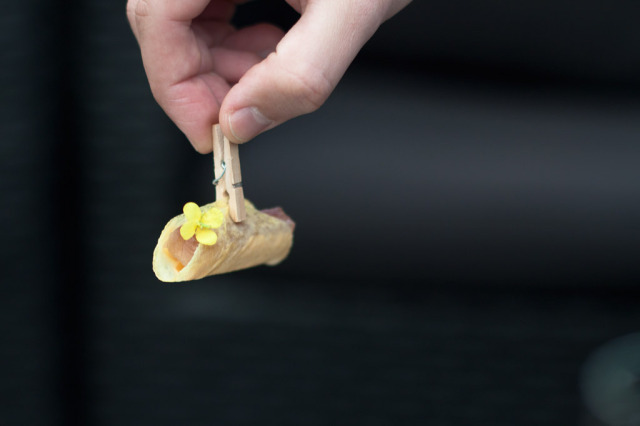 Then we moved inside to the dining room…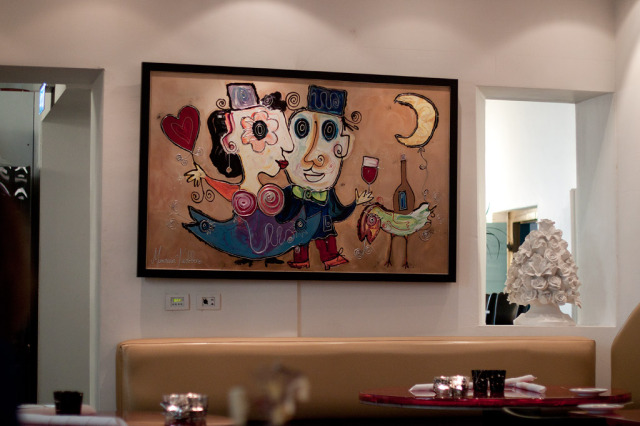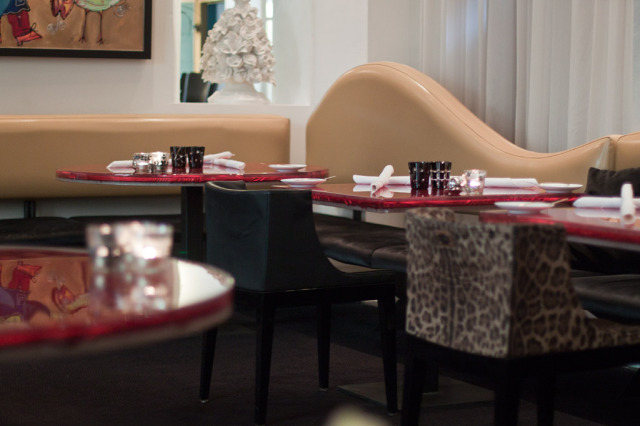 The design of the dining room is nothing like anything I have seen before. It's held in a kind of quirky, art deco-ish postmodern nineties theme, which I can't decide whether I like or not… but it actually reflects very well the self-confident rock 'n' roll style that surrounds the Boer couple.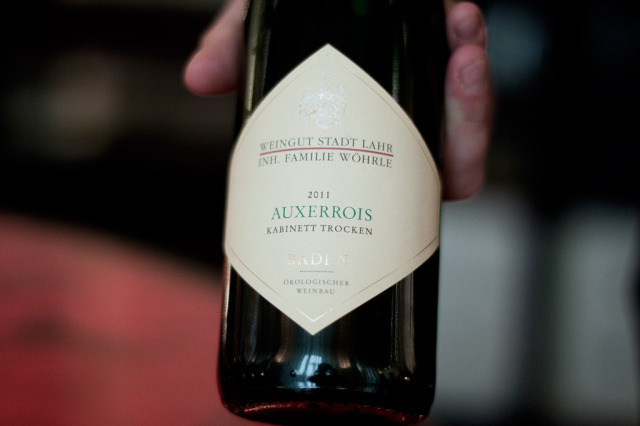 2011 Auxerrois from Weingut Stadt Lahr, Kabinett Trocken
We  asked for a glass of white wine that could accompany the first light dishes, and the sommelier served us a delicious wine of 100 % Auxerrois. The wine was semi-aromatic, floral with a nice acidity in the finish. Very good.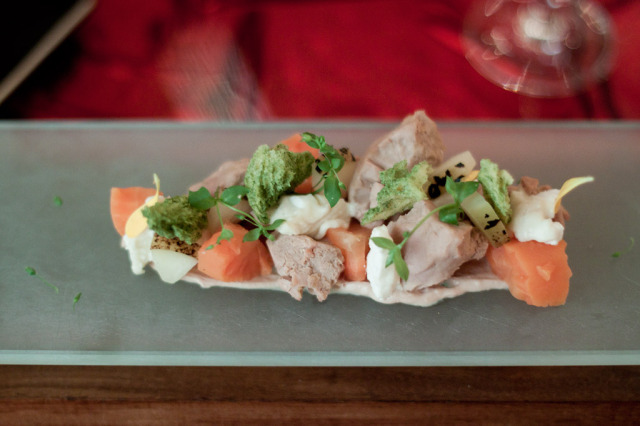 Foie gras 'on the rocks', goat's cheese with roasted apple and carrot preserved with Madras curry
The first course was composed by a very perculiar combination of foie gras and goat cheese. I liked the title of the dish and the playing with words of 'foie gras on the rocks' but it was like the dish was too sought somehow to really please me. The different tastes didn't connect, in my opinion, although on their own the quality of the produce was high and tasty.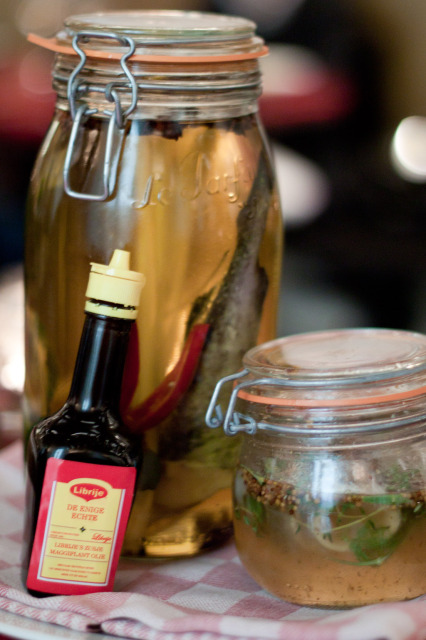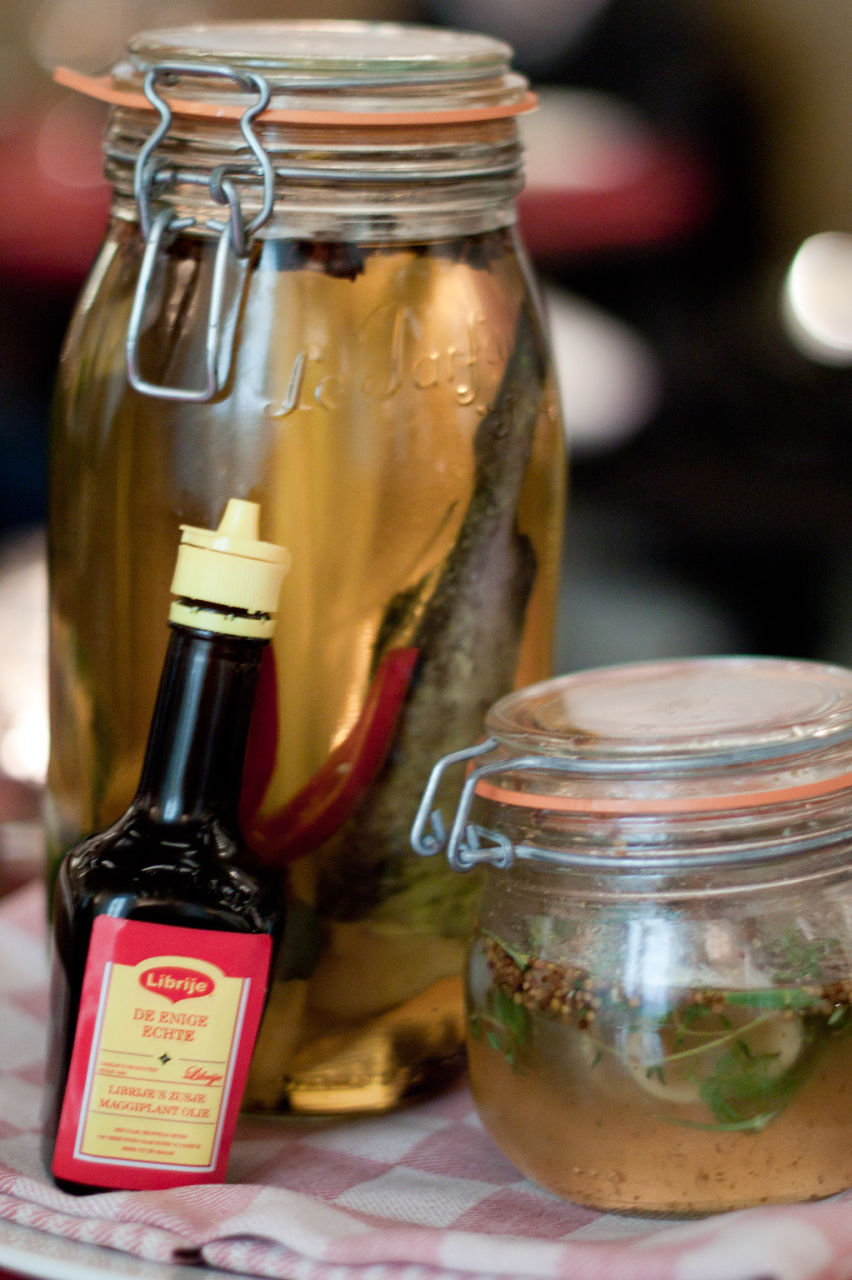 Monkfish in oil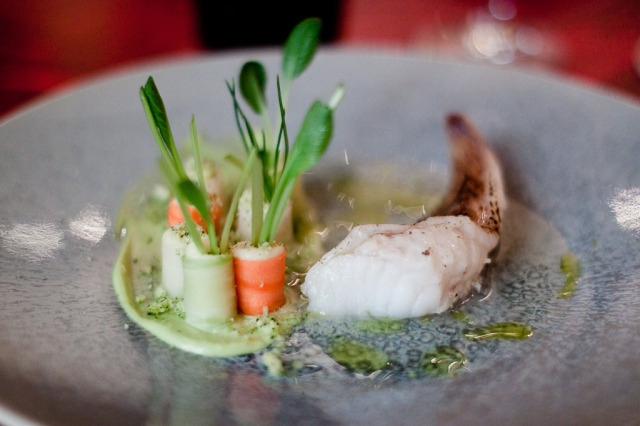 Monkfish cooked in oil
The second course, though, sent me right into heaven. It presented the most excquisite monkfish I've ever had, preserved and cooked in oil, served with lovage and tarragon cream. There was an excellent balance to this dish. The vegetables' crunchy texture and sweet and sour tastes paired with the full-flavoured, delicious and juicy fish. Surprising and new to to me. Bravo!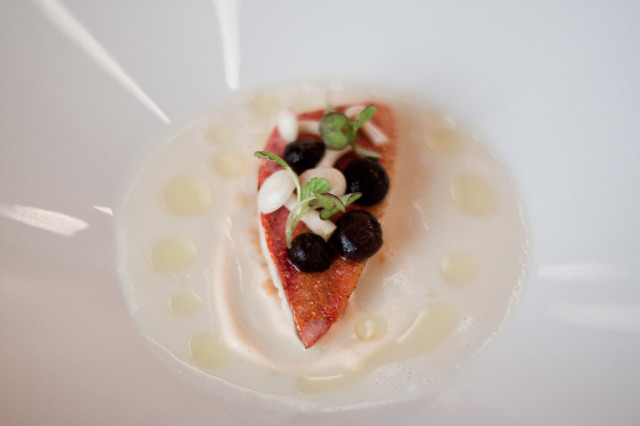 Redmullet with mushrroms and black olives
Next up was a fillet of red-mullet with crispy skin. The taste was fresh and salty, and the black olives matched nicely with the fatty fish. The liquid under the fish had a very oily texture. I have noticed that many fine dining restaurants serve red mullet these days and though I'm a big fan of this particular creature of the seas, a red mullet dish can be quite trivial. Here, on the other hand, the top quality and the way the black olives challenged the fish, really justified its presence. Very good.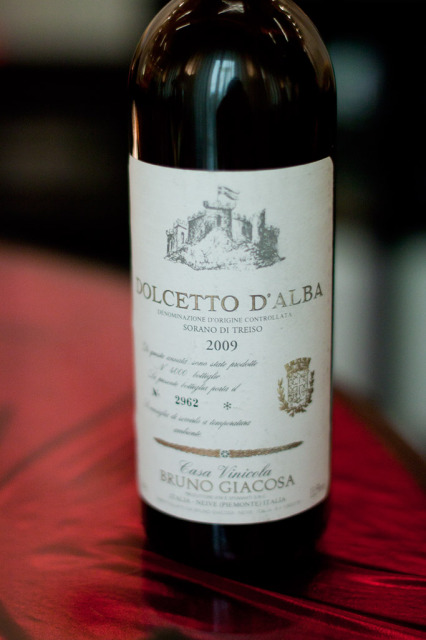 2009 Bruno Giaccosa, Dolcetto D'Alba – structured, and full-bodied with fine balance.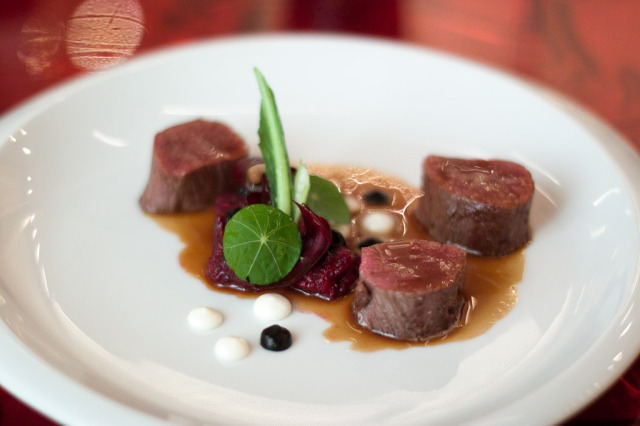 Roe deer with olives, beet root and magnolia sauce
Next came an incredibly tender and pure roe deer that completely melted on my tongue. My guess is that it had been cooked sous vide to achieve this degree of tenderness. The meat was accompanied by baked beet root and beet root crudité. The veal stock sauce was spiced with magnolia flower. Excellent.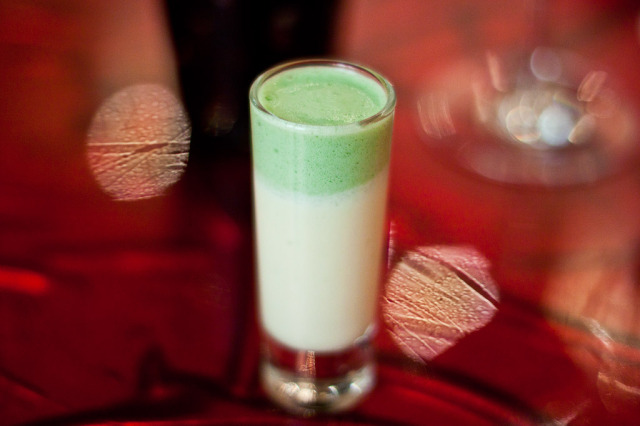 Tarragon and eggnog cleanser, deliciuos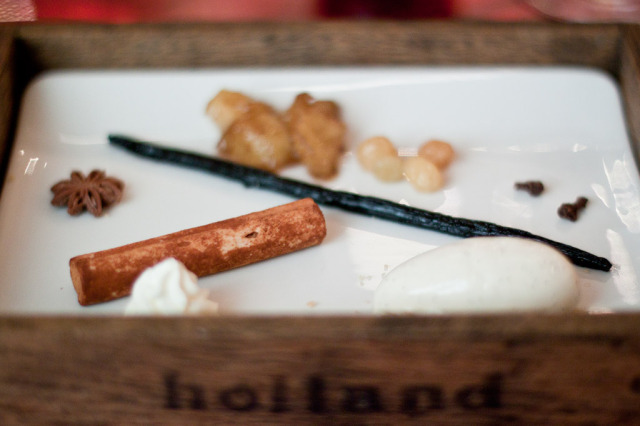 Deconstructed grandma's apple pie
This beautiful presentation of the ingrediens of a classic apple pie was both a fun and a delicious closure of the lunch meal. When mixing a bite of all the pieces in one mouthful I experienced the most delicious apple pie with vanilla ice-cream.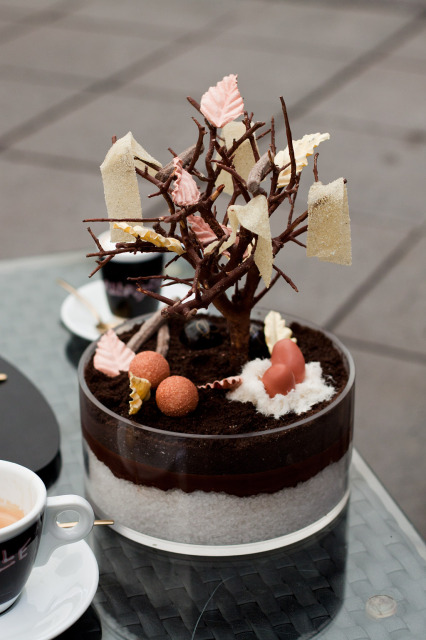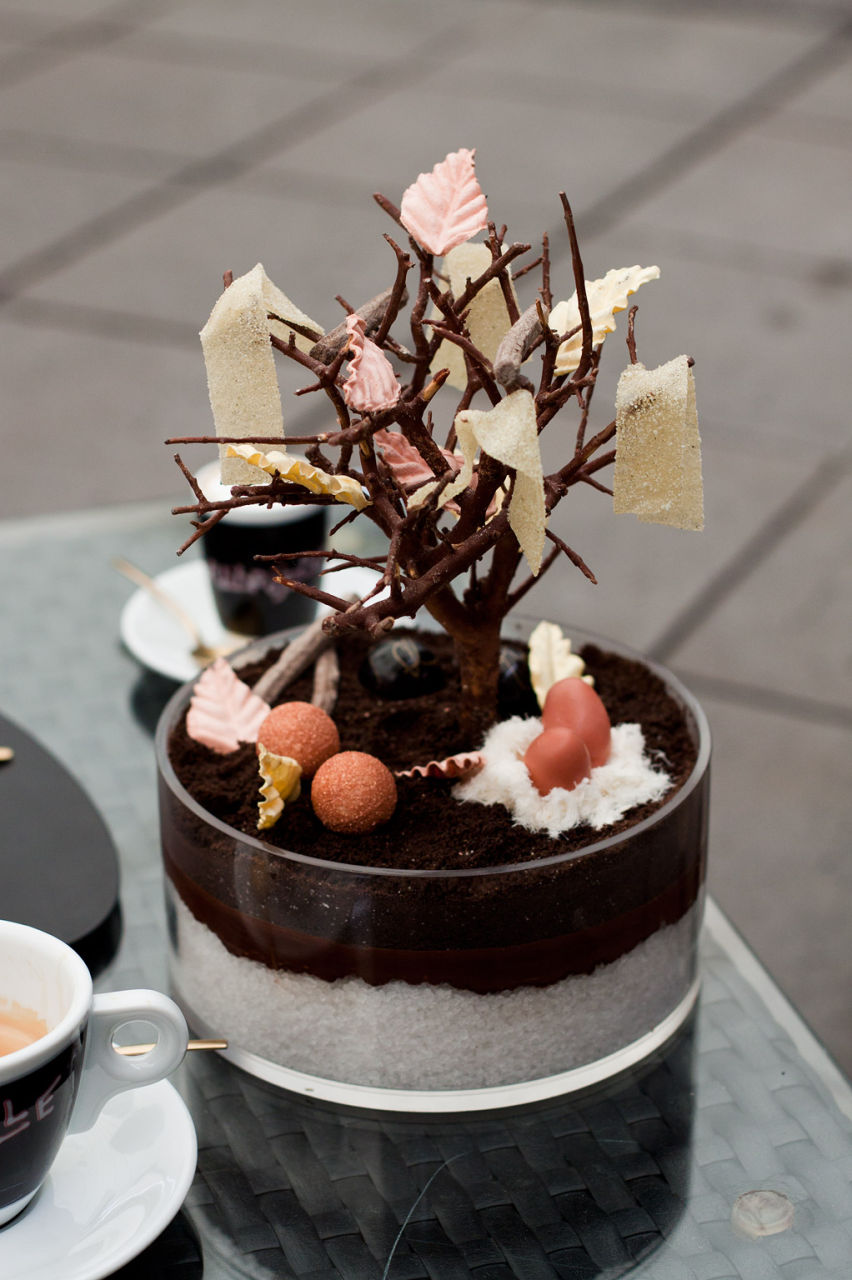 Coffee and mignardise
We went back outside to have coffee and nibble the great chocolate and candy pieces. Except from the tree itself everything was eatable.
It was late afternoon and all the guests had left and peace fell onto the place. It was wonderful to just site for a while in the rocking chair, enjoying the setting and thinking back of the delectable food and wine. And it was a lovely thing to share this with my dear brother.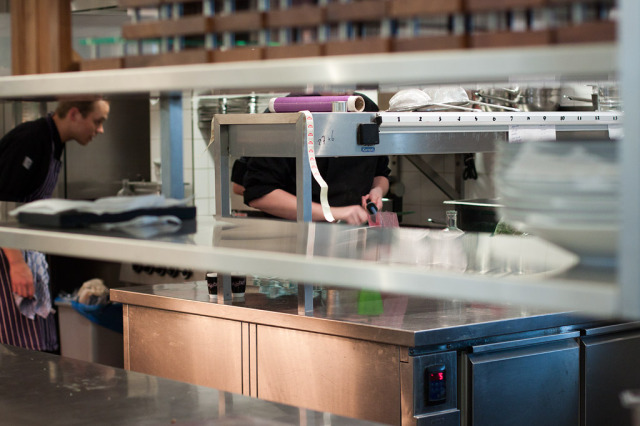 Passing the kitchen on our way outside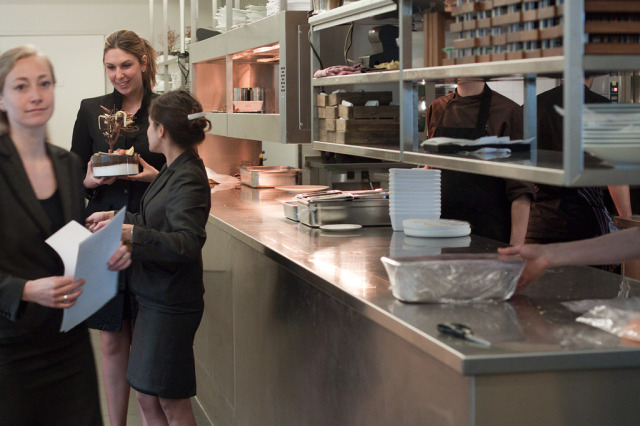 The attentive staff noticed I was taking photographs and waited until I had finished before they walked by.
When we arrived at Librije's Hotel I didn't really know anything about it or the Zusje restaurant and had no clue of what to expect – perhaps except from luxury. I was very impressed by the creativity, the style and the quality that reflects the place. Also, it's not often one experiences such a high level of service without it getting stiff or too formal. At Librije they have found that rare balance between service and a casual, personal approach, and it makes it such a pleasurable place to be.
It's was a very nice lunch that only sharpened my appetite for dinner at De Librije that same evening. But alas – I fell ill that afternoon (unrelated to the restaurant!) and thus had to spend the night in my bed instead of at a table. I do hope to return to Zwolle soon to experience De Librije itself.
Thanks so much to Thérèse & Jonnie Boer and to my brother of course!