[Edit: Buono no longer runs Krogs Fiskerestaurant]
First time I visited Krogs Fiskerestaurant was back in 1995. I still remember my visit. I had invited a very good friend of mine to thank her for a favour she did. I had booked a taxi that secretly took us to the restaurant and she didn't know where we were going.
Since 1910, the conservative Krogs Fiskerestaurant had been considered the best fish restaurant and among the finest places to dine in Copenhagen, and for a poor undergraduate at Copenhagen Business School it was an outrageously luxurious thing to do.
I recall ordering lobster with black truffles. The lobster was served on a plate, head, claws, tail and all. But from the eatable body and the tail the shell had been removed, the body had been sliced and were separated by huge slices of black truffle.
After all those years I still have this picture in my head. It was completely delicious and decadent. It was old school luxury eating. Then after our dinner we returned to the worn-down student hostel where we both lived at the time and had a few beers with some friends. What an evening of contrasts, but a delightful one.
Later on, as my obsession with fine dining kicked in, turbulent years followed for the venerable Krog's Fiskerestaurant and it went into a spin, both quality-wise and financially. The place didn't know how to re-invent itself, and as new, innovative places shot up all around the Danish capital, only American cruise tourists and elderly, wealthy Danes went to Krog's for its nicely made but too expensive and entirely umimaginative classic fish cuisine. The restaurant's reputation of being overpriced, understaffed and struggling made me defer a revisit for years. In fact, I never went back. Till now.
But then a few weeks ago, I got one of those blogger-invitations from a corporation wanting to get some buzz around their products. I get quite a lot of those, and normally I don't attend such events as they are mostly about marketing and not so much about food. This invitation was for lunch and a tasting of the Aalborg Akvavit-brand – Danish eau-de-vie produced by Danish Spirits (owned by Pernod Ricard, in fact). I like snaps, but what triggered me was the chance to go back to Krogs Fiskerestaurant without the risk of wasting my own money. See, about a year ago Boris Buono took over as both chef de cuisine and general manager and I was intrigued to see and taste his new take on this old place with a reformed menu and reduced prices. So I attended on 14th of March. I'm glad I did. Because beside learning a great deal about snaps, we might witness the coming-back-of-life of this once so legendary place.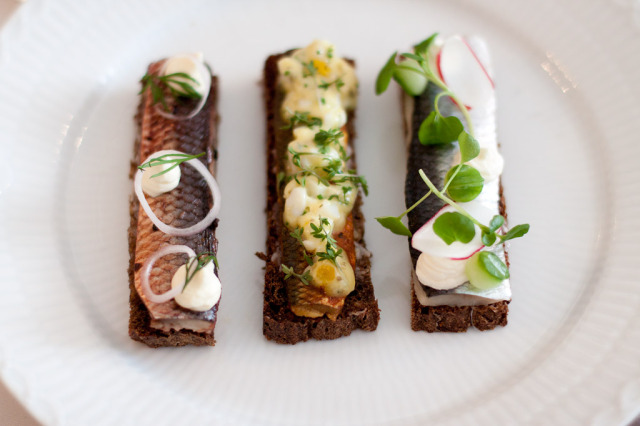 Sherry herring (herring matured with herbs – not the drink Sherry), curry herring topped with eggs in mustard sauce, salted herring
We were served herring that was so delicious, with pure and destinct flavours. I appreciated the fish' dry surface and that it enhanced the properties of each accompanying ingredient. The rye bread was homemade too following an old family recipe from one of the staff and the best rye bread I've had for a very long time.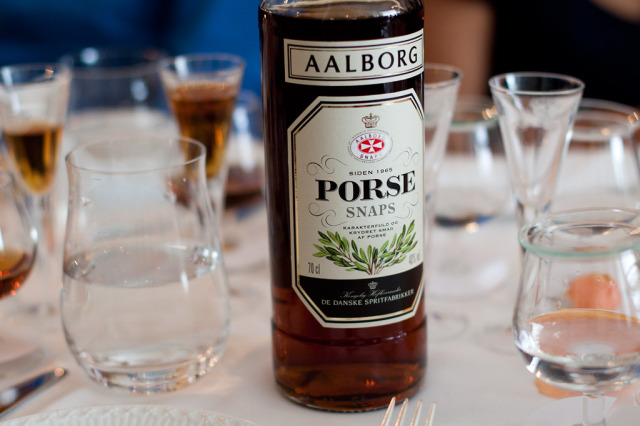 Aalborg Akvavit – eau-de-vie with bog myrtle, rosemary, sherry and oak notes
We got to try four different eau-de-vies, quite different in scent and taste (and no – I'm not being paid to write this, but I do like snaps and I do find the Aalborg brand a quality product, so why not help Danish export a bit :)). We were informed about the Aalborg Akvavit company, which started producing eau-de-vie during the early-mid 19th century and launched the first Brøndum Kummenaquavit (caraway eau-de-vie) around 1840. And we sniffed alcohol, vinified alcohol, alcohol of distilled caraway and spirits with herb extracts (snaps) all the while we enjoyed some really delicious food. The Danish people is very fond of akvavit and snaps and these are the most consumed of all spirits, especially around Christmas and Easter.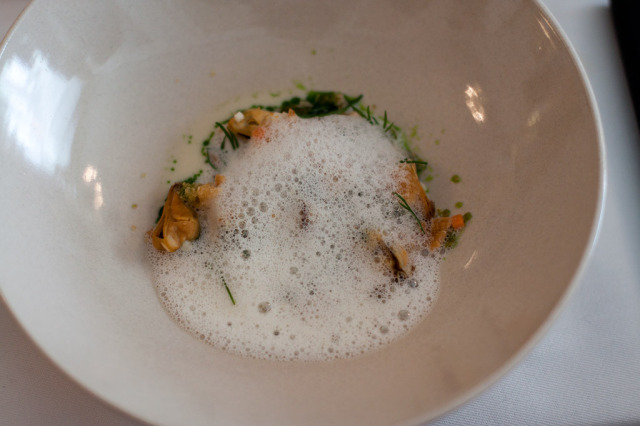 Line mussels from Limfjorden with cream and dill
The line mussels dish was superbly balanced, delicious and offering creamy notes and crunch of a little bit of bread crums and tiny cubes of carrots and celery/parsly root. The dill oil gave a bit more depth to it and was matched with a dill akvavit.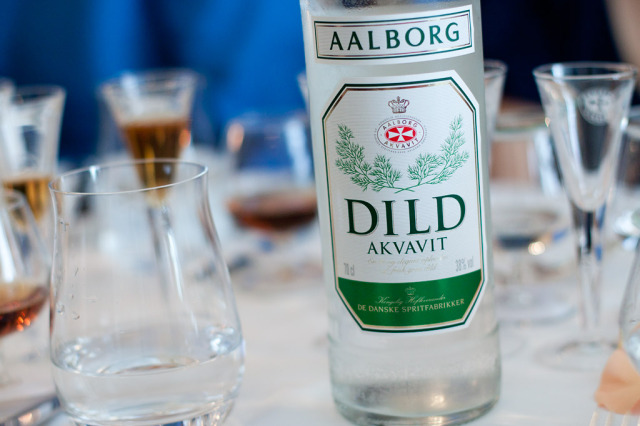 Aalborg Akvavit – eau-de-vie with dill and citrous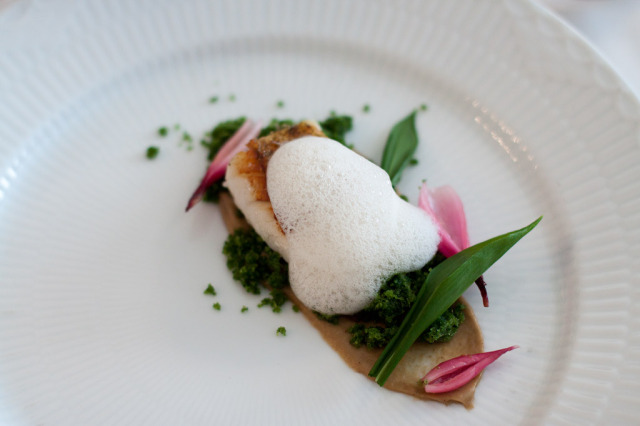 Pike-perch, mushrooms, glazed onions and granules of lovage, butter and bread crumbs
The creamy-ness I met with the mussels dish was repeated here with the delicious, crispy skin pike-perch dish. However, the mushroom purée and the lovage granules made this one more powerful and intense than the mussels dish. Note the brand new green ramson onion leaf on the top. It added acidity and spice as well as the glazed onion did.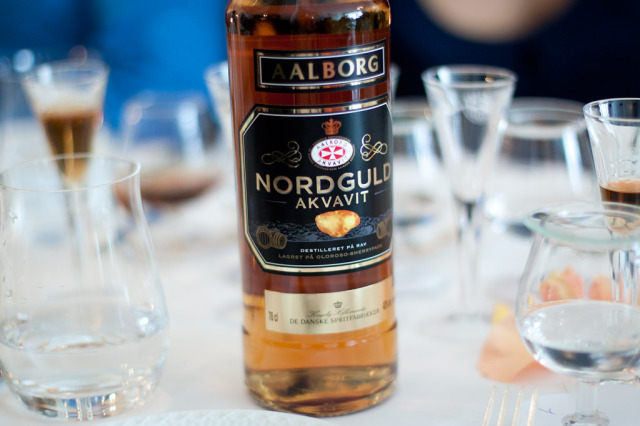 Aalborg Akvavit – eau-de-vie distilled over amber with caraway, rosemary, pine, matured on sherry oak
We tried a Nordguld akvavit which was released the first time in 2007. This amber-distilled eau-de-vie was quite round and mild in the scent and taste – caused by its maturation on Spanish Oloroso sherry oak. It was delicate with caraway notes and a slight hint of pine, but not as much pine-taste as I would have thought. I liked it.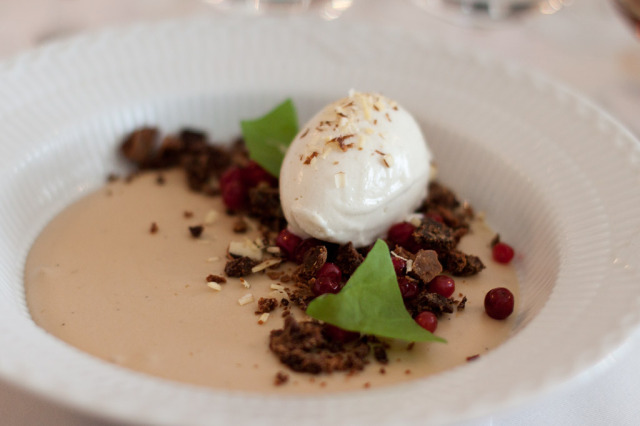 Cream caramel, ice-cream with camomile and Jubilæum eau-de-vie, lingonberries and chocolate crumble
Then the lunch ended with a big portion of cream caramel that tasted a bit like condensed milk. The eau-de-vie ice-cream had a refreshing affect to it together with the lingonberries.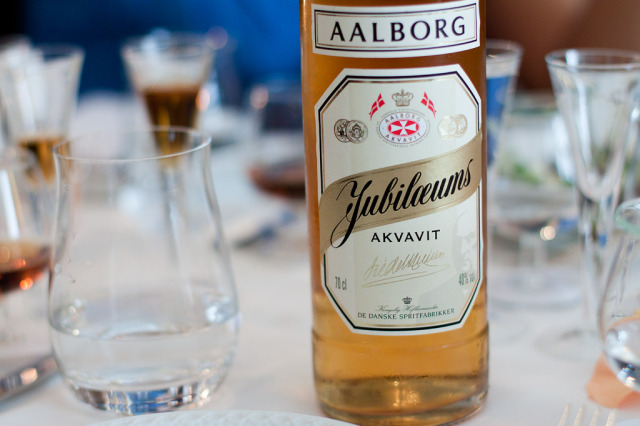 Aalborg Akvavit – eau-de-vie with dill, koriander and oak
While I think eau-de-vie goes well with a cheese courseor with open sandwiches, I cannot really say the same thing about eau-de-vie in combination with a dessert course. Of all the eau-de-vie and snaps we tried this afternoon I found that the Jubilæum one was the most powerful one. So, it puzzled me a bit that this particular eau-de-vie was paired with the cream caramel. Nonetheless, I think that the Jubilæum was my favourite. It's a classic an you'll find it on most Danish tables for the traditional and infamous Christmas lunches. And that fact might explain why Danish Christmas lunches tend to get seriously out of hand quite early in the evening, leaving the attendants with massive hangovers (physical as well as moral) the following day.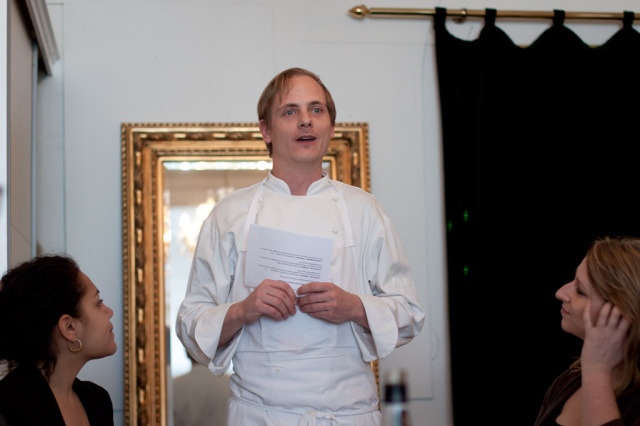 Enough with the snaps already. The interesting thing here was the food. I was quite taken by surprise at the deliciousness of Buono's food. The restaurant is beautifully situated by the canal on Gammel Strand that used to be the site of a fish market known for the women from Dragør in the south and Skovshoved in the north who would come to this square sell their fish. Right up to 2008 when the last fish monger retired (a statue of a female fish monger has been erected at the place). There still is something very noble and fascinating about Krogs Fiskerestaurant and I'm happy that I finally returned. I think the resurrection has begun and that Chef Buono might succeed in rebuilding Krogs from scratch. Thank you for taking on that massive task.