I have to show you the photos from my latest noma lunch, because René did it again! The menu I got on April 30 completely overwhelmed me. This is why I'll never be tired of dining at noma; the variations at all times and the urge to serve and please every new or often frequenting diner in the very best way. I got a whole new set menu of incredible dishes plus three classic ones, because it was my friend diner's first visit to noma. Look and enjoy. Please.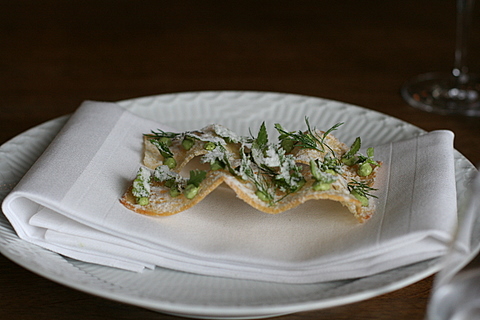 Bread crunch with herb cream, herb emulsion and vinegar dust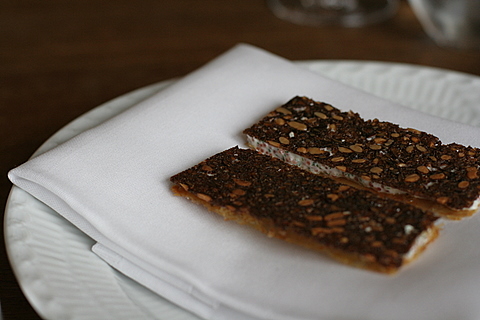 Lumpfish roes with cream and pressed by
rye bread and chicken skin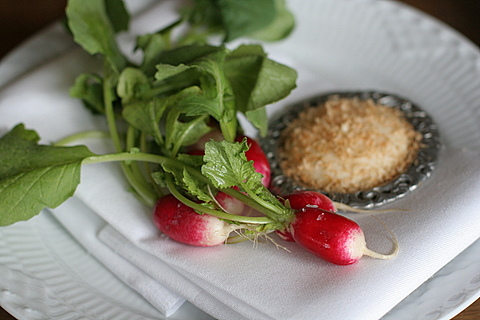 Organic radishes with a cream comprising turbot roes
and topped with grated dried turbot roes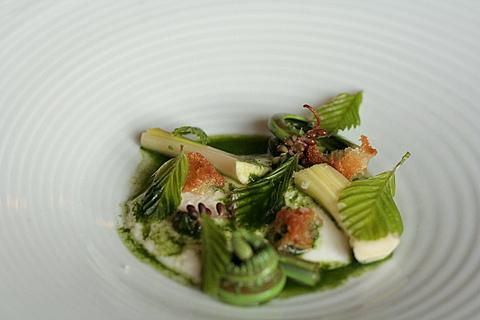 Fresh cow's milk cheese with birch shoots, celery (I believe), fresh leaves and sauce of grass and birch bark
This creation was very refined a delicate but at the same time it offered a rich milk taste that was balanced with the herbs' and the leaves' acidity and a bit of salt from the croutons. An excellent and new take-off.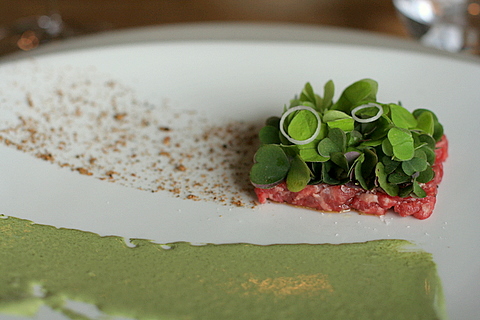 The famous signature dish of the ox tartar
I've had this dish a few times now but this serving was incredibly good, better than previous visits. I think it's related to the fact that the herbs were at their first and the fact that the meat seemed a little more fatty.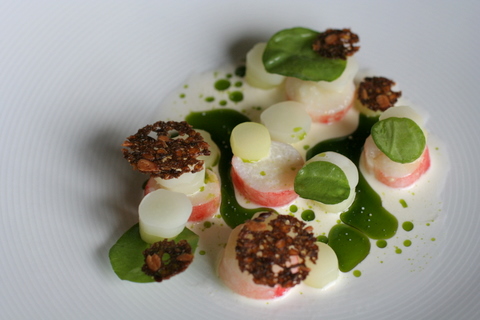 7-year-old king crab from Norway, leeks, crispy rye bread, garden sorrel
Superb creation and even better than the king crab leeks rolled in ashes I got in October last year. By the way, how do they know how old the crab is anyway?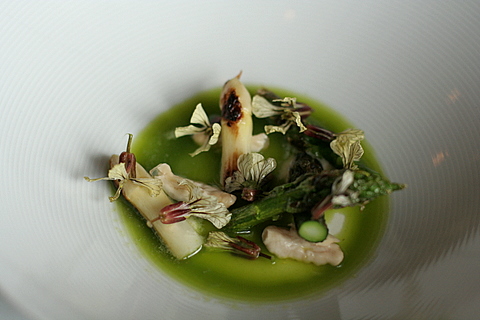 The year's first lovely green and white asparagus grilled and with smoked marrow, beautiful rucola flowers, juice of asparagus and chick weed.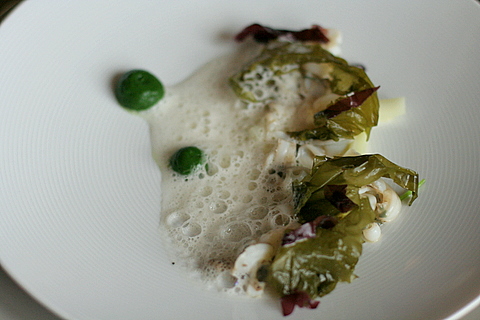 Razor clams, celeriac, cauliflower stems, two types of Icelandic seaweed, parsley puree, razor clam and oyster sauce.
Imagine you are walking along the beach a chilly day of spring. Think of the salt nip in the air and the smell of seaweed. Sense the first warm sunbeam sweetly on your cheek. This is what the dish was like. Heavenly clear and pure with remarkable distinction. The sense of the sea.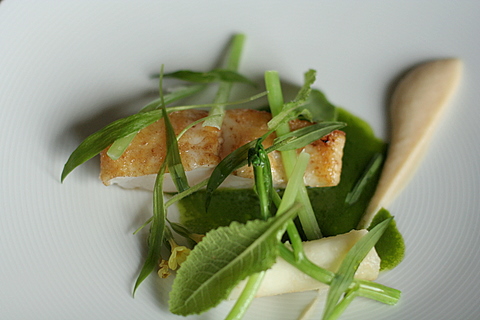 Turbot, ramson leaves and stems, celeriac cooked in hay, cowslip and watercress emulsion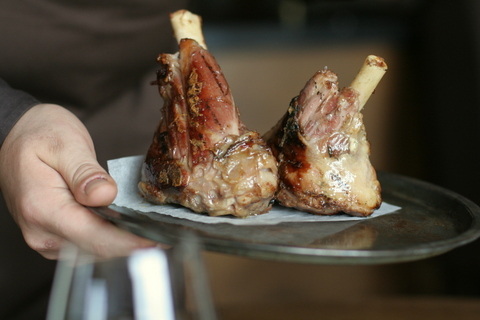 The lamb shank for the main course was presented to us before plating. The lamb was cooked at 64 C for 24 hours.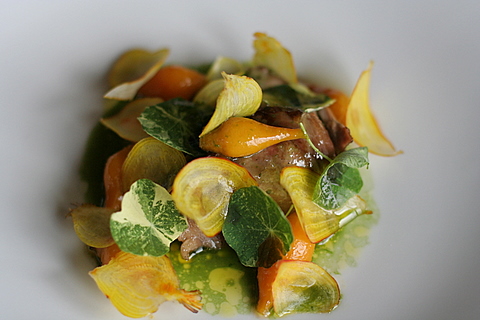 Lamb shank, Indian cress, yellow beets two ways, herb sauce
First time I have lamb there. This was a beautiful and delicious dish, but it seemed to miss out something, which I think could a bit of sour or acidity in some way.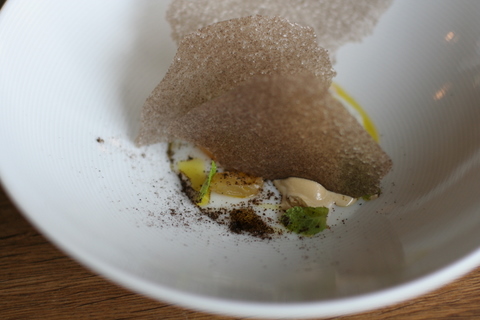 The Classic: Buttermilk gel, reduced sugar beet juice,
raisins in akvavit, tuile of sugar beets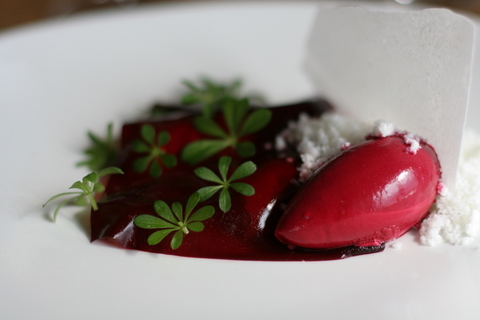 Gel of beet and rhubarb underneath,
beet sorbet, yogurt snow and green woodruff
This is what marks out noma from any restaurant experience I have had in my life. Utmost innovation and perfection. Look at these beautiful green flowery leaves and notice how precisely the stems have been removed to complete the image. Not too much and not too less.
It's difficult for me to put my experience of this into words because it became an emotional experience of enjoying the sweet/sour balanced dessert. I was impressed by the excellency of this whole new the dish.
According to the website, Noma's intention is to create and to prepare a distinctly advanced kind of cuisine, while nonetheless conjoining the patently Nordic approach with a manner of purity and simplicity in the approach. Congratulations – you have reached your goal! I can't wait to experience what will follow.
Thank you.