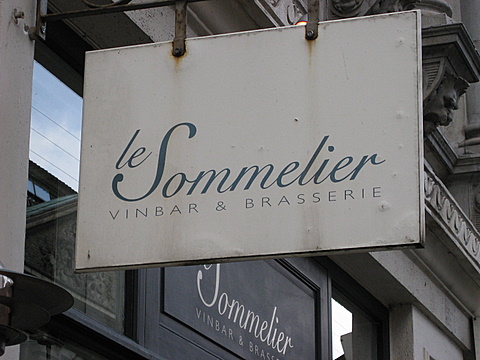 Le Sommelier is a French brasserie and wine bar owned by Francis Cardenau, Jesper Boelskifte and Erik Gemal Witting. Francis was the chef at Kommandanten before he came to Le Sommelier and he was the first in Denmark to be awarded with two Michelin stars. I have dined at Le Sommelier many times since my first time back in 1999, and have always loved it and everything about the place. The decor and style of it seems very French to me, although I'm no expert on French dining places. What I have found here was very high quality products and very harmonious and elegant dishes. Always.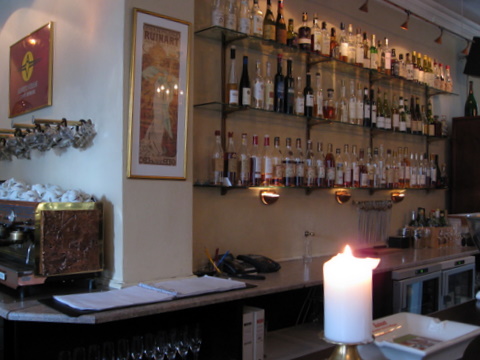 My most recent visit to Le Sommelier was on Tuesday 24 July 2007 and I got very disappointed. So, why am I writing a post about bad food? It wasn't bad food first of all, it was disappointing food. I felt let down. And that's what I would like to communicate. I do, though, still have hopes for Le Sommelier and regard this an isolated occurrence, and this is the reason why I dare mention the restaurant at GOOD FOOD.
The food was not as its usual level and the service failed. My friend and I were going for a nice after-work glass of wine and hadn't booked as we spontaneously decided to also dine there. A third friend would perhaps join us, but we weren't sure about this.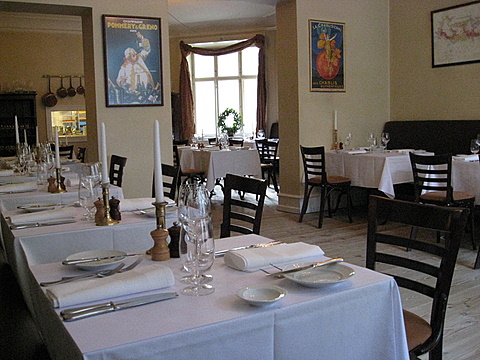 We got a table for three in a separate room away from the bar counter. We waited a little while before ordering the food and then started cramming the wine list, describing a well-stocked fantastic cellar. We finally went for a 2002 Mikulski, Meursault Genevrieres, Burgundy, which I have had before at this restaurant.
After half an hour my friend got an sms from our friend asking whether he was with me. He answered – and then nothing happened. We were puzzled. Then another 10 minutes went by and we suddenly saw our friend coming towards our table. She had been waiting for us at the bar counter the whole time, and nobody had told her that we were sitting in the room next door. None of the waiters had put two and two together.
This is where I feel that the service failed. We had told the waiters that a friend might join us, and when she arrived she had told them that she was meeting to other people. When she came we were in the middle of consuming our starters, because we thought that she wouldn't be joining us after all.
The food. We chose the daily set menu comprising three courses: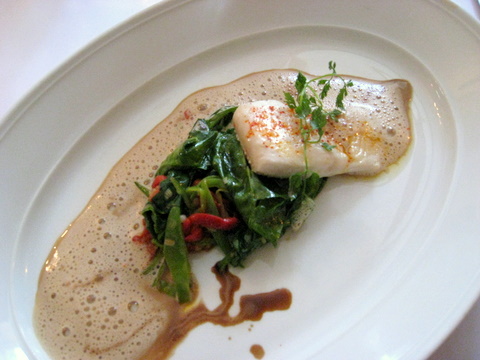 Halibut with lobster sauce and sautéed vegetables.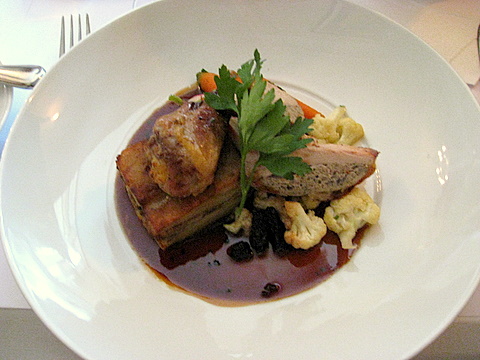 Guinea fowl with mushrooms, morel sauce pommes Anna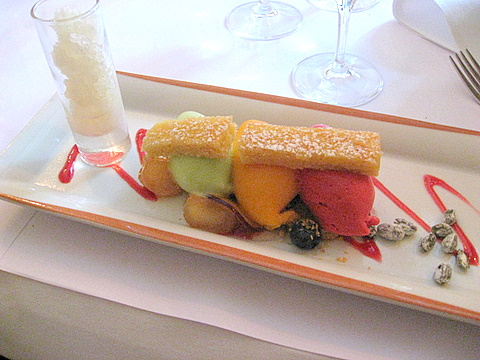 Sorbet ice-cream with elderflower blackberries and other fruits.
The lobster sauce was delectable with a rich taste of lobster, thin and fluid in texture. The sautéed vegetables of spinach and red pepper fruit was nice and interesting too and quite intense. These two matched each other but stole all attention from the fine halibut fish meat with almost no flavour at all. A strange match that is not like Le Sommelier at all.
The main course was brought to our table with cloth because of the heated plates, but the food was not that warm. The drumstick was nice and tender, the two tiny morels were good and the sauce lovely, powerfully reduced. The rest was just trivial, and what was the parsley leaves doing on the top? I had to remove them before I could start eating. Decoration like this that doesn't add to the dish itself makes me think that the food is not interesting enough by itself. The sauce was definitely the greatest thing about this dish.
The dessert was the most messy and badly composed of the three courses. Various fruits and berries founding a ground for the ice-cream tricolore with the butter bread on top, a shot of elderflower slush on the side. This final dish was a crossing of sweetness and acidity forming a really bad marriage with no good reason at all for being hitched up.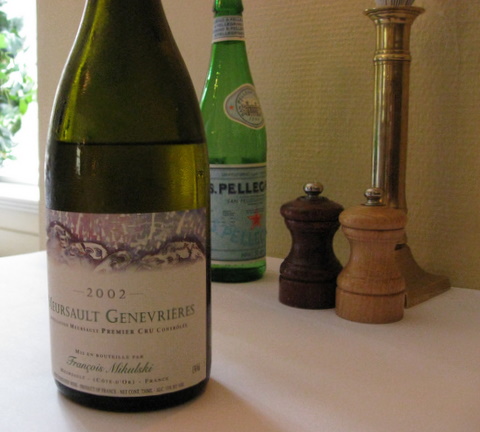 What I enjoyed most this evening was – apart from the company (of course) – the wine. The Milkulski Meursault-Genevriéres was wonderful. I loved it! It was perfectly balanced in its taste of fruit, acidity, bitterness as well as the little bit of oak that I had also found in the nose. Very enjoyable and 2007 seems to me the perfect time for drinking Meursault 2002.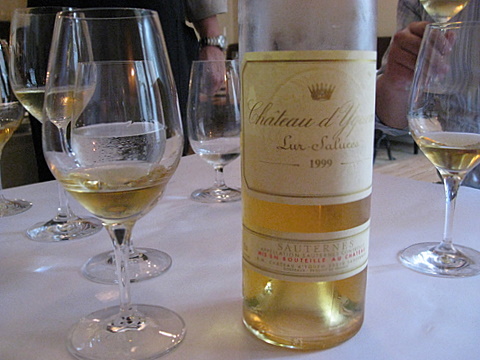 OK, this is not what it looks like. I'm absolutely not that rich. I had seen on the list of wines by the glass that I could get a 1999 d'Yquem (Sauternes) and absolutely had to try that . I've never tasted this before, but of course I've heard a lot about it. 2 cl. was all I got from the bottle, and the waiter used a measuring cup to ensure that I got no more than that.
The sauternes was vey nice but I wouldn't really call it wine. Nectar would be a more appropriate description of what this thick liquid was like. Very and intensely sweet and at the same time bitter in the after-taste. Highly full-bodied. The 2 cl. wasn't really enough for me, but I couldn't have drunk a bottle or not even half, I think. If I would ever be offered Yquem Sauternes again I would indeed say 'Yes, please'.
So, all in all the wine at Le Sommelier is great. But the food was very very ordinary and almost boring, seeming like something I could get anywhere in Copenhagen. It was like the place had got a new chef, or the chef having an off-day. I don't know why, but very unlikely Le Sommelier. Anyway, I'm willing to come back – also for the food hoping the kitchen will find it's usual high level again.