El Bulli is the stuff legends are made of. It holds three Michelin stars since 2002 and was five times voted the World's best restaurant by Restaurant Magazine. And it started as a mini golf installation.
Allow me to quote El Bulli's website:
1961… It all began with a mini golf installation… Doctor Hans Schilling, a German homeopathic doctor, and his wife Marketta, Czechoslovakian in origin but German by adoption, came to Roses at the end of the 1950s, and having fallen in love with Cala Montjoi, they decided to buy a piece of land there. The setting for the building that the doctor and Marketta occupied is a hundred meters uphill from where the restaurant was to be located. Mrs Schilling was already serving meals before the establishment existed, organising barbecues in the open air, which at times was frowned on. At that point, our link with the story begins with a planning permission license for a mini-golf installation, dated June 1961. The name chosen for their business (which came into use at some unspecified time) was El Bulli, since the Schillings had some French bulldogs, a breed colloquially known as "bulli".

1964…which later became a beach bar. For just over a year, El Bulli operated as a mini golf installation, but very soon, because of Cala Montjoi's popularity as a scuba diving location for European enthusiasts who were in the area, the Schillings installed a beach bar. José Lozano, from Cordoba, who has been in the area since the beginning, built a thatched hut which served as a meeting point for bathers and scuba divers, and was known in Roses as the "German bar".

1964…The first restaurant. In 1964, after a kitchen and a covered patio, which doubled as a dining area, were built, a Grill-room was installed in El Bulli, which was run by Otto Müller, from Switzerland, until 1966. This was the first restaurant. From that year on, various people ran the place, that served simple dishes such as roast chicken, leg of lamb and grilled fish. Gradually more elaborate dished appeared on the menu, thanks to Doctor Schilling's interest in gastronomy; the doctor, who spent most of the year in Germany, used to go to the continent's finest restaurants, from which he would bring ideas that were gradually adopted in subsequent years.
These are just a few lines I stole from the El Bulli website. The story and the history are fascinating. Read it.
Okay, let's go back 34 days. It's Monday morning August 9th and I'm back at work after a nice summer holiday. I open my mailbox and to my surprise I see an email from Luxeat with the title "El Bulli".
For a few seconds I hesitated. I didn't dare open the email. "Is this what I think it is", I thought to myself, "a possibility to go to the world's most famous restaurant? A place I have tried to book for years without luck".
Yes, in fact it was! Luxeat was simply informing me that she had one free seat available for dinner at El Bulli two days later, and she asked if I would like to join her. I could hardly believe it. WOW!
I immediately replied that I would love to join her and the friends, of course. Then I bought the flight tickets: 9:15 am Wednesday morning on August 11th from CPH to BCN and back 7:05 pm the following day. I booked a room at the nearest hotel with rooms available, Hotel Port Salins, which is 8 km from Roses but the only option available at that point of the high-season Spanish summer.
Then I started pondering and investigating how to get from Barcelona airport to Empuriabrava where the hotel is situated. I decided to take the train to Figueres and then a taxi from there to the hotel.
Done. All the logistics were set and in place by Monday evening.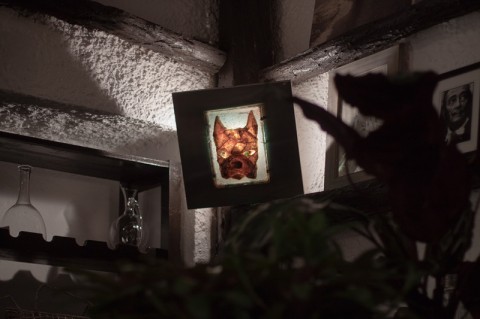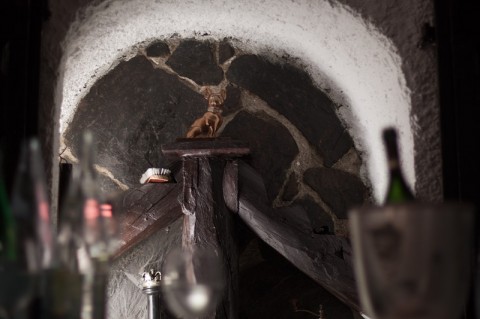 Interior of El Bulli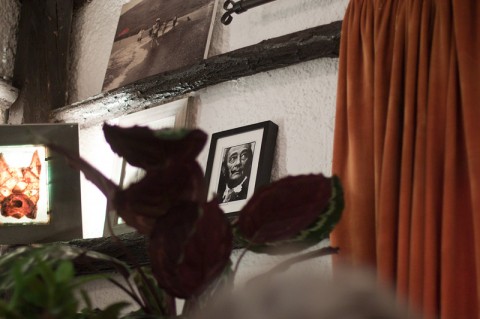 Glass mosaic of a bull dog and a photo Salvador Dali
Excited as I was, I couldn't fall asleep the night before leaving for Spain. I did anyway, of course, but the next morning I even woke up a half hour before I was supposed to get up.
When I arrived in Barcelona airport it turned out to be pretty easy to find my way to Figueres. Only problem was that my ticket didn't allow me to leave the platform to get out to the Sants Estacio to buy water like I had planned for. It was 27 degrees Celsius and I was in the train for 2,5 hours. I was starving too, but with the prospect of close to thirty El Bulli courses (or more) later in the evening, my hunger was less important.
Anyways, I got to the hotel, contacted Luxeat and we arranged for a taxi to take the four of us to the restaurant at 7:45pm.
The route to El Bulli surprised me. It's much more steep and curvy than I thought it would be, and there was a beautiful view from the road. Clouds were coming in from the west and partly coated the sunset. A thin orange line of sunbeam passed through and made it a stunning sight. I felt like I was dreaming a beautiful dream and not that I in reality was on my way to El Bulli.
The restaurant is situated on a hill right at the cost and is facing a small bay which is the view of the restaurant and the beautiful outdoor terrace.
After a (not so) short photo shoot in front of the El Bulli entrance, we were all welcomed by Juli Soler. Luxeat's friend who was visiting for the second time got an extra warm greeting. The staff even remembered her from the first time. Amazing thing.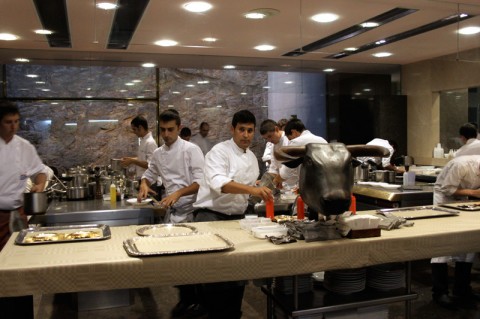 We were escorted to the kitchen where we quickly greeted Mr. Ferran Adria, the master himself. The staff was kind to take pictures of us with Ferran Adria using all our cameras. After a few seconds they took us to our table which had a pretty view to the sea just outside the windows.
A split second later the bombardment of food items started. 40 servings in total and all served in 3,5 hours. A foot print inspired by the world of gastronomy transformed by cutting-edge technology. I'm sorry, but each serving came so fast one after another that it was impossible for me to take notes. I almost didn't even have time to shoot photos of the food. I'm therefore listing my impressions from memory.
First serving was a frozen Strawberry that I didn't get a photo of, I'm afraid – it was there, and gone, before I could get the camera ready.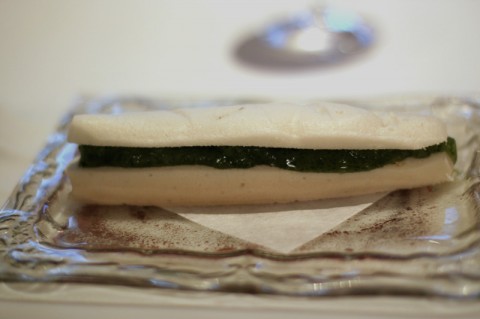 Mojito and apple flute – frozen inside and very fragile and light "bread".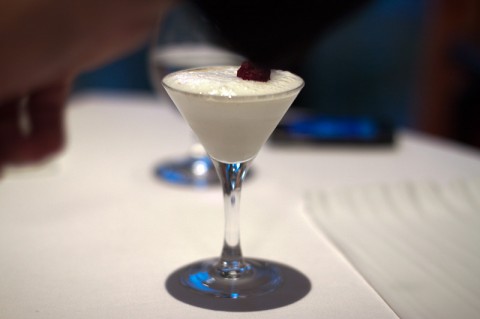 Almond-fizz with amarena – rich almond flavoured "milk", I liked it.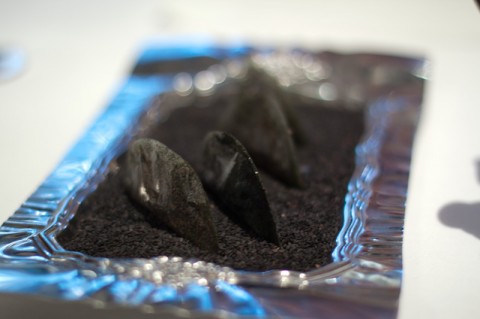 Nori seaweed with lemon
Crunchy and very tasty with lemony note to it. Loved it.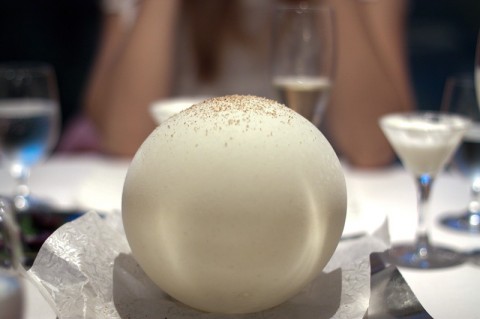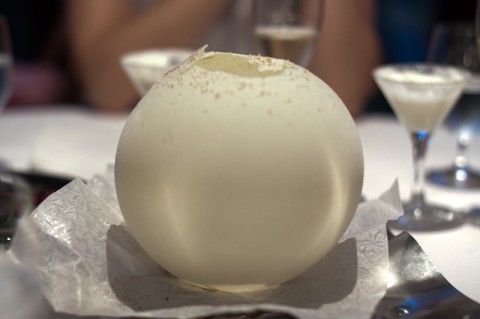 Gorgonzola globe – a classic.
We were told to break it and eat. Intense cheese taste, which was a little too heavy too my taste.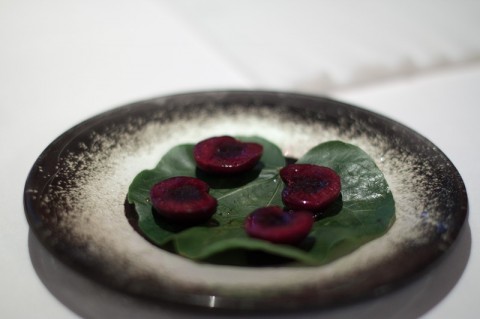 Cherry – umboshi.
Delicious cherry taste but the size of them were that of apricots. Good.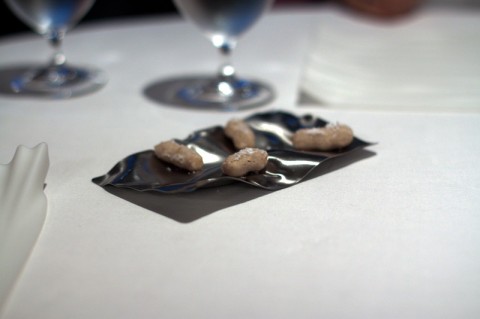 Mimetic peanuts. Very nice peanut flavour.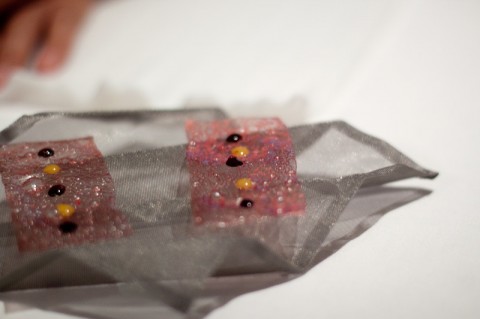 American –  an evaporable beetroot something…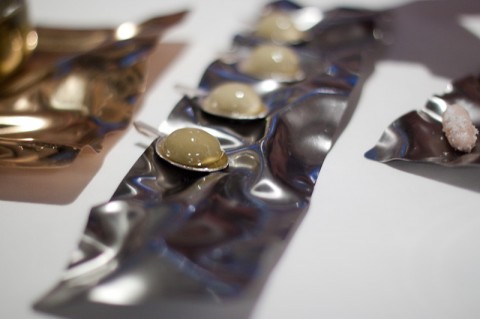 Spherical olives, a classic.
Absolutely loved these olives-that-aren't-olives and they were in fact one of the top highlights for me. Had to eat two of them. The olive's flavour was pure and absolutely delicious, I loved the way they turned liquid in my mouth and the intense, but delicate, olive taste just filled my mind.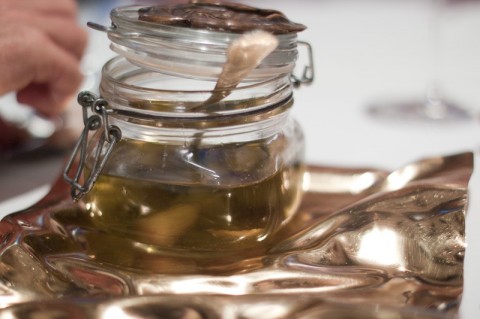 A jar full of them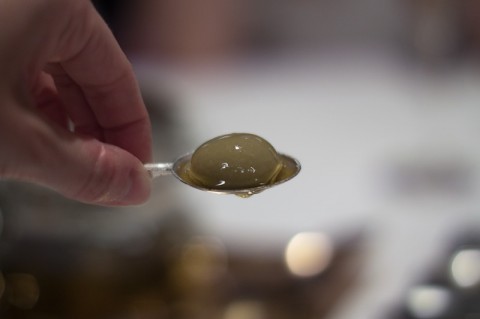 …and just one placed on the famous, classic El Bulli spoon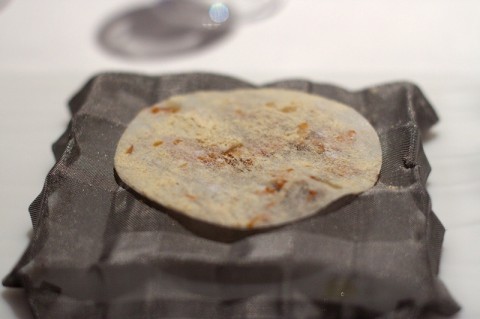 Shrimp omelette in two ways.
The first one like a pancake with a soft texture.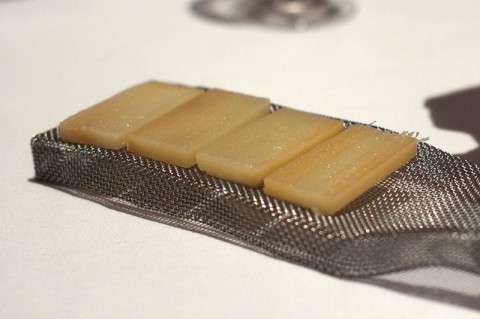 …and then a Ginger cleanser to suck, not eat. It was refreshing.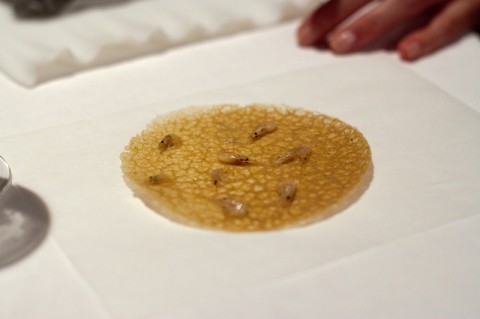 Shrimp omelette no. 2

The second one was crisp. Both very delicious and the shrimp taste was surprisingly huge despite of how tiny the shrimp were. Excellent.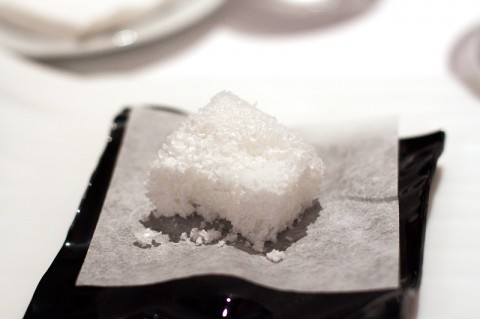 Coconut sponge-cake.
Very volatile and porous with a delicious coconut taste. Excellent.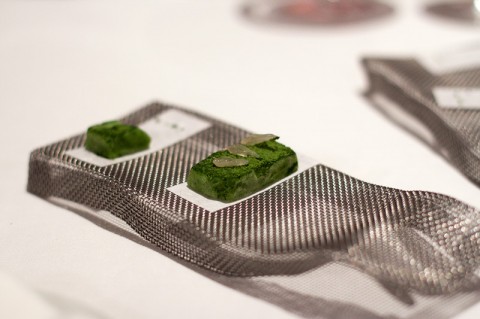 Green Tea buscuit.
Very rich green tea taste with a mineral note to it. A little too intense for me.
Up till this point the food had been a fabulous experience, but I somehow has the feeling that I had been eating air with different flavours and in marvelous shapes and forms. My mind and intellect were stimulated but not my almost primal craving for heated protein.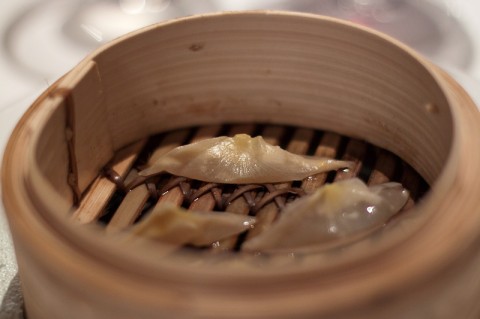 Roses with ham won-ton and melon water.
Excellent dim sum. Nice to have something to chew on for a change.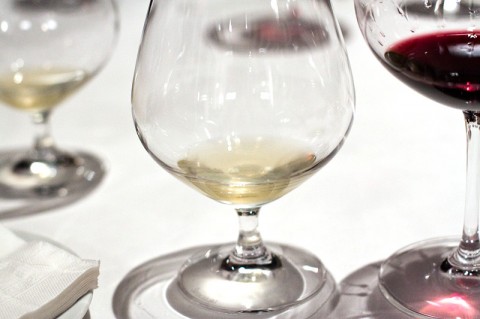 Melon water – to drink. Funny, but nice and cleansing match.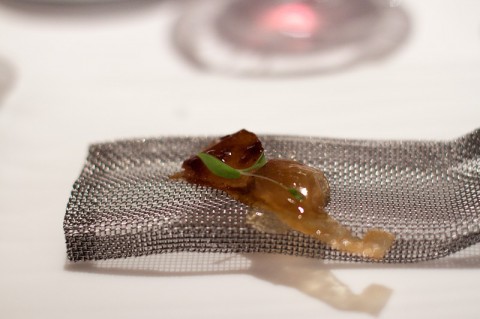 Ham and ginger canapée
Wonderful balance in taste and texture where both the pork and the ginger flavours came through. I loved it and it was one of the highlights.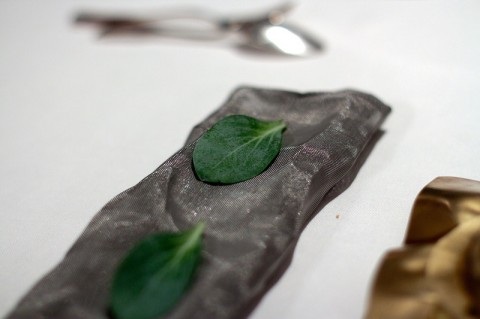 Oyster Leaf to accompany the…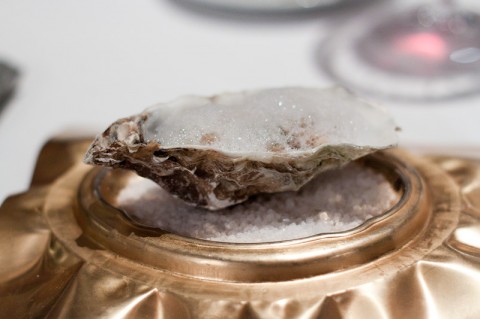 Oysters and bone marrow tartar.
The bone marrow was subtle but enhanced the fantastic oyster, which was cut into small pieces. This made the oyster more delicate. As some of you might know, I do indeed love oysters, and this one was sublime making it a top highlight for me this evening.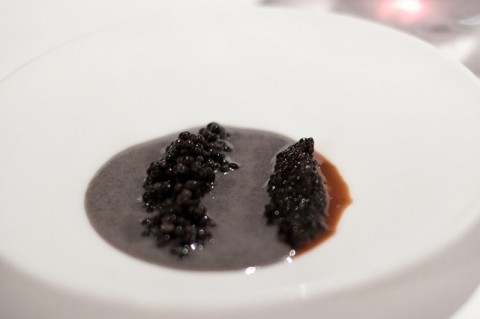 Caviar cream with hazelnut caviar.
This very odd combination actually worked quite well somehow. It's the nuts on the left side and the Iranian super-excellent and high-quality caviar on the right.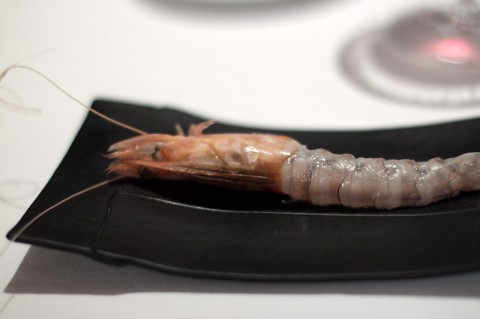 Boiled shrimp
We were told to eat the tail and suck the head. That's what I did. It seemed to me, that the head was boiled but the tail still raw. The taste was pure and very good. For me the entertainment laid in the presentation of it, though.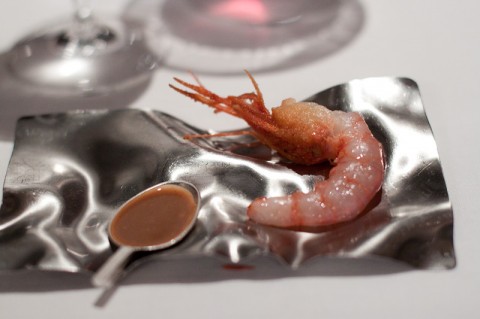 Prawn two firings.
Again the tail and the head were prepared in different ways. The head seemed tempura fried and the tail boiled. I like it a lot, also the brown liquid in the spoon though I don't recall what that was.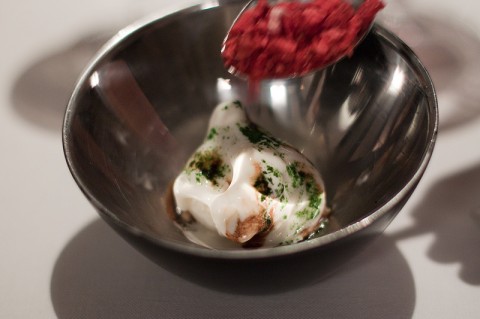 Parmegiano ice cream with modena, basil and strawberry.
The cheese mix here just didn't come to my liking so much.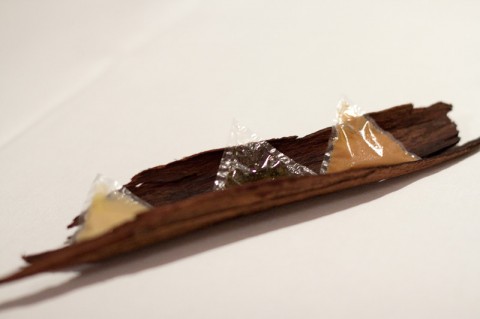 Pinenuts shabu-shabu.
We dipped the envelopes into the liquid for one second. They all contained a gel of some sort with different intensities of pine nut. Very nice.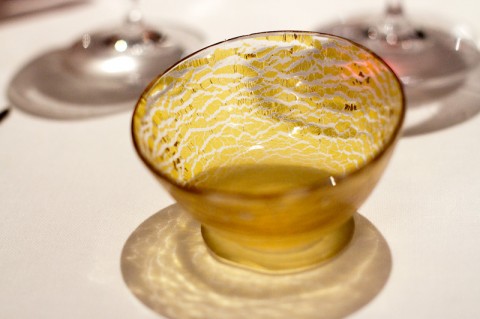 The liquid for the pine envelopes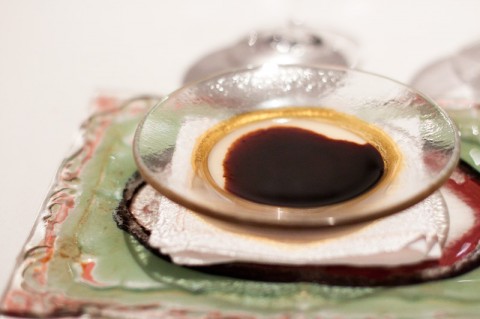 Soy flan.
Pudding topped with soy sauce. This one was simply too weird for me, and I felt that the soy was too strong.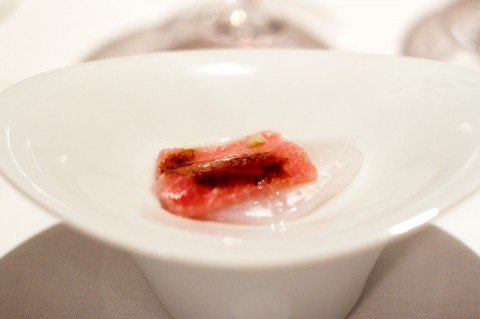 Marrow and belly of tuna-sushi.
The tuna on top was room-temperature but was warmed by the white marrow underneath. The tuna belly-piece was stunning, but I didn't appreciate the marrow though.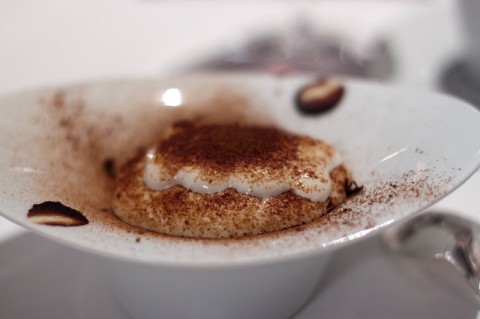 Tiramisu.
It looks like a dessert but was something different, a salty course. Amazing illusion.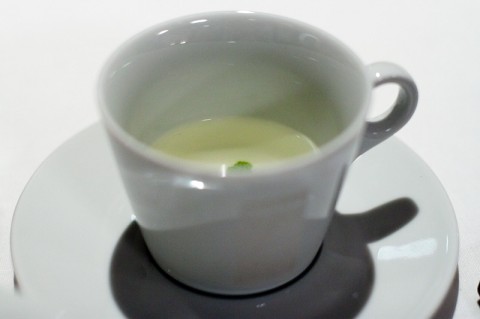 Tea for the tiramisu.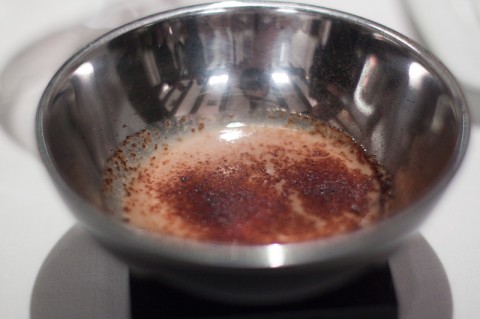 Miso soup (- not creme brûlée ;). Pure and excellent!
Sake ice cubes served with the miso soup. They were clean in taste and really good.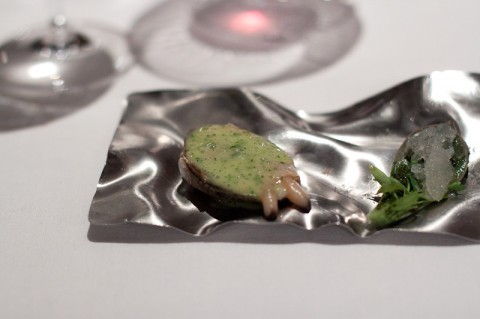 Clams "ceviche" and kalanchoe cactus.
The clam's texture was chewy in a good way and the taste was great. I think it's the first time I try cactus, but this was very interesting and I really liked the whole course.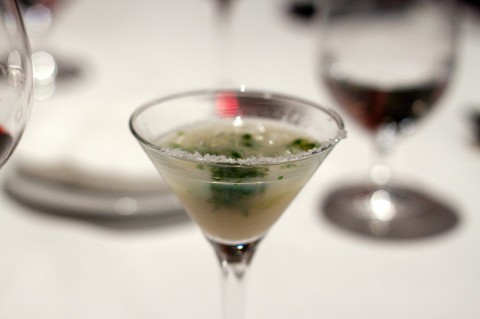 "Ceviche" and clams cocktail. Good.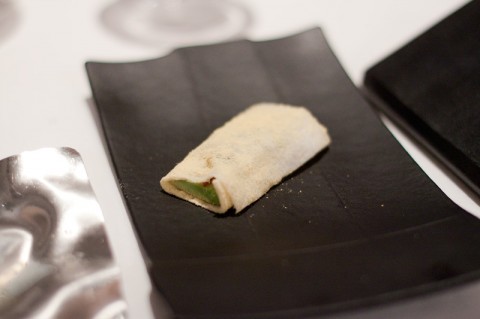 Oaxaca "taco"
This was great and very delicious. A little spicy, many flavours, soft texture. Excellent.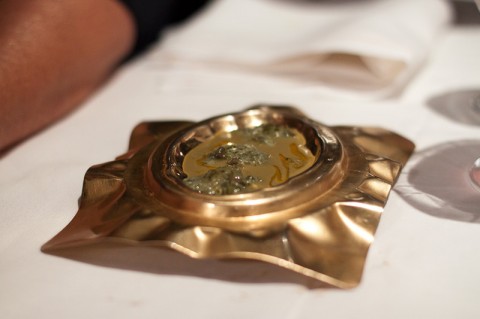 Anemone cold omelette.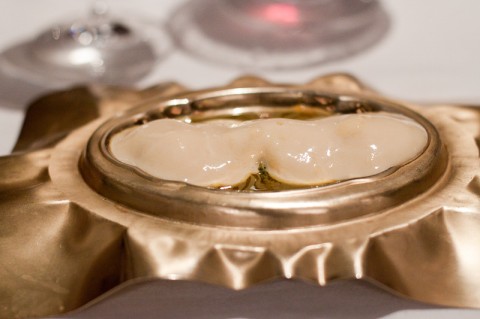 …and some kind of mayo or aioli on top of it. This was very rich and the anemone had a jelly-like texture as far as I remember.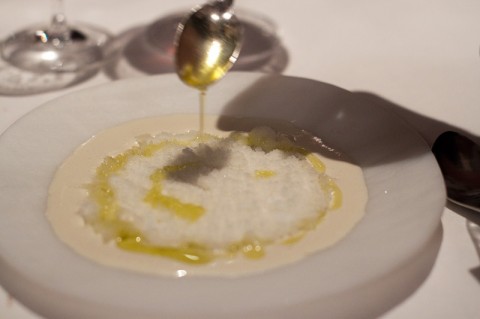 "Gazpacho" and "ajo blanco". Here we got a wonderful and refreshing dish. The dreamy version of the world's best gazpacho. Awesome.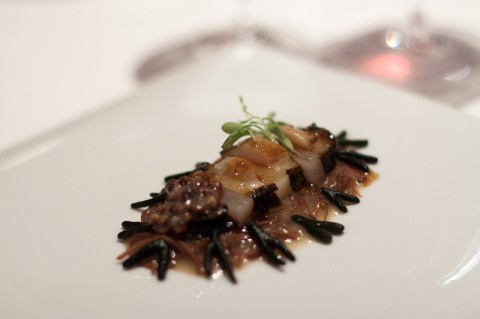 Abalone with Iberian ham fat
The abalone fish had a somewhat chewy texture and the garnish around it resembled wild rice. The taste altogether was rich and interesting but I was starting to get too full and so I could't finish the dish. But it was very good.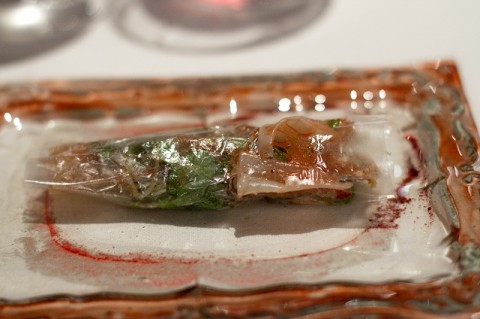 Chicken nem – Thai.
The outer transparent skin was crisp in a way I very much enjoyed. Also the flavours worked very well here. Very good.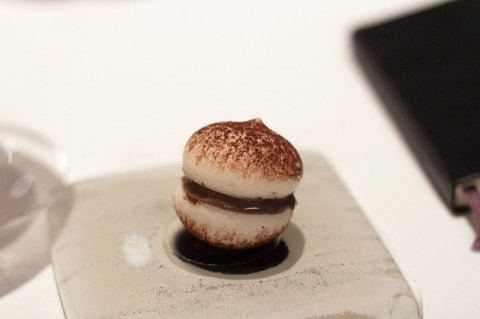 Hare Macaroon.
Perfect macaron texture: Crispy on the outside and chewy on the inside. But I couldn't appreciate the taste of hare.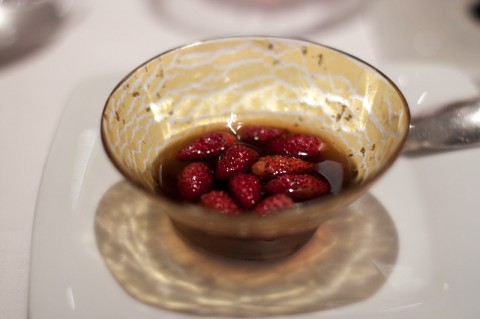 Hot strawberries with hare soup and fame meet canapée
The strawberries were even more sweet and intense in flavour than the ones I pick in my garden. But in my opinion they didn't work with the hare soup. The two tastes were to far from each other to please my palate.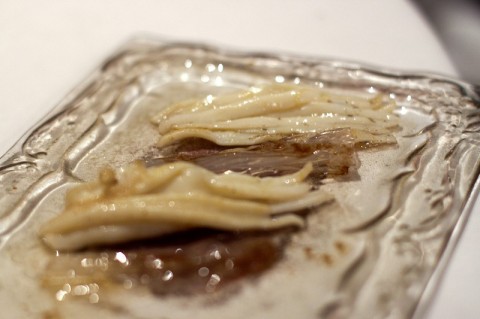 Sea cucumber's felée.
This was actually one of my vegetarian friends' courses but since two of us loved it so much, we got one too. Sea cucumber is very delicate, it's similar to squid but not really chewy. Top highlight, definitely.
The first of the two cheese courses presented a
Parmegiano "macaron"
I liked the texture of it, again it was very light and looked beautiful, like snow. Perhaps I wasn't in the mood for cheeses that night for again I couldn't really appreciate it even though I love parmesan cheese. To me, maybe because of my semi-Italian heritage, parmesan cheese is a produce which is perfect on it's own. I don't think I have ever tasted parmesan prepared in a way that brought something new to the pure, authentic taste of the cheese. Anyway, back to the food: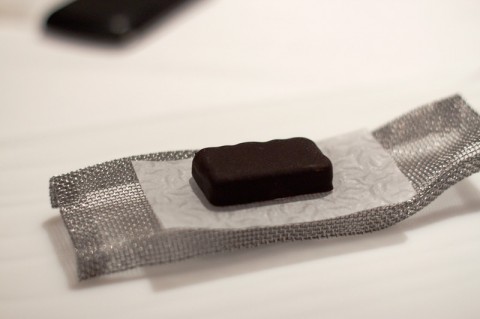 Gorgonzola bonbon with fresh walnuts canapée chocolate bar
Very cold and kinda like… frozen. Or the chocolate might have been. At first I didn't like it the combination of chocolate and Gorgonzola. But after a couple of bites I realized that the two tastes were completely separate from each other. The cheese came first and when it disappeared the chocolate came through. Not too bad.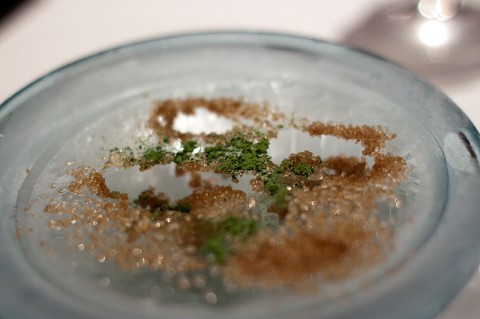 Pond
We called it a frozen lake. It was a white sugar layer with a hollow under it. The server sprinkled mint and brown sugar on top. Fabulous and one of the top highlights. I'm easy with mint, though.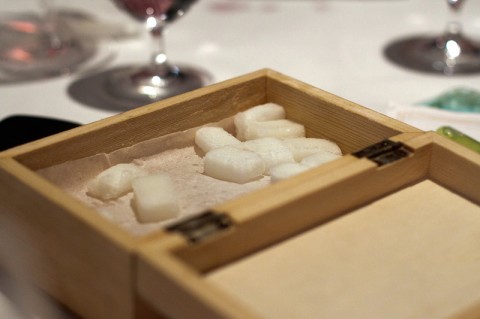 Sugar cube with tea and lime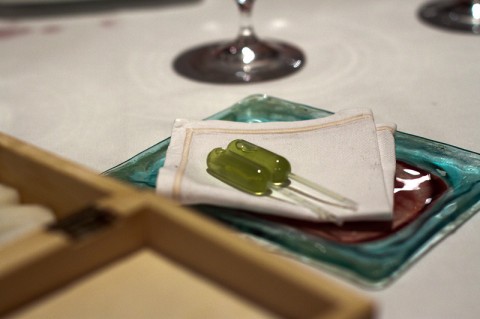 Lime drops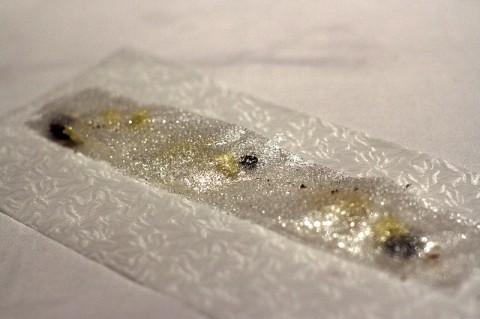 Milefeuilles of Pinapple.
The package was light and in a way seemed a bit like candyfloss as it was slightly sticky. Nice.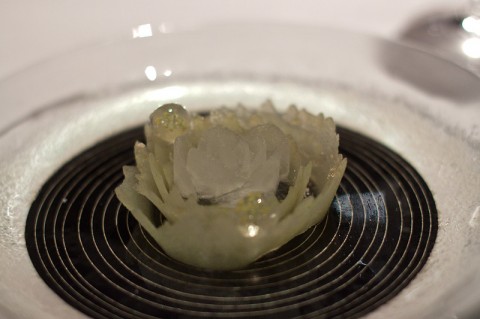 Apple rose – refreshing, sweet and very pretty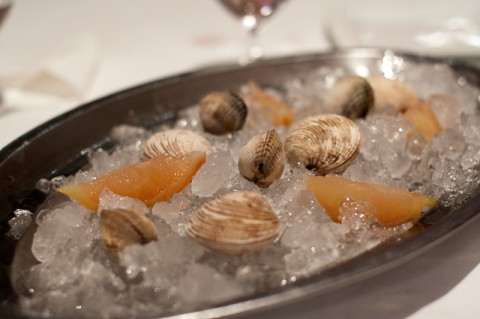 Mollucscs – Clams filled with sugar pearls or chocolate/caramel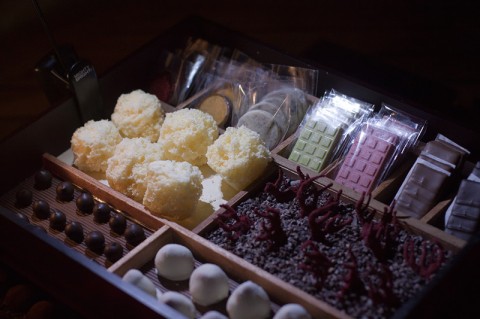 The Box. A (huge) serving of after dinner sweets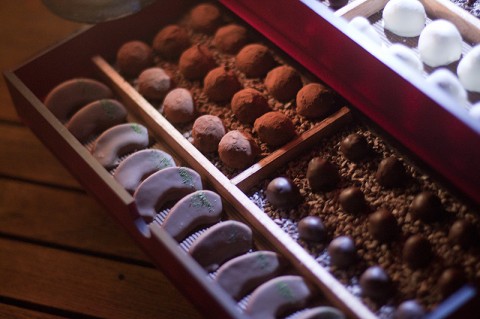 And more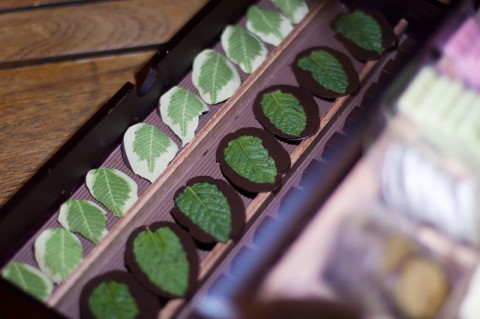 Even more
At El Bulli you may opt for wine pairings and we briefly considered doing that. I'm glad we didn't though. The rapid-fire serving of food and the overload of taste impressions were almost too much to cope with, and I wouldn't have had any brain power left for the wine, whatsoeever.
Instead, we chose the house cava, 2005 Brut Nature Gran Reserva. It was both full-bodied and fantastic and then a couple of Spanish reds to follow it. The first red wine, 2005 Dominio do Bibel La Cima, Ribeira Sacra, 100% Mencía grape – a local Spanish grape. It was a wonderful wine full of delicious fruit and power but in an elegant way. Although the grape is an ancient clone of Cabernet Franc, to me this bottle offered a personality that more resembled a Burgundy Pinot than Cab Franc… but I'm no expert on Spanish wines.
The one to follow was a 2006 Oller del Mas, Pla de Bages, an Catalonian wine. It's 100% Merlot. I liked it a lot but somehow it was like it never opened the way it insinuated it could have – great balanced and enjoyment though.
Sometime half way through the dinner I walked through the restaurant and took note of the sound of the waves from the sea just outside the windows. After our arrival the dark clouds had turned into rain and lightning, but it had passed and I stole a short moment to pause on the terrace and alone enjoyed the sound of the waves and of simply being at this fabulous place.
To visit El Bulli was an emotional experience for me. Despite the hastiness and the quick serving of the dishes, I was completely moved. When we were leaving the restaurant I knew it it had been a truly wonderful experience, but how much it had moved me I didn't learn until I was back at Figueres station the next morning.
When the train rolled out from the station tears peeped out of my eyes and ran down my cheeks. The same thing happened at BCN airport when I was sitting in the aircraft and it taxied out to the runway, only stronger. I was crying. My luck I could hide it behind my new dark sunglasses.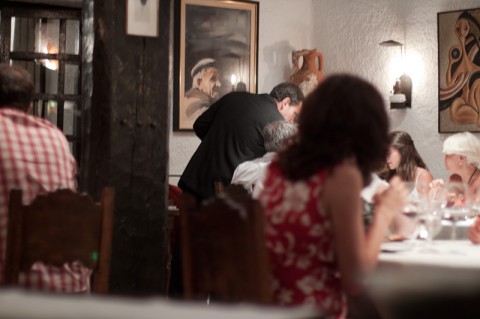 Why was El Bulli so wonderful that it made me cry?
I don't know to be honest, but I think that partly it was the relief of succeeding in finally getting to the restaurant that I for years had longed to visit. I didn't post any news in advance on my blog, FB nor Twitter about my luck and prospects of going, because I didn't feel sure that it would actually happen. Only on Wednesday afternoon when I arrived at the hotel and felt over-excited that I was going to go to El Bulli the same evening, I felt the need to share the emotion with you and all my foodie friends. Only then, I posted a note on FB and on Twitter. Somehow it was too much for me to carry alone by myself, in a way.
Furthermore, the El Bulli staff was extremely nice to us and helpful. They were not at all too formal or too snobbish. I was nervous, but the staff made me relax. In fact, it was the same kind of feeling I had when I went to noma first time and the way I feel now about noma. It's like I'm amongst friends. The staff seem happy to serve and to help you in any way they can. That's just very delighting.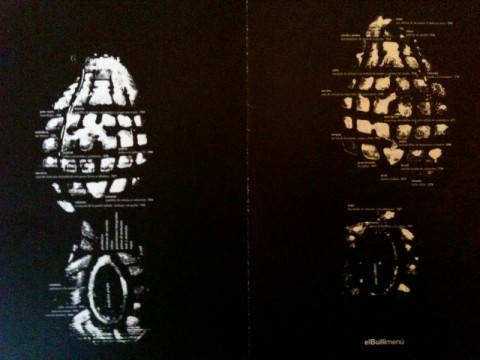 The menu
Finally, the food of course. I experienced the whole spectrum from love to something I decidedly disliked. But above all, I was moved by the spirit, the talent, the techniques, the will and the curiosity to explore gastronomy in a way that no one ever did before. Did El Bulli live up to my expectations? Oh yes, and even went far beyond! El Bulli and Ferran Adria is a legend. Adria and El Bulli have meant everything to moderne gastronomy, and I'm just grateful I got to experience it before the place will close in 2011, never to open in this form again.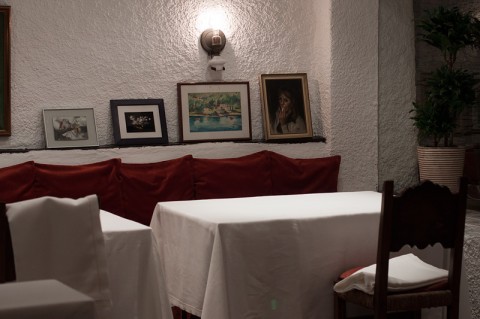 El Bulli after hours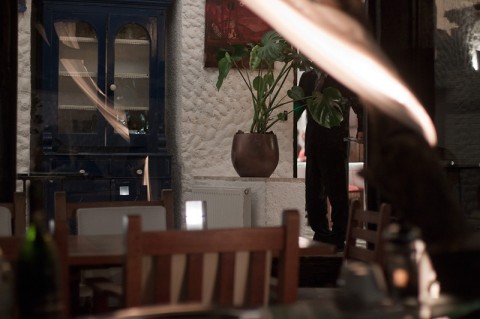 This is an experience I will remember all my life. I feel grateful. Thank you Luxeat, friends and everyone!
Other blog posts on El Bulli: