El Bulli is the stuff legends are made of. It holds three Michelin stars since 2002 and was five times voted the World's best restaurant by Restaurant Magazine. And it started as a mini golf installation.
Allow me to quote El Bulli's website:
1961… It all began with a mini golf installation… Doctor Hans Schilling, a German homeopathic doctor, and his wife Marketta, Czechoslovakian in origin but German by adoption, came to Roses at the end of the 1950s, and having fallen in love with Cala Montjoi, they decided to buy a piece of land there. The setting for the building that the doctor and Marketta occupied is a hundred meters uphill from where the restaurant was to be located. Mrs Schilling was already serving meals before the establishment existed, organising barbecues in the open air, which at times was frowned on. At that point, our link with the story begins with a planning permission license for a mini-golf installation, dated June 1961. The name chosen for their business (which came into use at some unspecified time) was El Bulli, since the Schillings had some French bulldogs, a breed colloquially known as "bulli".

1964…which later became a beach bar. For just over a year, El Bulli operated as a mini golf installation, but very soon, because of Cala Montjoi's popularity as a scuba diving location for European enthusiasts who were in the area, the Schillings installed a beach bar. José Lozano, from Cordoba, who has been in the area since the beginning, built a thatched hut which served as a meeting point for bathers and scuba divers, and was known in Roses as the "German bar".

1964…The first restaurant. In 1964, after a kitchen and a covered patio, which doubled as a dining area, were built, a Grill-room was installed in El Bulli, which was run by Otto Müller, from Switzerland, until 1966. This was the first restaurant. From that year on, various people ran the place, that served simple dishes such as roast chicken, leg of lamb and grilled fish. Gradually more elaborate dished appeared on the menu, thanks to Doctor Schilling's interest in gastronomy; the doctor, who spent most of the year in Germany, used to go to the continent's finest restaurants, from which he would bring ideas that were gradually adopted in subsequent years.
These are just a few lines I stole from the El Bulli website. The story and the history are fascinating. Read it.
Okay, let's go back 34 days. It's Monday morning August 9th and I'm back at work after a nice summer holiday. I open my mailbox and to my surprise I see an email from Luxeat with the title "El Bulli".
For a few seconds I hesitated. I didn't dare open the email. "Is this what I think it is", I thought to myself, "a possibility to go to the world's most famous restaurant? A place I have tried to book for years without luck".
Yes, in fact it was! Luxeat was simply informing me that she had one free seat available for dinner at El Bulli two days later, and she asked if I would like to join her. I could hardly believe it. WOW!
I immediately replied that I would love to join her and the friends, of course. Then I bought the flight tickets: 9:15 am Wednesday morning on August 11th from CPH to BCN and back 7:05 pm the following day. I booked a room at the nearest hotel with rooms available, Hotel Port Salins, which is 8 km from Roses but the only option available at that point of the high-season Spanish summer.
Then I started pondering and investigating how to get from Barcelona airport to Empuriabrava where the hotel is situated. I decided to take the train to Figueres and then a taxi from there to the hotel.
Done. All the logistics were set and in place by Monday evening.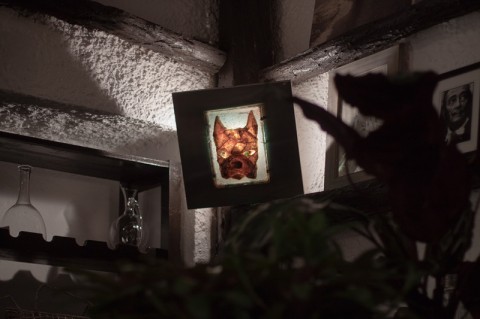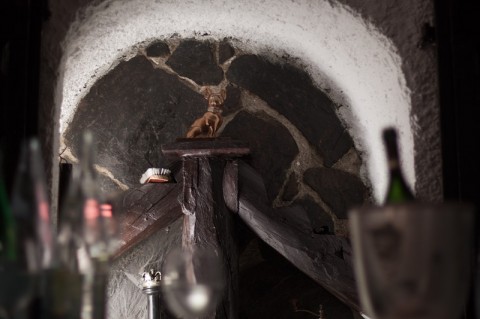 Interior of El Bulli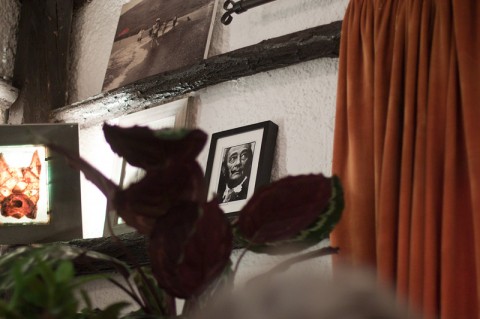 Glass mosaic of a bull dog and a photo Salvador Dali
Excited as I was, I couldn't fall asleep the night before leaving for Spain. I did anyway, of course, but the next morning I even woke up a half hour before I was supposed to get up.
When I arri