Ridiculous name for this post as it was raining almost the whole time and the temperature barely exceeded 20 degrees Celsius. But anyway, I originally planned that the bimmer should ride me through German, Dutch, Belgian and French dining experiences, but the very last minute I decided to skip France to the benefit of a longer cottage-vacation. The timber house needs attention and the garden needs my care. During the summer there's (almost) no place I'd rather be. I love to just potter about my garden, prepare hearty and healthy meals, drink nice wines and just trundle about in bikini and get a bit of sun beams on my pale body. When the Nordic weather allows me, I should say. You know, simply not doing much about nothing and thereby get some energy reserves for the coming months of the autumn and the long winter.
Julot's enchanting review had tempted me to go to France and visit Roellinger in Brittany. Unfortunately, I didn't succeed in booking that place, and so I made up my mind about shortening this summer trip.
Anyway, my adventures offered 6 stars in four days, one of each category. I experienced three different cuisines that I would characterise as sovereign and supercilious, frail and pure, and classic and voluminous for Oud Sluis, In De Wulf and Restaurant Résidence respectively. My descriptions of these experiences will be posted soon and in the meanwhile please amuse yourself with Laurent's pictures of the gold nugget of In De Wulf and Steve's review of the Oud Sluis.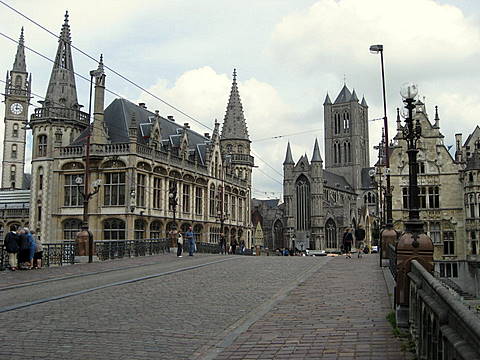 On my way I stopped to visit Bruges and Gent to stimulate my cultural and historical interest and both mediaeval towns come highly recommendable, if you're touristing in the neighborhood.
Oh, one particular thing struck me about the dining experiences south of the Danish border. The wine menus I enjoyed there couldn't really match what's offered at the fine dining places of Copenhagen. I think we should be proud of this in Copenhagen.