Ensemble is a restaurant I have desired to visit for a very long time. It even had two Michelin stars for a short while until 2006 when the sous chef Morten Schou and Nikolaj Egebøl took over from Jens Vestergård and Mikkel Maarbjerg.
It's a small and very intimate place serving food based on the classic French cuisine. The Danish dining scene was stunned when the previous owners in 2005 got the two Michelin stars. Two stars after only three years of existence that was really something. And at that time, only the Restaurantionen and Kommandanten had had the pleasure of the honourable award of the doubled stars. Copenhagen still have yet to get a three stars place.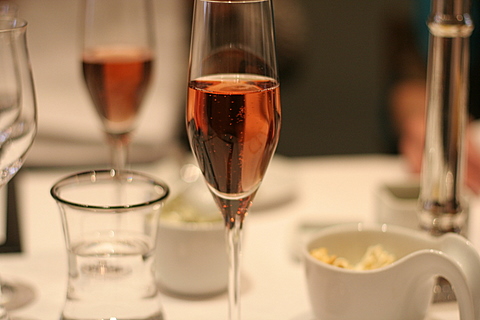 Today the restaurant is run by Morten, who was trained as waiter at Restaurant Babette and as cook at Le Sommelier. He also holds the sommelier's diploma and came to Ensemble in 2003.
My very first dinner at Ensemble was to join a party that I was lucky enough to get invited to. I couldn't make notes that evening, so this write up is from pure memory.
I've read so many things about Ensemble in the later years, which had made me most curious about how I would like the interior, the service, the food of course and the wine for which they are quite famous. I was uncertain about what to expect though. On one hand, my expectations were high. But on the other hand, the change of ownership and the loss of the second star with the stuff I'd heard and what people have said here on very good food made me want not to expect too much and thereby get disappointed. So, I was 100% tuned in on my first Ensemble dinner.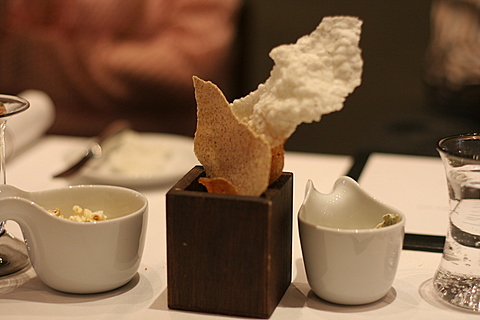 The dining room intimacy and smallness reminds me of what formel B was like before the expansion and used to be my favourite place of Copenhagen. The party I joined consisted of 13 people and since the dining room was so small and offered no lounge room we gathered outside in the early evening sunshine until everybody had arrived. Fortunately this was a warm day.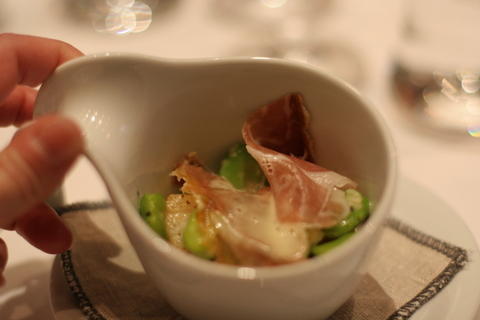 Amuse Bouche
All seated at the long table we started out with a very nice rose pinot noir champagne which I've forgotten the name of, but liked very much. The omnipresent fine dining snacks accompanied, naturally.
Foie gras
strawberries – mussel – bread – calvisius caviare
2007 Egon Müller Scharzhofberger Kabinet Riesling – Mosel
The first starter of the foie gras was very nice and very fatty but in a good way. It offered that very rich flavour where you can really taste the liver. This dish made me feel decadent and of course the extra caviare I ordered didn't diminish that feeling. Unfortunately, the foie gras was a little bit stringy. The green strawberries were nice and so was the mushroom. The sad thing about this potential dish was that all these lovely ingredients were somehow not able to communicate – as a whole they didn't combine and that made the dish, to me, seem unresolved in a way. The creamy juice was smashing but it outplayed the other elements and sadly I suspect that the dish didn't really need that extra caviare I had greedily opted for.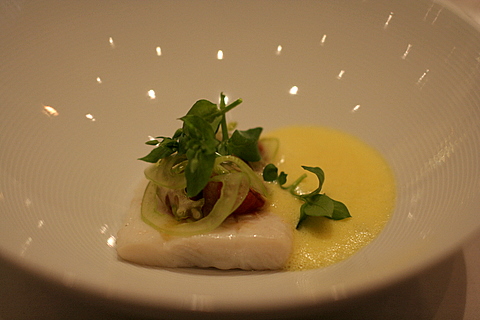 Flounder – beans – tomato – dill
2005 Benoit Ente Bourgogne Aligoté – Bourgogne
The second course offered flounder and tomatoes of red semi-dried and green ones and it was just outstanding. It was a highlight, balanced in taste and with completeness to it that took this dish to another level.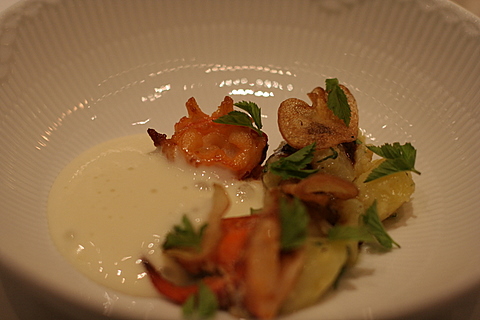 Lobster – potato – lovage
2005 Amiot Guy et Fils Chassagne Montrachet 1er Cru Les Caillerets – Bourgogne
I found two pieces of lobster on my plate, one from the body and one from the claw. The body piece was the most delicious and full flavoured lobster I have had in a long  time. Incredibly tasty and cooked to utmost perfection and not too juicy or floury like I have experienced before. The other piece was nice too but didn't reach the level of the first one. The lobster was accompanied by a very nice sauce, soft potatoes and crisps. Like I've said it before: Crisps do not belong to any dish; to me they are and will always be snacks. And what is it with this Altasianish combining starch with a refined product such as the lobster? At Pierre Gagnaire they served rice. No need to make it a peasant dish!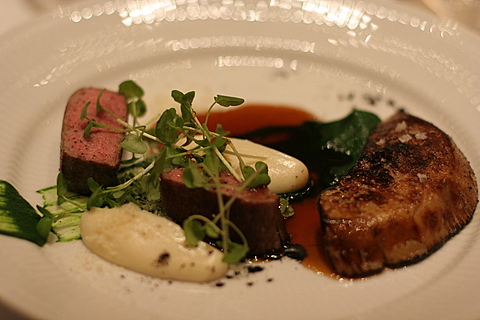 Lamb
watercress – ashes – almond and supplement of foie gras
2004 Humbert Fréres Gevrey Chambertin 1er Cru Craipillot – Bourgogne
The lamb dish was less expressive but well-composed with elements that complimented each other well. The meat hardly tasted like lamb, but I do like lamb a lot like that. The foie gras was by far the biggest piece I ever consumed. The quality as well as the preparation surely had an influence on my not getting choked up with it although the consistency was pretty jelly-like. As far as I remember, the staff told me that the foie gras had not been fried but boiled and given a bit of colour with a burner to make it look more appetizing. It worked!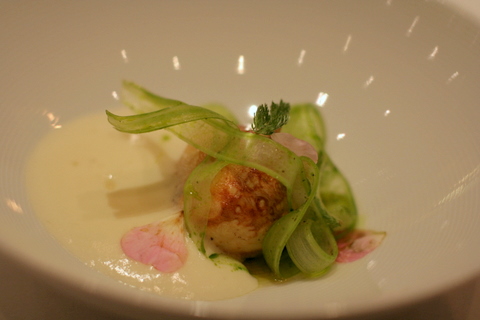 Celeriac – celery – beurre noisette
2005 Richard Leroy Anjou Le Clos des Rouliers – Loire
It's very rare that a main course is followed by a step-downer before the cheese or dessert. I welcomed the celeriac and celery dish very much with the sweetish pure and the crisp acidity with the celeriac slice and the celery root served generously.
Actually, all the dishes were quite rich and I left a bit on almost every plate because my stomach just couldn't keep up.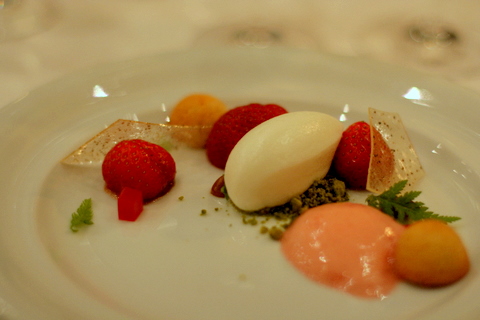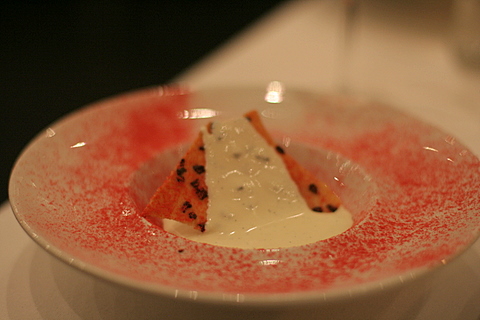 Strawberries – pepper – cream
R. & L. Legras Blanc de Blancs Demi Sec – Champagne
The dessert was refreshing and sweet with lovely strawberries and a chiffon(?) with the taste of marzipan nicely matched with tiny Madelaines and a semi dry Champagne to drink. We were also served a second dessert which was a variation of the Danish traditional dish "rødgrød med fløde" – fruit porrige with cream. Very nice.
We got the wine menu with all the courses quite heavily presenting Burgundy wines and so I was thrilled. They were all great wines and the Aligote followed by the 1er cru Chassagne Montrachet and then the 1er cru Gevrey Chambertin formed a nice crescendo of power. Although 2004 is not considered a very good year the red Gevrey Chambertin comprised both fruit, acidity, balance, a nice nose and a lasting finish.
So to recap, Ensemble is worth every penny of that one Michelin star. There's no question about that, in my opinion. Second, the service was really great. The staff were precise, attentive, clear in their explanations, even charming. They absolutely cared about what they were serving and what they were doing. They appeared passionate and that's so all-pervadingly important to me. They radiated dedication and that's admirable and enjoyable.
I loved the smallness and the classiness all at the same time, which gave an intimate sense to the fine experience and that made me feel special. There's no doubt that I have to return to Ensemble.
Thanks to everyone for making it a very special evening!