It seems that Laurent has fallen in love with not only noma but now the whole city of the Danish capital Copenhagen. He has been visiting a lot lately and been to almost all the best restaurants in town!
Laurent is amazing – or what Laurent can do in terms of fine dining out and all over the world almost. I'm envious, no question about that. Anyway it's always a great pleasure to share a fine meal with Laurent. Not that I do this very often, in fact when visiting Kïïn Kïïn on 22nd of June, we hadn't done that since over a year ago at Geranium and noma – the most decadent day of my life. It was such a pleasure to see Laurent again and I had really been looking forward to sharing dinner at Kïïn Kïïn. When we arrived Laurent was already waiting in the lounge – just like the first time I met him in Paris at Pierre Gagnaire.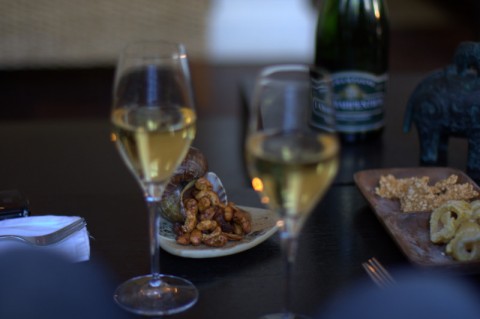 Roasted cashews, lime salted lotus chips, tapioca and malt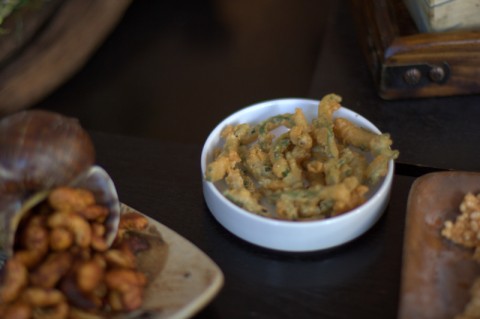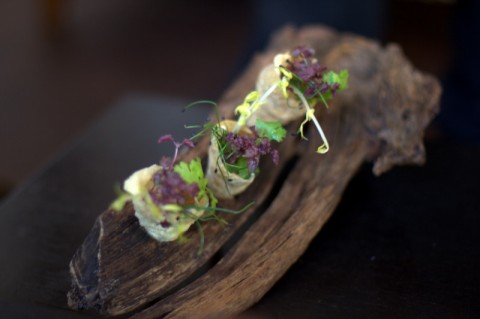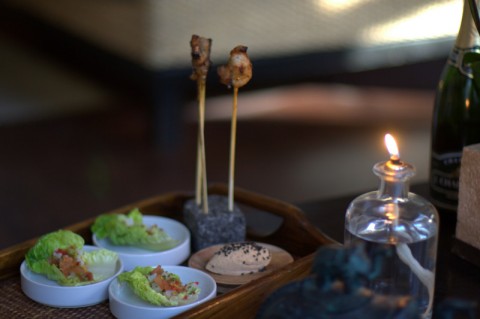 Pork satay with peanut dip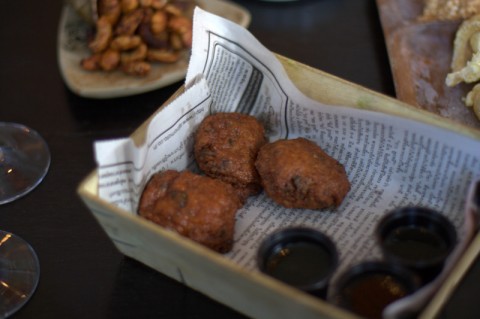 Fish cakes with snake beans
We got so many different and lovely, salty snacks and other appetizers with the very good Charpentier champagne. It's quite funny, first time I visited Kïïn Kïïn I found that the fish cakes were the least interesting of the street food snacks, and now I just love them above all. They were hot, slightly spicy, full of taste and dipping them in the sourish lime relish the flavour all together was just perfect.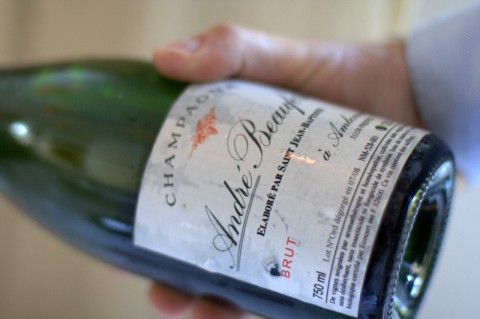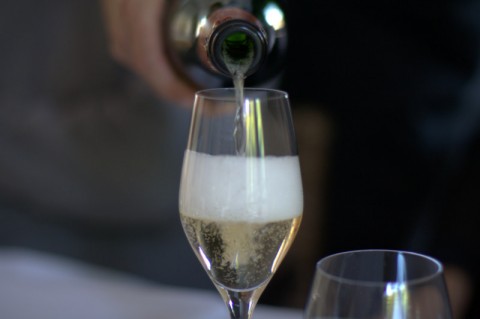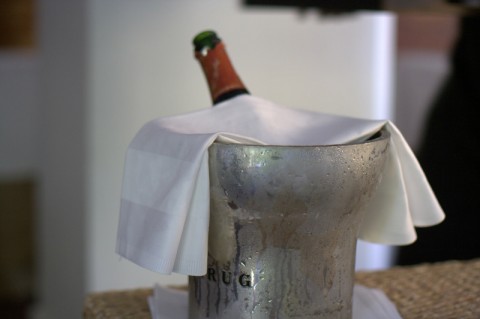 Kïïn Kïïn presents one of the best wine lists in town and so we decided to take advantage of that and to go for a couple of bottles rather than the wine menu. Somehow we very quickly got tuned into a nice bottle of champagne for some reason. Personally, I think it was the feeling of again to share a nice dinner and the possibility of making this happen. We emphasized the celebration of it with some bubbles. Laurent knew this André Beaufort and it was fantastic, complex and comprised a marvelous balance and crisp as well. I was surprised how nicely the champagne fit with the food even tough it couldn't really match the spicy galanga soup.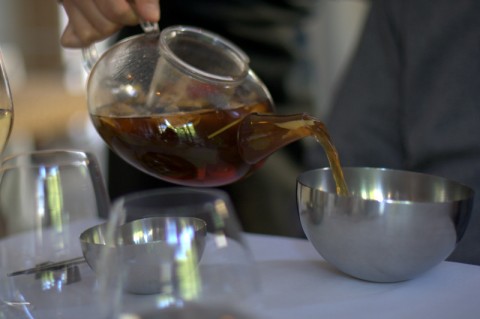 Kïïn Kïïn soup with galanga
I loved the food we got this evening. There were so many flavours and such variety, top quality products of course. It was like an adventure with distinct tastes and textures. It's for sure my favourite Kïïn Kïïn dinner ever.
Dim sum steamed with fjord shrimps, shrimps bread and home made shrimp crisps with tapioca and dried shrimps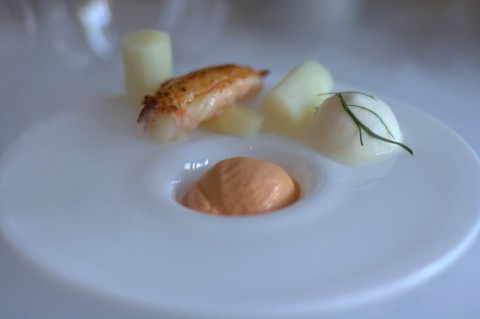 Frozen red coconut curry with langoustine
Salad with spicy marinade and orchids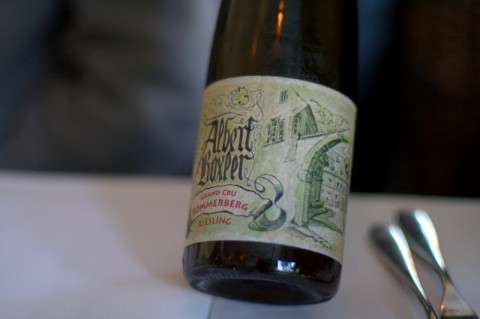 For the scallops and the free range chicken we had a Albert Boxper Grand Cru Riesling, which was excellent and sophisticated.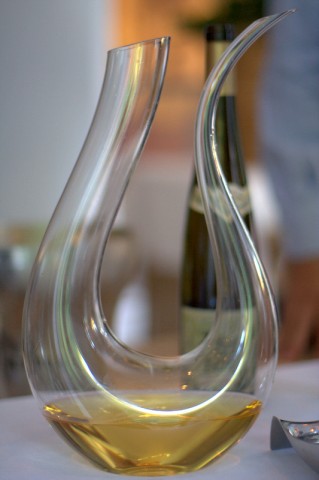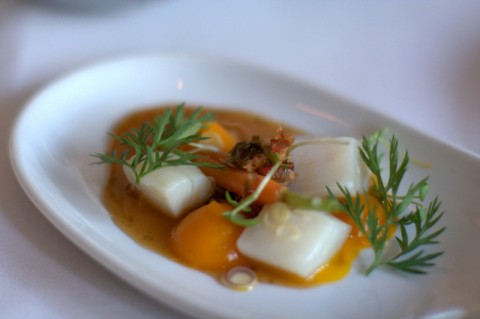 Scallops with lemon grass and tamarind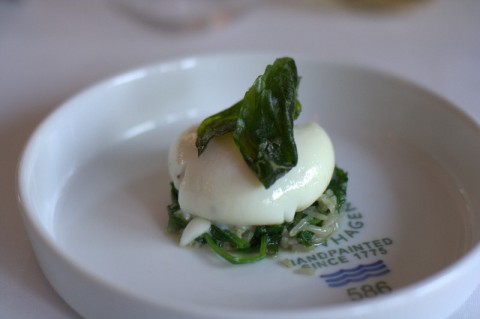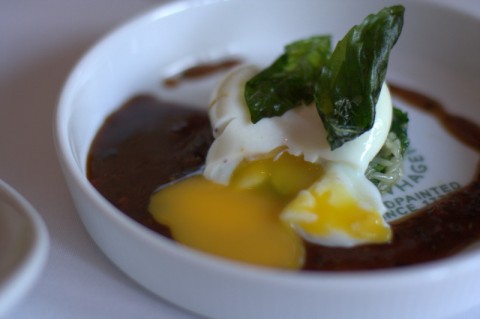 Poached egg with oyster sauce and water spinach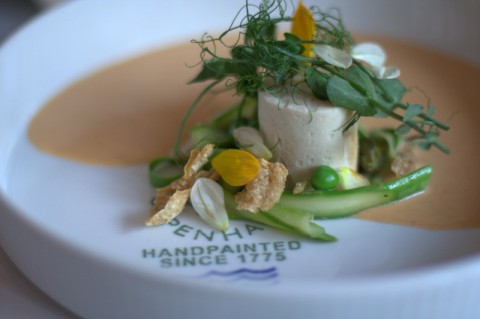 Free range chicken with pees and asparagus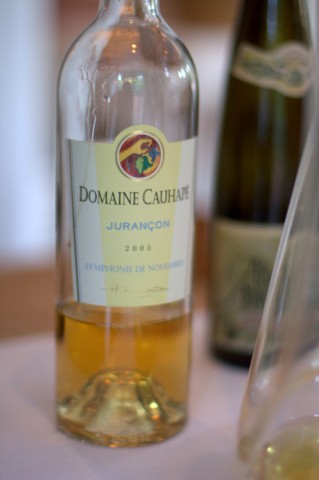 For the desserts Henrik kindly served us a glass of 2005 Domain Cauhapé Juracon, Symphonie de Novembre, which was quite funny as Laurent had got the very same type of dessert wine, same producer, at our Pierre Gagnaire lunch last year.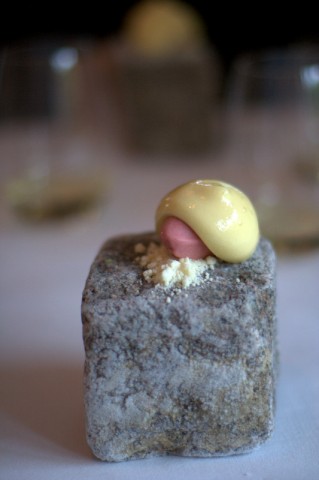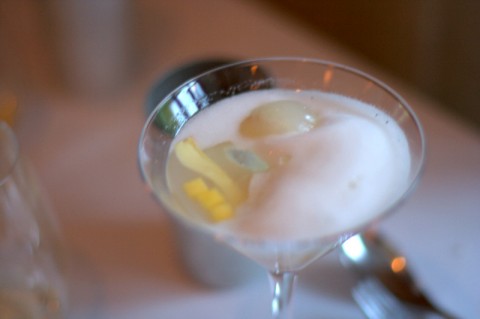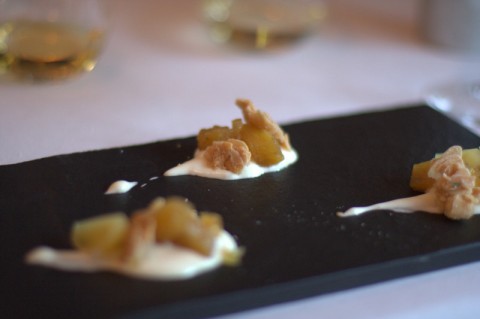 Passion fruit, coconut soup with mango and pickled ginger
After the dinner it was great to stroll down the stairs again and back to the lounge to sit and digest the food and chat about the meal and what had happened since we last met.
At Kïïn Kïïn you get a well-designed experience that is executed very well. It's the relaxed and cool-cosy atmosphere, the loung-music, the very good food and charming service. Kïïn Kïïn is one of those few places that makes me feel good and never wanna leave. And that's really an accomplishment.
Thank you all for a fantastic evening!
Other reviews of Kiin Kiin:
My first visit
JC's Upscalator
Andy Hayler