I wish I could take every Friday afternoon off from work and go to Søllerød and lunch at the inn named Søllerød Kro. Especially during summer when you can sit outside in the beautiful courtyard with the splashing sound of water from the fountain and the light birds' singing. The chairs are soft and very comfortable, and there are big umbrellas to shade you from the heat of the sun. It's so quiet there away from the city, and it's very easy to unwind and just relax and enjoy the whole setting, the lovely food and the finest wines.
I was lucky to have such a fine lunch on Friday 3rd of July and to share it with my sweet foodie friend. I had been looking forward to it and was so excited that I had completely forgotten to stamp my ticket at the station on our way to the restaurant. I got caught on the train and was most embarrassed by it. The checker was a nice fellow, though, and told me to get off at the next station to time stamp my ticket. He also said that I should go out and get something nice and tasty for the cost of the fine he didn't charge me – and then send him some nice (and supposedly thankful) thoughts.
Jan was already waiting for us and welcomed us at the entrance when we jumped out of the taxi that had brought us from the Holte train station and to the inn. We got seated and took up Jan's proposal of letting Jakob de Neergaard, the head chef, cook a set lunch for us. At the question of wines for the food I couldn't believe what I heard and must have had a funny look on my face of pure astonishment. Would we like a set of only Burgundy wine pairings for the menu?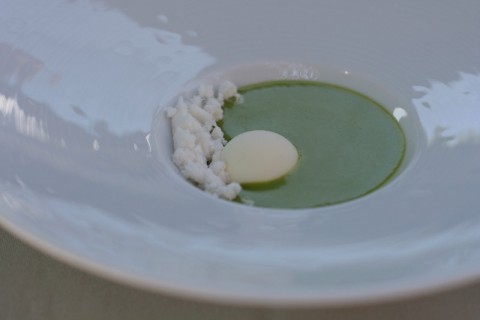 Appetizer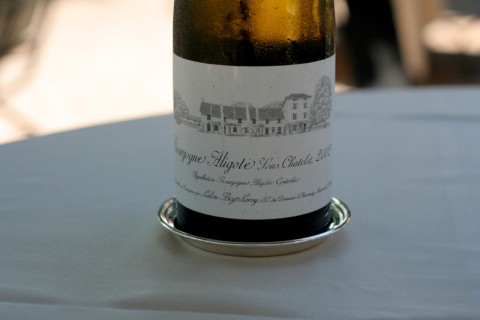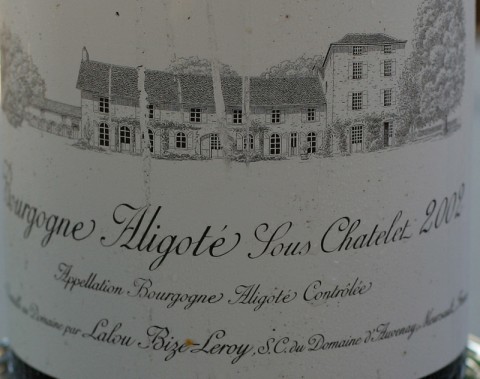 2002 Lalou Bize-Leroy, Sous Chatelet, Bourgogne Aligoté
This was a delicious wine. The nose was huge and very complex but elegant. It was wonderful just sniffing the wine and sensing the mineral notes, twist of oak, the acidity and the fullness. While the time in my glass it even evolved more. Imagine that Lalou Bize-Leroy only produced 902 bottles of this fabulous vintage. What luck that I got to try it.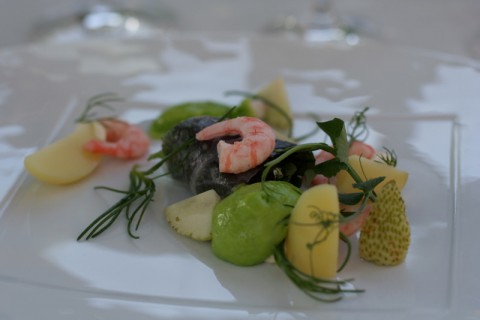 Shrimps with peas and new potatoes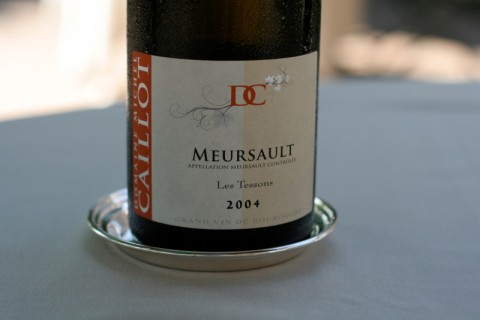 2004 Caillot Meursault Les Tessons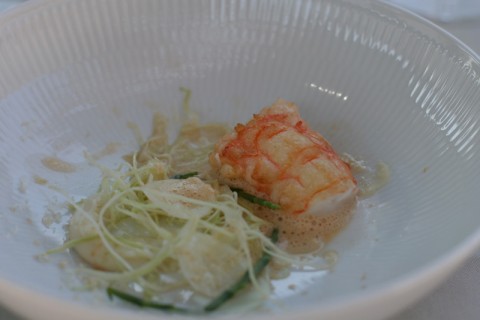 Langoustine with summer cabbage and crown dill
I know it looks like a very short tailed langoustine, I apologize, because I had just cut myself the first bite when I realized I had forgotten to photograph it. This dish was the highlight for me. The shell fish was so fresh and full of sweetness and the garnish was adding the right amount of freshness, sourness and the crunchy texture which suited the langoustine perfectly.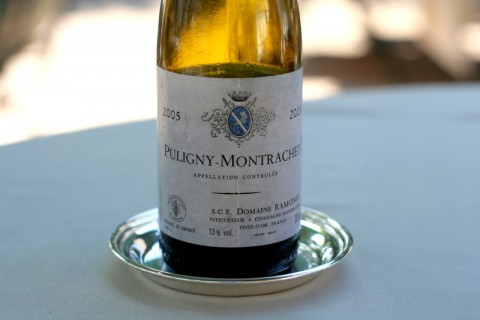 2005 S.C.E. Domaine Ramonet, Puligny-Montachet
There was a sort of sweetness to this lovely Ramonet Puligny-Montrachet nose, but not like a sweet wine. I found elements of caramel or toffee and sherry notes too. The taste was clearly of that of a young wine with sort of sharp edges, but it furthermore whispered it's wonderful potential with a fullness completely capturing and captivating my mouth.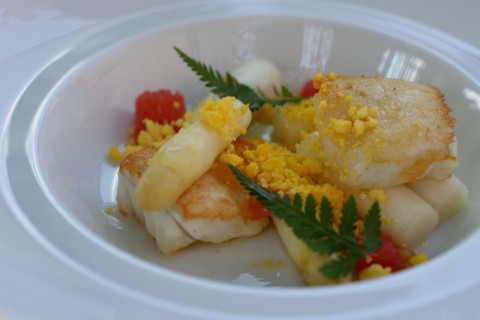 Roasted turbot with white asparagus and lemon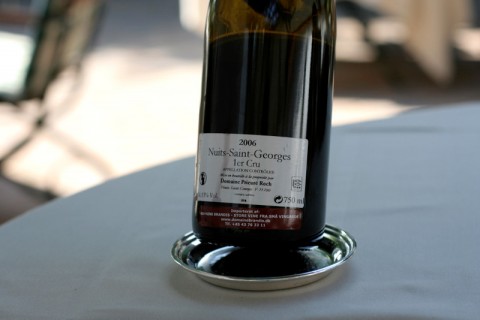 2006 Domain Prieuré Roch, Nuit-Saint-Georges 1er Cru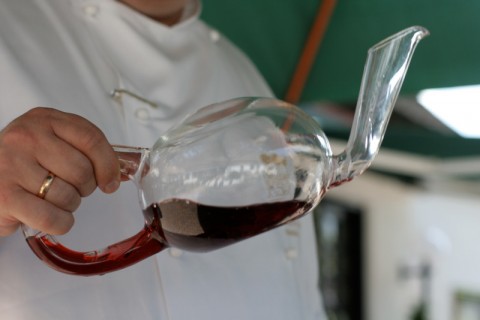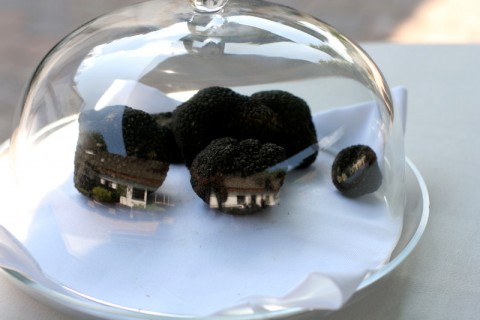 When Jan had poured the delicious Nuit-Saint-Georges wine I suddenly noticed a wonderful scent of truffles which was amazingly powerful considering the time of the year and that summer truffles are not that powerful yet. They were for the next course.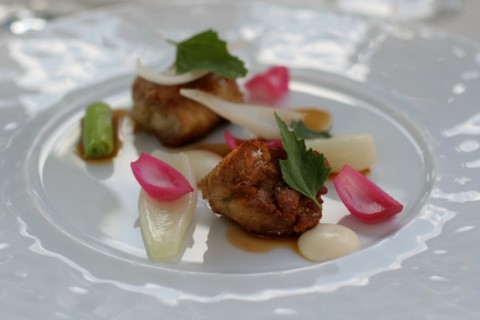 Sweetbreads with new onions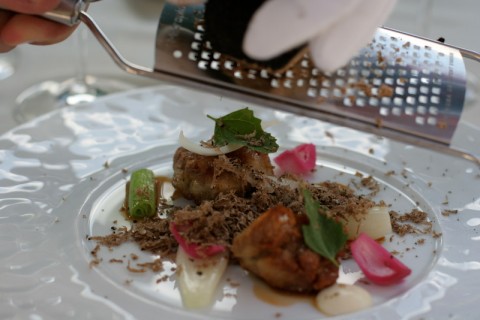 ….and grated summer truffle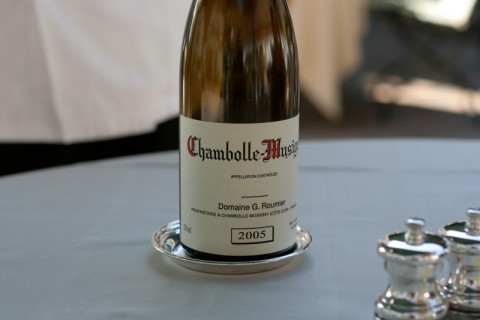 2005 Domaine G. Roumier, Chambolle-Musigny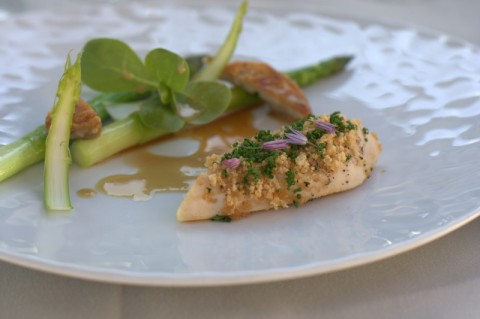 Poussin with foie gras and green asparagus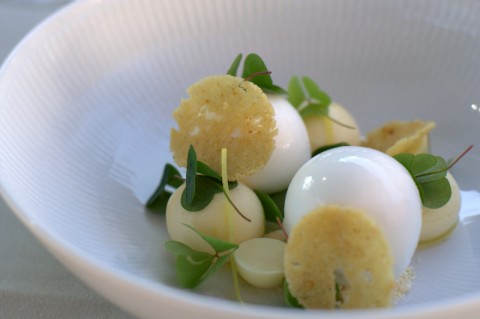 Lemon with wood sorrel and white chocolate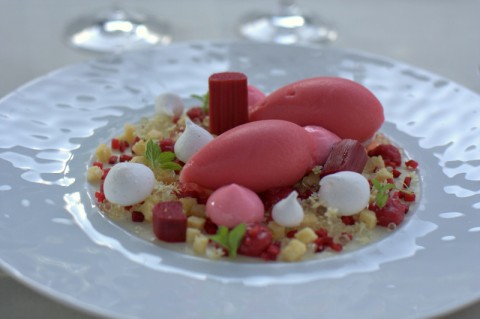 Rhubarbs, elderflower and vanilla
The desserts were so good and comprised my favourite dessert-ingredients of lemon and rhubarbs. They were both perfectly balanced and executed in look and taste, the way that the Søllerød Kro does so well. They got escorted by a glass of the excellent 2006 Trossen Madonna Auslese from Mosel-Saar-Ruwer, which is a thickish liquid but not too sweet in taste and really delicous.
I must admit that the wines took a lot of my attention, goodness how much I enjoyed them and indeed the Meursault and two reds as well even tough I haven't described them here. Søllerød Kro is so much all about enjoyment, delicious food, excellent wines and the warmest service who's true desire is to give each guest the loveliest experience.
Many thanks to you all – especially to Jakob and Jan!
Ps. Søllerød Kro is closed for summer holidays now but opens again on Wednesday 28th of July.