Last year, I announced when the Michelin guide to the Main Cities of Europe 2007 was released. The 2008 one is not out yet. Although the Michelin guides are neither the only guides nor the best on to how to find nice dining places, I am impatient.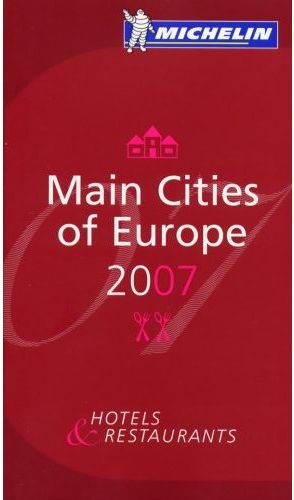 I'm sure, also that I am not the only person these days pondering how the Michelin guys have apportioned the stars of Copenhagen in the 2008 guide. Hm. Let's see. Amongst the places I've been to lately, here's my shot with regard to this year's star glitter.
In 2007 and for the first time ever, the brave noma folks received their second Michelin star. All my noma posts justifies this. I'm sure that their talent and hard and excellent work will provide them with the third star as well. Some day. But not in 2008.
The meal I had when I last time visited formel B was outstanding, beautiful dishes and very high level as to products and technique. I didn't fancy the service much, because I found it too stiff and too formal. I think, though, with the new luxuriousness of it is more of the style that Michelin honours. So all in all, I think formel B will get their second star in 2008.
Geranium opened in late March 2007 and has received nothing but praise. I believe every news paper and magazine awarded Geranium with their maximum score. I was lucky to lunch there once in September and had a lovely dining experience.
MR, Søllerød Kro and The Paul were all great and I'm positive that they've all maintained their one star. I also dined at Nouveau, which is housed now where the renowned Tyvenkokkenhandkoneoghendeselsker used to be. Nouveau opened officially 3rd September, and I think the place is yet too new to be considered for a star in the 2008 guide.
Conjuring where I have never been or visited only years ago, surely, Era Ora and Kong Hans' Kælder will keep their one star too, but this I judge only from what I've read and heard.
Then the jokers: Paustian and Kiin Kiin (never been there). They each got a rising star, and will get a star in the 2008's guide, if they keep up their current standard. Why shouldn't they? I bet they've done all they were able to to achieve that.
Comparing with last year's star rating, I haven't mentioned Ensemble, where I never went. Probably it's unfair to say so, but I wouldn't be surprised if they would have lost their one star. I mean, counting four new stars, the competition in town is tough. We're only 1,8 million people around here, and although people fly in from all over the world for the only reason to dine in Copenhagen, I think there's a limit to our excellency. But that's just my opinion.
What do you think?
One Star:
Era Ora
Geranium (+1)
Kiin Kiin (+1)
Kong Hans' Kælder
MR
Paustian (+1)
Søllerød Kro
The Paul
Zero:
Ensemble (-1)