[This blog post is from 2007. Formel B has since changed its style to that of a gourmet bistro. More casual but with the same fantastic quality of food as always. I highly recommend it! Love, Trine]
On the occasion of my brother-in-law's birthday, I had dinner at the restaurant named formel B, Saturday evening on 27 January.
This visit was actually the reason for my wanting to start my own blog. To write about my experiences and share them, if anybody would be interested in reading about them.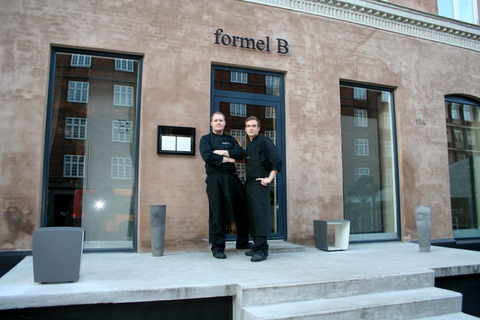 [UPDATE, 12 March 2007
Many thanks to Kristian and Rune for letting me shoot the photos for my blog!]
formel B is a Michelin star place situated in the Versterbro part of Copenhagen. It has been if not the one, then least amongst my very favourite restaurants, in Copenhagen. I've been there three times prior, first in 2002, and then in 2004 and 2005.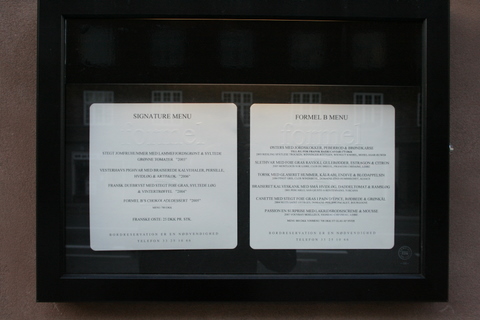 The menu this evening, and with the wines we had, partly selected ourselves and partly recommended by the sommelier:
*cod with oyster èn gelé, cucumber & cream oyster sauce
1998 moet & chandon dom perignon
*Danish lobster with celeriac and foam lobster and saffron
pinot gris of some kind – see update of 1 February 2007 below
*terrin of foie gras in salt caramel crust with apples
same wine as above
*monkfish with smoked lard, tarragon and sherry sauce
barbera d'alba, cascina francia, giacomo conterno, piemonte
*coquelet with pearl onions, carrots and black truffles
2004 vosne-romanee engel, bourgogne
*blood orange, sorbet and tart of fresh cheese
2004 beerenauslese cuvee, alois kracher, burgenland
I love, love, love foie gras terrine, I admit that. The little salad that came with the foie gras was fantastic, quite rough leaves and crispy and sour-ish at the same time, and the crunch was so good and nothing that I've had like that with foie gras before. In particular I liked the small cubes of fruit of some kind, berries or whatever (don't remember now).
Truffles are a delicacy to me. The winter truffles from Umbria (Norcia, I guess), which are in season right now are so tasty. And the truffles served this evening seemed very fresh, succulent – not dry-ish, I mean, which they could have been if they had been hid away in the fridge too long. The dark browned truffles with wonderful and powerful smell were sliced over the white poultry and orange carrots and the colours made it a beautiful plate.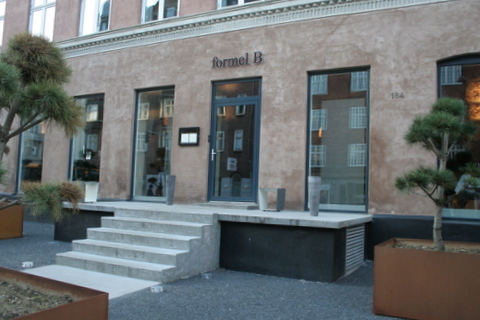 What I liked so much about this restaurant in the past was first of all that it was small, and second cosy. It had personality and uniqueness. In the meantime the place has expanded and employed a couple of more waitresses.
About the waitresses. Educated, yes, but stiff and dull, and not perfect. Not that it always has to be perfect, but indeed to have empty glasses because of the bottles being kept far away from the table and disabling you to help yourself, that shouldn't happen at such a place. I had finished my glass of champagne with the tasty snacks and nice pre-dinner lobster ravioli. I had nothing to drink with my first course, not even water.
And what is this about changing the serviette every time one goes to the loo? Stressing. I always drink at lot of water, and so I must have gone 4-5 times during the evening. Eventually, they ran out of towels, most inappropriate. (Probably they haven't had a guest with such a need like me before).
I couldn't help noticing the priority of giving people new dry cloth for their mouths instead of drinkable liquids.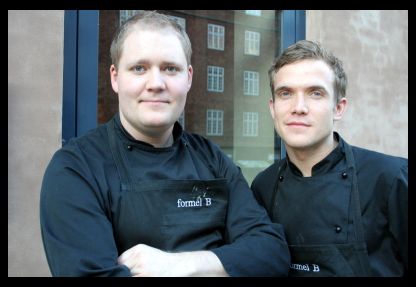 The last four dishes were the best. The quite substantial selection of sweets that accompanied the (good and strong) coffee was lovely, almost too lovely after so much food at that point.
I also really liked the dessert. It had what I think should characterize all desserts, sweet and sour at the same time. The creamy tart was delicious and matched the acid-ness of the blood oranges sorbet and (I think) fruit gelé cubes very well.
The smoked lard surrounding the little monk fish steak suited the fish, and the daring slices of garlic, which had been blanched in vinegar to remove the pervading taste of those tiny onions, gave the dish an extra dimension, in my opinion.
I have said nothing about the wine. It was good and harmonious with the various dishes, but not spectacular. Liked a lot the dessert wine and the champagne – of course (another favourite of mine).
[UPDATE, 1 February 2007
I've nosed out what kind of Pinot Gris we had.
We would like a wine to go with both the foie gras and the lobster. Rather challenging, I know. The Pinot Gris we chose from Alsace, the 2001 Pinot Gris, Clos Jebsal, Domaine Zind-Humbrecht was full-bodied in a good way and twisted with a sweet after-taste, like swirling around, almost, in my mouth. In my opinion perfect for the rich and highly intense foie gras. To some people it is religion whether they prefer a sweet or a drier wine with the terrine. I have a sweet tooth, so that's mostly my choice, and I also really like Gewürztraminer, or Traminer for that matter, to accompany the duck when it's prepared like this.
But for the lobster it wasn't the best selection. I wonder what wine would have been. Indeed it was drinkable with the shellfish and fine with the celeriac and the powerful saffron, but it didn't add anything to the completeness of the experience of this dish. Not like the foie gras, where the wine lifted the whole thing.
Perhaps, I should also add that this Pinot Gris is entirely something that goes with food. I wouldn't enjoy it as much alone.]
Anyways, I'd like to stress that the food is good at formel B. It's just sad that it has lost its charm, the wonderful atmosphere, and has now become just another fancy restaurant.