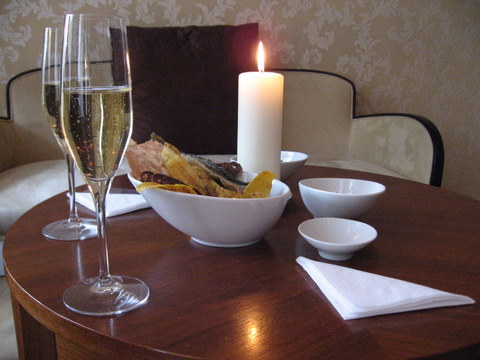 NOTE: This restaurant has close down!
The food at MR is delectable and surprising in a light new Danish cuisine way. I had dinner there on 15 May 2007 and I just loved it. The food, every dish was delicious, well balanced and I missed nothing.
I like MR first of all for the food, the delicious-ness of each dish. But it's not just that; it's the entire experience of dining there. From the moment of entering the posh and vintage styled lounge with the old chubby wood stow, the soft Billy Holiday from the speakers, smart low arm chairs by the round tables, the long curtains reaching the floor, the Rya rugs, which by the way reminded me of a similar one I had in my own little girlish room at my mum's. Moreover, in the back a long bar counter with red or purple lights that hints at a luxurious club. Luxurious in the Danish and unpretentious, slightly grunge-ish way, and so is the soft lightened loo with lots of room and my favourite perfume.
It does something to me, to sit brimful of expecting excitement, to drink sparkling champagne, waiting a few moments, delaying a bit before stepping up to the first floor where the two dining rooms are and the good food is waiting for me. It's exotic. Although the weather in Copenhagen is rainy and cold. It makes me feel like I'm in some imaginary world for a while, a journey, a dream, and I feel very fortunate that I can do this, eating out at such fantastic restaurants. This is the sentiment that all excellent restaurants should provide, because such a journey costs the same as a package holiday to Greece – in Danish Kroner anyway.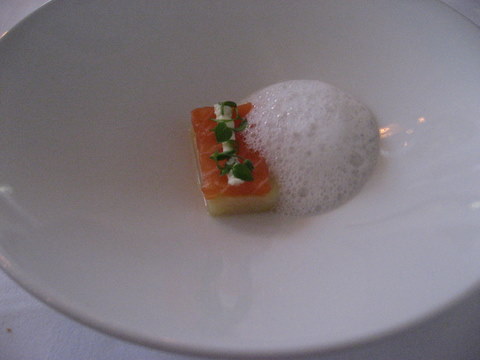 L'amuse bouche of potatoes and salmon
The menu this evening: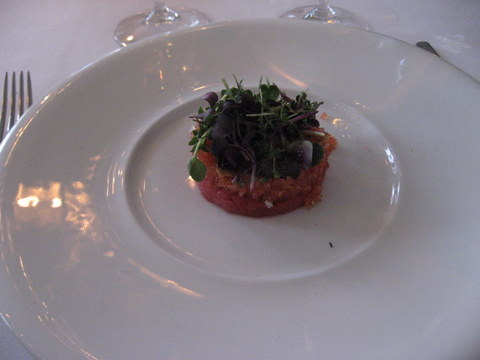 Tartar, lump fish roes and smoke
Scallops, broad beans and hen's egg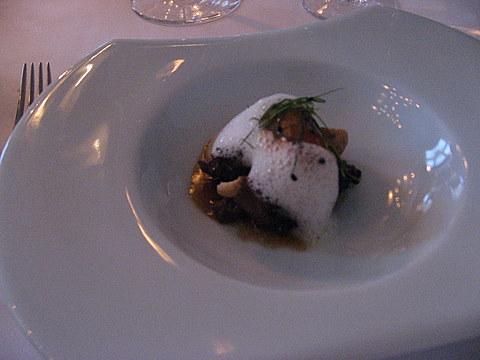 Morels, chicken and langoustines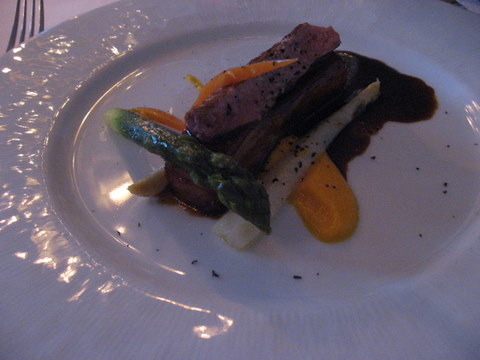 Marsh lamb with new vegetables in textures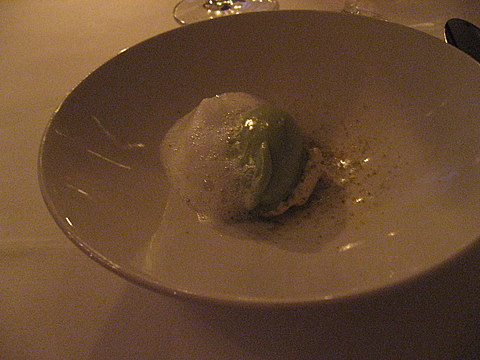 Pistachio ice-cream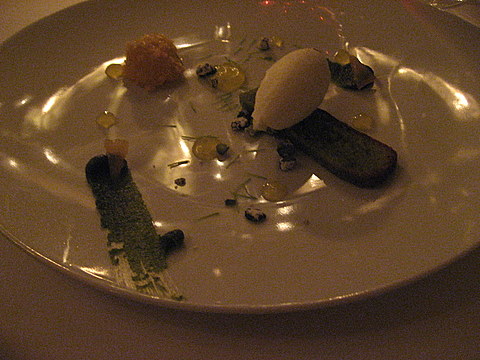 Olive oil sorbet, pistachio in various forms and lemon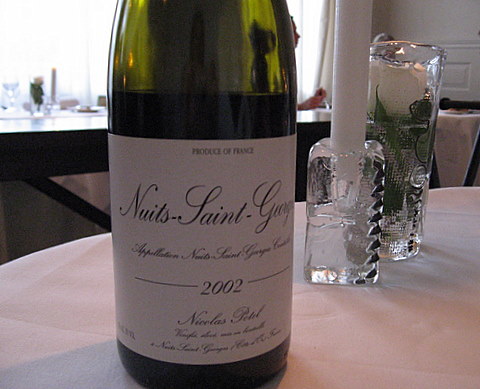 My friend is a highly wine wise guy, so naturally I preferred that he would select the bottle of wine:
2002 Nuit-Saint-Georges, Nicolas Potel. What a powerful nose, wonderful fruit, extreme fragrance of cherries, and yet the taste was so different, still powerful but not of the berries and grapes i noted in the scent. I was astounded that such fruity nose wasn't reflected in the flavour. But I loved the wine anyway, very long after-taste, complexity and firm body, much tannin. After a hour it had opened more and the taste I sensed was warmer and wider. Flipping my tongue round a bit, I detected tannin on the back side of my teeth, which I have never noticed with any wine before. I didn't know much about Burgundy wines (or any other French ones for that matter) but only a couple of years ago my friend invited me into this new world of fantastic wines. Burgundy. And I am very grateful for that.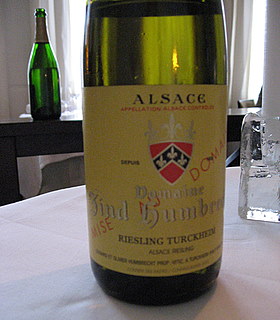 The waiter suggested a glass of an Alsatian Riesling to accompany the first couple of light dishes, which my friend accepted. Nose of apples, elder flower and citrous, a balanced flavour which was nicely dry and had an indication of sweetness.
In short about the food, the amuse was good, a little piece of potato with a nice salmon slice, strawberry foam and what put everything together a herb called vetch, I think. The scallops were fried to perfection, tasted so wonderful and mild, gently with the beans and the hen's egg. Did I tell you how I love scallops? And morels, I love them too. Morels have a so intense, earthy and full flavour that it's like they trick something in my brain and give me a kick. The morels were accompanied by chicken and langoustines. The combination of those three was elegant, because the shell fish added some sweet and bitterness which matched the voluminous taste of the mushrooms.
The menu told us the veal tartar would comprised smoke. This was true, but I'd never imagined how they'd planned to provide the smoke right at our table. The young and adorable waitress presented our plates which were covered with two glass domes with a hole at the top. She explained what she did and removed the glass, lighted two small haystacks, put them on the top of the herbs and the glass domes back on. A light smoky scent diffused the room. The light burnt out and she removed the glass and the little hays with a pair of tweezers and served our food. A real entertainment and the veal and lump fish roes tasted liked they had only kissed the elusive fumes. A very elegant dish.
The lamb was tender with perfectly cooked asparagus, reduced sauce and with tiny pieces of liquorice sprinkled about. I liked it a lot, but probably I liked the two desserts even more. I have a weakness for pistachio, so much that I once got sick after having eaten bunches. That didn't cure me; I'm still very keen on them. The ice-cream was great and the composite dish with the pistachios in various forms like popped, mashed, and in cake was fabulous. I could identify both the olive oil in the sorbet and some lemon. Yes, the lemon really suited this serving and put the whole thing together. In particular, I fancied the lemon triangle at the corner of the green buttered pistachio pasta. It was extremely sweet, sour and bitter all in one and tickled my tongue like nothing else. Really fantastic.
One thing, though, which I didn't like, was at a point when one of the waiters was explaining us what was on my plate and pointed out each element with his pinkie. He was holding it so close to my food that I was afraid he might touch it. I couldn't concentrate on his explanation because a thousand thoughts speeded through my brain: "Oh my goodness, he's touching my food. What do I do? Ask him to provide me with a new serving? Ignore it? Will I be able to taste the touch?" He didn't, though, contact any of the ingredients. Lucky me.
Oh, did you count how many of the courses had foam on the plate? I like foam with food when it's full of flavour and adds something to it like a piece of a firm ingredient would. But if it doesn't do that it's only millinery and that I think is a waist. Excellent food is where each single element on the plate serves a purpose, proportions the balance, and leaves the diner with a feeling of completeness. I don't think that the strawberry foam with the amuse did that, nor did the foam at the pistachio ice-cream. Four out of six dishes presented foam, and I found that a bit exaggerated.
Anyways, I had a wonderful evening and I will certainly come back to foaming, Michelin * MR when I feel like floating again. Thank you.